A suspension tweak, new colours and a more comfortable seat make the 2016 Harley-Davidson Sportster Forty-Eight much more than just a cafe cruiser.
If it weren't for the puny 8-litre peanut tank, it would be a comfortable cruiser for some inter-city travels.
The key to the 2016 update is the premium suspension with cartridge damping up front and an adjustable cartridge emulsion system in back. It's now standard on all Sportsters.
Despite the upgrade and the plummeting Australian dollar, Harley-Davidson Australia has kept a lid on Sportster price rises. The Forty-Eight now costs $19,250 (ride away), up just $255.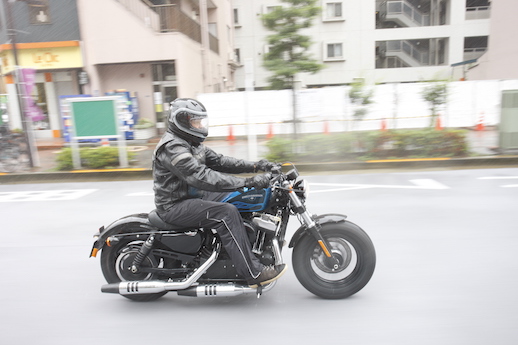 I rode the new Forty-Eight at the launch in Tokyo … or should that be the "re-launch" because Harley was touting the event as Dark Custom Reborn.
The Dark Custom range was launched in 2008 and became an instant success.
The idea was that the bikes would be black on black with few accoutrements so that the bike becomes an affordable blank canvas for customisers.
Greg Willis, director of marketing operations for Asia Pacific in Singapore, says they chose Tokyo for the launch because it is "one of the leading homes of customisation".
Unfortunately, it is also typhoon season and a big one was looming in off the Pacific Ocean, sending hundreds of thousands of Japanese into evacuation.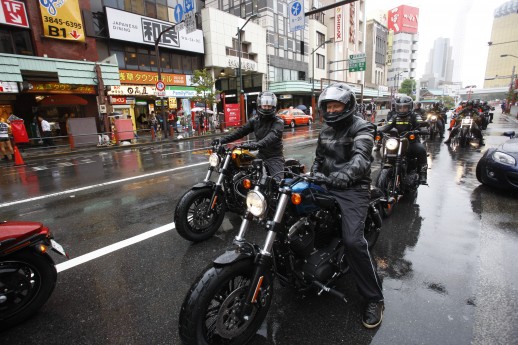 But it didn't deter us from testing the Sportster on a soggy inner-city run.
The rear adjustable suspension seems to soak up the hard hits from urban obstacles such as manhole covers. It doesn't send a shockwave through your backbone like the previous model did.
The Forty-Eight also handles and steers better with the new 49mm forks and lightweight mag wheels.
Steering now feels more deliberate and the turning circle has been tightened for easier urban manoeuvres.
In fact, with that fat front wheel adding some more confidence-inspiring grip in the wet, we were able to give it a bit more enthusiastic input and it coped quite well.
The riding position with feet-coward pegs suits my size and the full weight on my tailbone wasn't uncomfortable thanks to the plusher ride.
There doesn't seem to be quite the reach the bars there was before, which could be something to do with the seat shape pushing you further forward.
Young Harley designer Ben McGinley was given the task of sprucing up the styling details and he's surprisingly gone retro with 1970s-inspired graphics and a recurring slot them in the muffler, belt guard, timer cover and round air filter.
It also features a tuck-and-roll seat which adds to the comfort and conceals the rear suspension adjustment tool.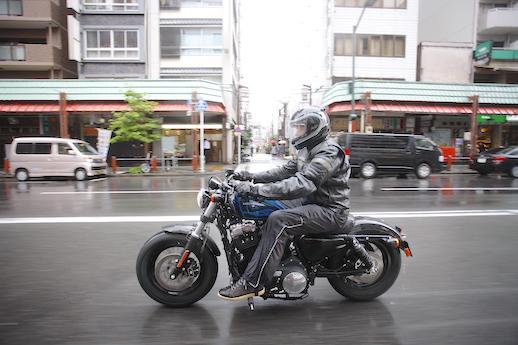 The 1200cc V-twin pushrod engine is getting a little long in the tooth, but it's still got a nice feel that many Sportster fans love.
It revs smoothly, has low mechanical noise, a strong midrange and a springy feeling on the throttle. I've always found it whips away quickly in the traffic.
However, the Japanese version I rode had slightly taller gearing to meet their emissions regulations, so it wasn't quite as quick off the mark as I've known it. Ours should be fine.
It still only has five gears and I've always found it's no slouch on the open road, pulling hard in fifth gear at highway speed for overtaking manoeuvres without the need to downshift from top. However, on our launch there was nowhere to test its highway performance.
Neutral is easy to find and the gears feel positive if a little slow thanks to the longer linkages for the forward controls. Clutch pull is light for these sorts of urban duties.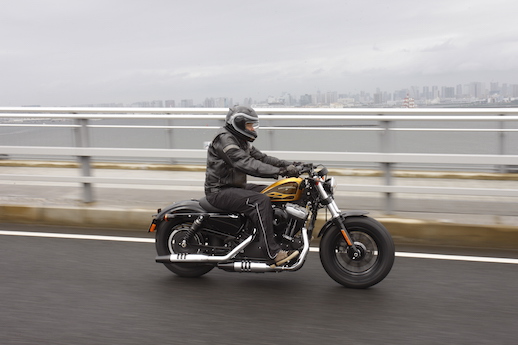 We had no way of assessing fuel economy, but I'd suggest it would be under 5L/100km which gives range of about 150km from the 7.9-litre tank before you have to find a servo, pronto!
The instruments are still basic with one dial to show speed and a digital LCD screen with odometer, two trip meters, clock, and a gear indicator/tachometer. You can toggle through those displays via a handy "trip" switch on top of the horn control on the left handlebar. There is no fuel gauge, only a warning light. A fuel-range readout on the LCD screen would be much appreciated.
Brakes are effective enough for a comparatively lightweight cruiser even with the single 300mm disc on the front. They also have ABS which is "invisible" so it doesn't spoil the appearance of the wheels.
It comes in Vivid Black, Billet Silver, Velocity Red Sunglo and Olive Gold.
2016 Harley-Davidson Sportster Forty-Eight XL1200X tech specs
Price: $19,250

Warranty: 2 years, unlimited km

Service: 1600/8000km

Engine: Air-cooled, pushrod 1202cc Evolution twin

Torque: 96 Nm @ 3500rpm

Bore x Stroke: 88.9 x 96.8mm (3.5" x 3.811")

Compression: 10:1

Frame: tubular steel

Suspension: 39mm forks, 92mm travel; variable-rate spring over 36mm gas shock, 41.5mm travel

Wheels: 406 x 76mm (16 x 3"), 9-spoke alloy

Brakes: 300/260mm discs, ABS

Length: 2159mm (85")

Width: 845mm (33.3")

Height: 1085mm (42.7")

Seat: 693mm 27.3")

Clearance: 100mm (3.9")

Rake: 30.2°

Fork Angle: 28.7°

Trail" 135mm (5.3")

Wheelbase: 1506mm (59.3")

Tyres: 130/90B16 73H; 150/80B16 77H, Michelin Scorcher

Fuel tank: 7.9L (2.1 gal)

Wet weight: 250kg (551lbs)

Lean Angle: 27.1° right, 27.1° left

Fuel Economy:

 

4.9L/100 km (48mpg)