2016 BMW G 310 R Announced
(BMW Motorrad press release edited by webBikeWorld.com) – The new BMW G 310 R is the first BMW roadster under 500 cc.
One cylinder, low weight, powerful dynamic performance. The BMW G 310 R embodies the pure essence of a BMW roadster — it has neither too little nor too much of anything.
It offers precisely what is needed for dynamic performance and comfort, both in town and out in the country.
The BMW G 310 R takes these essential qualities into a capacity segment that is new to BMW Motorrad.
As a genuine BMW roadster it masters a range of disciplines: it is just as happy winding its way nimbly and flexibly through the narrow streets of a city as it is travelling supremely and powerfully along country roads.
And thanks to its exceptionally low level of fuel consumption and a relaxed, comfortable seating position, it offers the welcome capability of being able to cover a long distance at a time.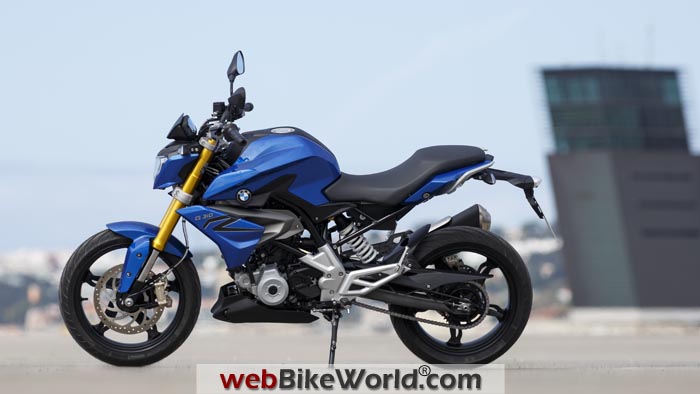 Highlights
Innovative liquid-cooled single-cylinder engine with two overhead camshafts, backward-tilted cylinder and intake tract positioned at the front.
Output 25 kW (34 hp) at 9,500 rpm and a maximum torque of 28 Nm at 7,500 rpm.
Rigid tubular steel frame, upside-down fork and long swinging arm for a high degree of ride stability, precise steering response and sound handling.
Tires 110/70 R 17 at front and 150/60 R 17 at rear.
High-performance brake system and ABS as standard.
Sophisticated ergonomics and multifunctional instrument cluster.
Low seat height of just 785 millimeters (31″).
Dynamic roadster design with echoes of the S 1000 R.
Developed in Munich by BMW Motorrad and produced in India in cooperation with partner TVS Motor Company.
Individually tailored optional accessories in the familiar high quality typical of BMW Motorrad.
Details
As a completely new design, the G 310 R represents everything BMW Motorrad stands for: innovation, quality and of course many years of carefree partnership with its owner.
Designed specifically for the world market, the BMW G 310 R can run on the most diverse fuel qualities, meets all emission standards and local requirements and it takes the typical BMW premium aspiration to the segment under 500 cc.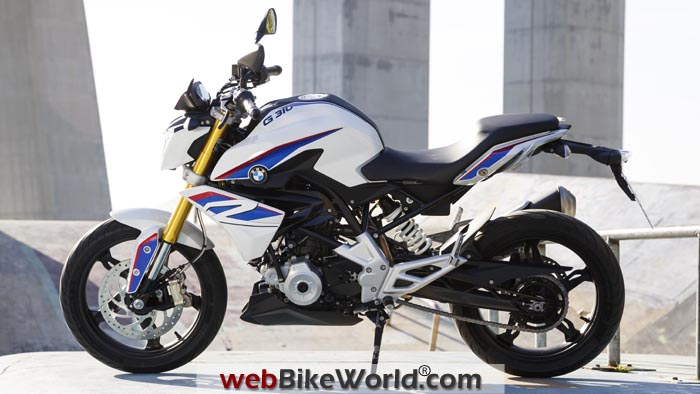 Dynamic Roadster Design Echoes the S 1000 R
The powerfully expressive design of the BMW G 310 R instantly reveals its agile, dynamic character, making a clear statement within its own segment.
It has a visual kinship with athletic family members such as the BMW S 1000 R.
The small headlamp mask with striking headlamp, dynamically modeled fuel tank trim elements and characteristic roadster proportions with a striking front section and dynamic rear give the BMW G 310 R a mature presence on the road.
Precisely modeled surfaces define the dynamic side view.
The compact, dynamic proportions and the short wheelbase promise fast changes of direction, while the high rear conveys a lightness that is suggestive of the bike's sporty genes.
In spite of the clearly visible character of the BMW G 310 R, the side surfaces in body color create a closed silhouette in athletic style.
High-end details such as a standard upside-down fork, quality materials, supplementary fittings and excellent workmanship all reflect the finest within the segment, clearly underscoring the premium aspiration of the BMW G 310 R.
Single-Cylinder Engine
The centerpiece of the new BMW G 310 R is a completely newly developed 313 cc liquid-cooled single-cylinder engine with four valves and two overhead camshafts together with electronic fuel injection.
The capacity of 313 cc results from a bore of 80 millimeters and a stroke of 62.1 millimeters.
The striking feature of the engine is its backward-tilted cylinder in open-deck design with the cylinder head turned by 180 degrees, making it possible to position the intake tract at the front, viewed in the direction of travel.
With an output of 25 kW (34 hp) at 9,500 rpm and a maximum torque of 28 Nm at 7,500 rpm, the engine of the new G 310 R is a very dynamic partner in conjunction with the low unladen weight of 158.5 kilograms according to DIN standards.
High-Performance Valve System
As in the S 1000 RR, the G 310 R has DLC-coated engine components and a Nikasil cylinder liner.
Fitted with an electric starter motor, the single-cylinder engine of the new G 310 R offers modern, horizontal separation of the engine housing, innovative technical solutions and a selection of high-quality materials.
The valve gear with two overhead camshafts is based on that of the S 1000 RR, for example, while very light, highly resistant rocker arms with a very hard DLC coating (Diamond Like Carbon) that minimizes friction and wear are responsible for activating the four valves, likewise as in the BMW superbike.
The valve angle is 11.2 on the intake side and 13.3 degrees on the exhaust side. The diameter of the intake valves is 33.5 millimeters and the exhaust valves are 27.2 millimeters.
The intake pipe fuel injection throttle valve is 42 millimeters.
The resilient and low-friction DLC coating is also used for the gudgeon pin. It enables the pin to run directly in the ground connecting rod eye, obviating the need for an additional plain bearing. In conjunction with the low weight of the cast lightweight piston, this results in reduced oscillating masses.
The slide bearing for the lower connecting rod eye and the main camshaft bearing is also by no means typical of a single-cylinder engine, offering benefits in terms of space, weight and durability.
A low-friction Nikasil coating of the sleeve for the cylinder integrated in the upper half of the engine housing highlights the fact that the BMW Motorrad engineers have endeavored to combine lightweight construction, fuel efficiency with modern, groundbreaking engine technology.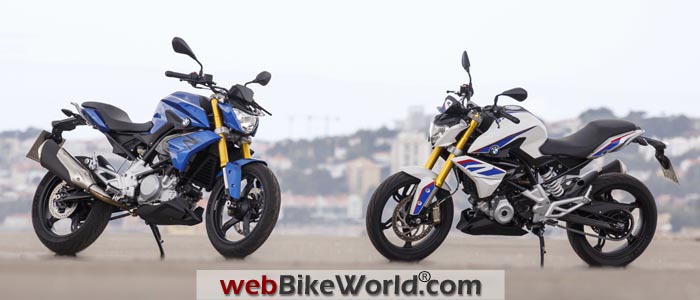 Lubrication and Cooling
The vital supply of oil inside the engine is taken care of by a well-established wet sump lubrication system. It has a labyrinth of pans inside the oil sump that reliably counters any lack of lubrication during extreme riding maneuvers.
The liquid cooling system ensures excellent thermal stability, even in very high outdoor temperatures.
The coolant circulates through a generously sized radiator positioned underneath the steering head section. 6-speed gearbox, high maximum engine speed and counterbalance shaft for lively dynamic performance and excellent running smoothness.
Transmission
Power transmission is via a multi-plate wet clutch onto a well-graduated, constant-mesh 6-speed gearbox.
The final drive to the rear wheel takes the form of an O-ring chain.
With a spontaneous throttle response, lively pulling power, full-blooded engine characteristics and a high maximum engine speed of 10,500 rpm, the new G 310 R delivers very dynamic riding performance figures for excellent riding fun within its class.
Also, a rotating counterbalance shaft in front of the crankshaft effectively suppresses unpleasant vibrations, thereby ensuring a high level of running smoothness for the single-cylinder segment.
Fitted with a closed-loop catalytic converter positioned on the intake side of the rear silencer, the BMW engine control BMS-E2 and a secondary air system make the engine of the new G 310 R extremely environment-friendly, allowing adherence to the EU4 emission standard.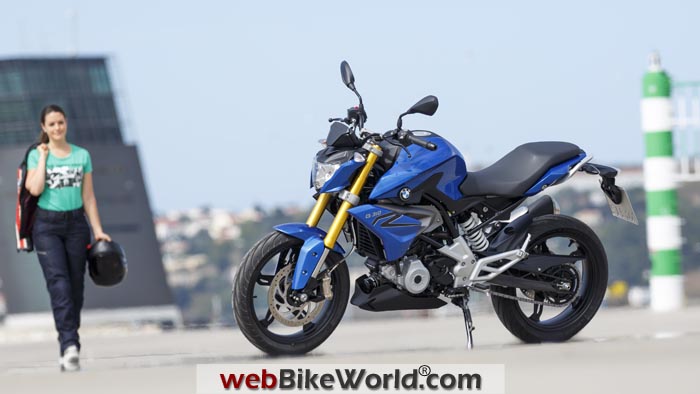 Ergonomics
The new G 310 R offers a markedly relaxed seating position for relaxed, stress-free and easy-going motorcycling.
As is characteristic of BMW Motorrad, all switches and controls are simple and secure to handle.
It was specifically designed for easy and safe operation, taking into account the most diverse rider anatomies. For example, it corners with ultimate agility yet always remains neutral and predictable.
It masters lengthy bends and fast passages with directional stability, displaying athletic talent without any loss of comfort.
Extremely compact and with a broad spectrum ranging from comfortable to sporty and dynamic, the new G 310 R simply opens up a whole new world of experience in its segment when it comes to ride response.
It features a rigid tubular steel frame, upside-down forks and long swingarm for a high degree of ride stability, precise steering response and sound handling.
For the suspension, the new G 310 R has a torsionally stiff, highly robust tubular steel frame in grid structure with bolt-on rear frame.
The front wheel suspension is taken care of by a solid upside-down fork while at the rear there is an aluminum swingarm in conjunction with a spring strut that is mounted on it directly.
Brakes
Like all BMW motorcycles, the new G 310 R is fitted with ABS as standard.
It combines a powerful brake system with 2-channel ABS. At the front wheel, a single-disc brake with radially bolted 4-piston fixed caliper and a brake disc diameter of 300 millimeters ensures powerful and stable deceleration.
At the rear, this function is performed by a 2-piston floating caliper in conjunction with a 240-millimeter brake disc.
The G 310 R instrument cluster has a large liquid crystal display that offers excellent clarity and a wide range of information.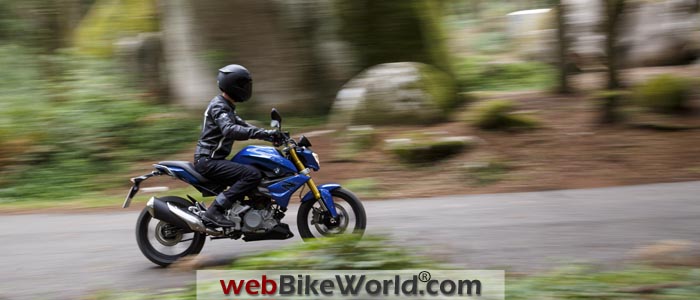 Manufacturing and Production Standards
The new BMW G 310 R is produced in Bangalore, India by the cooperation partner TVS Motor Company, India's third largest motorcycle manufacturer with a production volume of some 2.5 million vehicles per year.
The company has been committed to sustainability for many years and attaches great importance to adhering to defined social and environmental standards which go far beyond what is common practice in India.
TVS Motor Company is the flagship of the TVS Group, which is made up of more than 90 companies in total.
These include numerous firms that enjoy an excellent reputation in the automotive sector as suppliers for well-known car makers.
Many of these suppliers from within the TVS Group provide the components for the G 310 R.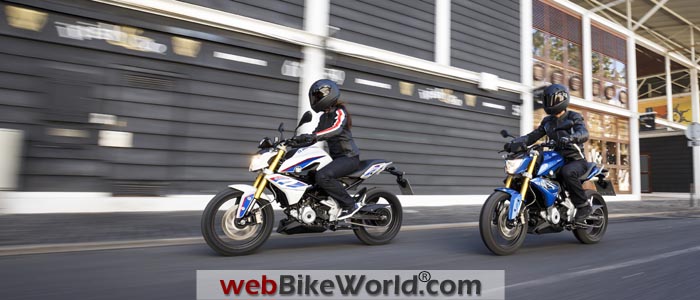 Quality Management
Quality management and state-of-the-art production following the standards of the BMW Motorrad plant in Berlin-Spandau. TVS Motor Company's quality management system has been based on Japanese role models for many years.
For the G 310 R, this system was extended to include the requirements and standards specific to BMW Motorrad, and within the area of quality management there are interdisciplinary teams from both companies working in close collaboration.
A dedicated production area has been set aside in the factory for production of the G 310 R. Mechanical production of the engine components is carried out on new, high-quality machine tools made by leading German manufacturers.
BMW Motorrad was closely involved in an advisory capacity here and production is set up based on the model of the BMW Motorrad plant in Berlin-Spandau.
The engine assembly line is completely new and fitted with cutting-edge automation and testing technology for every stage of the process.
All the relevant work stages are monitored and automatically recorded with regard to size accuracy, tolerances and bolt-fitting values.
Assembly is carried out in a completely sealed, glazed area which can only be accessed via air locks so as to prevent any dirt from entering.
At the end of the engine assembly line, each engine is put through a test bench run where all relevant parameters are measured including output.
Vehicle assembly is also carried out in a dedicated section of the factory reserved exclusively for BMW Motorrad. Here again, state-of-the-art assembly technology is deployed.
The final inspection is performed according to BMW Motorrad standards and includes electronic functional testing as well as a final run on the roller test bench for every motorcycle.
The roller test bench is also completely new and set up according to Berlin standards. Furthermore, staff were specially selected and trained by TVS for production and assembly.
Additional training programs were held for assembly workers together with colleagues from the BMW Motorrad plant in Berlin-Spandau over a period of more than a year prior to the start of serial production.
From the very first motorcycle to come off the production line in India, they have also contributed to the high assembly standards and heightened quality awareness.
All in all, production of the new BMW G 310 R is subject to the same quality criteria that apply to production at the BMW Motorrad plant in Berlin-Spandau.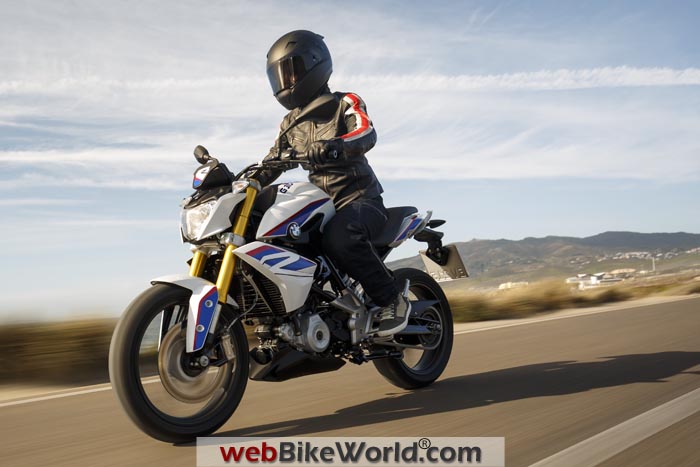 BMW G 310 R Specifications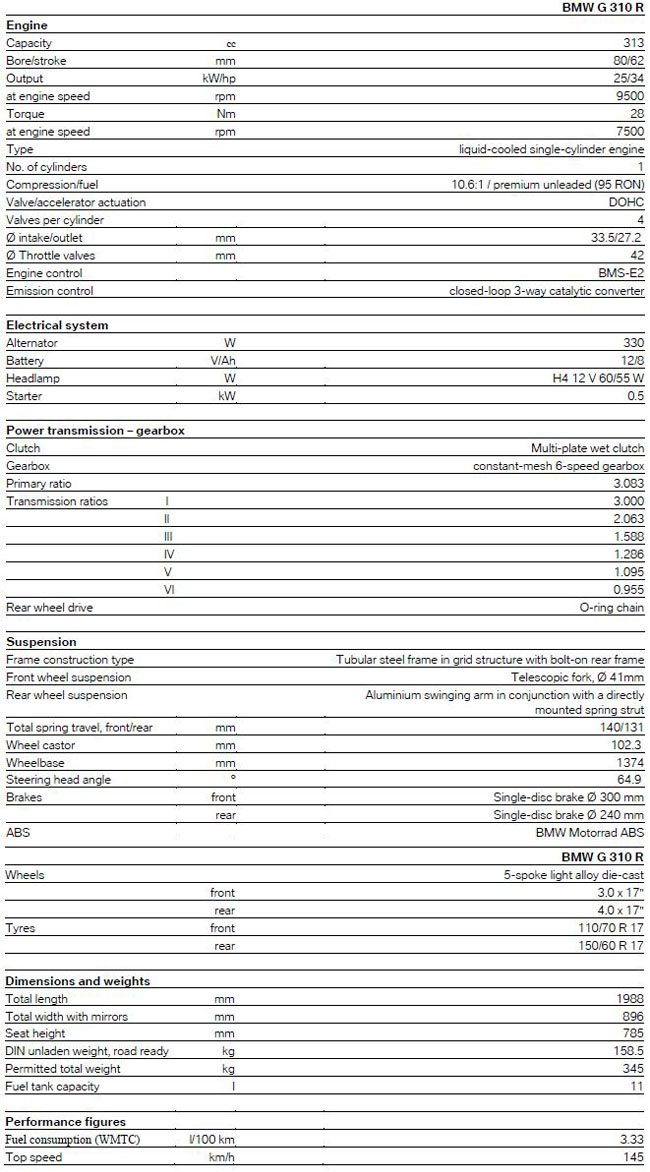 Optional accessories
Low seat.
Comfort seat.
Luggage bridge.
29-litre topcase "Basic" with retaining plate.
30-litre topcase.
Centre stand.
LED turn indicators.
12-volt socket.
Heated grips.
Pricing and Availability
Pricing TBD. The BMW G 310 R will be available starting in Spring 2016.
More: 2015 BMW Motorcycles Preview  |  wBW BMW Motorcycles Page
Master Listing of All wBW Motorcycle Product Reviews
Note:
 For informational use only. All material and photographs are Copyright © webWorld International, LLC since 2000. All rights reserved. See the webBikeWorld® 
Site Info page
. Product specifications, features and details may change or differ from our descriptions. Always check before purchasing. Read the
Terms and Conditions
!
Owner Comments and Feedback