Victory has added the word "Tour" to its Victory Vision and made it one of the best options for those who want to tour the country. The Vision Tour now has cruise control, heated seats and grips, ABS and adjustable floorboards, all for $30,495 ride away. That's cheaper than many other comparative quality tourers on the market yet it has a lot more style than most.

Some may not like the design as it can be quite confronting and polarising. I think itt's reminiscent of a '57 Chevy with its long curves and abundance of V shapes. Like it or not, you cannot deny its ability to turn heads. I've just returned from an extended 1500+km trip over the past three days on a Nuclear Sunset (reddish-orange) Vision Tour and can highly recommend it for long days in the saddle and attracting plenty of attention from passersby. You certainly won't be ignored when you roll into a little country town, with locals quick to strike up conversation. We travelled mainly on highways, but also some bumpy back roads and even some twisting sportsbike roads where it wasn't embarrassed.
The Vision is powered by the same 106ci (1731cc) V-twin as the rest of the range, a smooth, flexible and torquey engine. However, it feels a little noisier and rougher in this model, simply because the vibe and noise is focussed back on the rider by the massive fairings. The same goes with the transmission. Victory has gradually smoothed out all the clunks from the six-speed overdriven transmission over the past few years and this is the same. However, the fairing does make it sound clunkier than it really is. Gears are actually easy to selected, feeling positive with a light clutch pull for such a big bike, although neutral can be a bit tricky to find.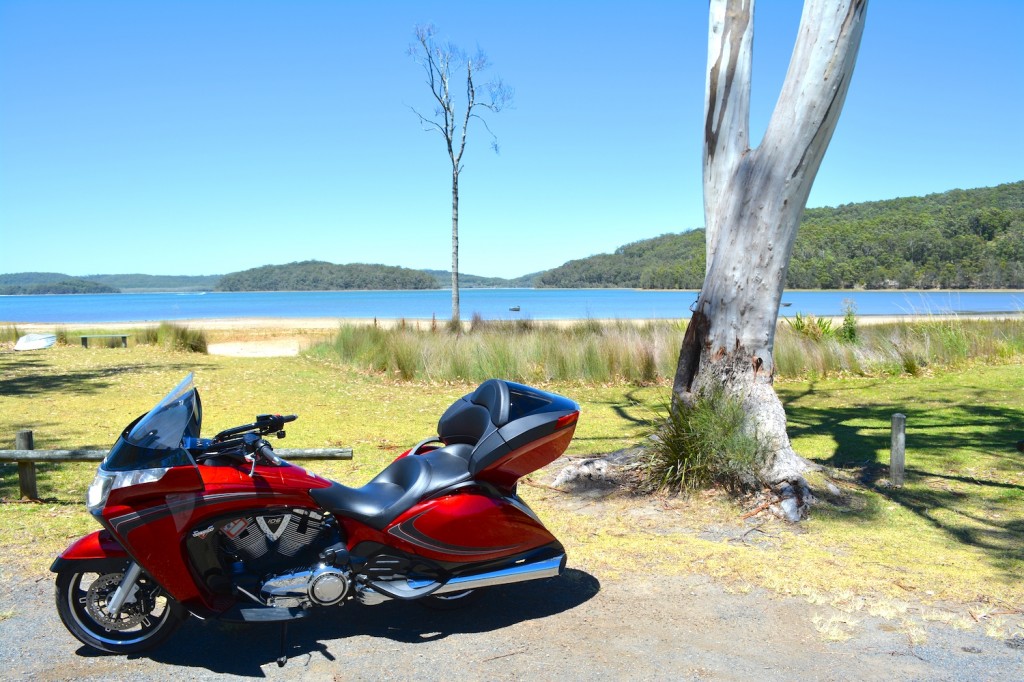 Throw a leg over the Vision and you will be awed by the size of the bike that sits in front of you. The big truck-like wing mirrors make the bike 1140mm wide. At least you can slip through the traffic knowing that the mirrors are the widest part as the panniers are about 300mm narrower. The seat feels higher than 673mm because it is wide at the front, but I can still get my legs down fairly easy at 187cm tall. In fact, you don't have to throw a leg over the bike. You can actually stand on the front or back floorboard and it won't roll on top of you. it's very sturdy on its sidestand which has a rubber foot so it won't scratch your garage floor or slip on a shiny surface.
Flick up the side stand and the bike doesn't quite feel its 400-odd kilogram of fuelled weight. Even at standstill, it feels nicely balanced and with wide ramhorn handlebars it is easy to control at walking speed and you can do feet-up u-turns fairly easily. There is a lever down by your left leg to switch the bike into reverse which is controlled by the ignition button and works a little slower than the Honda Goldwing.
The dashboard looks more like a car dash with two big analogue dials, two small dials outside those, two screens in the centre and even a big centre console up the fuel tank for the audio controls. There is a host of information available on the LCD screens including range, ambient temperature, economy etc and you can toggle through them via a handlebar mounted button. The left handlebar also has audio controls so you don't have to take your hands off the bars to control your sounds and there is a cruise control below the right grip. All these controls are easy to use and are placed in convenient positions.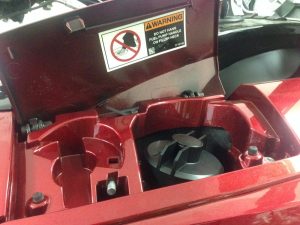 On either side of the tank are click-down flaps. The left has as well for storing your iPod or phone with a 12V socket and an audio connector. I'd buy the optional USB input with full connectivity to swap tracks via the button controls. The right-hand compartment houses the fuel filler which can be unlocked by flipping the key around to the left. It's convenient that you don't have to take the key out to unlock it, but it means you could leave your key in the ignition when you go in to pay for fuel. The filler neck must be made of malleable metal because there is a sign telling you not to rest the fuel nozzle on the filler neck as this can bend it which means the cap won't fit on properly. In the past this has led to fuel fumes in the cockpit. There is a convenient compartment to place the fuel cap while you are refilling. On several occasions I thought I had filled it right up to the top only to find I'd only put in about 75% of the tank's capacity. Keep filling until you can see it rise to the start of the filler neck. If you do, you will get about 400km of range out of the 22.7-litre tank. On our trip, it yielded 5.4L/100km with a combination of fast highway and exuberant back roads riding.
Before I finish with the left and right flap, the handlebars can get in the way and the left flap needs a good push to stay down. You also have to give the pannier lids a solid closing as I drove off from a servo and one popped open. The lockable side panniers look huge but they actually have a very small space that doesn't even fit a small bag. Thankfully the big top box will hold a full-face helmet, jacket and small bag or two open-face helmets and luggage. The ignition key also locks all the luggage lids.
Kick the big machine into life and the balanced motor throbs calmly beneath you without disturbing the big mirrors. However, the first you will notice is that the mirrors may be wide, but they don't give you any vision behind you and no matter how you adjust them you still see your hands. On our trip, I kept searching for my mate behind me and often thought I was about to be passed by someone, but it was just my gloved hand in the mirror.
Running in traffic is easy as the bike feels very balanced and the engine is smooth. However, pretty soon you are feeling a fair bit of heat from the rear cylinder right between your legs. Unfortunately, the heat doesn't blow away at highway speeds, but tends to pool around your thighs. On my journey into a heatwave it was very uncomfortable, but I wore a BMW Airflow suit that allowed too much hot air in. Leathers may have been cooler as I rode on one occasions wearing sandshoes and my feet got very hot, but when I toured I wore genuine leather Stylmartin boots and they protected me from the engine's heat. Steer away from wearing synthetic boots. It would be a great bike for the winter months with plenty of heating as the electronically adjustable windscreen keeps all the elements off you. I rode through a brief shower and didn't cop a drop. it also cuts all buffeting except at its lowest setting. That made the environment quiet so you can listen to the four good quality speakers.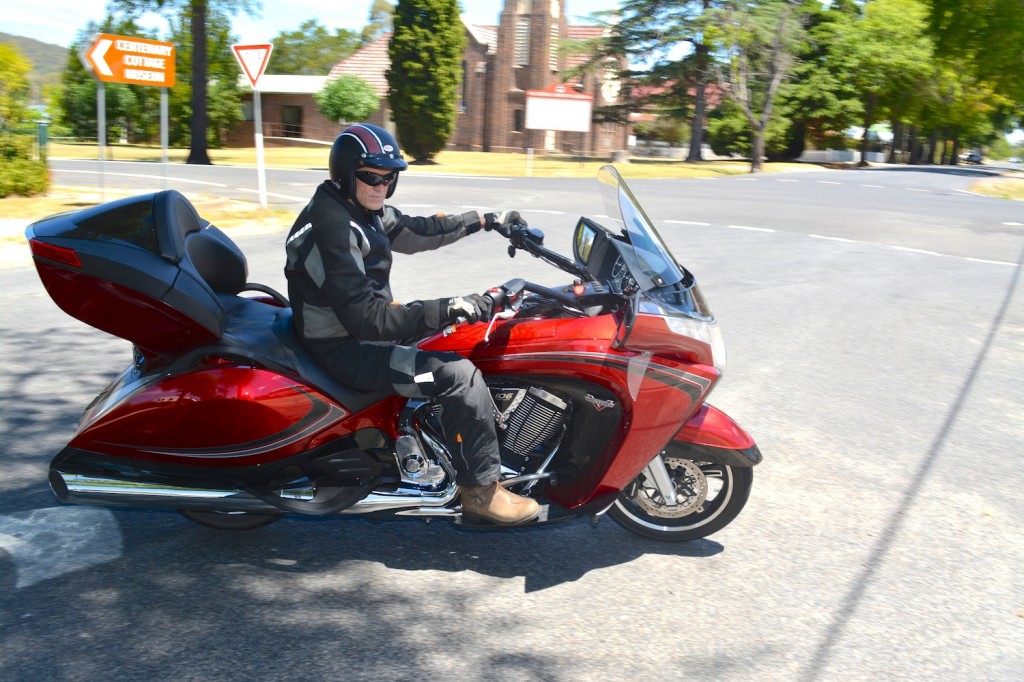 Compared with the Harley tourers, it steers a little slowly and cornering actually requires a little bit of weight shift. However, if you counter steer and lean a little, it feels light on its feet and will flick from side to side quite easily for swift movement through a series of corners. Aided by higher clearance than the Harley, it will nimbly carve up a series of twisties without scraping on every single bend. When the floorboards do touch down, they scrape at the back of the boards which flex up. I couldn't get any of the hard furniture to touch down, so it won't lift a back wheel unless you are really overdoing it. The Vision also rides plusher than the Harleys which tend to crash through the bigger hits and will hit the bump stops easier than this. In fact, I couldn't get the rear air-adjustable shock to bottom out even on some harsh roadworks bumps. On the highway it feels quite stable, but turbulence behind a big truck will make it rock slightly from side to side without affecting the steering or your control. At first it was a little unnerving, but I got used to it.
The linked brakes are simply awesome. While some people may not like linked brakes, they are almost essential on a big heavy bike like this. I had to do one panic stop and it worked a treat. The cruise control felt clunky at first, but I also got used to it and used it all the time. it works from fourth gear at 40km/h and has a button for on/off, accelerate and decelerate, set and resume which is as comprehensive as most car cruise controls.
This bike is made for long days in the very comfortable and wide saddle. Pillions will also like the rear seat with its big grab handles, wide seat, huge backrest and separate audio speakers.
2014 Victory Vision Tour tech specs
Price: $30,495 rideaway
Warranty: five years
Service: 800/8000km
Engine: 106ci (1731cc) 4-valve, 50-degree, oil-air-cooled V-twin
Bore x stroke: 101 x 108mm
Compression:     9.4:1
Transmission: 6-speed overdrive constant mesh; wet, multi-plate clutch; carbonfibre-reinforced belt
Fuel: 22.7-litre tank, ULP 91 RON, 5.4L/100km (on test)
Suspension: 46mm telescopic fork, 130mm travel; mono-tube, cast aluminium with constant-rate linkage air adjustable rear shock, 92.7mm travelDry weight: 394kg
Clearance: 148mm
Length: 2702mm
Rake/trail: 29.0° / 137mm
Seat: 673mm
Wheelbase: 1670mm
Brakes: linked, ABS, 300mm floating discs with 4-piston calipers (front), 300mm floating disc with 2-piston caliper (rear)
Tyres: 130/70R18; 180/60R16 Dunlop Elite 3
Wheel:  18 x 3.5, 16 x 5
Colours: Gloss black, white metallic, Nuclear Sunset (orange)