I get tired of defending cruisers from critics who've never ridden one or don't know how. Instead, I should just throw them the keys to a Victory Vegas 8-Ball.
Here is a cruiser that looks like a work of art that should be hanging in an art gallery somewhere not out cruising country back roads. Of course it's not going to set the fastest lap timer at Laguna Seca. To quote Albert Einstein: "If you judge a fish by its ability to climb a tree, it will live its whole life believing that it is stupid." The Victory Vegas 8-Ball is not a superbike, but that doesn't make it any less enjoyable. In fact, this bike just gave me two of the best days of riding I've had in a while on some of the bumpiest and twistiest tar northern NSW countryside can throw at you.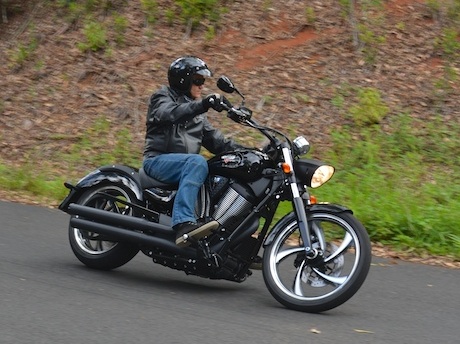 It has a flexible engine, well-matched and smooth transmission, adequate brakes, good grip, a nice ride and it turns heads everywhere it goes. After all, who could resist those turbo-fan mag wheels, swooping fuel tank, custom saddle, wide, wide beach bars and Batman-cowl headlight? It comes in any colour want so long as it's gloss black.
What's best is you get to ride away on the Vegas 8-Ball for just $19,995. You could say it's a Softy for not much more than a Sporty price tag.
The Vegas 8-Ball is powered by the same flexible and refined 106 Freedom air/oil-cooled V-twin as the rest of the Victory fleet. It has plenty of torque, doesn't vibrate too much, has low mechanical noise and is perfectly matched to the six-speed transmission. The cable clutch is a shortcut that keeps costs down and feels a bit stiff, so riding is traffic can be a bit of a chore. But around town you can swiftly flick through to fourth and trawl around on the lusty midrange torque. It will pull from just below 2000 revs and will happily cruise in sixth at 100km/h on the highway at 2300rpm and accelerate smartly for overtaking without requiring a lower cog. At higher revs, it still feels like it is pulling strongly and doesn't get rough, raucous or vibey. This engine pumps out a lot of hot air, but on this naked bike I couldn't feel any of the heat.
The riding position is a bit of a windsock and anything over 110km/h requires a firm grip of those wide bars. Yet it's a comfortable riding position with the controls not too far forward, the bars close enough for a relaxed elbow bend and a well-contoured dish-shaped saddle. After a few hours, though, my bony butt started to feel a bit sore. A bit more padding or a bit less at the back so I could slide further back might be better. I'm 187cm tall, so shorter people or those with more natural padding might find it more comfortable. You can get an optional second seat, but in Queensland the single seat means cheaper registration.
The controls are traditional and basic, but with a switch on the back of the left handlebar to toggle between odo, trip and a digital rev counter on the small LCD screen on the single-pod chromed speedo. Other than that, there is nothing between you and the view.
I rolled out of the city for an overnight ride with some mates through northern NSW wondering how I could manage to last two days on a bike like this with no room for luggage, an improbable skinny 21-inch front tyre, a low seat, minimal clearance and a windsock riding position. Fuel range is about 240km before the fuel light comes on leaving you with about 3 litres and 75km to empty. Yet I never felt like I couldn't make the distance to fill-up time. My backside got a bit sore, but my arms didn't tire and I felt fresh and still excited every time we stopped.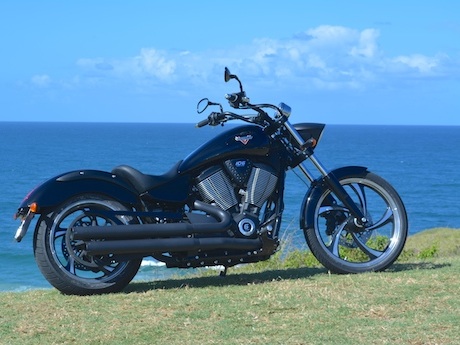 Some of the roads we rode were tight and winding, some with massive bumps and potholes. Of course, the clearance was an issue, so you have to arc the corners a little wider and plan a bit more carefully. It touches down quicker on the right because of the double exhausts on that side. Despite the big 21-inch tyre, it is surprisingly nimble. Turn-in is nimble because you have the leverage in those wide bars to flick the bike over quickly to its optimum lean angle. Once into the turn, the big front wheel tracks well and you can readjust your line if needed. Mid-corner bumps don't upset the bike as the wide bars are astonishingly stiff and the 21-inch wheel just crashes through the biggest bumps and craters without kickback. The back end hops on its spring a bit, but it takes a lot to lift the rear wheel off the ground. Brakes are adequate for a 290kg bike with some fork dive up front but a strong rear disc. Lines are braided so there is plenty of feel in the levers.
The best way to negotiate country corners is to get hard on the anchors before the entry point, then release, turn in quickly and throttle smoothly through the arc to lift the suspension and gain some clearance. With that method I not only managed to stay with the other bikes in our group, but set a cracking pace up front on occasions.
Superbike riders might revel in sheer speed and lean angles, but where can you legally exercise those joys on our country roads? On this bike I can have just as much fun at legal speeds on almost any tarred road surface. And oh what a joy to lean back, arms out wide to greet the corner as you tip the Vegas in, watching the tar rise up toward your backside, your heel skidding across the ground almost like your speedway riding. The defence rests.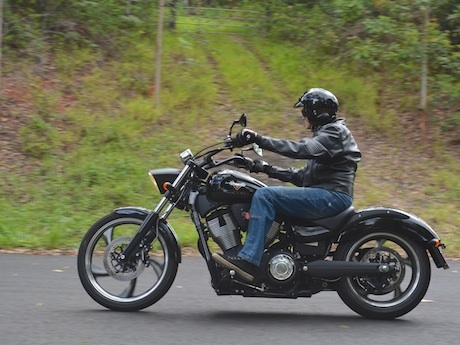 Victory Vegas 8-Ball tech specs
Price: $19,995
Warranty: 5 years
Service: 800/8000km
Engine: 1731cc, 4-valve 50° V-twin
Bore x Stroke     101 x 108 mm
Compression:     9.4:1
Transmission: 6-speed, carbon fibre reinforced belt
Fuel: 17 litre tank, 91 RON
Suspension: telescopic 43mm fork, 130mm travel; single, mono-tube, air-adjustable shock, 92.7mm travel
Dry weight: 290kg
Clearance: 135 mm
Length: 2439mm
Rake/trail: 32.9°/126mm
Seat: 640mm
Wheelbase: 1684mm
Brakes: 300mm x 5mm floating disc with 4-piston caliper (front); 300mm floating rotor with 2-piston caliper (rear)
Tyres: 90/90 21 54H; 180/55 B18 74H (tubeless)
Wheels: 21 x 2.15; 18 x 5.0