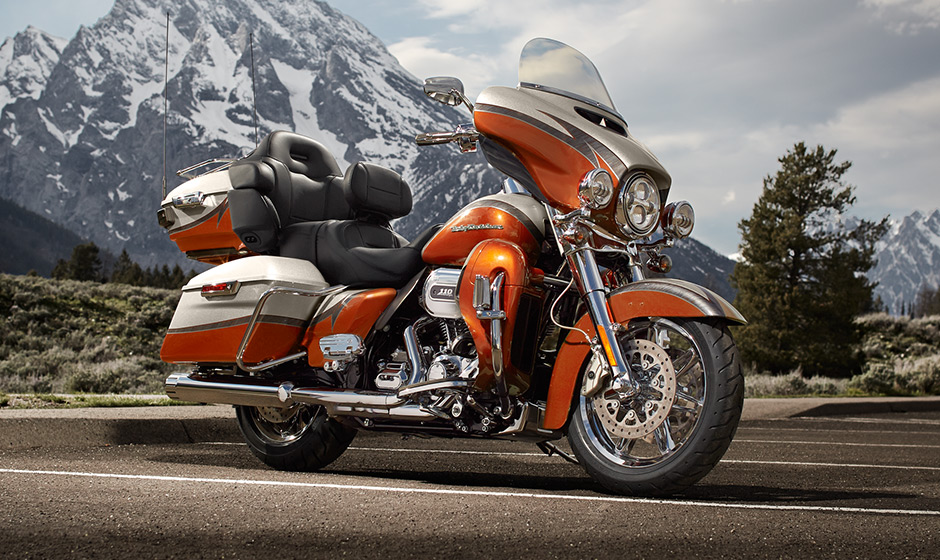 Most of the changes to the 2014 Harley-Davidson are in the Touring line-up.
This could be seen as a response to the launch of the Indian Chief with its first touring hard bagger model, but that was only two weeks ago and even Harley couldn't turn around their marketing and production strategies that quickly.
The biggest change is the introduction of a Twin-Cooled High Output Twin Cam 103 and 110 engines.
Water and a liquid coolant is routed through the cylinder heads in the area around the exhaust valves and then to ducted heat exchangers located in the left and right fairing lowers. The precision cooling system is thermostatically controlled, and uses an electric pump to circulate coolant. It is also expected riders won't cop as much heat in slow traffic. Cylinder head temperatures are lower and the reshaped fairing lowers improve venting of cooler air to the rider and passenger. The engines still use air cooling for the barrel assemblies to retain the long-term heritage of Harley's air-cooled technology. Basically, it's a partial liquid-cooling system a bit like BMW's new partially water-cooled boxer engines.
The more powerful Twin-Cooled engine will be added to the Touring line-up alongside the standard 103 and there will also be a 110 version of the Twin-Cooled in the CVO line-up.
Harley calls their 2014 model line-up Project Rushmore where they went out and rode with customers and asked them what they wanted. Sounds like pretty standard business practice to me.
They say it is the largest-scale new model launch in Harley's 110-year history with eight "new" models in the Touring, Trike and CVO lines.
Apart from the engine, these families now consists of the Road King, Street Glide, Street Glide Special, Electra Glide Ultra Classic, Ultra Limited, Tri Glide Ultra, CVO Ultra Limited and CVO Road King.
Nothing new about that, but there are quite a few changes.
Biggest is probably the introduction of linked "Reflex" brakes with ABS.
Big touring bikes work well with linked brakes. Just look at the Honda Gold Wing which has had them for years.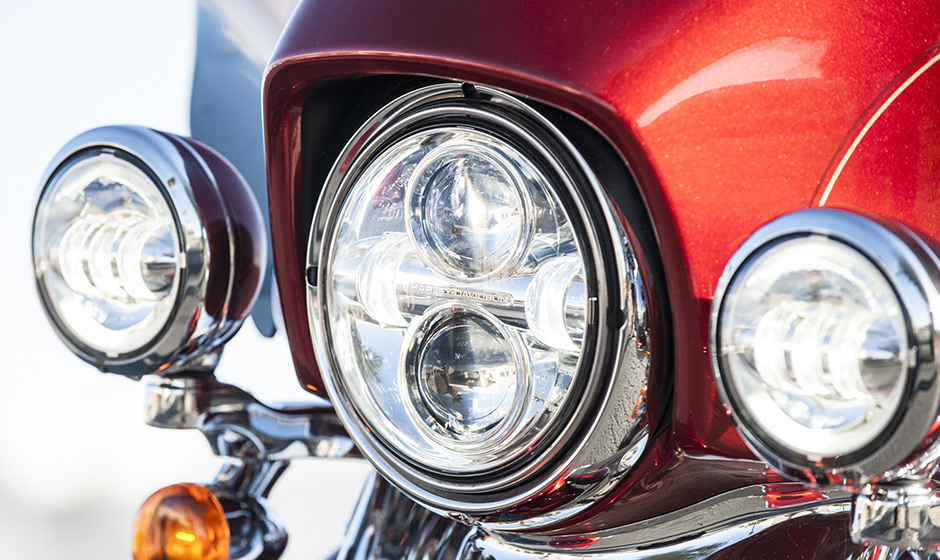 The bikes also get LED "Daymaker" headlights on some models and dual halogen on others while at the rear are LED tailights.
Harley has also join the Bluetooth age with a colour-screen Boom Box infotainment systems.
It features voice recognition and a touchscreen for music, satnav and phone with Bluetooth, text-to-speech technology, plus support for intercom and CB communications in a single module.
But hang on, so do most smart phones. Just Bluetooth them to your stereo and you have voice recognition, satnav instructions and text-to-speech.
For the media launch ride next week participating journalists have been asked what helmet they are bringing so Harley can fit them with Bluetooth headsets.
Motorbike writer will fly to Denver at the weekend for the ride.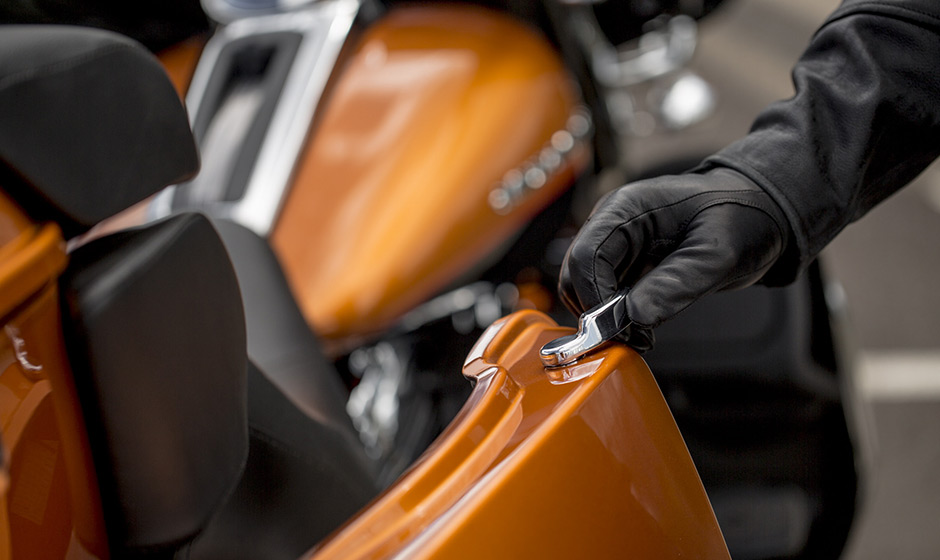 It will be interesting to see whether they include satnav directions, but we do know they will have a selection of music they have gathered especially for the launch including a version of The Beatles' Come Together by Irish band, The Strypes as used in the You Tube ad for the new range.
That video shows an incoming call from "The Boss" – not Bruce Springsteen, either – to which the rider responds by pressing the "ignore" button on the colour touchpad screen.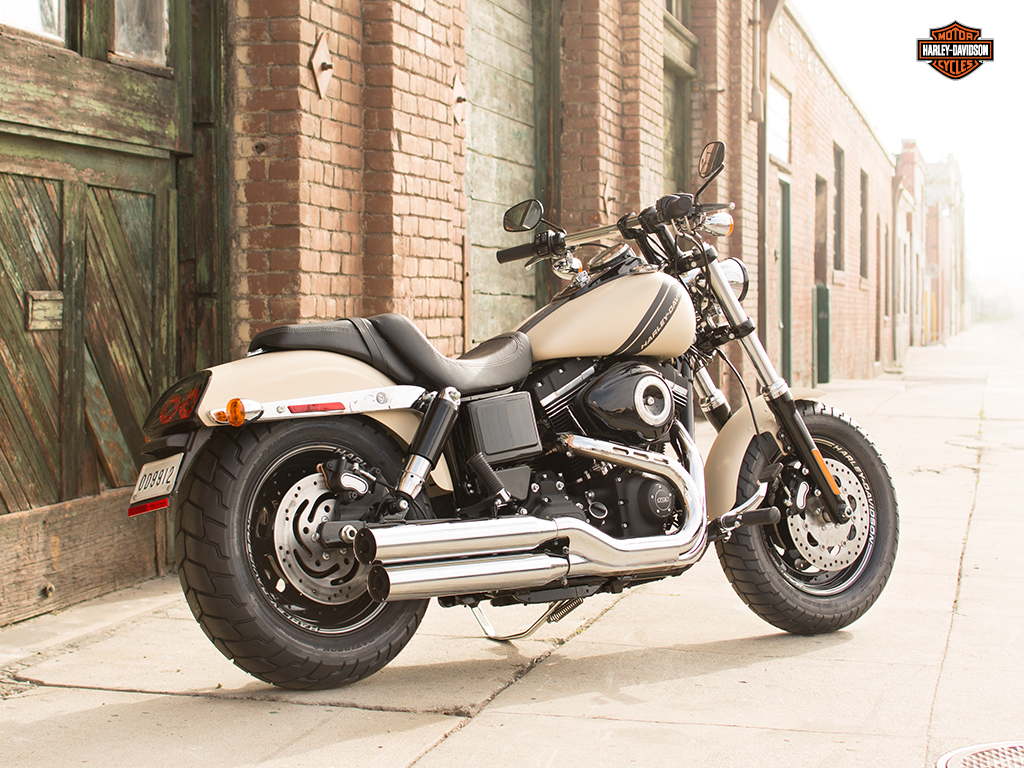 The Touring range also boasts better aerodynamics, a new Batwing fairing with a central "splitstream venting" system that is claimed to reduce buffeting by 20%, wider and deeper seats, new back and arm rests, a larger Tour-Pak and saddlebags with one-touch latches, sleeker fenders, lighter cast alloy wheels and new hand control switches.
In the few changes in other model lines, all five Sportster models get keyless remote and ABS, the 103 engine is now standard across all Dyna and Softail models as predicted, and the Fat Bob has been restyled with blacked-out finishes, slash-cut mufflers and unique diagonal tank graphics.
There is no word on a small-capacity bike for emerging markets such as India and China as predicted.
MotorbikeWriter is flying to the US on Saturday to ride the new models early next week, so stay tuned for ride impressions.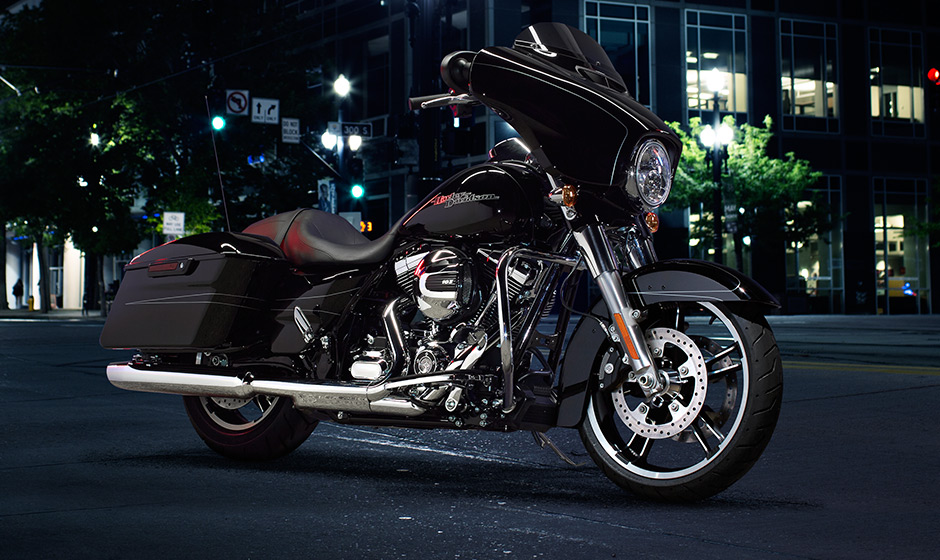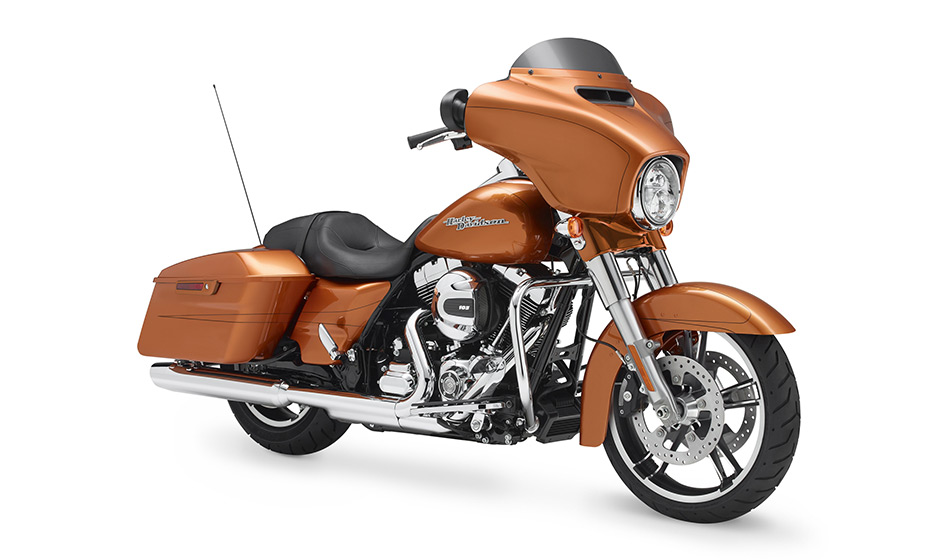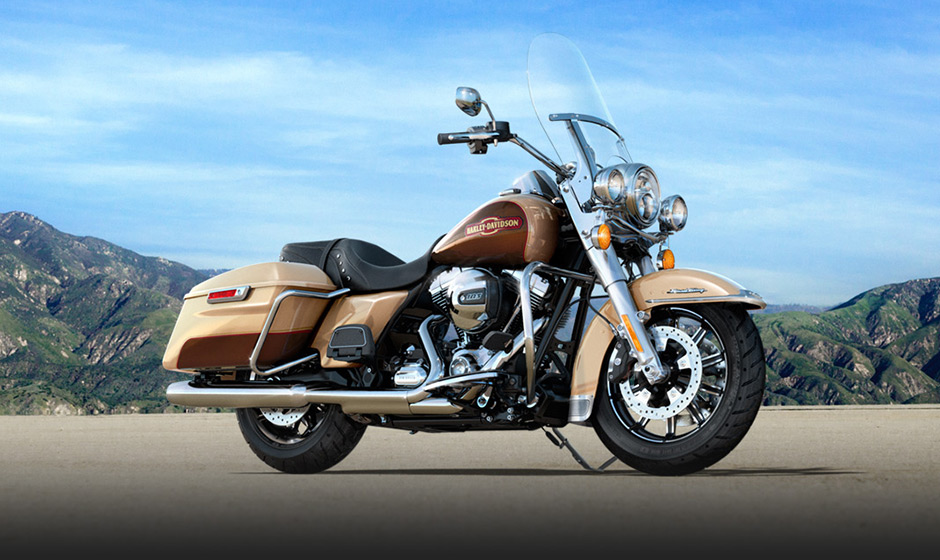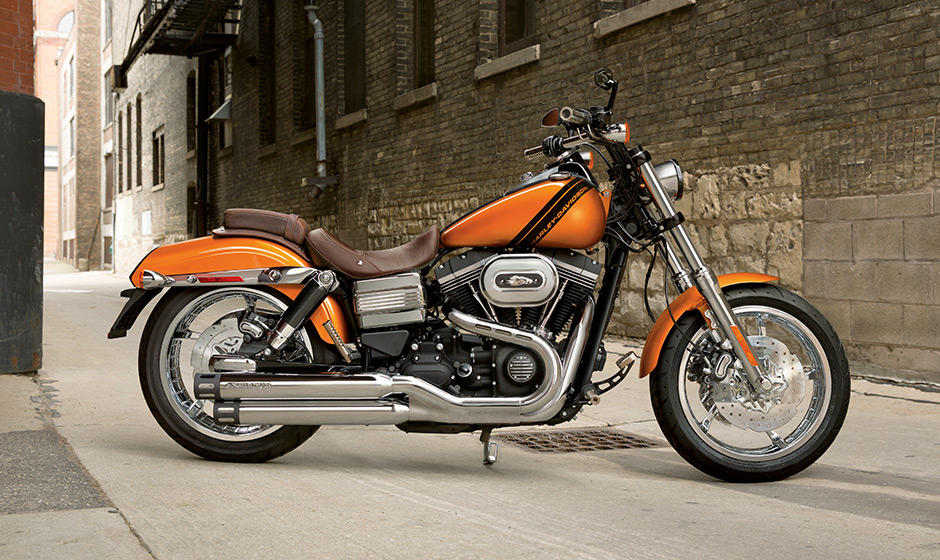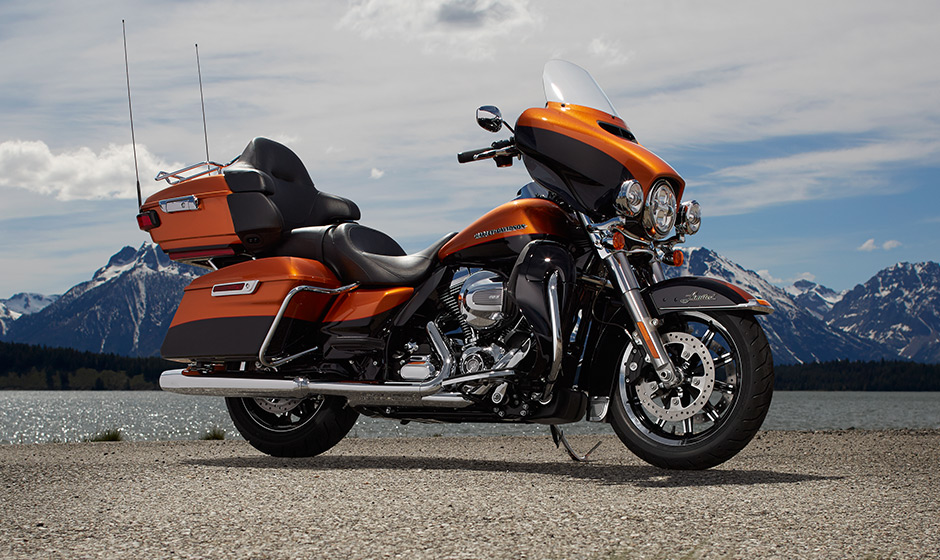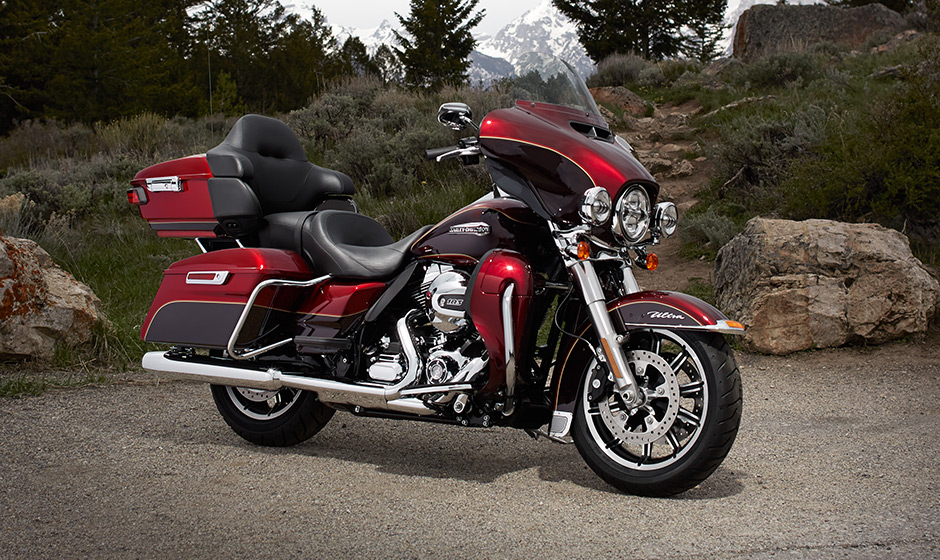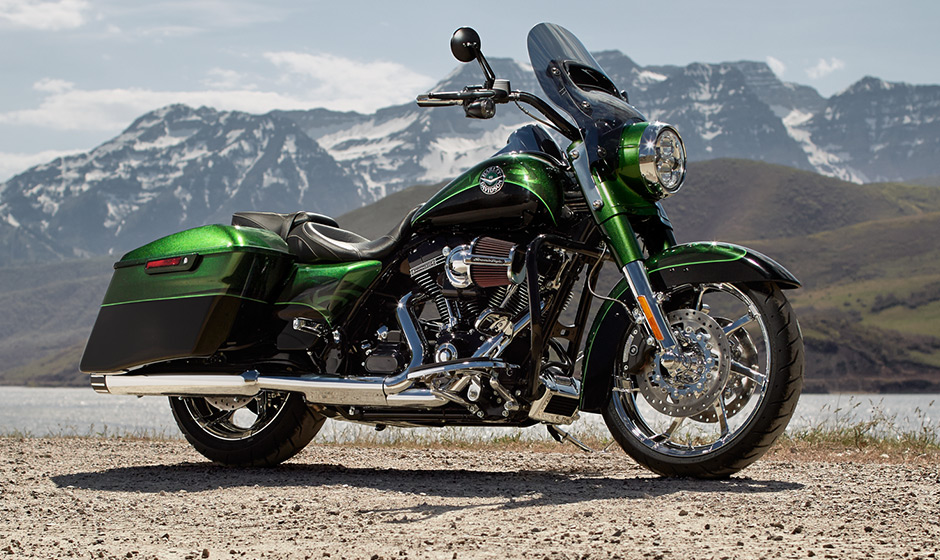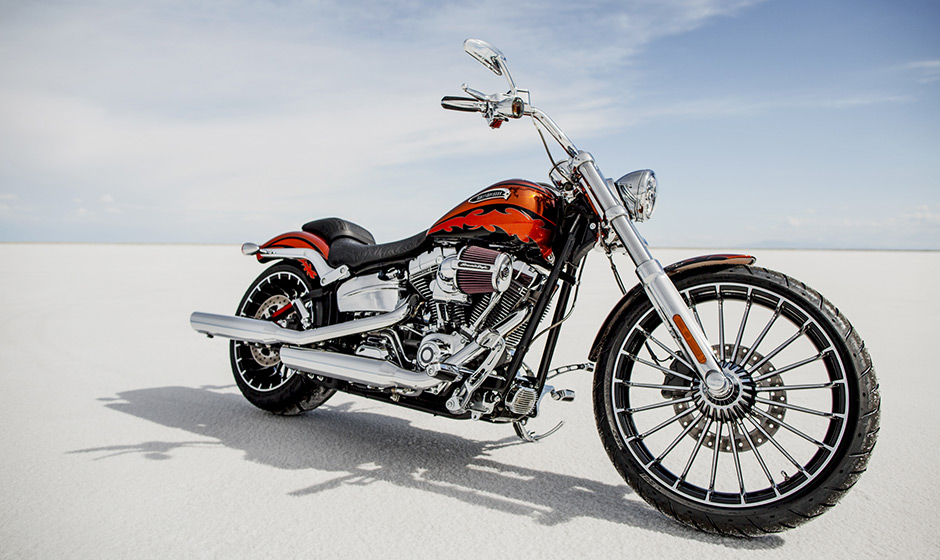 HARLEY-DAVIDSON TOURING MODEL SPECIFICATIONS
Road King® Classic
·         Air-cooled High output Twin Cam 103™ powertrain
·         Reflex™ Linked Brakes with ABS
·         Stiffer 49mm forks
·         Dual Halogen headlamp and halogen fog lights
·         Profile Laced wheels with wide whitewall tyres
·         Low-profile front fender
·         Improved instrument graphics
·         New intuitive hand controls
·         New electronic cruise control standard
·         New high-flow airbox
·         New redesigned saddlebags with One-Touch latch
·         New more leg clearance and more comfortable riding position
·         New medallions on tank and front fender
·         New ergonomic handlebars and controls
Street Glide®
·         Air-cooled High output Twin Cam 103™ powertrain
·         Reflex™ Linked Brakes with ABS, with floating open brake rotors
·         Hydraulic clutch
·         New Jukebox media compartment with One-Touch push-to-open door, and USB connection to Boom!™ Box 4.3 infotainment system with colour screen with Bluetooth connectivity
·         New re-designed, wind tunnel-developed Batwing fairing with splitstream vent to aid with air-flow and aerodynamics
·         Stiffer 49mm forks
·         Dual Halogen headlamp
·         Enforcer cast aluminium wheels
·         Restyled saddlebags with One Touch latch with increased storage capacity
·         One Touch fuel door
·         Low-profile front fender
·         Larger gauges with improved graphics
·         New intuitive hand controls
Electra Glide® Ultra Classic®
·         Twin-Cooled™ High output Twin Cam 103™ powertrain
·         Hydraulic clutch
·         Reflex™ Linked Brakes with ABS
·         Boom!™ Box 4.3 infotainment system, with colour screen, USB port and Bluetooth connectivity
·         New Batwing fairing with splitstream vent
·         Stiffer 49mm forks
·         Daymaker™ LED headlamp and fog lamps + LED stop/turn/tail lights
·         LED rear lighting on Tour-Pak
·         Impeller cast aluminium wheels
·         Restyled Tour-Pak™ with One Touch latch and increased capacity
·         Restyled saddlebags with One Touch latch and increased capacity
·         One Touch fuel door
·         Low-profile front fender
·         Larger gauges with improved graphics
·         New intuitive hand controls
·         New Impeller Cast Aluminium wheels with Blackwall tyres
·         New redesigned, wider shotgun seat with backrest and armrests
Electra Glide® Ultra Limited®
·         Twin-Cooled™ High Output Twin Cam 103™ powertrain
·         Hydraulic clutch
·         Reflex™ Linked Brakes with ABS
·         Stiffer 49mm forks
·         Boom!™ Box 6.5 infotainment system, with colour touchscreen, integrated GPS maps and voice control (9 languages)
·         New Batwing fairing with splitstream vent
·         Gloss Black inner fairing
·         Daymaker™ LED headlamp and fog lamps
·         LED rear lighting on Tour-Pak™
·         Contrast Chrome Impeller cast aluminium wheels
·         Restyled Tour-Pak™ with One Touch latch and increased capacity
·         Restyled saddlebags with One Touch latch and increased capacity
·         One Touch fuel door
·         Low-profile front fender
·         Larger gauges with improved graphics
·         New intuitive hand controls
·         Heated hand grips
·         Tour Pak™ luggage rack
Tri Glide® Ultra Classic® (available in New Zealand only)
·         Twin-Cooled™ High Output Twin Cam 103™ powertrain
·         Hydraulic Assist & Slip clutch
·         Boom!™ Box 6.5 infotainment system, with colour touchscreen, integrated GPS maps and voice control (9 languages)
·         New Batwing fairing with splitstream vent
·         Stiffer 49mm forks
·         Daymaker™ LED headlamp and fog lamps
·         One Touch fuel door
·         Low-profile front fender
·         Larger gauges with improved graphics
·         New intuitive hand controls
·         Unique Hydraulically Linked Braking system, linking rear brake to the front tyre, but not the front tyre to the rear
·         New rear brakes with 16% larger rotors
·         Foot-operated parking brake
OTHER HARLEY-DAVIDSON MY14 DEVELOPMENTS
Fat Bob restyling
·         The Dark Custom styling of the MY14 Harley-Davidson Fat Bob model projects a new assertive authority. Highlights include a new slash-cut rear fender with a recessed twin-ring LED tail light. Black replaces chrome everywhere, including the powertrain, air cleaner cover, rear shock covers, triple clamps, headlight trim rings, console and battery box cover. The Aluminium Slotted Disc wheels are powdercoated black and finished with a laser-engraved Harley-Davidson logo and rim stripe
ABS and Keyless Security for 2014 Sportster models
·         The confidence-inspiring control offered by ABS (Anti-lock Braking System) is now available on all 2014 Harley-Davidson Sportster® model motorcycles. The seven model Sportster line also features updated hand controls and brake components, improved service access, and a standard H-D® Smart Security System with a new proximity-based keyless ignition and hands-free security fob
103™ Powertrain as standard for Dyna and Softail® range
·         The Twin Cam 103™ powertrain is now standard equipment on all of the Harley-Davidson Dyna and Softail® models
Harley-Davidson CVO™ range offers more style, luxury and technology
·         The 2014 CVO™ series of limited-production motorcycles features the new CVO™ Softail® Deluxe model for 2014, a premium custom touring motorcycle equipped with a detachable windscreen and GPS navigation, Daymaker LED lighting, detachable saddlebags and of course the bold paint and big Screamin' Eagle powertrain with 110 cc that's always part of the CVO program. The CVO™ Road King® and super-premium CVO™ Ultra Limited® return with new features and Project RUSHMORE enhancements. The bold CVO™ Breakout® Softail® chopper returns with three dazzling new paint schemes