The new KTM 1190 Adventure follows its biggest competitor, BMW's R 1200 GS, into a more road-focused market.
Both are now geared for 90% tar and occasional dirt.
But it's KTM which has made the biggest leap forward with a massive increase in engine capacity from 990 to 1190cc and subsequent power and torque increases.
The KTM 1190 Adventure also makes a quantum leap in technology from the rather rudimentary 990 Adventure into a modern with a host of electronic rider aids as standard.
It has four engine modes, electronic suspension with three damping modes, electronic spring rate adjustment, traction control, switchable ABS with rear-off/front-on mode and tyre pressure monitors.
Even the notoriously simple KTM instruments have undergone somewhat of a revolution for the road with much more sophisticated instrumentation, two LCD screens, a programmable "favourites" menu and such a comprehensive list of on-board computer information that even the ambient temperature includes changes by .1 of a degree.
It's also become slightly more genteel with suspension lowered by 30mm to 190mm, the 21-inch front wheel replaced with a 19-inch hoop and 120/170mm tyres like the GS.
Despite the bigger engine and technological advancements the price has dropped from $21,995 for the previous 2012 model 990 Adventure to $20,995.
The KTM 1190 Adventure comes standard with all the electronics. Cruise control is not available, but aftermarket factory heated handgrips are available for $254.99.
Beauty may be in the eye of the beholder, but few could argue that KTM has created a more cohesive and tidy design than the GS.
It flows from front to back with a very tidy front end, smooth panels and a handsome face with a charming LED "grin".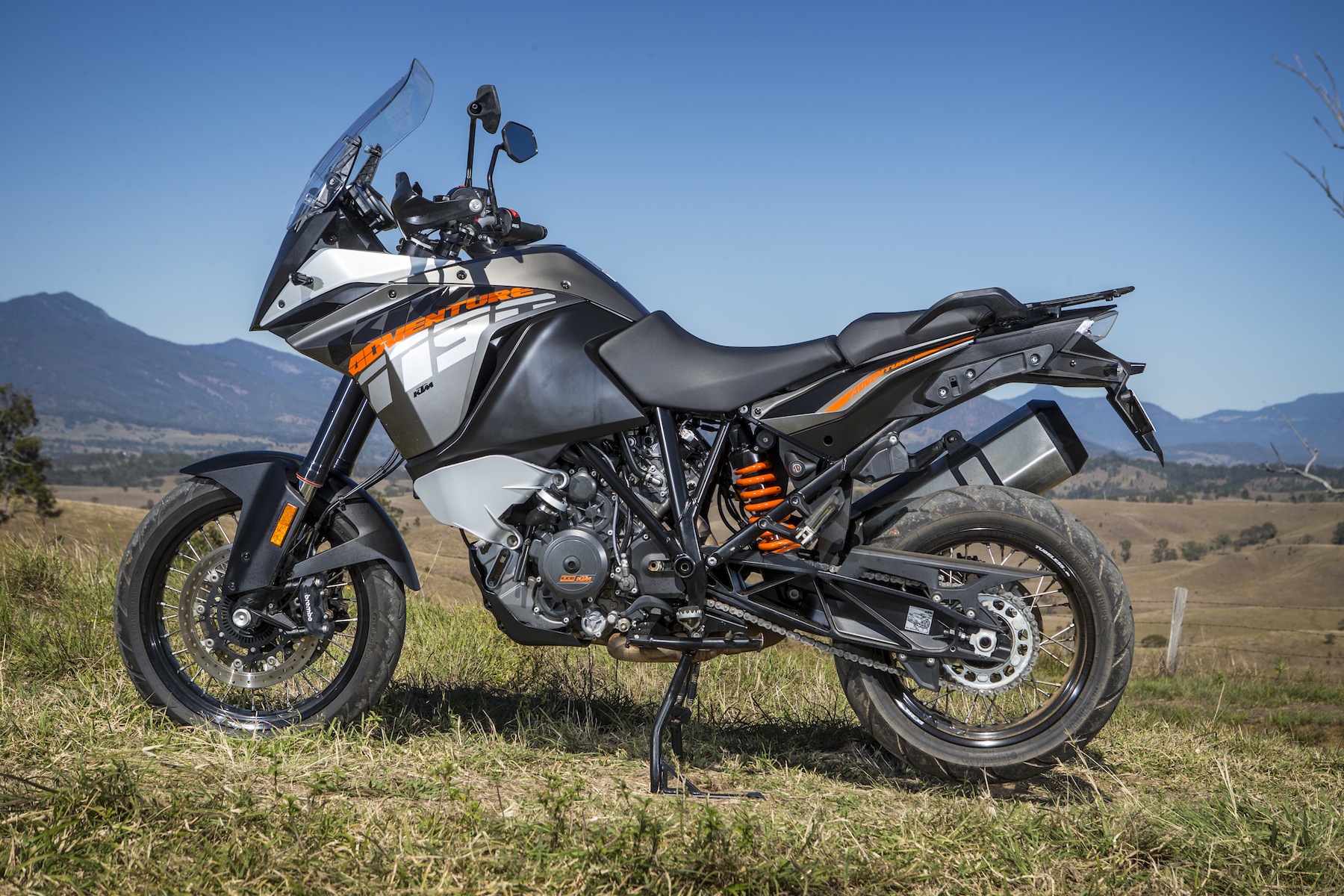 Gone is the Transformers look, the sharp and jagged panel angles and the slab sides.
It's now a nimble, purposeful road bike.
Yet the KTM also has good panel and engine protection in case you have a lose in the dirt.
One point of styling that is impractical is hiding the ignition key in a recess between the steering head and the instruments where it is difficult to access, especially with a GPS fitted.
It also has a sidestand which is little more than a joke. It's too short, too vertical, the footprint is too small and it doesn't stick out far enough. On several occasions during testing, the bike almost toppled over.
The KTM is now more easy to live with thanks to service intervals of 15,000km compared with the BMW's 10,000km and it comes with a decently comprehensive tool kit.
The big attraction here, though, is in the engine room.
The bored-out, longer-stroked 1195cc engine jumps from 82kW in the 990 Adventure to 110kW with an extra 3000 revs to boot.
On the torque side, it's leapt from 100Nm to 125Nm with an extra 750 revs.
It has an urgent throb, is a little slow off the mark, but then has perky peak power from around 5000rpm and loves to be worked through the gears.
When you hit that sweet spot, it is simply electrifying.
Roll-on acceleration from 100km/h to 120km/h takes about 4-5 seconds and you really need to drop a cog for overtaking.
Gears are fairly tall which suits its touring abilities, but if you plan on having some dirty fun you might want to shorten the gearing by replacing at least one sprocket. The gearbox feels clunky and purposeful, rather than slick, and has a light clutch pull with neutral easy to find.
Unfortunately with increased engine power comes heat. The KTM 1190 Adventure radiates hot air up through the front of the seat to the inside of your knees.
It has an almost agricultural V-twin sound as it revs up, but it smooths out and doesn't blur the mirrors. However, if you sit on high revs for too long it can feel a bit buzzy.
Over the course of testing the KTM 1190 Adventure returned average fuel economy of 5.5L/100km and 5.7 with a pillion, but it could do better if you go easy on the gear changes and throttle.
Even though it has three extra litres in its fuel tank it will probably pull up dry around the same mark as the Beemer, close to 400km.
For touring duties I found the "street" mode on the KTM best and it easily transitions to dirt without having to switch to "enduro" mode.
However, when you really get into it, the enduro mode is perfectly suited to off-road adventures as the ABS remains on at the front and switches off at the back.
The KTM has always been light and maneuverable on the dirt, but it's the new-found road ability that will bring this bike to the attention of more riders.
On the tar, it feels stable, but it now has a wider-section 120mm front tyre on a 19-inch wheel that inspires confidence to throw it into a corner. The Continental Attack 2 rubber provides dependable turn-in and grip. Select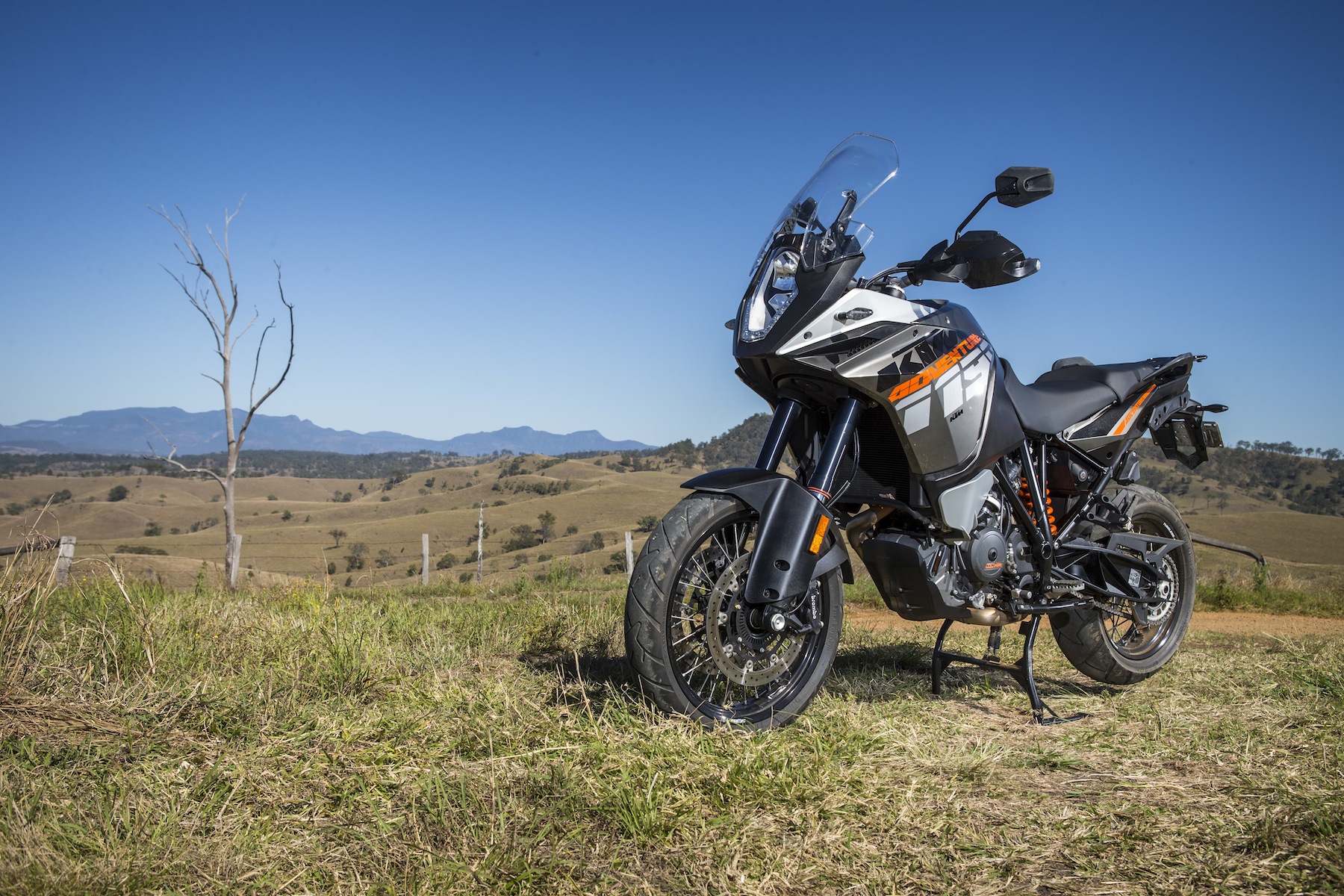 the Street or Sport mode and it runs on rails through the twisties.
On the gravel, the front tends to understeer or "skate" into gravel corners thanks to the wider front rubber and the front can get a little flighty at times. Best to lock the back wheel and turn it into the corner and not depend too much on the front for grip.
The 2014 model will also come with Bosch's Motorcycle Stability System (MSC). A retro fit on current models will also soon be available. Read more about it here.
Like most KTMs, I feel it needs a stabiliser or, at least, wider bars so you can control that flighty feel.
The KTM bars also need risers and a relocator to move them further forward for standing duties. The bar bend is too low to make much difference if you roll them forward.
I've ridden GS bikes with standard suspension, electronic suspension, with shocks by Sachs, Ohlins and Wilbers and nothing can match the WP for off-road plushness and feel.
There is simply no equal for the KTM's WP suspension on the dirt and gnarly pock-marked back roads, but it doesn't quite seem as composed on the tar as the BMW's Sachs shock.
Even before throwing a leg over the seat, lifting the KTM 1190 Adventure off the sidestand is easy thanks to its low weight and centre of gravity. Wheeling it around in the garage, it almost feels like a dirt bike.
Throw a leg over and it also feels like a dirt bike because you sit "on" top of it, rather than "in" it, like the Beemer. You can vary seat heights and also go for optional lower seats, but it's still a fairly high perch for most.
When you stand up for off-road riding you will find the seat very narrow so you can grip it with your knees and not feel like you are riding bow-legged.
KTM has greatly improved the pillion comfort on the new 1190 Adventure with a generous seat stuffed with 3D foam, a long reach to the footpegs and wide hand grips that cater for wide hips.
The electronic suspension also makes things better with a pillion or luggage with "comfort" and "soft" damping settings and electronic height adjustment that keeps it level and prevents the front from feeling too light and the headlight from pointing at UFOs.
If you want to fit luggage, optional panniers go straight on without the need for extra mounts.
The KTM windscreen contributes to a lot of buffeting over 80km/h and if you need to adjust it, you'll have to stop, flip two levers, then use both hands to lift it or push it down.
Every KTM 950 and 990 Adventure owner I have ever known has that wild 1000m stare and white-knuckle fever. They have usually grown up on dirt bikes and now want a familiar feel in a touring all-road bike.
By contrast, most GS owners I've known have come to adventure touring via road bikes and are a more sedate and genteel group. On the rare occasions they hit the dirt, the Beemer flatters their novice skills.
However, KTM's new 1190 Adventure has changed the game. I can see road bike owners feeling quite comfortable switching to the orange brigade.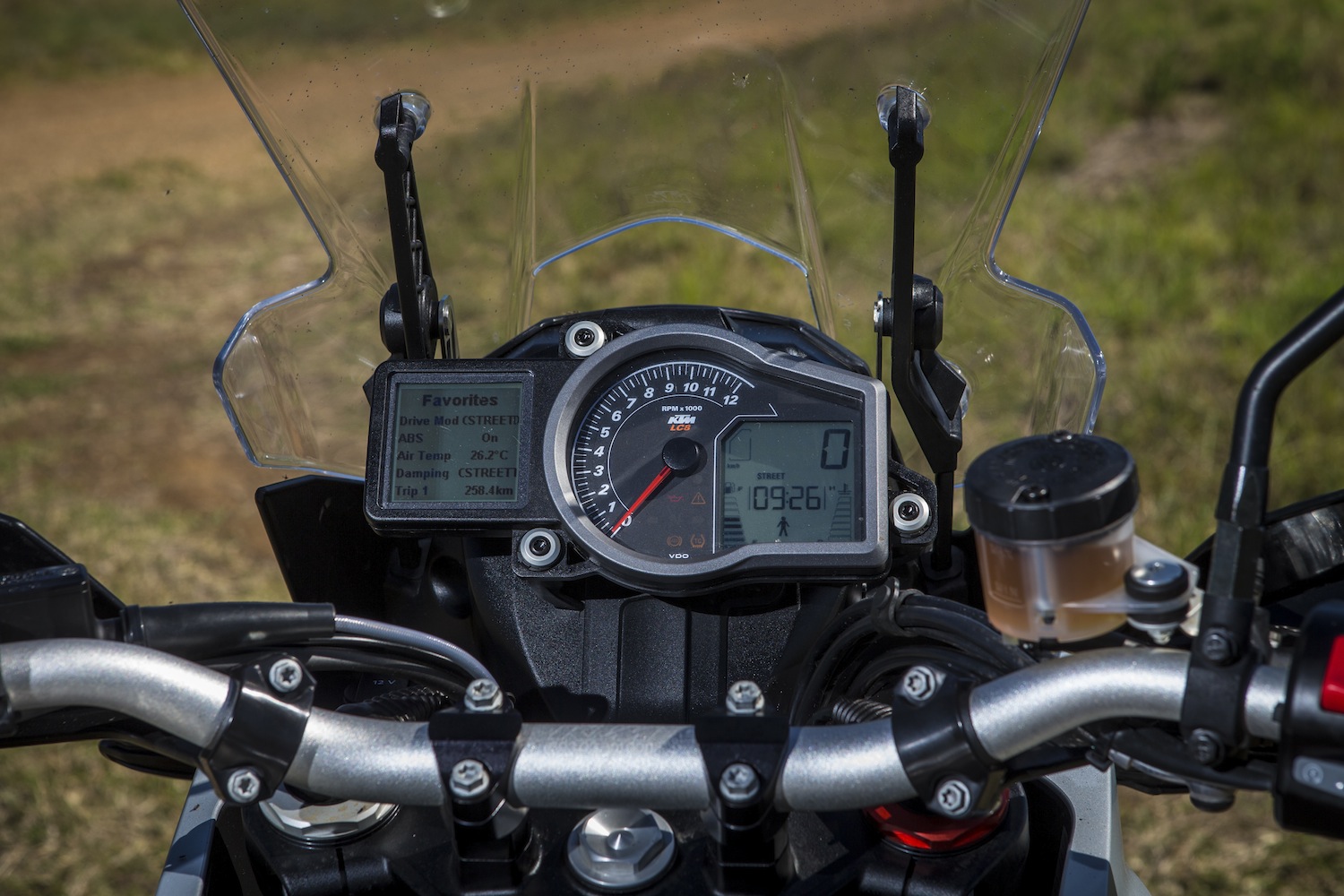 KTM 1190 Adventure tech specs
Price: $2o,995
Engine: liquid-cooled , 1195cc 75° V-twin
Bore x stroke 105mm x 69mm
Power: 110kW
Transmission: 6-speed, claw shifted, PASC™ anti-hopping clutch/ hydraulically operated
Frame: Tubular space frame made from chrome molybdenum steel, powder-coated
Suspension: WP USD forks, 190mm travel; WP Suspension monoshock, 190mm travel
Brakes: 2 Brembo radially mounted 4-piston brake calipers, 320mm discs; Brembo fixed mounted two-piston brake calipers, 267mm disc; Bosch 9ME Combined-ABS
Wheelbase: 1560mm
Clearance: 220mm
Seat: 860/875mm
Fuel: 23-litre tank, unleaded premium (95 RON)
Dry weight: 212kg