2010 Triumph Thunderbird and 2010 Triumph Motorcycles
UPDATE: April 16, 2009 – Triumph has set the price for its new Thunderbird big twin cruiser at $12,499 USD.
Dealers throughout North America are accepting deposits for the first wave of Thunderbirds, which are scheduled to arrive on North American shores this summer.
"We have received a lot of fantastic feedback from motorcyclists who have seen the new Thunderbird online and at Daytona Bike Week," said Jim Callahan, North American Marketing Manager for Triumph Motorcycles.
Triumph is dedicated to providing an outstanding motorcycling experience, so we are thrilled to make this amazing new motorcycle available at a very competitive price point."
The Triumph Thunderbird has been designed from the ground up to feature an innovative 1,600cc parallel twin engine, six-speed transmission and 200mm rear tire
An anti-lock braking system (ABS) is available for an additional $800 USD.
The Thunderbird will be easily customized to meet each rider's own styling tastes and riding preferences with a long list of Genuine Triumph Accessories that include a long haul touring seat, windshield, passenger back rest, luggage rack and leather saddle bags.
The new bike's namesake landed on North American shores in 1950 and received rave reviews from motorcyclists for its styling, agility and speed and later appeared alongside Marlon Brando in the blockbuster movie "The Wild One".
The new Thunderbird is a radical departure from its ancestor, but promises to live up to its legacy.
To reserve a new Thunderbird, customers should visit their local Triumph dealer to place a deposit and complete a Reservation Form.
Once Triumph North America receives the Reservation Form, a conformational email will be sent to the dealer and customer with the expected month of delivery.
As shipments are received from the factory, motorcycles will be sent to the dealers for customers in the order that the reservations were received. The special order program will run until July 1, 2009.
The Thunderbird is Here!
UPDATE: March 18, 2009 – Triumph's Thunderbird first landed on North American shores in 1946 and received rave reviews from motorcyclists for its styling, agility and speed.
The Thunderbird quickly found its way into homes and movies as motorcyclists enthusiastically flocked to the roadways and the machine appeared in major motion pictures including "The Wild One" with Marlon Brando.
Now, a new generation is preparing to take flight on a brand new Thunderbird that embodies state-of-the-art technology and European styling with a distinctive American twist.
The machine made its first North American appearance at Daytona, Florida Bike Week, starting on February 27, 2009, but some Triumph dealers have already taken deposits amidst anticipation of the bike's arrival.
"The Thunderbird fits perfectly between Triumph's 863cc Bonneville and the 2,300cc Rocket III motorcycles," said Tony Lewis, owner of Triumph dealer Eurosport in Fort Worth, Texas.
"It's exactly what we've been waiting for and several of our customers have already placed deposits. If you want to be one of the first to get a Thunderbird, you better hurry because they'll go fast."
The new Thunderbird, offered as a 2010 model, features a 1600cc (96 cubic inch) parallel twin engine that produces more than 80 bhp and more than 100 ft. lbs. of torque.
Power will be transferred to the ground through a six-speed transmission designed for city and highway cruising, a belt final drive and a meaty 200mm rear tire.
Dual front disc brakes with braided stainless steel brake lines are standard while Triumph's anti-lock braking system is an available option.
North American riders will appreciate the relaxed riding position, forward mounted controls, pull back handlebars and agile suspension that are designed especially for day-long rides on long and winding roads.
An elegant instrument cluster with integrated speedometer, tachometer and odometer is mounted on a shapely 5.5 gallon gas tank that promises many miles of riding between fill-ups.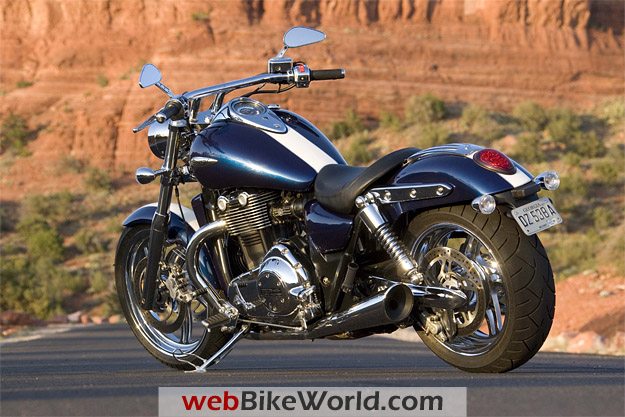 "Triumph has been methodically expanding its model line to suit the various riding styles around the globe, and the Thunderbird is a great addition for American riders who want a large displacement twin-cylinder cruiser," said Mark Kennedy, CEO of Triumph North America.
"Triumph employees are passionate about motorcycling. It's truly a labor of love to deliver great looking and performing motorcycles. So for us, developing the specifications sheet was easy.
The fun and challenging part was creating a completely new motorcycle that delivers an exceptional riding experience. I can proudly say that the Triumph team has accomplished just that."
The Thunderbird will be easily customized to meet each rider's own styling tastes and riding preferences with a long list of Genuine Triumph Accessories that include a long haul touring seat, windshield, passenger back rest, luggage rack and leather saddle bags.
"The Thunderbird was designed to take on the best of the big twin cruiser motorcycles, and it stands apart from the crowd with exceptional performance and Triumph's distinctive style," said Kennedy.
"We're very excited about the opportunities that the Thunderbird represents in America for riders who favor big twin cruisers and know Triumph for its heritage and quality of modern motorcycles."
North America has always had a special relationship with Triumph because of the spirit that Triumph represents. Like the motorcycles themselves, people who ride a Triumph tend to be quietly confident and have a distinctive sense of style that never goes out of fashion.
Triumph survived bankruptcy in the early 1980s and a devastating fire that destroyed its factory in 2002.
Unfazed by the challenges, the company continues to recapture peoples' hearts and minds as they take to the streets to discover the thrill and enjoyment that only a Triumph motorcycle can provide. Triumph is now one of the fastest growing motorcycle manufacturers in the world.
2010 Triumph Thunderbird Specifications
UUPDATE:  The 2010 Triumph Thunderbird engine will have over 100 lb. ft. of torque and over 92 bhp; includes 21 liter fuel tank.
Triumph announced record sales and an expanded range of motorcycles to almost 1,200 delegates at its second Global Dealer Conference, held during the last weekend in July in Birmingham, England.
The world-famous brand, solely owned by British businessman John Bloor, confirmed that it was on track to top 50,000 sales in 2008, exceeding the previous record of 46,700, which was set during Triumph's "golden era" in the 1960s.
Triumph, based in Hinckley, Leicestershire, claims to be "the world's fastest growing motorcycle brand", delivering an average annual increase in sales of 17% over the past four years. Triumph's success has been credited to its wide and innovative range of motorcycles powered by the company's signature parallel twin and three cylinder engines.
Tue Mantoni, CEO of Triumph Motorcycles Limited, said "We often hear talk of the 'golden age of British motorcycling', referring to the 1950s and 1960s, but we are proud to be rewriting history and creating a new golden age right now."
"Triumph is currently operating in 38 countries and our success is a tribute to our philosophy of making unique motorcycles with distinctive Triumph characteristics.
This conference has provided an opportunity to celebrate this success with our dealers, while outlining our plans for the future. As part of our growth plans we are committed to expanding our range significantly over the next few years."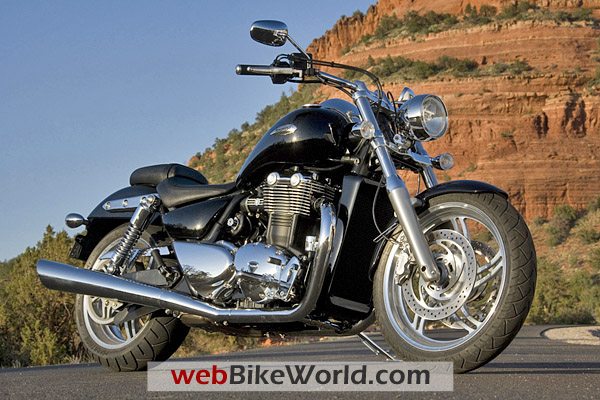 2010 Triumph Thunderbird
The highlight of the conference was the unveiling of the new Triumph Thunderbird cruiser, which is set to go on sale next summer as part of Triumph's 2010 model range.
The storied name will be used on this entirely new design that combines popular cruiser styling with touches of original Triumph seen throughout.
It will be powered by an all-new 1,600cc parallel-twin engine, and the Thunderbird marks Triumph's entry into the largest sector of the cruiser market.
The Thunderbird joins Triumph's existing cruisers, the popular 865cc America, the Speedmaster and the groundbreaking 2300cc Rocket III range, the world's largest capacity motorcycles.
The eagerly-anticipated cruiser is set to go on sale in the summer of 2009 and is an important addition to the company's cruiser range. In addition to the massive 1,600cc, parallel twin, the Thunderbird will include a six-speed gearbox and belt drive, a first for Triumph.
About the 2010 Thunderbird, Triumph says "Designed to take on the best in the cruiser category, combining sleek and modern custom styling with strong performance and great dynamics, the Thunderbird delivers an authentic cruiser experience in a uniquely Triumph package."
The Thunderbird will be offered with an extensive range of official accessories for riders who wish to tailor the bike to their individual needs. An ABS option will also be available.
More:  2010 Triumph Thunderbird Review! Here are some more photos of the prototype: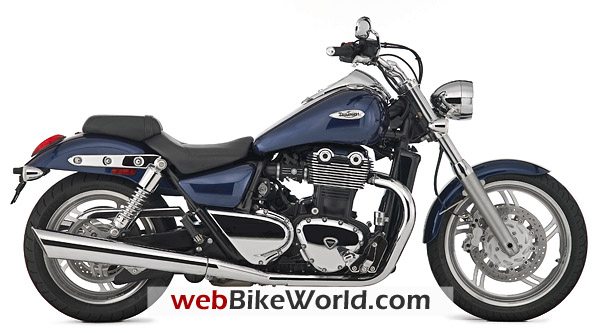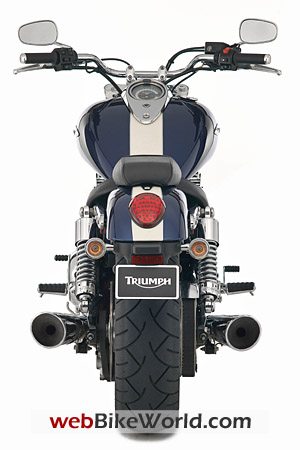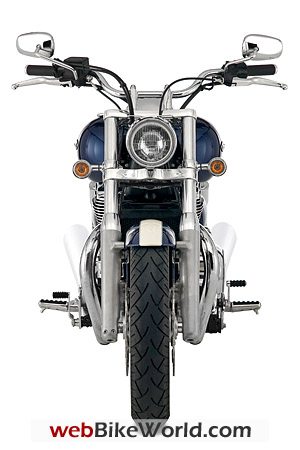 2009 Triumphs
Triumph also announced some updates to the 2009 range of motorcycles, accessories and clothing
These include an updated version of the award-winning Daytona 675 sports bike, the new, high specification, Street Triple R, two new Bonneville models featuring 1970s styling and a 50th anniversary limited edition of the iconic Bonneville model.
The Bonneville name was first introduced 50 years ago and the 2009 Bonneville T100 50th Anniversary model features a higher specification than the standard T100 and a color scheme based on that of the original 1959 model.
Triumph's clothing division also announced a range of new products, including a range of 'Triumph engineered by Alpinestars' sports riding gear and a new T-shirt depicting famous Triumph rider Steve McQueen.
The shirt is the second collaboration between Triumph and McQueen's estate and follows on from last summer's hugely successful design.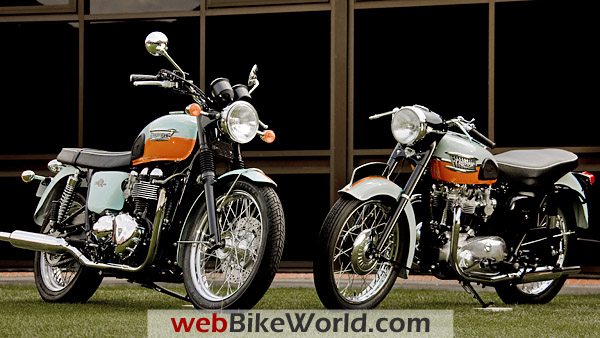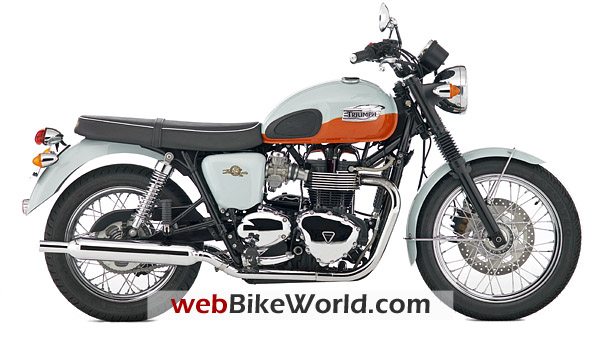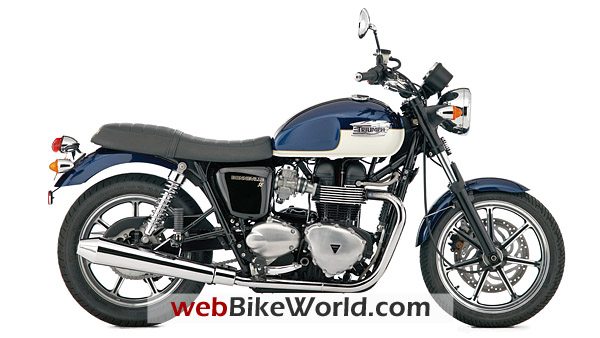 2009 Triumph Bonneville SE, T100 and Bonneville 50th Anniversary Special Edition
Triumph also unveiled a limited edition 50th Anniversary Bonneville, based on the T100, and celebrating 50 years of this iconic motorcycle.
Only 650 Bonneville T100 50th Anniversary edition bikes will be produced; the 650 limit echoing the engine capacity of the original '50's machine. Each will be individually numbered and identified with a brass plate on the handlebar clamp and a certificate of authentication.
Other features include a unique orange and blue color scheme based on the 1959 'Tangerine Dream' original, white piping and a gold Triumph logo on the seat, special decals on the side panels and a chromed cam cover.
Although the Bonneville family share the same name and timeless looks of the '60s and '70s machines, they feature a modern chassis and fuel-injected, 865cc twin-cylinder engine.
2009 Triumph Bonneville SE
(More on the Triumph Bonneville SE). For 2009 Triumph has taken inspiration from the '70s for the iconic Bonneville, with significant updates for the coming year and a new version, the Bonneville SE, also joining the range.
Both models feature authentic retro styling plus a host of chassis changes aimed at making the bikes easier to ride and giving them an even wider appeal.
Visually, the most striking difference on the new Bonneville SE comes with the new 17″ cast alloy wheels at the front and rear, shorter mudguards and stylish megaphone silencers from the sporty Thruxton.
New handlebars are closer to the rider and the seat height is reduced by 25mm, making the riding position more relaxed and accessible. The smaller, lighter front wheel should help make the new Bonneville an even more maneuverable and agile machine.
Complementing the clean lines are classic black or white color options.
Triumph doesn't say it, but the SE was specifically designed with women in mind. The irony is that it looks more like a classic Bonneville should than the new "old" Bonnie!
The higher-specification Bonneville SE features an array of special equipment, including a tachometer, chromed tank badges and brushed alloy engine casings. The SE comes in a choice of solid Jet Black or a classic two-tone livery combining the dark Pacific Blue with Fusion White.
Riders looking for a Sixties-style Bonneville are catered for with the wire-wheeled T100 model, which has been updated with detail changes for 2009.
The retro classic gets new handlebar clamps, restyled footrests, black clock surrounds and a white Triumph logo on the seat, while fork gaiters, previously available as an optional extra, come as standard.
The 2009 T100 and 50th Anniversary Bonneville will be available from the end of July, and are priced at £5,999 and £6,499 respectively. The 2009 Bonneville and Bonneville SE will be available from January 2009, price to be confirmed.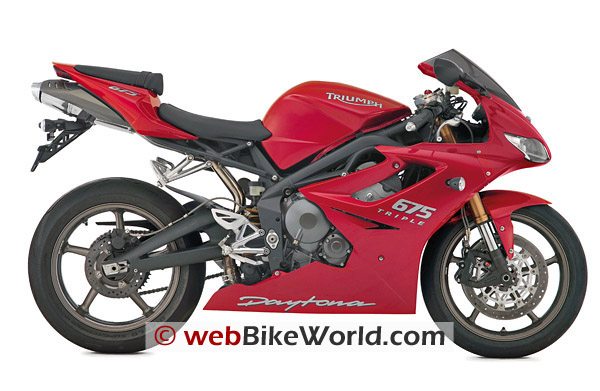 2009 Daytona 675
Triumph's award-winning Daytona 675 has been updated for the 2009 season with a host of modifications to improve the bike's already class-leading handling and performance.
The only three-cylinder bike in its class now weighs 3kg less and develops 3PS more power than its predecessor.
Triumph's R&D department has taken an evolutionary approach with the 2009 Daytona.
The latest specification 675cc three-cylinder engine utilizes a 450rpm higher rev limit than the 2008 model, while the hydraulic cam chain tensioner and higher ratio first gear have jumped straight from the race kit to become standard equipment for the road.
The new, 2kg-lighter exhaust system, recalibrated fuel injection and revised cylinder head, with new valves and a modified combustion chamber, contribute to a powerplant pumping out 128PS and revving to a 13,950rpm redline.
A new magnesium cam cover also contributes to the weight-saving and, as a further benefit to racers and track day enthusiasts, Triumph will be adding a 'plug and play' quickshifter to its genuine accessories range.
The Daytona 675 comes equipped with top of the line suspension and brakes.
The fully-adjustable 41mm upside down forks and rear monoshock unit both benefit from highly sophisticated high and low speed damping control, allowing riders to set their Daytona up with maximum accuracy.
New radial-mount Nissin monobloc brakes give even greater levels of stopping power and rider feedback, and new wheels give significant savings in unsprung weight and help the bike change direction more easily.
The latest Pirelli SuperCorsa SP tyres have been specified for their outstanding levels of both grip and feedback.
It's not just the performance that's been enhanced; the 2009 Daytona 675 has also been restyled, with a new cockpit, headlamp and screen. It comes in two color options, Jet Black and Tornado Red. The new Daytona 675 will be available in December and priced £7,499.
2009 Street Triple R
Following on from the phenomenally successful Street Triple, Triumph is introducing a new, higher-specification version for 2009: the Street Triple R.
With the Street Triple already regarded as the class-leading middleweight streetfighter, the 'R' version takes the standard bike and adds race track technology.
Fully-adjustable 41mm upside down forks and a top-spec rear monoshock unit with piggy back reservoir deliver sublime handling, while radially mounted four piston calipers grab the twin 308mm brake discs and ensure the Street Triple R stops as well as it goes.
At the heart of Street Triple R is the Street Triple's highly-acclaimed fuel-injected 675cc three-cylinder unit, producing 108PS at 11,700rpm, while its fully adjustable sports suspension and powerful four-piston radial brakes are derived from the award-winning, 2008 Daytona 675.
The new Street Triple R has been designed to rival traditional supersport machines with its superlative handling and stunning stopping power, while offering the comfort and attitude of a streetfighter.
The sporty feel is completed with wide, tapered aluminum handlebars from Magura and a 5mm taller seat height that puts the Street Triple R rider in the perfect position to attack the twisty stuff or cut its way through the urban jungle.
Completing the Street Triple R's distinctive look are two all-new exclusive color schemes: Matt Graphite with orange graphics and Matt Blazing Orange with grey graphics (the latter will be available from January 2009).
Both color options are further enhanced by black anodized forks and a two-tone black and graphite seat. The new Street Triple R will be available in September and priced at £6,099.
More 2009 Triumph News
Other changes to the 2009 range include a new color option — Phantom Black and New England White — for Triumph's stripped down factory custom, the Speedmaster, plus a rugged new look for the Scrambler.
This popular retro model has been given a tough new look for 2009, thanks to an attitude-filled Matt Khaki Green color scheme echoing military bikes of the 1950s and 1960s.
The Scrambler, which takes its design cues from the off-road bikes of the '60s, will also be available in Jet Black. Both the 2009 Speedmaster and Scrambler will be available from August and are priced at £6,199 and £5,999 respectively.
Master Listing of All wBW Motorcycle Product Reviews
Note:
 For informational use only. All material and photographs are Copyright © webWorld International, LLC since 2000. All rights reserved. See the webBikeWorld® 
Site Info page
. Product specifications, features and details may change or differ from our descriptions. Always check before purchasing. Read the
Terms and Conditions
!
Other WebBikeWorld Motorcycle Brands Posts
wBW Motorcycle Brands Info