Motorcycle Intercom Comparison Review Summary
Motorcycle Intercom Comparison Image Gallery
Mea culpa, this Bluetooth Helmet System head to head is long (long) overdue.
We are transitioning from the hot sticky days of summer to the cooler but more pleasant and colourful days of fall. This, along with prompts from the Editor, serves to remind me that a slightly reduced riding schedule needs to result in more writing — or so my logic goes…
This comparison is simply based on the four motorcycle Bluetooth intercom systems reviewed on webBikeWorld that we were able to share across two countries.
The SCHUBERTH SRC (review) system and others are not included here, but hopefully we will be able to add the scores for any future systems to the ratings table displayed below, for comparison purposes.
The four systems in this wrap-up comparison include the Cardo Scala Rider G4 (review) Intercom, the Sena SMH-10 (review) Intercom, the Interphone F4 (review) Intercom and, the AKE Stealth Bluetooth Intercom 200 (review).
With the exception of the AKE system, all of them have been through individual webBikeWorld evaluations and then my follow-on extended evaluations by installing the units on various helmets and then a lot of riding, talking and comparing of features.
We've been planning this final wrap-up of the top four intercom systems reviewed in 2010 for some time and it's finally here.
"Better late than never", as the saying goes…
Various events conspired against this final installation in the series, along with one major consideration: the systems are so good, it's hard to choose a favorite.
That's because the quality and performance of this group of intercoms is relatively equal, so a ranking is heavily biased towards subjective criteria, including personal preferences and availability of the system.
This is actually a very good thing because not too long ago, the performance of Bluetooth motorcycle intercoms was pitiful, to put it bluntly.
But that has all changed over the last 12 months or so and we now have a brace of excellent quality intercom systems with many of the features that both webBikeWorld and our readers have been requesting.
The technology and performance of motorcycle intercoms has been evolving at a rapid pace, and one thing you can be sure of is that next year, all of the systems described here will probably be obsolete — and that's even better news!
webBikeWorld readers have been asking for replaceable batteries, plug-and-play speaker or earbud swapping and the ability to communicate between different brands of intercom systems. I know for a fact that at least two of these three will soon become a reality. We can only hope that the manufacturers will make it a wish-list hat trick!
No worries though; there's always 2012…

Bluetooth Head-to-Head
These four systems each represent a unique set of requirements, with design and manufacture tempered by the numerous issues relevant in bringing a product to market.
All four are representative of where Bluetooth technology is and in the case of one system specifically, where it is going.
And finally, all four of them are representative of the choices that we as consumers have.
Being representative, all four systems support all or some of the following Bluetooth profiles:
Headset Profile (HSP) and Hands-Free Profiles (HFP) (i.e., mobile phone functions, navigation device audio);
Advanced Audio Distribution Profile (A2DP) for music streaming; and
Audio/Video Remote Profile (AVRCP) for music control.
Rather than a word-for-word rehashing of the original articles, this head-to-head is meant to be somewhat succinct and factual in presenting each system's form, features, fit and function keeping in mind the categories assessed in the "Bottom Line" section of each respective review.
And speaking of categories, a head to head would not be complete without some sort of table for comparison and presentation of the results. The Summary Table provided below reflects the categories used in the respective evaluations along with a numerical rating for each category. The numerical rating scale construct is also provided below.
Finally this submission also represents an update or follow-on, any new information (provided or researched) is included for each system, with a focus on feature changes, software and firmware updates and notable accessories.

AKE Stealth 200
Read the AKE Stealth Bluetooth Intercom 200 Review
This latest iteration of the Stealth system is different in virtually every way, at least compared to the other three systems. Totally modular, every component is small, really small. What looms large is the range achieved from its Class 2 power — eye-opening, to say the least.
Measuring 19 mm x 116 mm x 5 mm and weighing only 20 grams, the AKE Stealth 200 Bluetooth modules are small in size and weight but fully capable of providing the essentials found in a good Bluetooth helmet intercom. Of the set, the 201 module is the fully featured master while the 201i module is the intercom (passenger) module.
While I failed to assign a rating in my Part II Bottom Line, the system deservedly now gets a rating in the Options category for being completely modular and having optional components. The Bluetooth module, speakers, microphone and battery are all connected via polarity-safe mini-connectors.
There is no mounting base and each component is easily installed (concealed) and then connected to form the system. There is even a lead for an optional small remote. This approach allows every component to be removed quickly for replacement or upgrading, such as adding a larger capacity battery or a High-Sound headset.
Stealthy really does describe how well the AKE system can be hidden on the average helmet. The module will fit under the back neck-roll of most helmets or can be fastened externally at the same spot, with the miniature battery tucked away under the same piece or inside the liner.
The Stealth 200 uses Bluetooth 2.0 +EDR with a Class 2 power rating (2.5mW). The 201 (master) headset supports the Hands-Free and A2DP profiles while the 201i has the Headset and Hands-Free profiles for intercom use.
Although not capable of the link distances obtained from the other systems, AKE has done a great job in getting up to 100 metres of intercom range from the system's Class 2 power output. Note: A Class II rating typically provides a nominal range of 10 to 15 metres.
If the modules are tucked away out of sight, the system needs to be turned on and configured before putting the helmet on. If the module is mounted externally, then some adjustments can be made, but the user must know exactly which control is which as they are all recessed.

Cellular Line Interphone F4
Read the Interphone F4 Review
The latest iteration of the Interphone is like its predecessors; simple in design, features and use. What the users gets however is much, much more. The F4 is the only system that has dust-proof and water-proof certification and intercom performance stands up with the best.
Average pretty much describes the size of the F4 system. The module measures 90 mm in length and its angular shape goes from 46 mm at the back to 20 mm at the front and it is 20 mm thick. Weight is approximately 83 grams.
The F4 uses a mounting base similar to that used on other Interphone versions. Two base mounts are provided – one clamp style and one adhesive. The top security clip works much better than the original and it takes a bit of pressure to release the module from the base.
System modularity is limited to the main connector that plugs in to the module, and the right speaker that is connected to the main harness via an RCA connector. The left speaker and boom microphone assembly are integrated.
The system mounts on virtually any helmet without much fuss using either the clamp or adhesive mounts, although depending on the bottom edge shape and size of the helmet, the unit might stick out into the airstream more than expected.
On the plus side however, even if stuck out into the elements, the system is IP-67 Certified, meaning it is dust tight and can survive (temporary) immersion in up to one metre of water. Needless to say, it survived wet weather use just fine.
The F4 uses Bluetooth v2.1 and provides Class 2 power (nominal range of 10 metres) for device connectivity and Class 1 power (nominal range of 100 metres plus) for the intercom. It supports the Headset, Hands-Free, AD2P and AVRCP profiles.
Real life intercom link ranges of close to 1000 metres were experienced under ideal conditions. But with such great range, it is a real shame that link restoral doesn't work very well and manual intervention was typically needed to re-establish a dropped session.
All three buttons are quite easy to distinguish due to location, although using the smaller two buttons is difficult with heavy gloves.

Read the Cardo Scala Rider G4 Review
Big, bold and advanced best describes the Scala Rider G4. With the large module slide into the elongated cradle base it is undoubtedly the largest assembly I have mounted to a helmet. It is also the most feature-rich stand-alone Bluetooth helmet system I have used.
Weighing in at 126 grams, the base and module assembly measures 110 mm long x 55 mm high and 25 mm thick. A rectangular shape, smooth surfaces and rounded edges work to both minimize its visual profile and keep it from getting caught on high-neck outer garments.
The heavy duty base and headset are integrated: the speaker leads emanate from the bottom of the base and the front houses the microphone boom. The elongated boom, found on most of the Scala Rider products, is a positive feature that I continue to appreciate.
The G4 uses Bluetooth v2.1 and provides Class 1 power (nominal range of 100 metres plus) for the intercom. It supports the Headset, Hands-Free, A2DP and AVRCP profiles.
The most versatile G4 feature is its true multi-party intercom, facilitated by dual intercom channels. Supporting 4-way (2 drivers and 2 passengers), 3-way (3 separate riders) and 2-way (rider to rider or rider to passenger) modes, it also allows "conference mode" for mobile phone calls, allowing both the rider and passengers to participate with the caller.
Under ideal conditions typical intercom range is between 750 to 800 metres. As with most other systems, functional range will diminish in built-up areas or where terrain impedes, although I find the G4 intercom link will fall out faster than most once its maximum distance is reached: on the other hand, link restoral was good.
While five control buttons might seem daunting, these facilitate control over the many functions the G4 is capable of. Due to the size of the module, the buttons are quite easy to find while wearing virtually any weight of glove.
Two other features setting the G4 apart from the other systems are the multi-lingual spoken status announcement function (that can be disabled) and the integrated FM stereo receiver.
The FM receiver has RDS tuning for signal optimization and six stations can be stored in memory via the input buttons or programmed when the module is connected to a PC running the interface application. At times it works really well and at other times it won't even keep a strong signal locked on.
Signal fade and white noise in the headset gets tiring in a hurry and it is a distraction. But the feature is useful when travelling, particularly for checking local weather conditions and for this reason alone, it is a feature, albeit mediocre, that can be appreciated. Part of the problem may lie with how the FM antenna is implemented within the headset leads.
Something that does work well, even though many will class it as a gimmick, is the status announcement feature. It works, quite well actually and it can be a useful aid. And, it is quite immune to fade or static.
A key advantage brought to the table is the G4's ability to be updated via a downloadable PC application. This is a long overdue function that should and could be adopted as an industry standard feature: kudos to Cardo for getting here first.
The G4 Software Update Report, described how to get Cardo update software installed and the initial version 2.2 release installed on the individual G4 systems. Cardo has now released version 2.3 and according to the release notes, six issues were addressed (all of which have been identified by users).
Using the Cardo Upgrades Software to (English version 1.1.5), each G4 module on hand is now base-lined to version 2.3. Highlights include zumo 550/660/665 connectivity, which is indeed much improved and the switching noise which not totally fixed by version 2.2 now appears to be gone — progress!
But even after performing the version 2.3 firmware upgrade, I still prefer the VOX off. AGC (Automatic Gain Control) response does seem improved, but it still seems intermittent, with volume pikes for no real reason. However, don't forget that motorcycle and helmet environments are major factors in the noise and audio equations.
At this time the software, available as English, French and German downloads, is limited to the Microsoft Windows XP, Windows Vista and Windows 7 operating systems. Will there be an application for other operating systems? Time will tell, but we can hope so.

Sena SMH10
Read the Sena SMH-10 Review
Like the Interphone F4, the Sena SMH10 headset is simple when compared to the multi-faceted Scala Rider G4 and quite large when compared to the diminutive AKE Stealth. It sits higher up and seems more imposing than either the F4 or the G4, even though its sleek shape is visually pleasing even with that large "Jog Dial" dominating its face.
The headset module is 84.1 mm x 56.5 mm x 38.6 mm while the base clamp unit is 224 mm x 85.5 x 30.6 mm. The headset weighs 60 grams and the clamp unit an additional 84 grams for a total of 144 grams.
The one piece integrated base and headset clamps tightly to the helmet shell. An even closer fit is possible when using the pre-curved adhesive mounting plate. The first adhesive mount used didn't last long, but the one now in use on the Nolan N-103 (review) is absolutely rock solid.
Featuring Bluetooth v2.1, the system supports the Headset, Hands-Free, A2DP and AVRCP profiles and provides Class 1 power (nominal range of 100 metres plus).
The SMH10 intercom is the standard for other systems to match or beat. Typical link ranges, under ideal and even degraded conditions can be in excess of 1000 metres down to around 800 metres. Even in stormy wet and moisture-laden conditions when noise levels increase, the link ranges still hold up.
Like the Scala Rider G4, four SMH10 units can be paired (A-B-C-D) but the Sena with only one intercom channel is limited to one active pair at a time and the switching principle is based on the last-in-first-out sequence. These pairings work well, but the limitation has to be appreciated.
The SMH10 is a real minimalist with regards to its controls. It has one real button, the "Phone Button", which when used in conjunction with the Jog Dial seemingly turns the system on or off instantly. This button is also used for pairing purposes. The only other control is hard to miss and an absolute joy to use.
The multi-function Jog Dial represents absolute simplicity. Along with the Phone Button it powers the system on or off, initiates intercom and AVRCP controls and, adjusts the volume (forward for down and back for up). For ease of access and control, even while wearing heavy lobster-claw gloves, it cannot be beaten.
In another forward-thinking step, each SMH10 kit includes a small 12V DC adapter that allows the system to be used and charged while on the road. The charger cord terminates in a North American 120V style plug, so an adapter will be needed to power the system from a Powerlet/BMW style accessory port.
From an options perspective Sena has been reading the most-requested-feature mail and has responded in kind by releasing three accessory headset kits. These kits provide users the ability to change between a boom or thin-wire microphone and (finally) allow the use of personal in-ear speaker sets. An update review featuring these accessories is pending.
2010 webBikeWorld.com Motorcycle Intercoms Ratings Table 


(See Ratings Scale Below)
Sena SMH-10
Scala Rider G4
Interphone F4
AKE Stealth
Feature
Rating
Rating
Rating
Rating
NOTES
Design
9
9
9
9
Execution
10
10
9
9
Features and Performance
11
11
10
9
Intercom
11
10
10
9
A
Multi-User Configuration
11
11
7
7
Audio Input & Control
11
11
10
9
Audio Sharing
0
0
0
0
B
Audio Priority
0
0
0
0
C
Audio Quality
11
10
10
10
Audio Auxiliary Input
5
5
0
0
Device Compatibility
11
11
11
11
Available Options
5
4
1
3
Fit
9
9
8
8
Setup and Configuration
11
11
11
11
Ease of Use
11
10
11
8
Power
9
9
11
9
Reliability
10
9
11
9
Maintenance and Support
9
9
9
9
Cost
11
9
9
2
Value
11
9
11
2
Sum:
176
167
158
134
Average:
8.8
8.4
7.9
6.7
Final Ranking:
1
2
3
4
NOTES: A. F4 reduced by one given lesser range than Sena and failure of link restoration feature.
B. Not available on any of the systems.
C. Industry standard settings, no clear advantages to evaluate.
w

BW

 2010 Intercom Comparison Ratings Scale
(From "Bottom Line Ratings" in Each Review)
Outstanding
11
Outstanding to Excellent
10
Excellent
9
Excellent to Very Good
8
Very Good
7
Very Good to Good
6
Good
5
Good to Average
4
Average
3
Average to Poor
2
Poor
1
Not Rated
0
The Bottom Line – How They Stack Up
If the summary table achieves its objective, the results will be clear, acknowledging that there is still (some) subjectivity involved in the whole process.
All of us — dreamers, designers, manufacturers, distributors, evaluators and consumers — perceive requirements differently. This fact is reflected through the whole design, testing, production, distribution and maintenance process.
But these differences also serve to provide us with a healthy, diverse and growing list of choices.
Bluetooth technology continues to move forward. The cost of technology decreases with virtually every application, aided by global distribution and mass marketing activities.
Design, performance and production standards provide systems that, for the most part, are feature rich, easy to use… and darn reliable.
So what is the end result? Well, this brings us back to choice. It is choice that makes doing these evaluations so interesting and fun.
But in evaluating products, assessments must be made, ratings assigned and the results published and here is the list:
Fourth Place: AKE Stealth 200 Headset
Range limitations appreciated, its small size, modularity, pairing and switching speed, and great audio makes it a contender in general. But it is also somewhat exclusive given functional limitations of the 201i module and factoring in pricing and marketing issues: all of which combine to keep it out of the hunt as a main stream system.
Third Place: Interphone F4
Holding the F4 back is the lack of an auxiliary audio input, and a weakness in the auto link restoral which puts a damper on an otherwise long distance intercom.
My biggest regret is that continued use of the Interphone F4 has not been possible. The original system was a favourite of both the Editor and I. My original sets are still on hand and still work just fine, testament to Interphone quality and robustness. I don't expect any less from this latest iteration.
Second Place: Cardo Scala Rider G4
If you want more features, including the use of technology that allows the manufacturer to add features and tweak system performance via firmware updates (all pluses if used by owners) then the Scala Rider G4 is likely to be the preferred choice.
Scala Rider legacy issues that seem to keep rising to the surface are being addressed and many have been resolved through the firmware updates. Another bonus – there is more to come.
The G4 is what I  call an unfulfilled promise. It seems to be the pinnacle of what industry can provide in response to consumer demands, while still looking farther down the road. But the results don't currently support the claims, although if  the current software releases are any indication Cardo is anxious and willing to keep moving the yardstick along.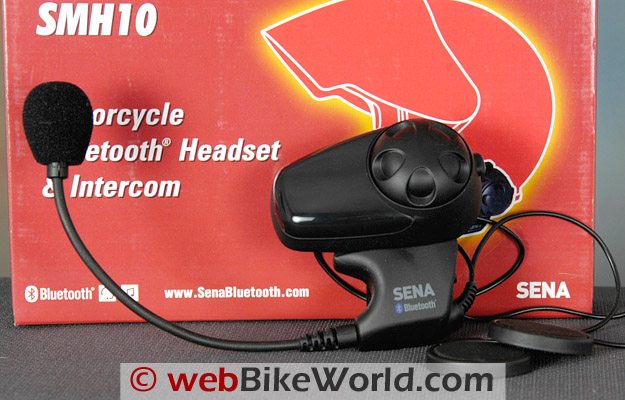 First Place: Sena SMH10
Based on design simplicity, Jog Wheel innovation and pure performance, especially its long-distance intercom, the Sena SMH10 is the overall winner: time and distance has not diminished its standing.
And while the other three offer up the standard accessories Sena has jumped ahead in responding, in short order, to numerous requests for configuration and use alternatives.
I suspect that this act alone will be enough to drive most other manufacturers to offer similar accessories soon. More choices, better intercoms, happier riders!
Note:
 For informational use only. All material and photographs are Copyright © webWorld International, LLC since 2000. All rights reserved. See the webBikeWorld® 
Site Info page
. Product specifications, features and details may change or differ from our descriptions. Always check before purchasing. Read the
Terms and Conditions
!
Owner Comments and Feedback
---
From "G.J.R." (January 2012):  "Excellent review, with understandable (and expected) subjective undertones  — one cannot be all things to all people. However, the review process was objective in most respects, and I was delighted to see the "updated" review findings on the one true differentiator between the 4 products — Software/Firmware upgradeability. Well done!
From a forward looking perspective, I predict (here's hoping hard…) that it would only be a matter of time when the big names start talking together to come up with more versatility and end-user flexibility, for example, Garmin (Zumo 660/665) and Cardo (Scala Rider G4), where the G4 menu options could be made available through the lovely touch-screen of the Garmin (what an enhancement, in addition to the voice-activated menu functions of the G4), notwithstanding some the multitude of optimization and synergistic benefits to the end-user.
In my opinion, this avenue would be inevitable, as demonstrated by the cell phone evolution; one cannot be all things to all people, but if the brands have the courage to comingle with other leading brands, they could co-benefit by increased market share, and happier consumers…
Ray Noorda (CEO of Novell Netware) coined the right word decades ago: "coopetition". Ingenious!"
---
From "L.S." (11/10):  "Nice comprehensive review!  However, I don't think you weighed the value of the multi-party intercom, facilitated by dual intercom channels option only the Scala headset gives. I have 4 of these headsets and it changes the entire riding experience.
I ride 4 ATVs with my 3 other family members and if not them, several other friends. 4 way comms raises ATV riding to the next level. No more lost riders, no more near misses with oncoming riders, no more solo riding in large parties, and more.
One of the biggest factors is situational awareness of fellow riders. ATV riding can be a dangerous sport. On numerous occasions, I have had no indications of crashed riders, flipped, rolled, or tree impacts, except for the yelling or cursing on the headsets.
These headsets are truly a safety mitigation device I highly value. I can warn fellow riders of upcoming obstructions and approaching riders. Granted these topics may not be of the upmost value to motorcycle riders on smooth roads with tones of visibility, but to an ATV rider hanging out hundreds of feet behind the front riders dust, invaluable! You talked more about the FM radio that I have never turned on. Keep up the good reviews."
---
From "R.G." (10/10):  "Bluetooth has definitely come a long way but I feel they are still missing the main concept they all are pushing. They claim to have "eliminated the wire" and I feel they have only managed to shorten the wire.
I feel a system that would truly eliminate the wire would consist of a main unit that would sync with other Bluetooth devices that includes a separate Bluetooth headset. The main unit would have a screen for displaying connection information or radio station or ??  It would have aux jack input for non Bluetooth devices and be able to connect to a bikes electrical system or plug into an accessory socket. It would allow music sharing among rider and passenger.
The main unit would be bar-mountable via ram mounts or other mounting option. A rider could then actually see the buttons for operating the unit and it's various features. It would have 20 hours of battery life on the headset and main unit.
Currently I have a very inexpensive Audio Boss that is wired but offers days of battery life, I can operate the units buttons easily since it is handlebar mounted, the intercom is clear, loud, and full duplex, and I can connect an iPod and both my passenger and I can listen to music. It can also connect to a cell phone or GPS but I do not use those features.
The only thing I wish this system didn't have is the wire between the main unit and my headset. That is my concept of eliminating the wire. Until manufacturers can beat the battery life, ease of operation, and features of my wired system I will continue to use it."