World Exclusive!  The 
web

BikeWorld

 Live Report From the 2009 Powersports Dealer Expo Indianapolis, Indiana – February 13-16, 2009
 
Indy Live!
Port-A-Chopper Folding Trailer
Ceramic Bearings
Speedway Shelters
Heidenau Tires
EZ-Cruz Cruise Control
Road Warrior Paint Protection
Forcefield Sub-Pro 4
Wacky Wheels
Teiz One-Piece Suit
Xena Security
HJC Helmets
Knox Armor
Expo Comments
Caberg Helmets
Marushin Helmets
Tourmaster and Cortech
Lazer Helmets

Page 6 (This Page):  Sunday, February 15, 2009 AM

Sym Scooters
Streetfighter MID
Akuma News
Wheels 4 Tots
Marketing 101
Thermafur Vest
Special Report: Fulmer Helmets!
Special Report: Suzuki TU250!

Monday, February 17, 2009 – Final Reports

Shark Helmets
Rev'it 2009 – In Process
Sym Scooters Hommage au Passé
Every year I stop by the Storz booth to drool over this Harley flat track homage.  I'll probably never own one, but something about it speaks to me.
Right across from the Storz booth is a big display of Sym scooters.  Sym is a popular brand in the UK, and their products are looking better and better each year.
A couple of interesting examples caught my eye — this 125 cc retro motorcycle with the yellow rear shocks looks like another homage, this time to the Honda CB125.  And how about the step-through scooter homage to the old Honda Super Cub, the primary form of transportation for many countries in the world?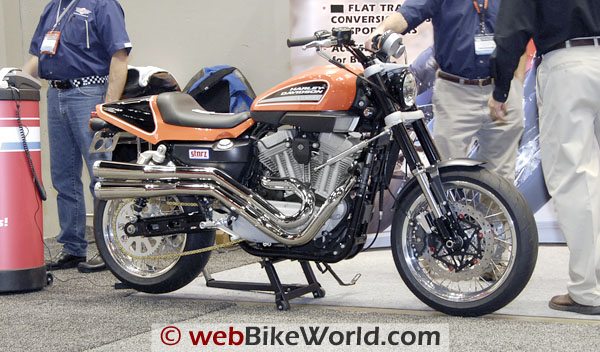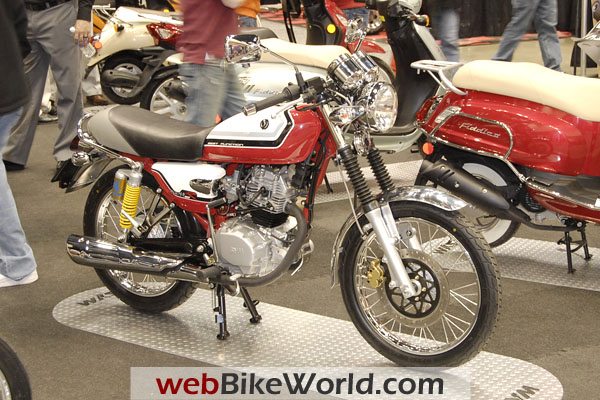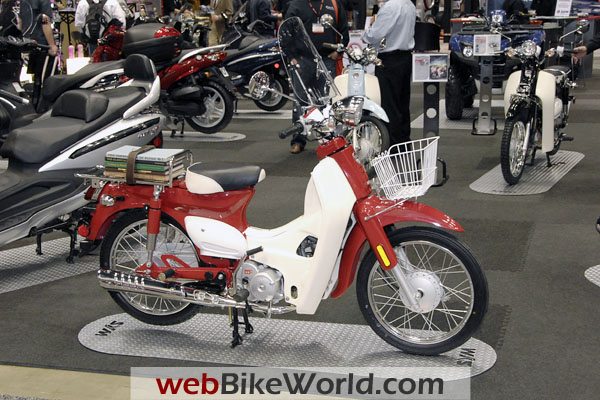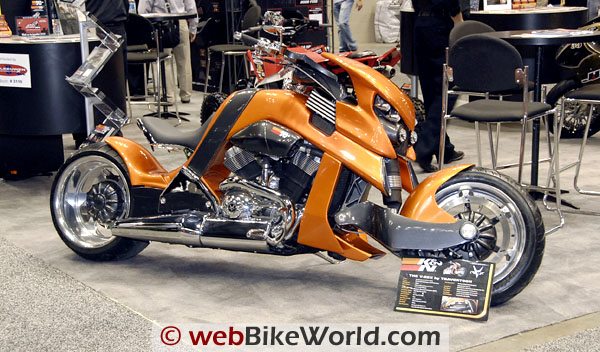 Akuma Streetfighter MID Gloves
Akuma is always busy, now branching out into gloves and clothing.  We reviewed the Streetfighter gloves in 2008 and they used the Dealer Expo to introduce the Streetfighter MID: "Medical Information Device".
The MID prototype glove, shown below, includes a Care Memory Band, which is a miniature USB drive, fitted into the glove cuff.  The band can also be worn around the wrist.
The USB drive contains a self-installing computer application that allows the owner to enter a medical history, contact information and more into a standardized database.
Apparently, when Emergency Medical Technicians come to the scene of an accident, they look for this device and plug it into their computer to get information on the victim, contact information, family members to contact, insurance information, health history, medical indications, drug allergies and more.  I didn't realize this was standard operating procedure, so this is an ingenious application and the MID band could be worn for many other types of sports.
The gloves will be available in April 2009 at a list price of $139.00.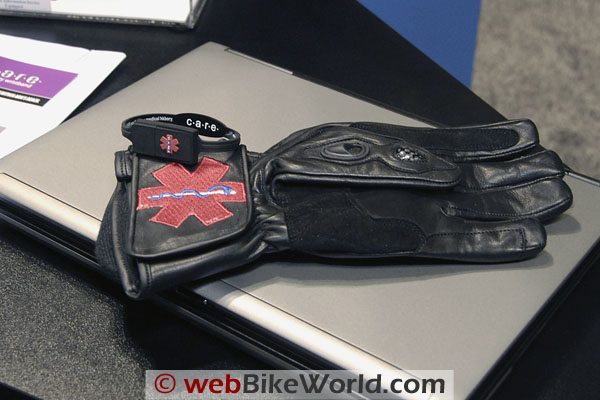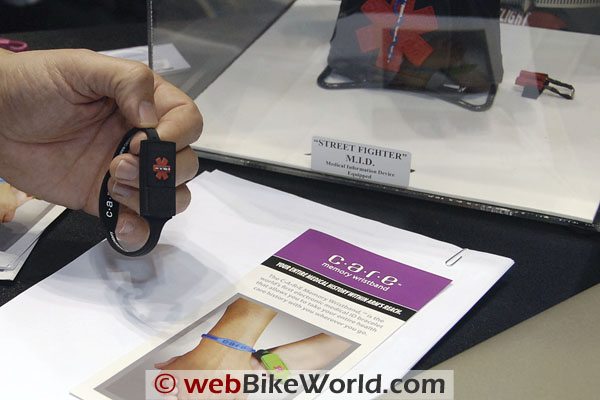 2009 Expo Report Home  |  Next: Page 7
Note:  For informational use only.  All material and photographs are Copyright © webWorld International, LLC – 2000-2011.  All rights reserved.  See the webBikeWorld® Site Info page.  NOTE:  Product specifications, features and details may change or differ from our descriptions.  Always check before purchasing.  Read the Terms and Conditions!