World Exclusive!  The 
web

BikeWorld

 Live Report From the 2009 Powersports Dealer Expo Indianapolis, Indiana – February 13-16, 2009

It's that time again!  2009 Powersports Dealer Expo time, that is!

This is our 6th year at the Dealer Expo — the place where motorcycle dealers in North America meet with motorcycle products and accessories manufacturers and distributors to see what's new and exciting.

It's all here: clothing, helmets, gloves, boots and, as always, just about every other thing you can think of that fits, sits or clicks on two wheels.

webBikeWorlders have a world exclusive look at all of these fantastic new goodies with live reports all weekend, direct from the show.  If you want a hint at what's in store, see the links in the right-hand column to my reports from previous years' shows.

Your devoted Editor will be schlepping through the halls and aisles of the RCA Dome and — new this year — the Lucas Oil Stadium — to uncover new and unusual products and accessories for your reading and drooling pleasure.

I'll report back as often as I can, starting on Friday night with brief commentary on the show and the goodies along with photos and info.

Last year there were 9,500 buyers who each spent an average of $28,502.00 per order at the show.  There are typicall more than 1,000 displays and exhibits with cool stuff to see and touch.  This show is for dealers only, but you'll have a private ringside seat!

So stay tuned to this page starting Friday night for your live reports continuing throughout the weekend!
Friday, February 13, 2009 – Live From Indianapolis!
Friday, February 13, 2009  18:13 EST – I arrived to clear skies and balmy temperatures, only to find a pile of rubble at the site of the RCA Dome, the venue for the Powersports Dealer Expo in years past.  The Dome is no more, but this year the show is split between the Indiana Convention Center and the brand new Lucas Oil Stadium across the street.
Here's what's left of the RCA Dome: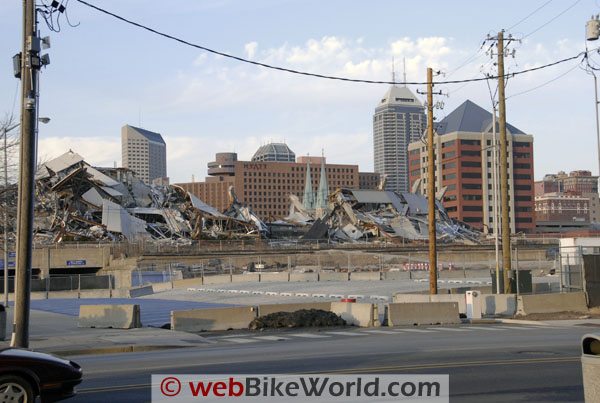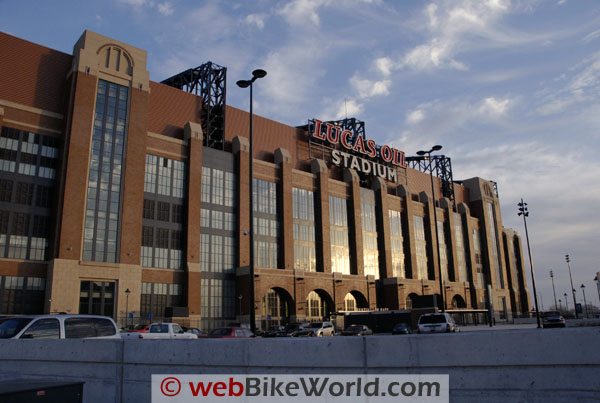 After realizing I forgot my press pass and putting on a suitable show of groveling at the check-in counter to get a replacement, I walked downstairs to what I assume is the field level of the stadium to see the Friday opening exhibits.
The usual procedure has been to allow the new exhibitors and the importers from Asia to open early in a separate display area.  But the organizers have opened the show early this year because of the split venue, and the field level of the stadium contains a mix of the imports, new exhibitors and a few old timers salted here and there to keep the crowd levels high.
I was surprised at how many visitors were already in attendance at the unusual Friday afternoon opening — perhaps a signal to the organizers that the show should have expanded hours (they normally close at what I think is a very early 6 pm).
So this Friday night report is a bit of an eclectic mix of the unusual, the new and the strange.  The "real" show starts on Saturday, in the Indiana Convention Center, where all the Big Boys get to play.  So enjoy this excursion into the exotic tonight and tomorrow will hopefully bring us news on some of the more familiar brands.
Port-A-Chopper Folding Motorcycle Trailer
I turned the corner and bumped into a display of something that has become a favorite webBikeWorlder topic: folding motorcycle trailers.
The Port-A-Chopper is built right here in Indiana (Elkhart) by QC Metal Fab, Inc., a sheet metal fabricator who decided to make folding trailers.   This one looks to be everything my Rocket folding trailer isn't:  it easily folds into a small package of 4 boxes that can be shipped via UPS, and it's a brute compared to the Rocket's questionable (but admittedly so far unfailing) slimness.
It's wide, it's made from big, honkin' thick slabs of sheet metal and box tubing and it even uses 5/8″ diameter pins that look like they were sourced from the local John Deere dealer to hold the thing together.  It has a GVW of 1,200 pounds, it weighs 275 lbs. and it has a 36-month warranty.
They offer a single or dual bike version starting at around $1,350.00.  I may see if we can get one for a review, because it looks like the answer to the folding motorcycle trailer question everyone's been asking.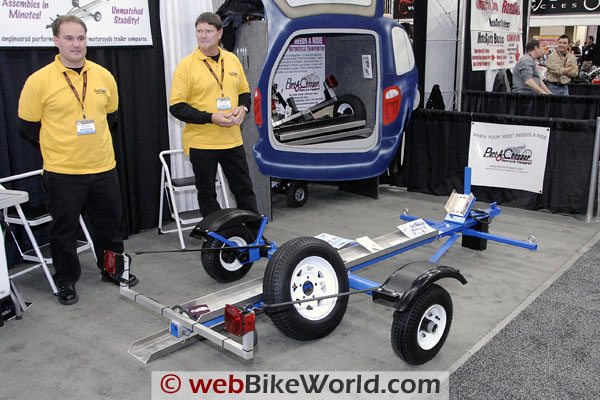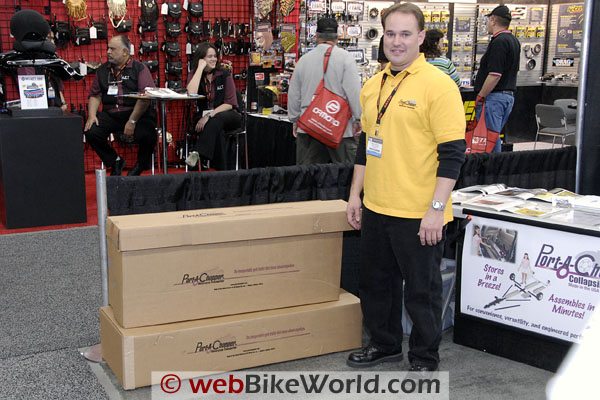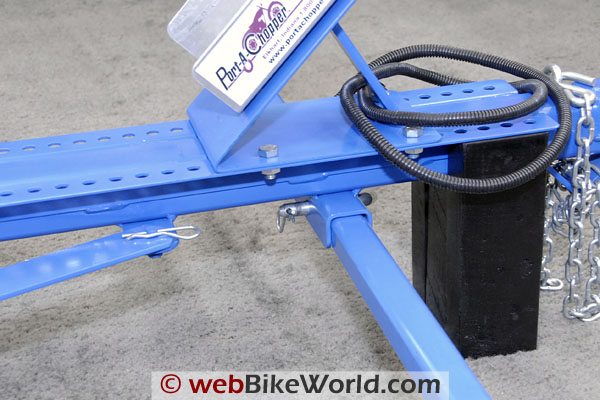 Ceramic Bearings by Worldwide Bearings
I walked by this small booth and the bearings laid out on the table caught my old machinist's eye.  Dave Conforti, the company President, comes over and says "Pick that one up", pointing to a large steel ball from a bearing.  It was heavy.
"Now pick up that one", he said, pointing to its graphite-colored mate.  I picked it up — what a difference!  Like aluminum to steel.
Worldwide Bearings (Cedar Grove, New Jersey) makes replacement bearings with steel races and ceramic balls.  They're available in any size you want, and the company claims 40% less friction, 60% less rotating weight, a 3-5 times increased life over steel, lower vibration, cooler running and more.
They're available as replacement wheel bearings, crank bearings and just about any other type for motorcycles, dirt bikes, snowmobiles, ATVs, automobiles and even bicycles.  Worldwide sells mostly to racers but is at the show introducing the product to dealers and distributors.  Very interesting!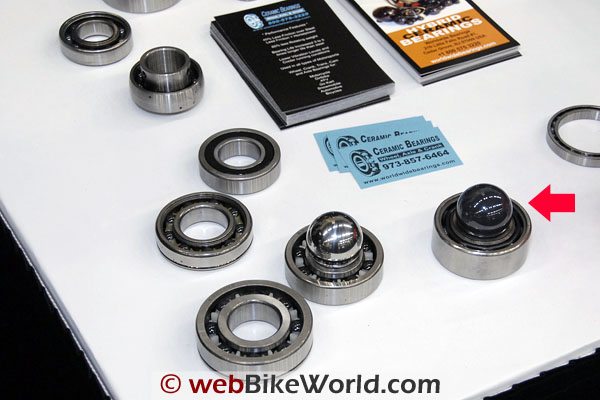 Speedway Motorsport Shelters
The Speedway Motorsport Shelter is a nice-looking, heavy duty portable shelter that packs into a small bag.  It can be used by motorcycle owners living in an apartment or for backyard or temporary storage.  The frame snaps together with spring-loaded buttons, so no tools are needed.  It comes with floor anchors and the lower part of the frame has holes for the anchors.  It also locks closed for security.
It has taped seals and is waterproof and it even comes with a 48 LED night light inside.  The list price is only $279.95, so this should be a strong seller.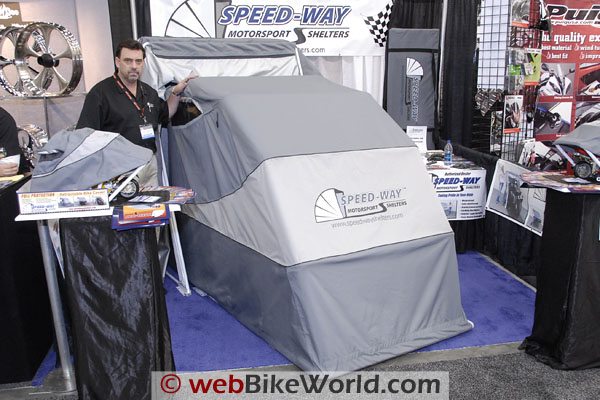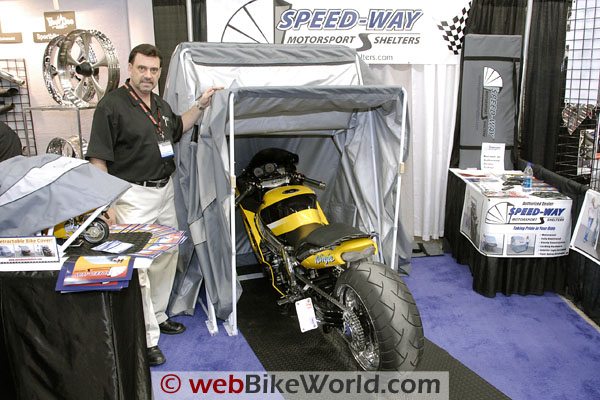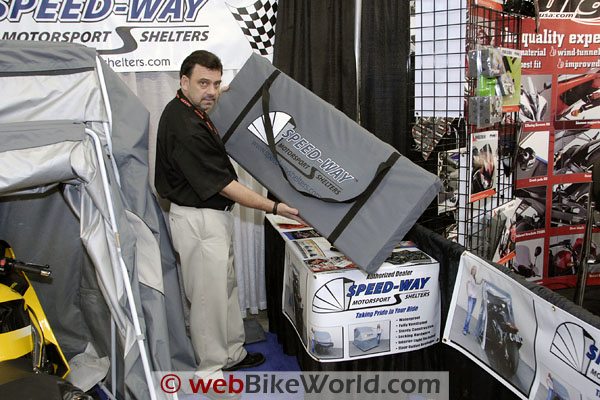 Heidenau Tires
Remember the big fuss about replacement scooter tires for the Aprilia Scarabeo?  They released the scooter a few years ago with a bizarre 140/70-16 tire size.  There were no tires of that size in the aftermarket, and Scarabeo owners were screaming.
Then came Heidenau to the rescue, but U.S. scooterists had to send to Germany to buy one.  Ouch!
No longer — Heidenau USA now distributes in North America, and they have a full range of tires for scooters to motorcycles.  Lots of vintage replacements with original-looking tread patterns but said to perform like modern tires.  They even have some popular off-road and street/dirt tires for the BMW GS series!
If you can't find the tire you're looking for on the Heidenau USA website, they said to visit the main Heidenau websitein Germany and find the tire you want and Heidenau USA can order it.
And get this — need snow tires for your scooter?  That's right — Heidenau makes snow rated scooter tires, the Snowtex.  Just the thing for Kymco owners in Alberta…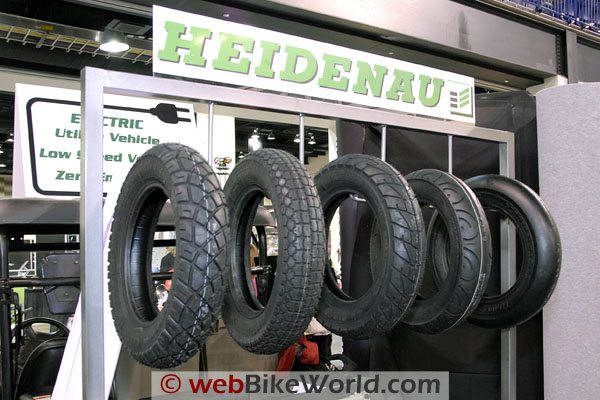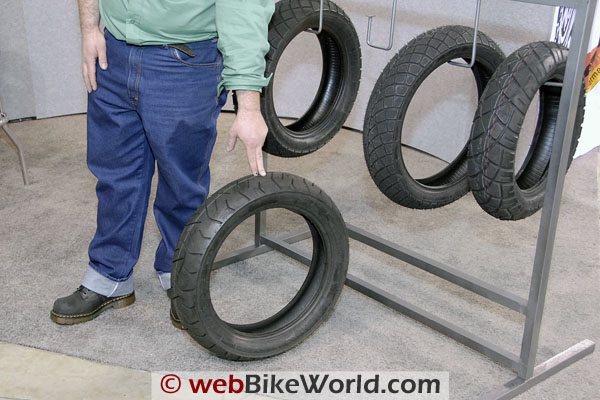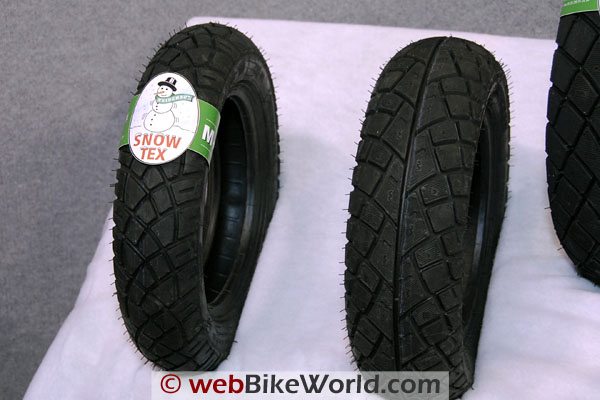 Easy-Cruz Motorcycle Cruise Control
A surprisingly simple-looking device but with a robust notched friction control wheel.  It fits as a replacement for the bar end weight or a "Stealth" version is available without the end weight.  Smooth action and appears to be easy to use; it can be controlled with the pinky finger on the right hand when riding.
What's surprising is that the manufacturer, Black Dog Cycle Works, has many different fitments, including versions for Ducati, BMW, Triumph, KTM and Buell, among others, including many cruisers.  I'll plan on getting one for a review.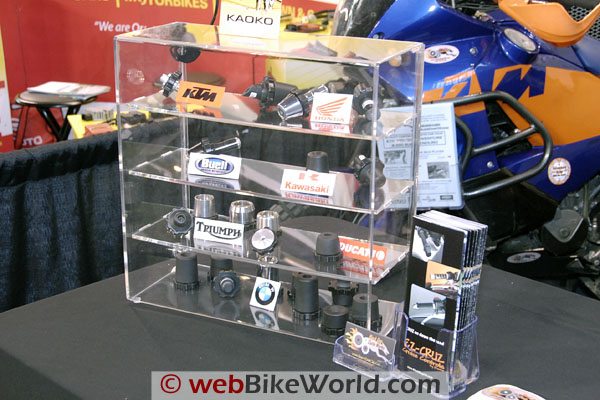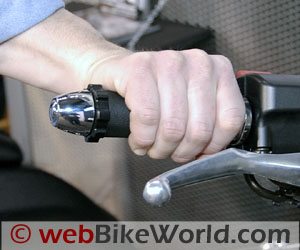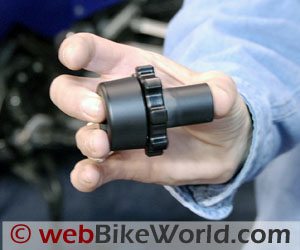 Road Warrior Plus Paint Protection
In the running for the Dealer Expo best new product of the year, Road Warrior Plus is a very interesting paint protection film that's applied by hand with a roller or spray gun and forms a very shiny protective film over the paint.  It hardens when dried but can be removed by peeling it off, much like a liquid 3M Scotchcal, reviewed several times on webBikeWorld.com.
It's available in 1 quart, 1 gallon and 5 gallon quantities.
I'll get some of this to try for a review…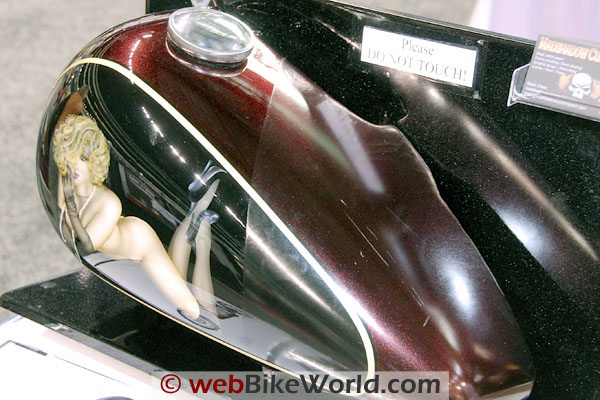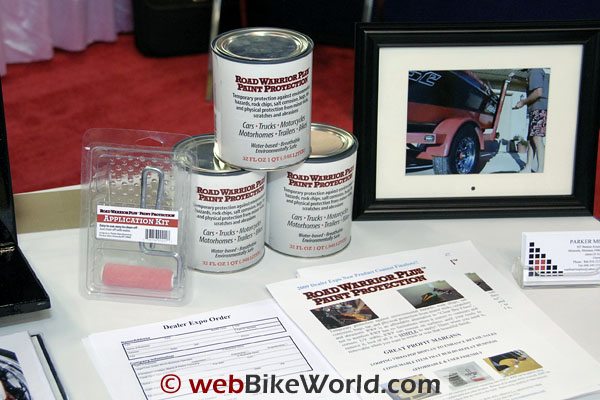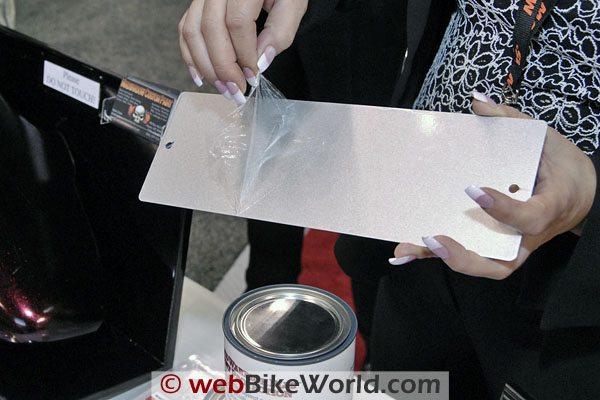 Forcefield Sub-Pro 4 Back Protector
This is the latest and greatest back protector from Forcefield, just announced and soon to be released.  The photo below is of a prototype version, which they promised to us for an exclusive review.
The Sub-Pro 4 is claimed to be "the highest rated professional grade back protector in the world".  It is CE certified to 3.5 kilonewtons, about 3 times less than the maximum allowed by CE Level 2.  It's breathable and form-fitting and perforated.  It also feels very light.
The Sub-Pro 4 will only be available in the UK and U.S., according to the Forcefield representative, and in an interesting switch, the U.S. is getting it first.
Stay tuned for more on this one, I'm going to try and bring this home with me!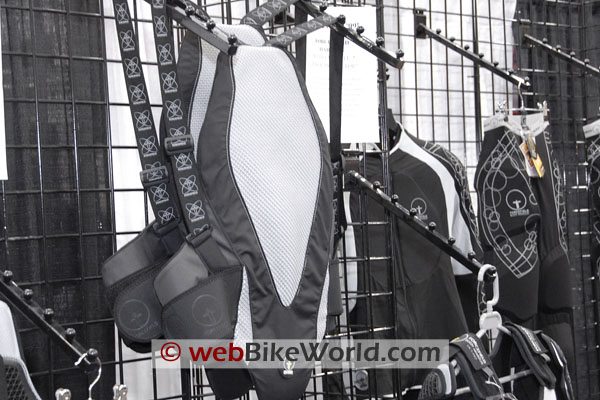 2009 Expo Report Home  |  Next: Page 2
Note:  For informational use only.  All material and photographs are Copyright © webWorld International, LLC – 2000-2011.  All rights reserved.  See the webBikeWorld® Site Info page.  NOTE:  Product specifications, features and details may change or differ from our descriptions.  Always check before purchasing.  Read the Terms and Conditions!