World Exclusive!  The 
web

BikeWorld

 Live Report From the 2009 Powersports Dealer Expo Indianapolis, Indiana – February 13-16, 2009
 
Indy Live!
Port-A-Chopper Folding Trailer
Ceramic Bearings
Speedway Shelters
Heidenau Tires
EZ-Cruz Cruise Control
Road Warrior Paint Protection
Forcefield Sub-Pro 4
Wacky Wheels
Teiz One-Piece Suit
Xena Security
HJC Helmets
Knox Armor
Expo Comments
Caberg Helmets
Marushin Helmets
Tourmaster and Cortech
Lazer Helmets
Sym Scooters
Streetfighter MID

Page 7 (This Page):  Monday, February 16, 2009 AM

Akuma News
Wheels 4 Tots
Marketing 101
Thermafur Vest
Special Report: Fulmer Helmets!
Special Report: Suzuki TU250!

Monday, February 17, 2009 – Final Reports

Shark Helmets
Rev'it 2009 – In Process
Akuma
The Akuma folks have been busy as usual!  Lots of new goodies to see.
First up is the new Carbon helmet — I was so excited in the booth that I forgot to turn on my voice recorder, and I forgot all the details, but the helmet definitely feels light and it includes the Akuma I.P.S., or Integrated Power System to power the Akuma accessories, such as the internal light included in the helmet and other Akuma accessories like their Tint on Demand visors.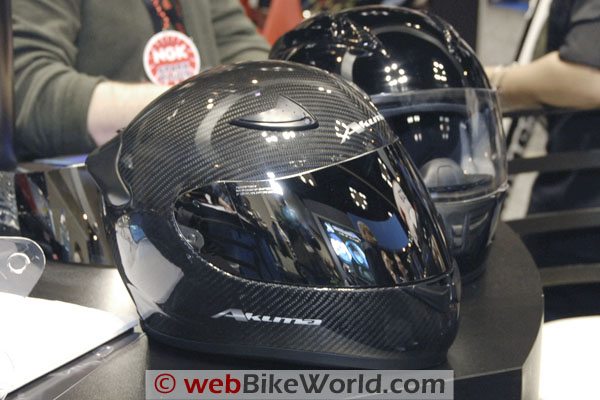 Akuma also partnered with Gator Customs, the developers of Gator Glass, on their new "Wolfpack" helmet.  The IPS system powers an LED behind the translucent Gator Glass, making logos or designs visible at night when the light is on.
The effect isn't as noticeable in the harsh lights of the Dealer Expo, but here's an example with the black G-series helmet in "stealth" mode and then with the Akuma logo turned on under the Gator Glass: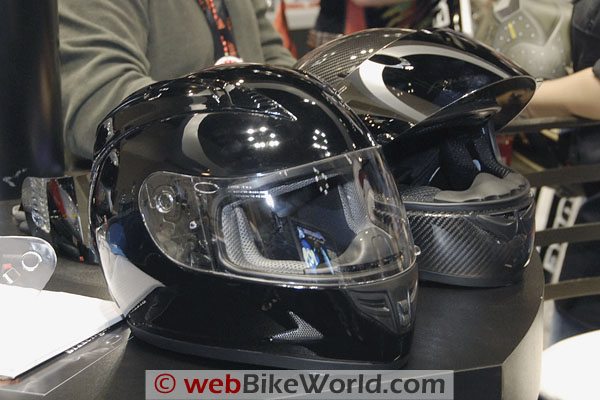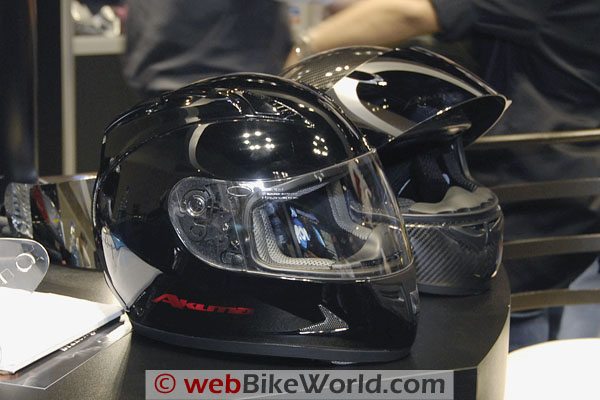 Here it is again in the Akuma Wolfpack helmet, available in several color combinations.  Again, not as noticeable during the day, but looks bright when it's dark: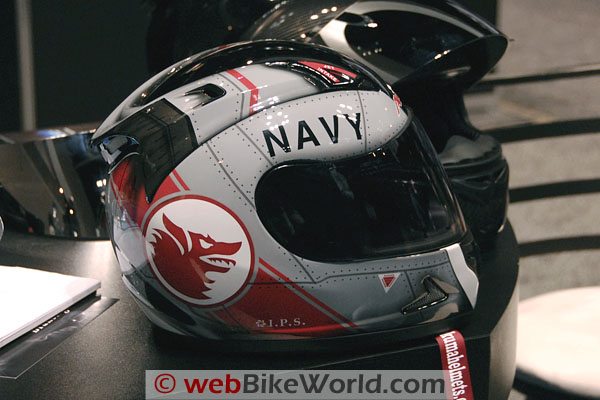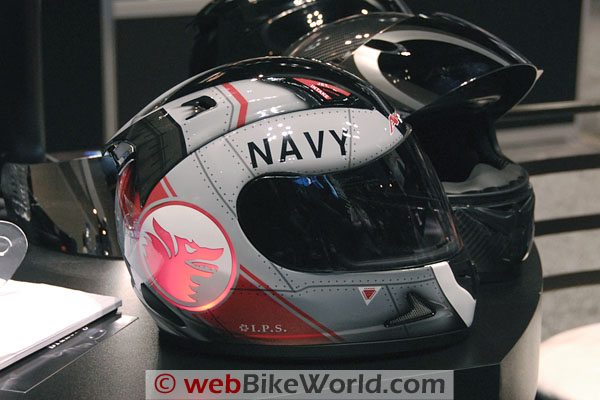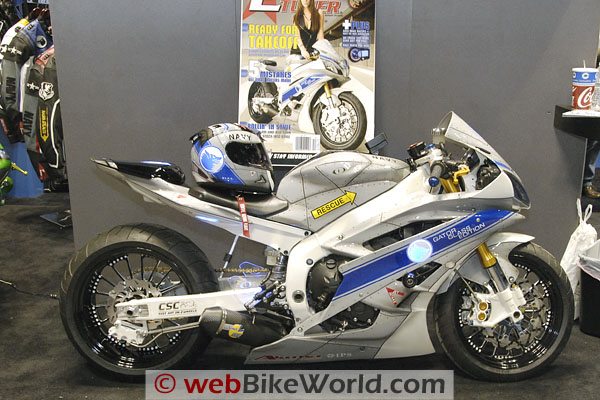 Here's the production version of the Akuma Gemini "Tint on Demand" visor.  There's more information and a video of the prototype in the story we published a few months ago.  The final version uses a vinyl container for the electronics and the battery is now said to last 72 hours compared to the prototype's 30 hours: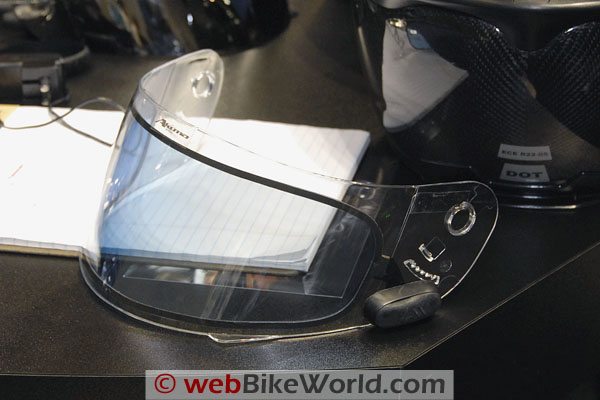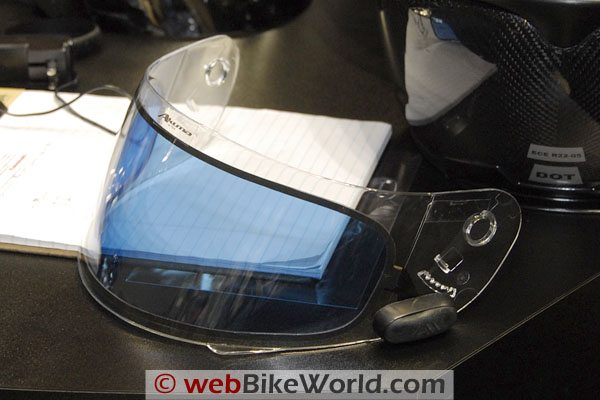 Here's another interested development in prototype — a dark visor with these "cat eye" lights.  The helmet was up on a display so I couldn't handle it, but apparently the visor works like a normal tinted visor to the rider and these "eyes" can be turned on and off using the IPS: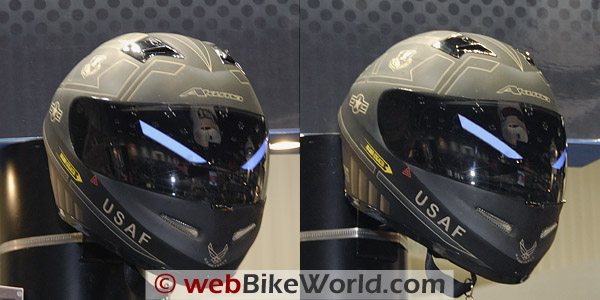 As if all of that wasn't enough, Akuma is also introducing a line of motorcycle clothing, starting with these jackets that match the Akuma helmets!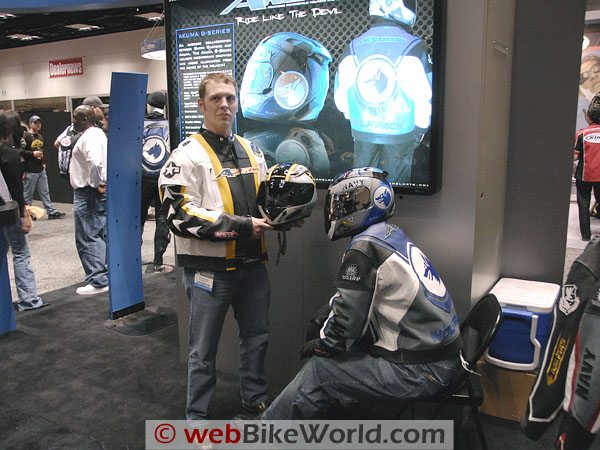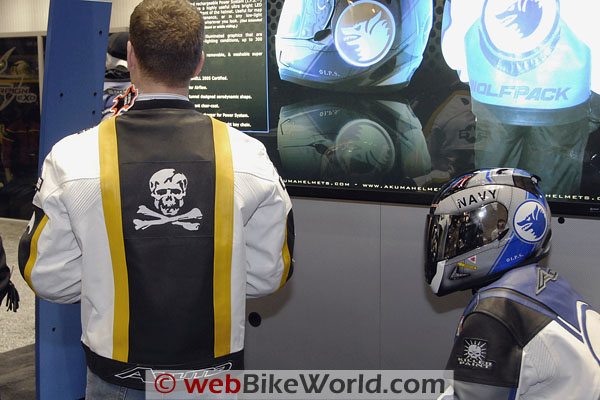 2009 Expo Report Home  |  Next: Page 8
Note:  For informational use only.  All material and photographs are Copyright © webWorld International, LLC – 2000-2011.  All rights reserved.  See the webBikeWorld® Site Info page.  NOTE:  Product specifications, features and details may change or differ from our descriptions.  Always check before purchasing.  Read the Terms and Conditions!