2008 BMW Motorcycles
BMW's two-wheel product expansion takes another step forward for 2008, with six new or extensively revised models in four different categories. In addition, the company moves into yet one more displacement class this year with another all-new off-road design.
The company's HP, Supersport and Adventure-Touring ranks also expand via new or extensively revised models in those areas. In all, BMW's 2008 model offerings rank as the most diverse the company has ever offered, with 20 models that cover the world of motorcycling from cleated footpegs and knobbies, to clip-ons and slicks, to saddlebags and GPS units — in any mixture you can imagine.
2008 BMW G 450 X
The cleated footpeg crowd is covered by the all-new competition-oriented G 450 X, which joins a lineup that includes the three single-cylinder G 650 X models. Even more off-road oriented than the G 650 Xchallenge , the 450 boasts an engine and chassis designed to optimize the lightweight bike's off-road intent.
The 50-horsepower liquid-cooled single sits in a frame that combines stainless steel and aluminum components. A Marzocchi fork and Ohlins rear shock are just two of the top-drawer components on this fuel-injected off-road-ready tool.
2008 BMW F 800 GS
Also new this year is the latest version of BMW's parallel-twin, the F 800 GS (See the wBW Special Report on the new F 800 GS). Neatly slotted in between the previous F 650 GS and the company's R 1200 GS Boxer-twins, this 85-horsepower Adventure-Tourer provides another choice in BMW's legendary line of all-road tourers.
2008 BMW R 1200 GS and R 1200 GS Adventure
Those looking for a higher-performance alternative can choose from either R 1200 GS or R 1200 GS Adventure, this year thoroughly updated with more power, revised gearing and optional Enduro ESA (Electronic Suspension Adjustment). True to their character, the new GS models ensure that 2008 will provide a wider range of treatments for chronic wanderlust.
2008 BMW HP2 Megamoto and HP2 Sport
BMW's high-performance HP2 series gains a pair of stablemates with the addition of the HP2 Megamoto andHP2 Sport , both designed to provide a significant boost in power, performance and excitement.
The Megamoto boasts a 113-hp Boxer-twin, premium chassis components and upright riding position with sticky 17-inch tires, lowered suspension, and dual front discs. The 130-hp HP2 Sport is the most-powerful Boxer-twin yet, and the first production DOHC Boxer in BMW history. Awash in carbon-fiber, it looks particularly fetching fitted with slicks.
Rounding out the remaining 2008 lineup is an appealing array of encore performers. The F 800 S (2007 model) and F 800 ST parallel-twins retain their positions as superlative sport or sport-touring middleweights.
BMW's four-cylinder K 1200 S and K 1200 R Sport (2007 model) inject an additional dose of horsepower to that formula while still maintaining a modicum of civility. BMW's traditional touring niche is neatly-and exquisitely-filled by the R 1200 RT Boxer , the K 1200 GT and luxury-touring K 1200 LT.
And those who prefer motorcycling's purist approach can still find the R 1200 R and K 1200 R fill that bill with just a hint of attitude.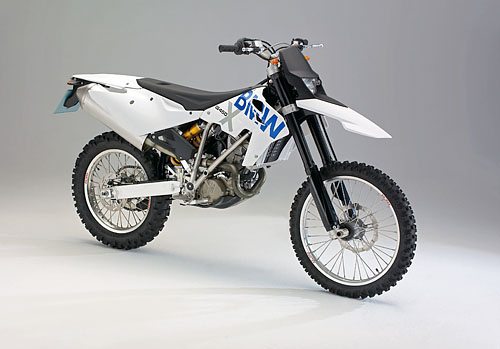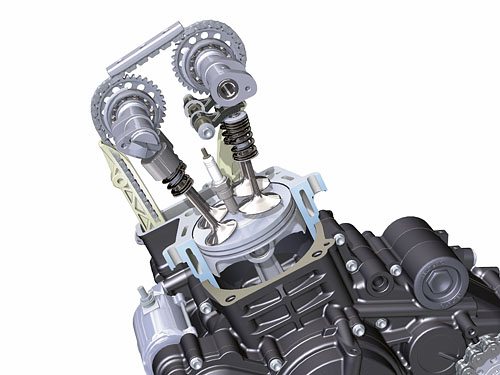 New Model: G 450 X
As a completely new model for BMW, the G 450 X represents a move into three new categories for 2008, with all-new hardware and a new displacement.
A clean-sheet design, the G 450 X engine and chassis combine several existing BMW traits into a uniquely integrated package, intended to optimize power, handling, low weight and mass centralization. The BMW-designed single-cylinder engine incorporates state-of-the-art materials and compact design, with fuel-injection, electric start, crankshaft-mounted clutch, optimized intact tract, balance shaft and liquid-cooling.
The DOHC head borrows its 4-valve layout from the K 1200 S, with bucket tappets for the exhaust paired with finger followers on the intake. A 30-degree cant to the cylinder provides a straight, downdraft intake with an overhead airbox; the fuel tank resides under the seat with a filler at the rear.
The exhaust includes a 3-way catalytic converter, making the bike in complete compliance with all applicable emission standards. A competition exhaust is also available.
The G 450 X chassis includes a fully adjustable Öhlins rear shock, Marzocchi "upside-down" fork and Brembo disc brakes front and rear. The compact frame mates stainless steel tubing with stainless forgings; an aluminum subframe and swingarm complete the package.
A unique hollow transmission output shaft places both the countershaft chain sprocket and the swingarm pivot on the same axis. This coaxial design reduces the chain's effect on suspension response, smoothes power delivery, minimizes chain wear, and provides a longer (by 30mm) swingarm for more travel and better traction.
With a wet weight close to 265 pounds, the 50-hp Enduro offers a markedly better power-to-weight ratio than most competitors.
2008 BMW R 1200 GS and R 1200 GS Adventure
Moving up to BMW's more traditional Boxer twins, the R 1200 GS and Adventure boast a thorough revision this year, beginning with the ever popular choice: a fresh injection of horsepower.
Both of the heavyweight Adventure-Tourers now boast a 5 percent increase in power, with a specific emphasis on the upper rev range-which now extends to 8000 rpm. The additional horses find their way to the rear wheel via lowered secondary gearing and an all-new gearbox with improved shifting.
The 6-speed provides a broader overall ratio for the wide range of terrain these bikes can cover. The first three gears use lower ratios for low-speed crawling, while the upper three gears give a wider spread for high-speed or on-road riding.
Chassis changes on the large-bore GS models include the optional Enduro ESA, specifically adapted for on/off-road use.
The Enduro ESA distinguishes between on- and off-road use, and allows further adjustments by selecting particular modes for spring preload and damping. Riders can specify not only on- or off-road settings, but within each they can also fine-tune the suspension to accommodate road conditions or motorcycle load.
For on-road use, the system provides three spring modes for weight of rider only, or with luggage or a passenger, along with settings for Sport, Normal or Comfort. Off-road use provides Soft, Normal or Hard damping; two off-road preload settings also add another 20mm of ground clearance in the maximum setting.
The R 1200 GS and Adventure sport revised styling for 2008, with a new front fender, stainless deflectors at the front of the tank and new tail- and LED brake lights.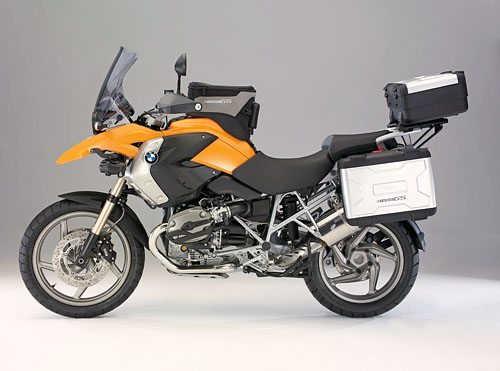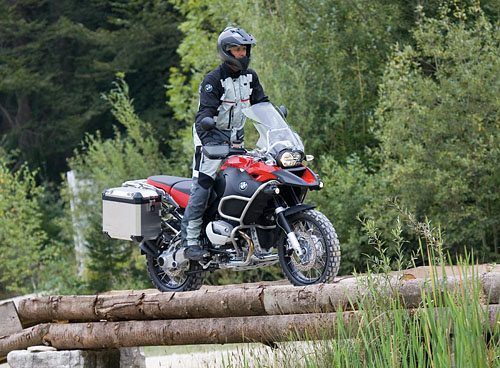 BMW F 800 GS – 

w

BW Lightbox – Click photo to view.
2008 BMW HP2 Megamoto
The riding position might be similar, but the on-road performance of BMW's new HP2 Megamoto is considerably higher than that of the GS models.
Actually based on the previous HP2 Enduro, the Megamoto features a lowered suspension and seat, narrower handlebar, 17-inch wheels and a 113 horsepower Boxer-twin engine. The Megamoto does offer the same quality suspension components, however, with a fully adjustable Marzocchi upside-down fork paired with a likewise fully adjustable Öhlins rear shock.
The rims and tires are also tailored to on-road performance, with a 120/70-ZR 17 at the front mated to a 3.5-inch rim, while a 180/55 ZR 17 tire and 5.5-inch rim bring up the rear. A dual-chambered Akrapović muffler backs up the bike's broad-shouldered look with a deep, resonant exhaust note but still maintains the HP2's catalytic converter and full emissions certification.
2008 BMW HP2 Sport
The fourth new Boxer-twin brings the HP2 designation to a fully street oriented package with the HP2 Sport. Loosely based on the R 1200 S, the new Sport draws its powerplant from BMW's highly successful endurance racing effort, bringing BMW's first modern DOHC Boxer-twin to the street.
With 130 horsepower, the Sport provides an exhilarating testimony to the company's dedication to endurance racing, wrapped in street livery. The DOHC heads were developed specifically for the race bike, and utilize finger followers to actuate four valves per cylinder.
The exhaust sweeps directly under the bike, tucking into the aerodynamic chin fairing below the engine. An additional component borrowed from long-distance racing is the HP2's gear shift assistant, which allows full use of the close-ratio 6-speed without using the clutch lever, even during full-power shifts.
Carbon fiber bodywork abounds on the HP Sport, not as trendy accents but as structural components, such as the self-supporting seat frame and aerodynamically optimized fairing. Both of these bolt to a compact, tubular steel frame.
The fully adjustable chassis sports Öhlins shocks front and rear, forged aluminum wheels, and radially mounted Brembo four-piston calipers at the front. Adjustable forged aluminum footrests, handlebars and Magura brake levers with radial-mount brake actuators give the rider optimal control.
Instruments came directly from MotoGP racing, with digital readouts, lap timer and a tachometer with graphic rpm display. With a dry weight under 400 pounds, the HP Sport is the most track-oriented production Boxer-twin yet.
2008 BMW G 650 X Series
The remainder of the 2008 lineup brings a cadre of highly acclaimed but familiar faces. The G 650 X series is available in all three guises: Xcountry (2008 model), Xchallenge (2007 model) and Xmoto (2007 model)-offering a lightweight single-cylinder adapted to varying degrees of terrain, from lumpy to smooth.
Those with mud in their eyes will appreciate the off-road capabilities of the Xchallenge, while those who want their dirt mixed with a higher percentage of asphalt will prefer the Xcountry's true dual-purpose orientation.
Finally, the Xmoto offers the flickable character of an enduro with the pure street orientation of a sportbike. In any case, all three offer the same, 53-horsepower, fuel-injected powerplant in a package that weighs in under 330 pounds dry.
2008 BMW F 800 S and ST
As BMW's other stereotype-shattering motorcycles, the F 800 S (2007 model) and F 800 ST (2008 model) again offer lightweight alternatives to the traditional Boxer-twins.
Their innovative liquid-cooled parallel-twin engines utilize a secondary "balance-rod" to provide an exceptionally smooth but extremely responsive 85 horsepower. Both bikes also offer the clean, low-maintenance advantages of a belt final-drive and a smooth-shifting 6-speed transmission.
The touring-oriented ST includes a full fairing, taller windshield and tubular handlebar for long-distance comfort, while the S offers a truncated fairing, low windshield, clip-ons and a slightly sportier riding position. The F 800 S and ST also feature a full range of options including ABS, Tire Pressure Monitor, trip computer, heated grips and a broad array of luggage options from tank bags to saddlebags.
2008 BMW R 1200 R Series
In a more traditional vein, BMW's Boxer-twins offer three pavement specialists, each with its own character. The R 1200 R provides a low-cost membership into BMW's Boxer club with all the benefits thereof, including a torquey, 109-horsepower 1170cc flat-twin and a host of options from ABS to saddlebags to windshield. The two remaining Boxer-twins are fully-faired alternatives, but with entirely different purposes.
The R 1200 S (2007 model) whips up 122 horsepower as part of its sporting credentials, which also include a win at the Daytona 8-hour Moto ST race in 2006. Optional ABS, Ohlins suspension and 6-inch wide rear wheel are just some of the sporting enhancements available on the R 1200 S.
For those looking for something (slightly) more sedate, the R 1200 RT offers a long-distance option for those who'd rather chase horizons than tilt them. Outfitted with full touring accoutrements, the fully-faired RT includes electrically adjustable windshield, ABS, touring bags and upright ergonomics as standard.
Optional equipment includes Electronically Adjustable Suspension, heated seat and handgrips, premium stereo, and cruise control, all designed to make a day in the saddle as comfortable as possible.
2008 BMW K Series
BMW's K Series offers many of the same choices as the Boxer-twins, but starting from a stronger position of power-brought courtesy of a pair of liquid-cooled inline 4-cylinder engines.
The first of these to wear the blue-and-white roundel, the K 1200 LT, features the company's original longitudinal-engine layout, its 1172cc spinning out a smooth, responsive 116 horsepower through a wide-ratio 5-speed transmission with reverse. Fully equipped even in "base" form, the LT includes such standard features as ABS, central locking system, Xenon headlamp, heated seats and grips, cruise-control, intercom, and anti-theft alarm.
Shifting to the sportier side of the K Series, the remaining models feature BMW's high-performance, transverse inline-4, which churns out as much as 167 horsepower from its 1157-cc.
The standard K 1200 R wraps this engine in minimal attire-naked, to be exact. Naked doesn't mean "stripped" in this case, however, as the K 1200 R includes Duolever front and Paralever rear suspension, EVO braking system with triple disc brakes, and an options list that includes ESA, on-board computer, Tire Pressure Monitor, sport wheels and ABS.
A variation on this theme is the K 1200 R Sport (2007 model). The R Sport replaces the standard R's windscreen with a short but effective half-fairing, paired with a slightly more upright riding position more suitable to sport-touring.
The K 1200 S takes that formula one step further, to full-bore performance, beginning with a full fairing and an output that climbs to 167 horsepower-making this the most-powerful BMW motorcycle currently available.
To help compensate for over-active right wrists, the K 1200 S also adds BMW's ground-breaking Automatic Stability Control as an option for 2008. The final K, the 1200 GT, continues in the mode of the original by offering a superlative performance-touring bike that eats miles by the map-full.
The GT features standard saddlebags, BMW's Duolever front suspension, optional ESA and ASC and a smooth, responsive 152 bhp. Height-adjustable handlebars and an adjustable saddle help match ergonomics to rider.
Introduced last year, BMW's package pricing now extends to several 2008 models. A new Safety Package includes Tire Pressure Monitor and Automatic Stability Control on the K 1200 R, R Sport, K 1200 S and R 1200 RT; the Safety Package on the R 1200 R adds Integral ABS II. GT and RT models also offer a Comfort Package that comprises heated grips, white turn indicators and on-board computer; the same choice on the R 1200 R also adds a center stand.
Finally on the R 1200 R and RT, and K 1200 GT, an extensive Equipment Package includes Chrome Exhaust Pipe, ESA, heated grips, cruise control, on-board computer and accessory socket. The package also adds a Xenon headlamp and heated seat on the K 1200 GT, and a heated seat on the R 1200 RT.
With the 2008 model offerings, BMW again extends its technological lead with the broadest array of motorcycles in its history. Ranging from the 50-hp G 450 X to the 167-hp K 1200 S, BMW now offers a range of leading-edge motorcycles for virtually every taste.
Moreover, every BMW, regardless of intent or displacement, includes a 3-way catalytic converter and full emissions certification. The company that introduced across-the-board catalytic converters, anti-lock braking systems and fuel-injection systems now offers such ground-breaking features as Automatic Stability Control, Electronic Suspension Adjustment, Tire Pressure Monitoring systems, on-board computer, Service Interval Indicator, navigation, and Xenon headlamps.
All of these features are designed to give BMW riders the greatest advantages available in the quest to make motorcycling as fun, safe and trouble-free as possible-because the typical BMW should be anything but typical.
Date of Publication:  November 9, 2007
Note: For informational use only. All material and photographs are Copyright © webWorld International, LLC – 2000-2013. All rights reserved. See the webBikeWorld® Site Info page. NOTE: Product specifications, features and details may change or differ from our descriptions. Always check before purchasing. Read the Terms and Conditions!