1999 HARLEY-DAVIDSON MT500 BACKGROUND
It's rumored that Harley built just around 500 MT500s for the US Military. The design genealogy is quite convoluted. To begin with, it has an air-cooled 500cc single-cylinder Rotax engine (made in Austria). The design of the overall bike originated in Italy in the early 1980s, was then picked up by the Armstrong-CCM company of Great Britain, who actually started producing the bike in 1984. It saw limited use with militaries throughout the (former) British Empire. Canada, Jordan and Britain used them in limited numbers until phasing them out in 2000. By the late 1990s, Harley-Davidson was looking for a way to tap into the lucrative world of military vehicles. The MT500 looked like a good way to attract the richest military in the world, the US Army. Essentially, they badge-engineered the bike, slapped Harley logos all over it and started shipping them in to the US. Alas, it was just at the time when the entire US military, all of NATO, and many other militaries around the world were switching over to 100% diesel-fueled vehicles. There is great logic in only having to stockpile one type of fuel for every vehicle you have, and the 1999 Harley-Davidson MT500 ran on gasoline. The hoped-for military contracts never materialized, and Harley went back to what it does best: building big V-twin cruisers.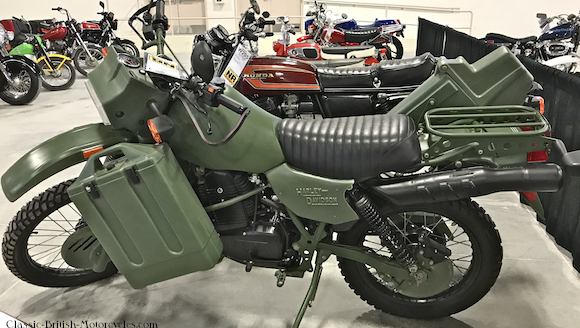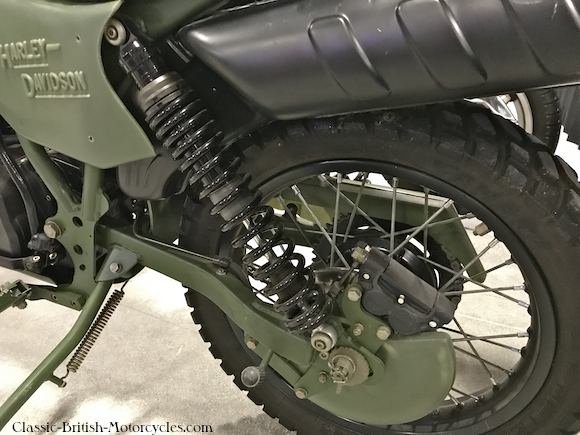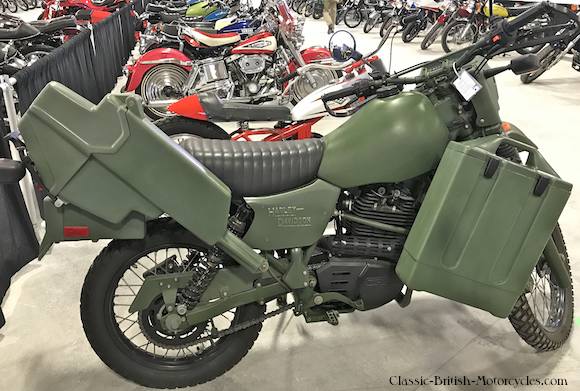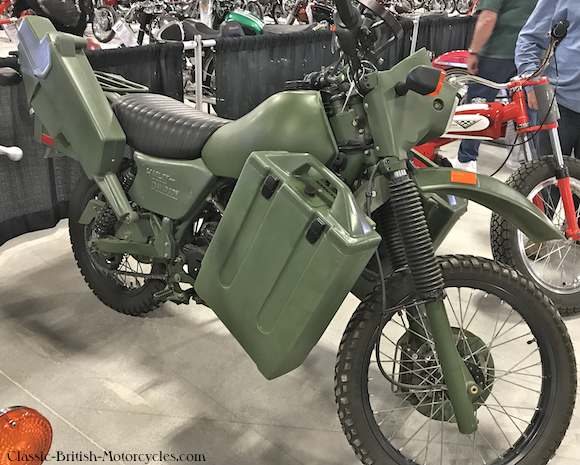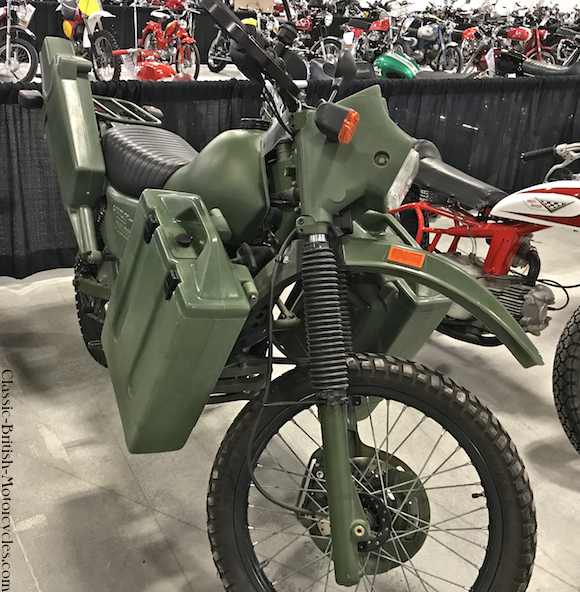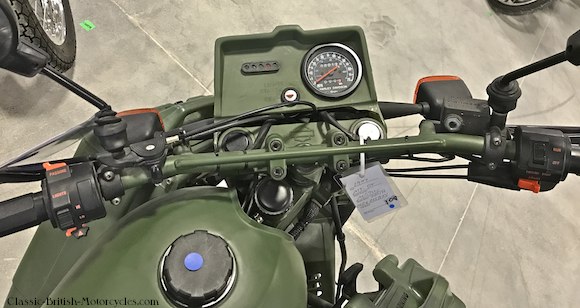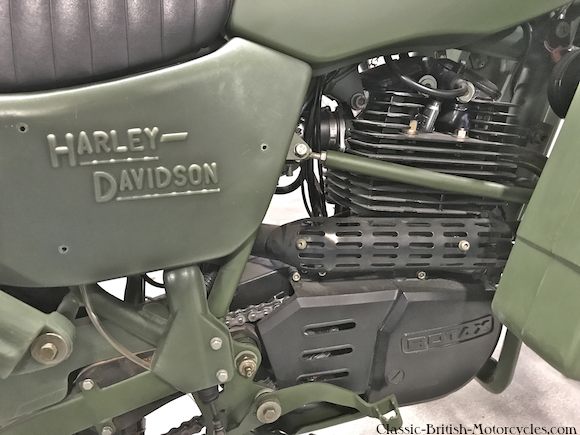 1999 HARLEY-DAVIDSON MT500 DESIGN
The Rotax engine is built in great numbers in Austria and used in all sorts of applications. It's a proven engine that produces good power, torque, and it totally reliable, which was the main goal of the entire design. The 500cc single uses a chain-driven single overhead cam (SOHC) to drive two intake valves and two exhaust valves (4 valves-per-cylinder), and uses a 5-speed gearbox shifted with the left foot. All 500-or-so 1999 Harley-Davidson MT500s were built to exactly the spec, and all are kickstart-only, no electric starter. All of the bodywork is made of a thick, indestructible ABS plastic, molded in-color (no paint). All MT500s came dressed out as you see here, with a waterproof ABS rifle case on the right-rear (designed to accept rifles with or without scopes), and 2 5-gallon Jerry cans in front for gas or water (which can also hold boxes of gear). A very impressive setup. They are very tall in the saddle, as is the way with modern 'adventure bikes', but they have very long suspension travel. Very interesting bikes with an even more interesting story.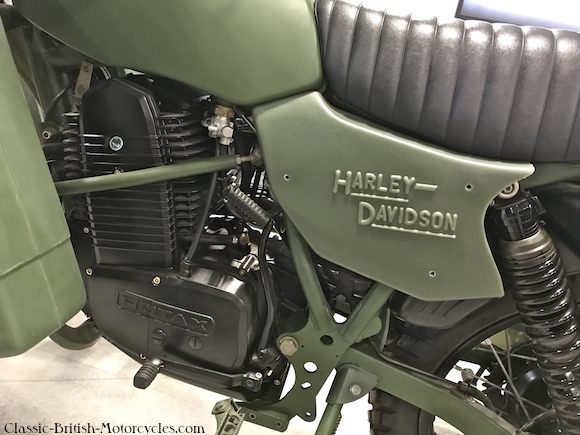 ---
1999 Harley-Davidson MT500 SPECIFICATIONS
Model designation

Vehicle type

Engine type

Engine manufacturer

Engine designation

Valve actuation

Displacement

Engine output

Torque output

Wheelbase

Length, overall

Width

Fuel capacity

1999 Harley-Davidson MT500

Gas-powered 2-wheel motorcycle, military

Air-cooled OHC single-cylinder 4-stroke

Rotax, Austria

Rotax 504mil

Single overhead cam, 4 valves-per-cylinder

481.3 cc

32 bhp @ 6200 rpm

28 lb-ft @ 5500 rpm

57.0″ / 1450mm

85.0″ / 2170mm

31.0″ / 790mm

3.5 US gal / 2.9 Imp gal / 13.0 L
---
Check out these Books on
MILITARY MOTORCYCLES

An Illustrated History of Military Motorcycles: 100 years of wartime motorcycles, from the first machines of World War I to the diesel-powered types and quad bikes of today, with 230 photographs
---

Military Motorcycles (Old General (Military))
---

An Illustrated Directory of Military Motorcycles
---

The World Encyclopedia of Military Motorcycles: A complete reference guide to 100 years of military motorcycles, from their first use in World War I … with 550 historical and modern photographs
---

Bmw Motorcycles in World War II: R12/R75 (Schiffer Military History)
---

US Military Motorcycles of WWII – Armor Walk Around Color Series No. 7
---

The Complete Book Of Police And Military Motorcycles
---

Heavy Sidecar Motorcycles of the Wehrmacht 1935-1945 (Schiffer Military/Aviation History)
---

Military motorcycles of World War 2: All makes from Europe, Russia, Japan, and the USA, 1939-1945 (Osprey collector's library)
---

The Famous James Military Lightweight
---

American Military Vehicles of World War I: An Illustrated History of Armored Cars, Staff Cars, Motorcycles, Ambulances, Trucks, Tractors and Tanks
---

American Military Vehicles of World War I: An Illustrated History of Armored Cars, Staff Cars, Motorcycles, Ambulances, Trucks, Tractors and Tanks
---
---