1988 Norton Classic Rotary
1988 NORTON CLASSIC ROTARY BACKGROUND
Norton's air-cooled, twin-rotor Wankel motorcycle was a one-year-only run, with just 100 of them built in 1987 as 1987 and 1988 models. This makes it one of the world's rarest production Nortons, and one of the rarest classic British motorcycles overall. It came at a time when Norton was desperately looking for something that would set it apart from the ultra-competitive Japanese bikes that low-volume niche players like Norton couldn't possibly compete with in a straight-up fight. Norton, always looking for creative solutions, built its first rotary-powered motorcycles in 1983-88 for police use only. They built just 350 of the 588cc Interpol 2 (P41) police bikes as pre-production prototypes to be tested under the rigorous conditions of daily police work with several police forces in England. Poor idling, constant overheating problems, and blown rotor seals were common. Norton had inherited the rotary project from BSA, who merged with Norton, then collapsed. Norton wasn't doing much better, struggling to survive, until the company changed ownership in 1987. The new owners quickly launched their next rotary machine, the P43 Classic. It was an ambitious plan, and one that failed to find traction, as only 100 were built, and dealers had trouble selling them. Today, collectors drool over them and bid fiercely in auction to own one of the few. This 1988 Norton Classic Rotary was caught at the 2017 Quail Motorcycle Gathering in Carmel Valley CA.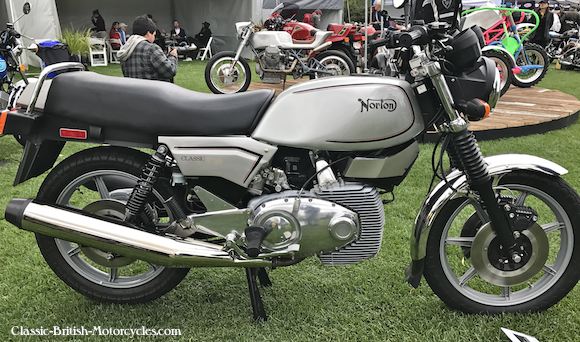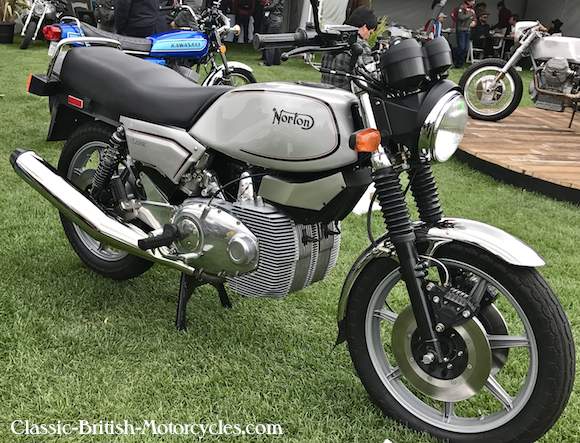 1988 NORTON CLASSIC ROTARY FRAME & RUNNING GEAR
The steel monocoque frame used the engine as a stressed member, all designed to save weight, and it worked. The 1988 Norton Classic Rotary was much lighter than its only other Wankel competitor, the Suzuki RE-5 water-cooled single-rotor bike. The conventional telescopic front forks had rubber gators, blacked-out sliders, and mounted twin hydraulic front disk brakes, and a 7-spoke cast alloy 'mag-style' wheel. Out back, the rear suspension was quite traditional with a swing arm and two conventional shock absorbers. The rear wheel was also a 7-spoke mag with a single hydraulic disk brake on the right side, and the fully-enclosed chain on the left.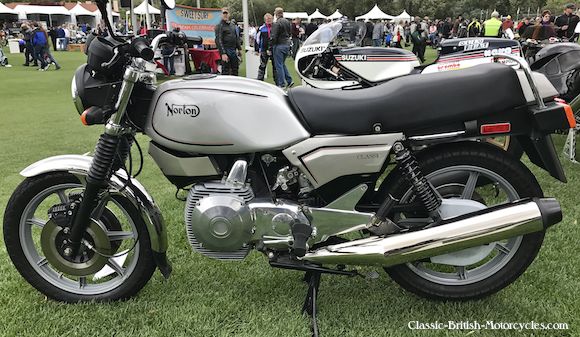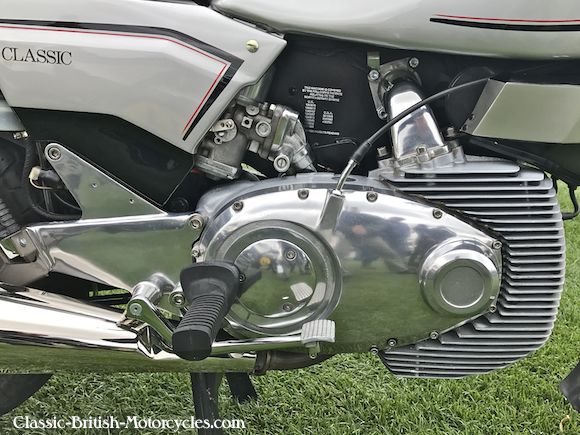 1988 NORTON CLASSIC ROTARY ENGINE HISTORY
BSA, once the largest, smartest motorcycle company in the world, was by the late 1960s weak, lost, and frozen in their own inertia. Instead of working on the basics, making great motorcycles that people wanted to buy, BSA poured millions of pounds (that it couldn't afford) into a new 'technology center' in a lavish English country estate called Umberslade Hall. Big things were supposed to come out of it. In fact, some notables are the 350 Triumph Fury twin that was never produced, and the new-for-'71 Triumph frames that were too small to allow the engines to be installed in one piece on the production line. The geniuses at Umberslade designed it, but never checked it. So now they were working on a twin-rotor Wankel engine for a motorcycle. BSA's David Garside started with an F&S (Fichtel & Sachs) single-rotor Wankel from the Hercules motorcycle and dropped it into a BSA 250 Starfire frame as a quick proof-of-concept. While smooth and reliable, it was underpowered. Next he patched together two F&S Wankels to form a twin-rotor engine that he bolted into a BSA A65 frame for testing. With double the displacement, it had ample power, but quickly revealed its fundamental weakness: heat.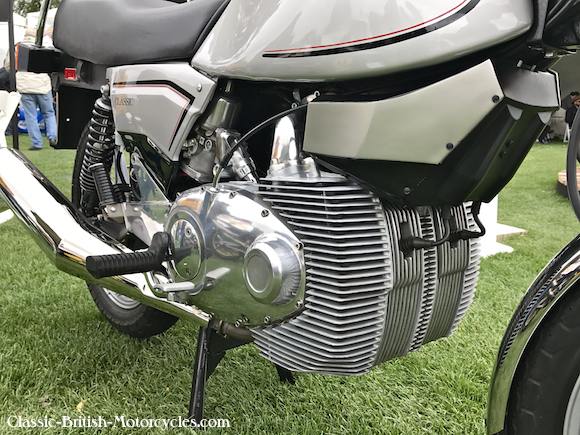 1988 NORTON CLASSIC ROTARY ENGINE
Wankels in general tend to run hot, and this was intended from the beginning to be an air-cooled bike. Water-cooling would have been the obvious answer, but it was based on an air-cooled design from the start, and air-cooling saved weight, bulk, complexity and cost over water-cooling. So, Garside got creative in ways to dissipate more of that heat. A large filtered air intake under the steering head grabbed lots of outside air, then rammed it between the two heavily-finned rotor housings, passing through the interiors of the rotors, capturing some of their heat, before being ducted out into a large sheetmetal plenum that doubles as the monocoque frame. From there, the carburetors draw this filtered air into the engine. The outside surface of the monocoque frame is actually hot to the touch, helping to dissipate still more heat to the outside air. Despite their best efforts, the bikes still constantly ran hot, and this impaired the volumetric efficiency of the engine. Lubrication of the rotor seals was also always a problem, something that Mazda finally figured out, but was still a mystery in the 1980s. In this application, a total-loss oiling system was fed by an oil tank integral to the monocoque frame. The oil injection system provided a constant mist in the combustion chambers to keep the rotor tip seals and the eccentric shaft main bearings lubricated, but it had the same effect that similar systems had in 2-stroke engines. They burned oil, which is not good for emissions, so its life expectancy as a consumer product was limited.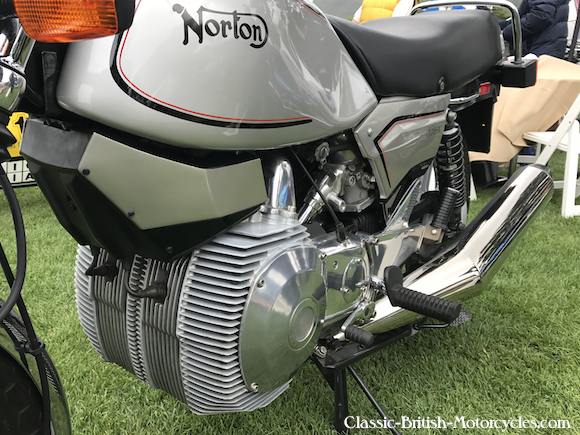 FURTHER DEVELOPMENT OF THE NORTON ROTARY ENGINE
Interestingly, the generally high volumetric efficiency of rotary engines makes them candidates for all kinds of specialized work, including powering light aircraft. In modern times, a company called Staverton has developed Norton's little twin-rotor motorcycle engine into the "MidWest Aero Engine". Instead of running all that captured heat back into the engine through the carbs as Norton did, the Aero uses a belt-driven centrifugal fan to force high-pressure air through the interiors of the rotors, but then vents that heated air to the outside. The carbs breathe cool filtered outside air. Ditching all that heat boosted volumetric efficiency to the point that they are getting 85 to 100 horsepower out of these little engines, reliably enough to power aircraft.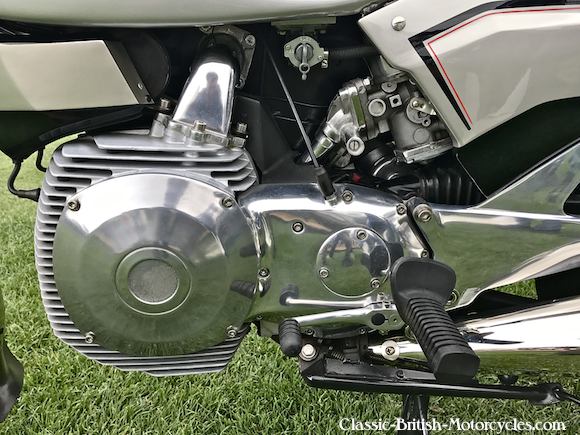 ---
1988 Norton Classic Rotary SPECIFICATIONS
Years in production

Engine type

Displacement

Compression ratio

Cooling system

Fuel system

Starting system

Engine output

Clutch

Gearbox

Final drive

Chassis type

Wheelbase

Suspension, front

Suspension, rear

Brakes, front

Brakes, rear

Wheel, front

Wheel, rear

Tire, front

Tire, rear

Fuel capacity

Top speed

1987 & 1988

Twin-rotor Wankel

588cc / 35.9 ci

8.6:1

Air-cooled externally & internally

2-carburetors

Electric starter

79 hp @ 9000 rpm

18-plate

5-speed constant mesh, left-foot shifting

Chain, fully-enclosed on left side

Steel sheetmetal monocoque

58.5″ / 1486mm

38.0mm telescopic forks

Swing arm w/2 Girling gas dampers

2 – 265mm discs, hydraulic

1 – 265mm disc, hydraulic

18″ cast alloy 7-spoke 'mag-style'

18″ cast alloy 7-spoke 'mag-style'

100/90-18

110/80-18

6.1 US gal / 23.0 L

130 mph / 209 km/h