MY 1979 TRIUMPH T140D BONNEVILLE SPECIAL
I own a '79 T140D myself. It's pictured above, on display at the Quail Motorcycle Gathering in Carmel CA in 2011. The day after this show I rode it in the Quail Ride, which took us through the hills around Carmel. It happened to be my birthday, and what a day! The T140D ran flawlessly, I was in the company of an eclectic collection of classic bikes, perfect weather, great riding country, nice folks…happy birthday to me.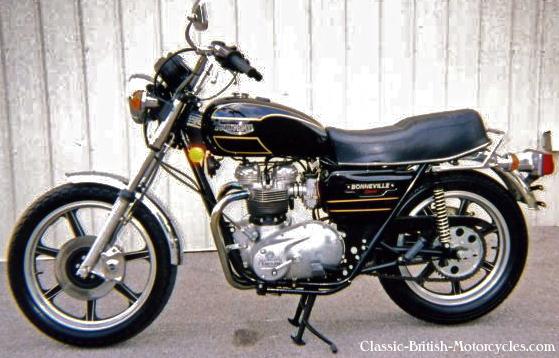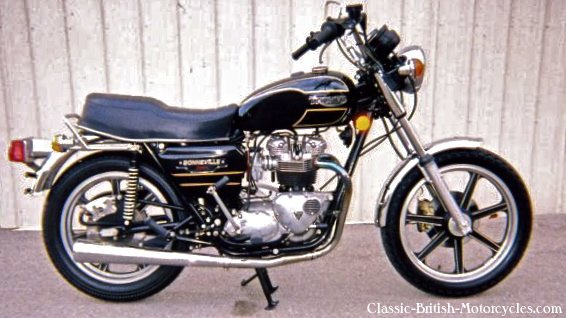 1979 TRIUMPH 140D BONNEVILLE SPECIAL
Triumph did one of its best cosmetic redux of the classic T140 Bonneville, but it wasn't purely cosmetic. The 1979 Triumph T140D Bonneville Special, as it was named, featured the Silver Jubilee's upside-down shocks, a two-into-one exhaust header, and Morris mag wheels. Unfortunately, any potential power gains from the header were more than muted by the new 'smogger' cylinder head and Amal Mk II carburetors, designed to reduce emissions. Compression was reduced to just 7.9:1 in an attempt to reduce engine vibration. All 1979 Bonnevilles got the new head and carbs, along with Lucas's new 'Rtia' electronic ignition system. The 1979 and 1980 T140D Bonneville Special was differentiated from run-of-the-mill T140E Bonnevilles by it's all-black paint paint scheme with gold pin stripes, the 2-into-1 exhaust, and a set of stunning Morris mag wheels. I actually own one (pictured above), and they're decent bikes to ride. The stepped seat isn't all that comfy, they don't have much power, and the smog-era carbs are finicky, both to tune and to ride. The 2-into-1 header sounds like crap, I like the sound of dual pipes much better. But, it was a handsome machine, and it did fairly well in the marketplace at the time, ringing the bell for Triumph yet again. There certainly are a lot of T140D running around today, I see them at auctions and shows all the time.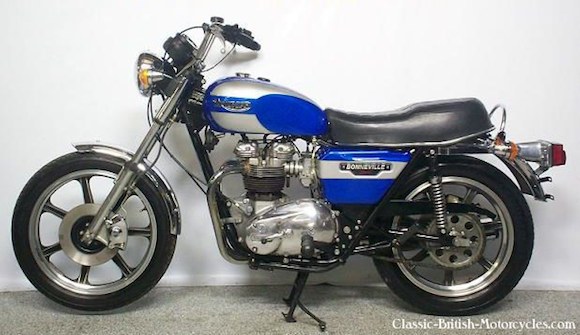 ABOVE: A rare color combo, blue and silver was available on the 1979 Triumph T140D Bonneville Special, but few were done so.
(Photos courtesy of MidAmerica Auctions.)
---
1979 Triumph T140D Bonneville Special SPECIFICATIONS
T140D Bonneville

Engine type

Displacement

Bore & Stroke

Compression

Carburetors

Ignition

Engine output

Primary drive

Primary sprockets

Clutch

Gearbox

Ratios, overall:

1st, bottom

2nd

3rd

4th

5th, top

Final drive

Final drive sprockets

Frame type

Suspension, front

Suspension, rear

Brake, front

Brake, rear

Tire, front

Tire, rear

Fuel capacity

Wheelbase

Seat height

Ground clearance

Weight

5-speed 750 Bonneville Special

Air-cooled OHV vertical twin

744cc / 45.0 ci

76mm X 82mm / 2.99″ X 3.23″

7.9:1

2- Amal Concentrics MkII, 30mm

Battery & coil, Lucas

49 bhp @ 6200 rpm

3/8″ triplex X 84 links

Engine 29T X Clutch 58T

Multi-plate, wet

5-speed constant-mesh, left-foot shift

12.25:1

8.63:1

6.58:1

5.59:1

4.7:1

5/5″ X .400″ X 3/8″ chain X 106 links

Gearbox 19T X Rear 47T

All-welded, oil-bearing large-tube backbone

Telescopic fork, hydraulic damping 2-way

Swing arm, 2 Girling dampers

10″ disk, 2-piston hydraulic caliper

10″ disk, 2-piston hydraulic caliper

3.25″ X 19″ Dunlop, ribbed

4.00″ X 18″ Dunlop, universal

3 Imp gal (US) / 4 Imp gal (UK & export)

54.5″ / 140.3 cm

32.5″ / 77.5 cm

5″ / 12.7 cm

395 lbs/ 180 kg