THE 1973 TRIUMPH X75 HURRICANE
As an interesting aside to the Triumph Trident / BSA Rocket 3 story is the X75 Hurricane. Having insisted on a slightly different 3-cylinder engine from the Triumph's, BSA wanted to make an impression and show their dealers something exciting for a change, and something that Triumph couldn't match. There was a lot of internal rivalry within the BSA empire at that time. They were hoping to come out with what would be called today a 'halo' model, one that would get buyers into the showrooms and show the world that BSA still had game. So, they contracted American fairing pioneer, Craig Vetter, father of the Windjammer fairing, to take a BSA Rocket 3 back to his shop & customize it.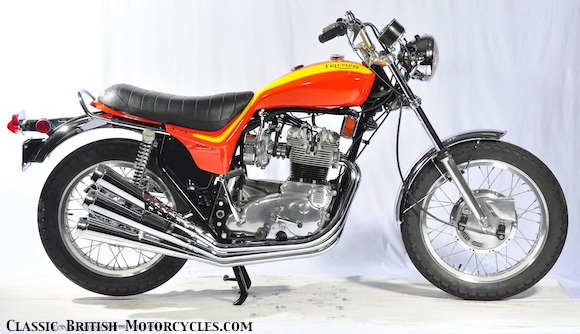 WOW!!!!!!!!!
And what a customizing job he did! He took the stodgy BSA and restyled it completely with a swoopy new one-piece fiberglass tank/seat combo that flowed into an integrated rear fender. The paint scheme was wild: bright orange with a bold yellow stripe. The front forks were extended, per current chopper practice, and most impressive of all, were a wild set of 3 upswept exhaust pipes that ran along the right side of the bike. STUNNING! It all flowed together like nothing anyone had ever seen before. While grossly impractical (with tiny gas tank & extended forks) it had the sex appeal to be a real hit.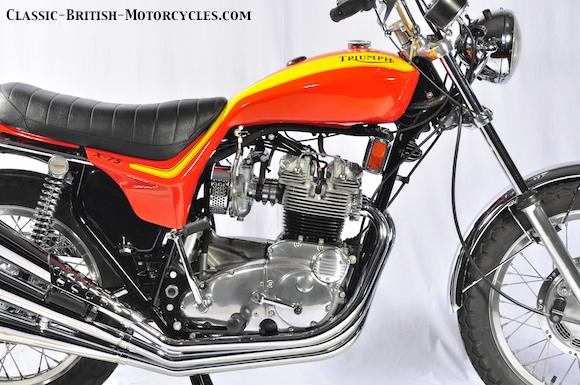 ANOTHER STINK BOMB
But alas, once again, BSA managed to turn a potential hit into yet another dud. BSA's mounting internal problems, among other things, delayed launch of the A75 Hurricane (BSA nomenclature) so long that when it was finally released, BSA was no longer selling motorcycles, so it had to be rebadged as a Triumph anyway! It was identical to the BSA branded bike with the exception of the name change to the 1973 Triumph X75 Hurricane.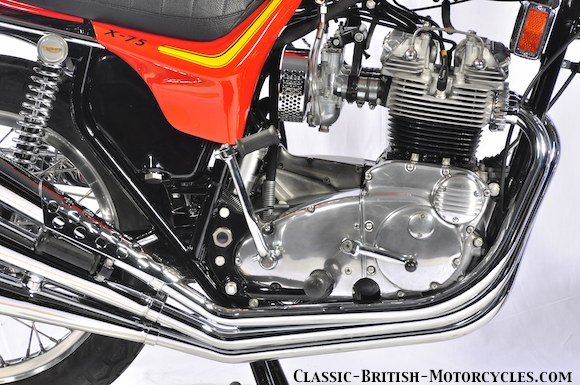 IRONY OF IRONIES
So, in the end, the bike that was supposed to 'one-up' Triumph actually became a Triumph. But built entirely of BSA parts. The BSA engine, with it's 12-degree inclined barrels and the twin downtube BSA frame differed greatly from those used on the Trident. But, BSA was now closing its doors and found itself in possession of a huge stock of BSA engines, frames and other parts left over when BSA production was halted. So, in one of their more clever moves, they used the last of these parts to build what was to be the first batch of Hurricanes, under the flag of Triumph.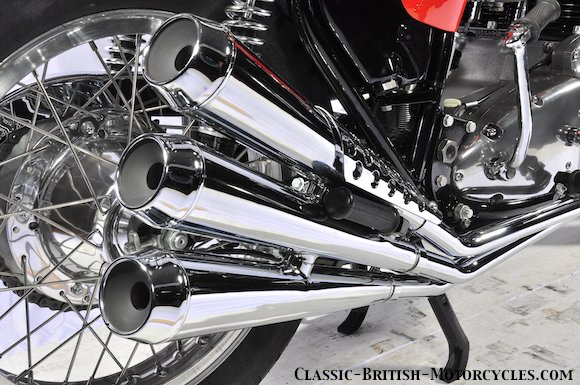 THE END IS NEAR
It was a good plan, but too little too late. And once again, at a price that was too high for most buyers. And, its most impressive feature, those wild pipes, ended up being the final undoing of the 1973 Triumph X75 Hurricane, when they couldn't be made to pass new noise laws in the US. Just 1,152 Triumph Hurricanes were built (1973 model year only), making this not only one of the most exciting Classic British Motorcycles, but also one of the rarest.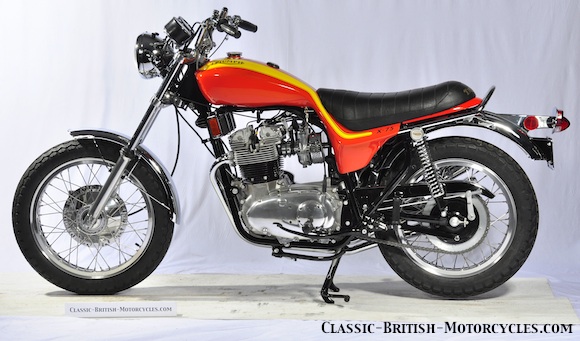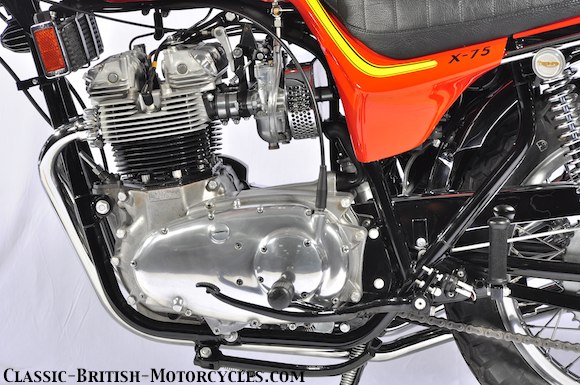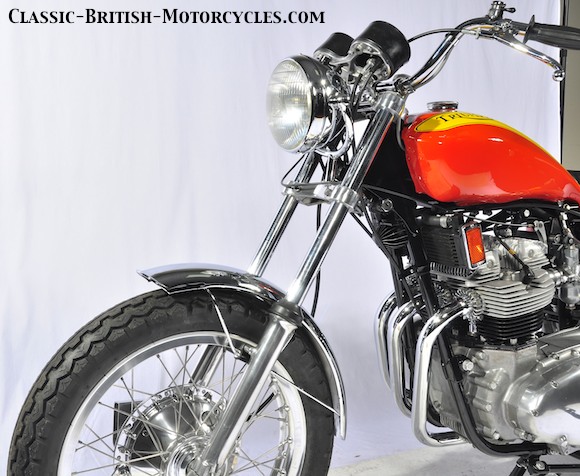 ---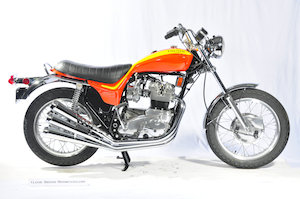 Triumph Hurricane VIDEO
A one-minute walk-around up close & personal with this full-restored, totally factory-correct '73 X-75 Hurricane. They don't get any nicer than this.
---
1973 Triumph X75 Hurricane SPECIFICATIONS
Model Designation

Number produced

Engine type

Displacement

Bore & Stroke

Compression ratio

Carburetors

Engine output

Electrics

Ignition

Primary drive

Clutch

Gearbox

Ratios, overall:

1st, bottom

2nd

3rd

4th, top

Final drive

Frame

Suspension, front

Suspension, rear

Brake, front

Brake, rear

Tire, front

Tire, rear

Weight

1973 Triumph X-75 Hurricane

1,172

Air-cooled OHV inline 3-cylinder

741cc / 45 ci

67mm X 70mm

9.0:1

3- Amal Concentrics, 27mm

58 bhp @ 7,500 rpm

12V alternator

3 Breakers & 3 Coils

Triplex chain

Single diaphragm, dry

4-speed constant-mesh, right foot-shift

11.95:1

8.30:1

5.83:1

4.89:1

Single-row chain

Twin cradle

Telescopic

Swing-arm w/2 dampers

8″ TLS drum, conical hub

7″ SLS drum, conical hub

3.25″ X 19″ Dunlop ribbed

4.00″ X 18″ Dunlop universal

458 lbs