1973 Triumph Trident
---
1973 Triumph Trident T150V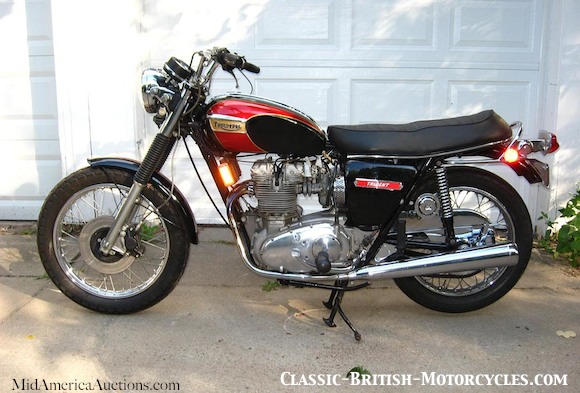 THE 1973 TRIUMPH TRIDENT IS A TURNING POINT
1973 was a very important year for Triumph, and in particular for its star player, the Bonneville. Because that year, the legendary 650 "Bonnie" got punched out to a 750, got a much-need and long-overdue 5-speed gearbox, and a front disk brake. These were major leaps forward for Triumph, now well behind the technological curve of newcomers like Honda. Still no electric start, but hey, you take what you can get.
1973 TRIUMPH TRIDENT GETS THE BONNEVILLE TREATMENT
The Trident line benefitted from the new hardware also, the 5-speed and front disk brake, at least. That and minor styling revisions made this the best Trident yet, by far. By this time, the factory had sorted out most of the technical problems with the big triple's internals, and it was turning out to be an extremely fine motorcycles, albeit one of the most expensive in its day. They were heavy also, but they handled very well, certainly better than their Japanese counterparts.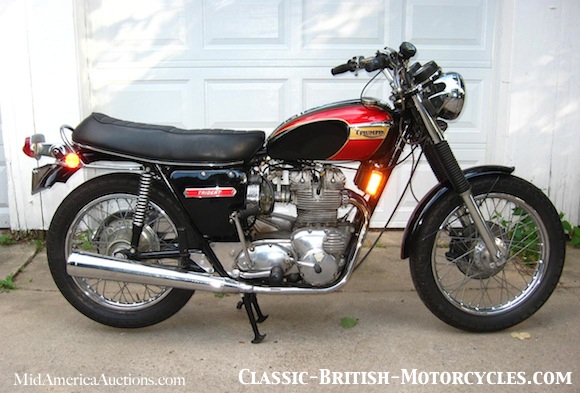 1973 TRIUMPH TRIDENT, THE BEGINNING OF THE END
Another reason that 1973 was so significant was that it would be the last full model year before the devastating workers' strike and Meriden plant shutdown the following year. While Trident production had always been at BSA's Small Heath factory, alongside its stablemate, the BSA Rocket 3, the turmoil within the company and the subsequent takeover by the worker-owned Co-op hampered production of the Trident and the Rocket 3. It also further constrained the already-constrained R&D budget that these bikes sorely needed to be truly competitive. In the end, they just couldn't compete with the cash-rich, tech-savvy Japanese. The entire British motorcycle industry (that lasted long enough) suffered the same fate: their designs were obsolete, their production techniques absolutely archaic, and they had nowhere near the funds to remedy it.
1973 TRIUMPH TRIDENT – MY PERSONAL FAVORITE
Fortunately, they left some marvelous machines in their wake, like the lovely 1973 Triumph Trident T150V, probably my personal favorite of all the triples. It's new enough to get the 5-speed and disk brake, but old enough to still have right-foot shifting, as God intended it. And in my own view, they are the most handsome also. I owned a 1973 Triumph Trident for awhile, but never got it running just right, and sold it. I kick myself to this day. I also graduated high school in '73, and it's probably no coincidence that 1973 is my favorite year for a lot of things, including Tridents, Bonnevilles, Chevy Camaros and Pontiac Trans Ams. Weird, huh?
---
1973 Triumph X-75 Hurricane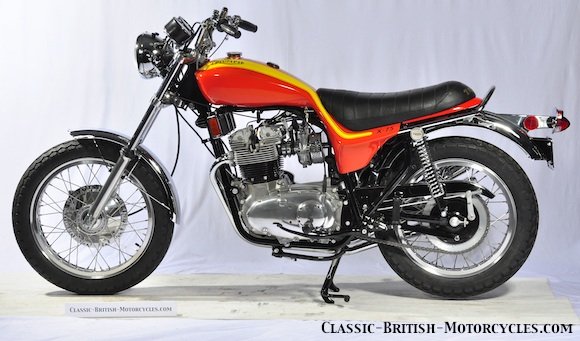 1973 TRIUMPH X-75 HURRICANE
Billed as the first factory custom (unless you count the crazy Norton Hi-Rider), the Triumph Hurricane actually started out life as a BSA, as evidenced by the forward-canted cylinders, as opposed to the Triumph Trident's vertical barrels. It was originally intended as a way for US BSA dealers to shore up lagging sales of the ugly Ogle-styled Rocket 3, a halo bike to bring them in the door. They contracted California-based fairing pioneer Craig Vetter to style it, but by the time it was ready, BSA was defunct, so Triumph took it on and renamed it. It was a one-year-only deal in very limited numbers, only 1,172 were built. US exhaust noise laws made it impossible to continue to use those sexy pipes, and the project died after just one year.
TRIUMPH HURRICANES TODAY
For being such a rare bike, I see them all the time at shows and auctions. Just about every motorcycle auction I go to has one or two for sale. They tend to go for around $20K to about $35K depending on condition and the bidding market at that auction. From a practical standpoint, they don't make very good bikes to ride. First off, of course, they are rare and collectible and probably shouldn't be ridden all that much. They're more museum pieces today and should be treated as such, I suppose. But they also have very small gas tanks, and with the thirsty triple engine, their range is well under 100 miles. The forks were extended without any change in the steering head angle (rake), so they stand pretty tall in front, making them handle funny, and some people have a hard time touching down at stops. However, they are probably one of the most beautiful motorcycles every produced, and perhaps one of the most gorgeous objects of any kind.
Visit our page on the 1973 Triumph X-75 Hurricane.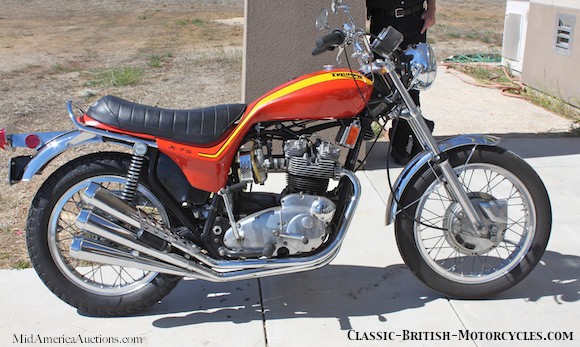 ---
1973 Triumph Trident SPECIFICATIONS
Model Designation

Engine type

Engine configuration

Engine displacement

Bore & Stroke

Compression Ratio

Horsepower

Ignition type

Electrical System

Contact Breaker Gap

Advance Range

Fully Advanced at

Carburation

Carb type

Main Jet size

Needle Jet size

Needle type

Needle position

Primary Drive

Clutch

Gearbox

Shifting

Shift Pattern

Final Drive

Gearbox Sprocket

Wheelbase

Overall Length

Overall Width

Overall Height

Ground Clearance

Seat Height

Unladen Weight

Engine Weight

Engine Lubrication

Front Suspension

Rear Suspension

Front Brake

Rear Brake

Front Tire size

Front Tire type

Rear Tire size

Rear Tire type

T150V

4-stroke, air-cooled

traverse inline 3-cylinder

741cc / 45ci

67mm X 70mm

9.0:1

58hp @ 7,250rpm

Ponts & Coils

12 volts DC

.014-.016″ / .35-.40mm

12 degrees / 24 degrees

2,200rpm

3-Amal 26mm Concentrics

Amal Mk I

150

106

STD

2

triple-row chain

single-plate dry, diaphram

5-speed constant mesh

right foot

1-down, 4-up

Chain

18 teeth

57in / 144.78cm

86in / 218.44cm

33in / 81.28cm

43.5in / 100.49cm

6.5in / 16.51cm

32in / 81.28cm

460 lbs / 208.0 kg

180 lbs / 81.72 kg

dry sump

telescopic, hydraulic

swing arm, 2 dampers

10-inch disk, 2-piston hydraulic caliper

7-inch SLS drum, conical

3.25 X 19″

Dunlop TT100

4.10 X 19″

Dunlop TT100