1970 Triumph Trident T150
1970 TRIUMPH TRIDENT – A NEW LOOK
After the horrible styling experiment of the 1969 Triumph Trident in it's introductory year, Triumph wisely decided to bring its big 750 Triple in line with the look people had come to expect from a Triumph, as typified by the Bonneville. Gone were the "Shoebox" gas tank, boxy side covers, and those gawd-awful "Ray Gun" mufflers. In were Bonneville-style teardrop tank, graceful sidecovers, and handsome exhaust megaphones. Finally, the might Trident was starting to look like something.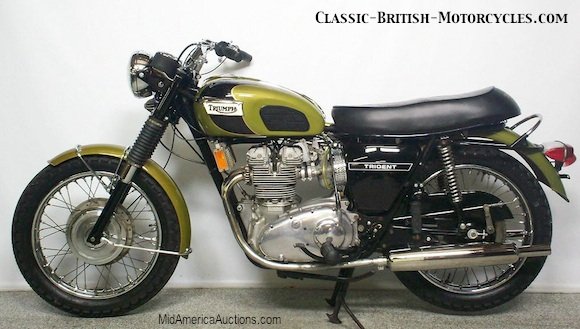 1970 TRIUMPH TRIDENT – THE LOOKS DIDN'T SLOW IT DOWN ANY
Despite the dorky looks, even the '69 Trident went like the dickens. In other words, it was fast. Real fast! In fact, for a brief time, the Triumph Trident was renowned as the World's Fastest Streetbike. That dubious honor was quickly taken back by the Norton Commando, only to be taken away from Norton by the game-changing Honda 750. Nonetheless, the 1970 Triumph Trident, and all Tridents and BSA Rocket 3s were fast, powerful, solid-handling machines, at a time when Japanese motorcycles were known for their "sketchy" handling.
<,br>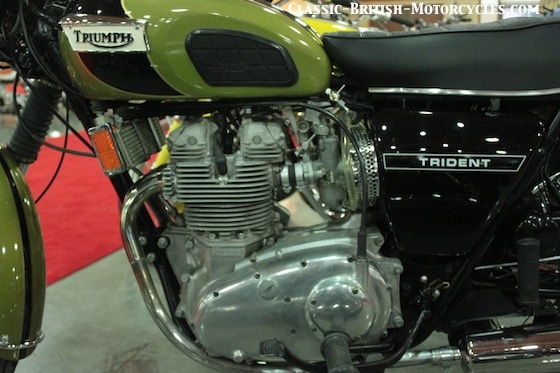 SLOW EVOLUTION FOR THE 1970 TRIUMPH TRIDENT
As was always the practice at Triumph, the Trident was developed over a slow evolutionary process, a little at a time over its entire lifespan. They never had the money to really go all-out the way the Japanese could. This is why it took the Brits so long to adopt 5-speed transmissions, disk brakes and electric starters, even on their biggest bikes, things that Honda, Kawasaki, Suzuki and Yamaha routinely put on not just their big bikes, but many of their midsize machines as well. Despite their noblest efforts with novel products like the Triumph Trident, the Brits were hopelessly outclassed, outgunned, out-engineered and out-spent by the Japanese Big-4.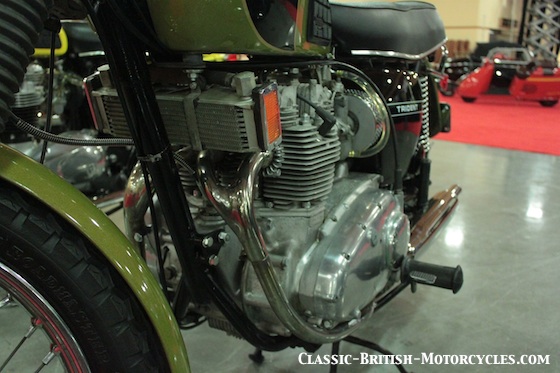 OILING IMPROVEMENTS MADE ON THE 1970 TRIUMPH TRIDENT
A myriad of detail improvements were made throughout the entire 1970 Triumph Trident. Of course, as already mentioned, all the bodywork was changed, completely changing the look of the bike. Great effort was made to try to improve upon the rather poor oil tightness of the engine. Assembled from 4 major cast sections, joined with complex vertically-split surfaces, the crankcases of the Trident and BSA Rocket 3 were notorious for leaving a puddle of oil wherever they went. Gasket mating surfaces were widened and gaskets were fitted where none had been before. But while the ground may have gotten too much oil, the 2 center crankshaft main bearings weren't getting enough. The fix was to block off the oil passages leading from the center main bearing caps to the cams and tappets, which were found to get plenty of oil via the splash method. Modifications were made to the oil pump and its drive gear. This and a larger diameter top end oil tube kept the entire engine well lubricated.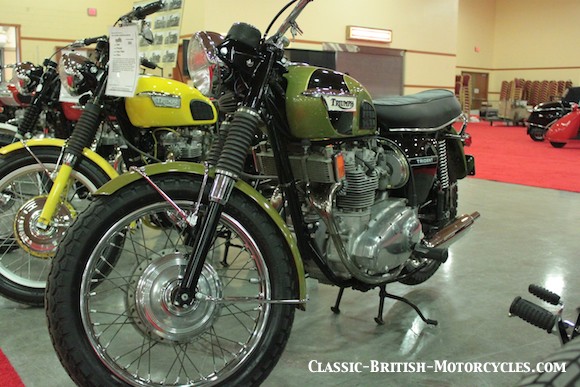 OTHER CHANGES TO THE 1970 TRIUMPH TRIDENT
Other changes and/or improvements to the 1970 Triumph Trident included a new head gasket, a seal installed behind the gearbox sprocket, revised rubber shock absorbers inside the clutch, ventilating the clutch cover to improve cooling in an attempt to alleviate clutch slippage, and the kickstart gearing was raised, using Triumph Bonneville components to make it easier to kick start. The internal gearbox ratios were reshuffled, and the final gearing was made lower (numerically higher) by changing the rear sprocket from 52 teeth to 53. While improving acceleration, it degraded fuel economy, which was already pretty deplorable.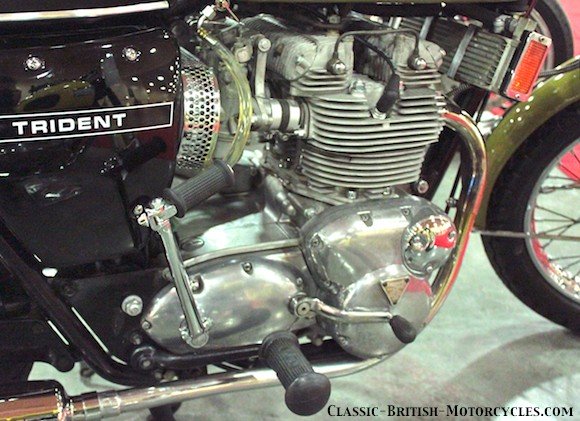 1970 TRIUMPH TRIDENT – A FAVORITE AMONG COLLECTORS
The Triumph Trident is a bike with presence, and a unique look and sound. There's nothing like the wail of a Triumph triple in full throttle. And all this charm has not been lost on classic motorcycle enthusiasts, collectors, restorers and clubs. With only about 27,000 Tridents built over its entire 8-year lifespan, the demand for these awesome bikes remains high. Auction prices have slowly been rising, but there are still bargains out there. But get a good one. Don't try to save money by buying a fixer-upper, then fixing it up yourself. That never works. You always end up spending more than it would have cost to just buy a nice example to start with. And a lot less time and hassle. But of course, if you love Triumph Tridents, then you won't consider that a hassle.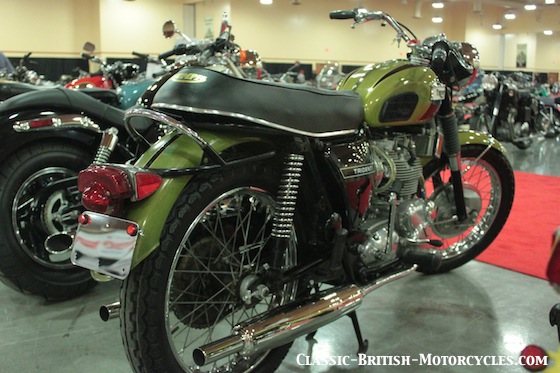 ---
1970 Triumph Trident SPECIFICATIONS
Model Designations

Engine type

Engine configuration

Engine Displacement

Bore & Stroke

Compression Ratio

Horsepower

Ignition type

Electrical System

Contact Breaker Gap Setting

Advance Range

Fully Advanced at

Carburation

Amal type

Main Jet size

Needle Jet size

Needle type

Needle position

Primary Drive

Clutch

Gearbox

Shifting

Shift Pattern

Gearbox Internal Ratios:

4th

3rd

2nd

1st

Overall Ratios:

4th

3rd

2nd

1st

Final Drive:

Gearbox Sprocket

Wheelbase

Overall Length

Overall Width

Overall Height

Ground Clearance

Seat Height

Unladen Weight

Engine Weight

Engine Lubrication

Front Suspension

Rear Suspension

Front Brake

Rear Brake

Front Tire size

Front Tire type

Rear Tire size

Rear Tire type

T150

4-stroke, air-cooled

traverse inline 3-cylinder

741cc / 45ci

67mm X 70mm

9.0:1

58hp @ 7,250rpm

Points & Coils

12 volts DC

.014-.016″ / .35-.40mm

12 degrees / 24 degrees (crank)

2,200rpm

3-Amal 26mm Concentrics

Mk I

150

106

STD

2

triple-row chain

single-plate, dry, diaphram

4-speed constant mesh

right foot

1-down, 3-up

1.00:1

1.26:1

1.71:1

2.47:1

5.26:1

6.64:1

9.00:1

13.00:1

18 teeth

56.25″ / 142.875cm

86″ / 218.44cm

33″ / 84cm

43.5″ / 100.49cm

6.5″ / 16.51cm

32″ / 81.28cm

460 lbs / 208.8kg

180 lbs / 81.72kg

dry sump

telescopic, hydraulic

swing arm, 2 shocks

8-inch TLS drum

7-inch SLS drum

3.35 X 19″

Dunlop TT100

4.10 X 19″

Dunlop TT100