1970 Norton Mercury
1970 NORTON MERCURY BACKGROUND
The Norton Mercury-series ran from 1968 to 1970 and represents the last model in the Dominator family. With Featherbed Frame production having ended in 1968 with the death of the Dominator 650SS and Atlas 750, and the launch of the new Commando. Production records indicate that all Mercury's were built in 1968, right up to the end of the year, and that those that went unsold were retitled as 1969s and 1970s.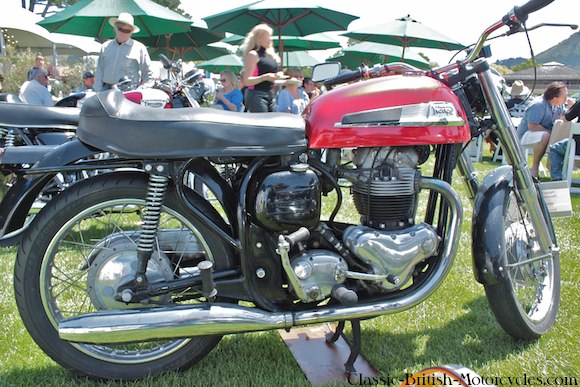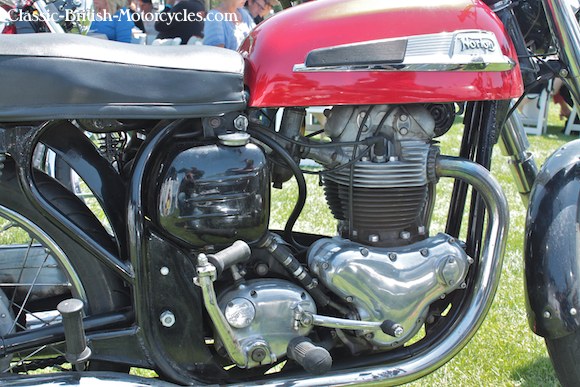 ABOVE: The Mercury used the Dominator's 650cc twin cylinder engine, set vertically in the Featherbed Frame. This would be the last Norton to do so as the Commando superceded the Mercury, Dominator and Atlas becoming Norton's one-and-only product, and it had forward-slanting cylinders. This was accomplished quite simply by using the same engine as all the rest but mounting it at an angle in its mounts. Being a non-unit powertrain, the engine was separate from the primary case and gearbox anyway, so it was mostly a matter of redrilling some mounting holes. But for the Mercury, it ran a single Amal carburetor, had 12-volt electrics with a capacitor that allowed running it without a battery, and being the last development in the Dominator lineage, it was made to run on unleaded fuel.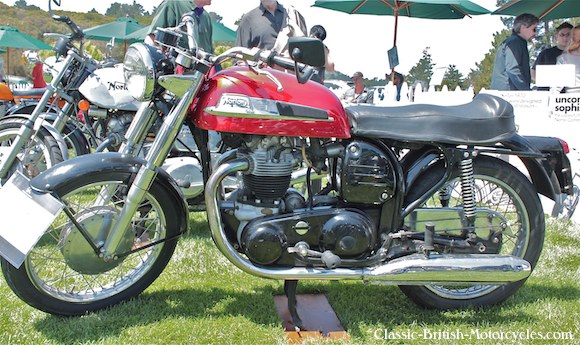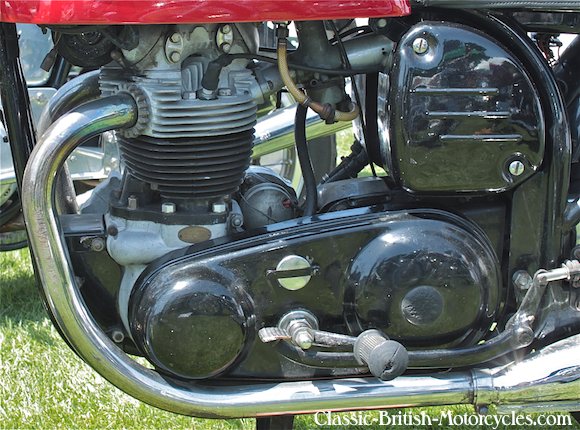 ---
1970 Norton Mercury SPECIFICATIONS
Engine type
Displacement
Bore & stroke
Compression ratio
Horsepower @ RPM
Fuel system
Ignition system
Primary drive
Clutch
Gearbox
Final drive
Frame type
Front Suspension
Rear Suspension
Front brake
Rear brake
Front tire
Rear tire
Wheelbase
Seat height
Curb weight
Fuel capacity
Top speed
Air-cooled OHV twin
646cc / 39.5 ci
68mm X 89mm
9.0:1
47 hp @ 6,800 rpm
1- Amal Concentric carburetor
Coil capacitor
Single-row Chain
Multi-plate, wet
4-speed, right-foot shift
Chain
Double cradle "Featherbed"
Norton Roadholder forks
Swing arm w/2 dampers
TLS drum, 8-inch / 203mm
SLS drum, 7-inch / 178mm
3.00" X 19" UK; 3.25" X 19" US
3.50" X 19" UK; 4.00" X 18" US
55.5 in / 1,410mm
31 inches / 787 mm
408 lb / 185 kg
3.5 US gal / 16 L
119.5 mph / 192 km/h