1968 BSA A65
---
1968 BSA A65 Spitfire Royal Star
ABOVE: Starting with the 1968 BSA A65, the Spitfire Royal Star joined the lineup, as BSA's premium offering, at least until the arrival of the Rocket 3 a year later.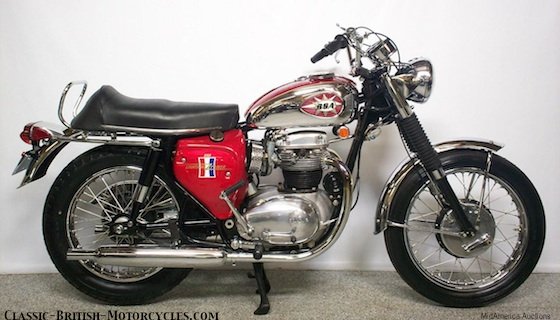 ---
1968 BSA A65 Firebird Scrambler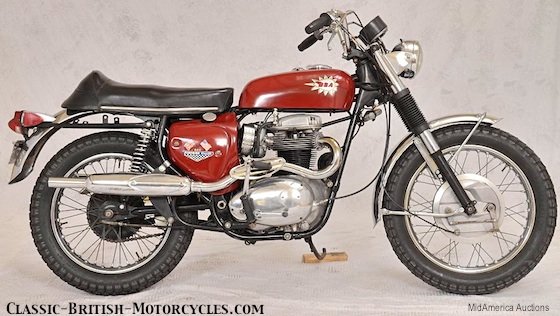 BSA'S DESERT SLED
The A65 Firebird Scrambler was intended as a "desert sled" (nickname for off-road/enduro/desert-racing), yet included the twin carbs of the Lightning and Spitfire roadsters, giving it more high-rpm power, but a little less pull down low. Note the high pipes, small tank, lightweight alloy fenders, lack of grab bar, and the universal tires. Compare this to the Spitfire Royal Star, above for comparison. The purpose was lightweight and good off-road handling. The big "Beezers" were very competitive in their day, in desert races, scrambles and the like. The high pipes on this '68-model ran one on each side. Starting with the 1969-model this would change forever to both pipes running high along the left side of the bike.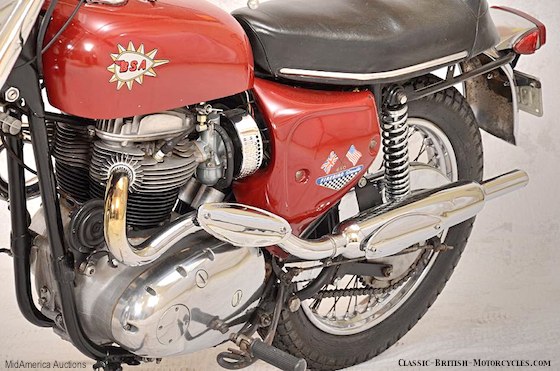 ---
1968 BSA A65 SPECIFICATONS
A65 Thunderbolt

A65 Lightning

A65 Firebird Scrambler

Engine type

Displacement

Bore & Stroke

Compression

Carburetor(s)

Ignition

Engine output

Primary drive

Clutch

Gearbox

Ratios, overall:

1st, bottom

2nd

3rd

4th, top

Final drive

Frame type

Wheelbase

Seat height

Ground clearance

Suspension, front

Suspension, rear

Brake, front

Brake, rear

Tire, front

Tire,rear

Fuel Capacity

Curb weight

Single-carb Roadster

Twin-carb Roadster

Twin-carb Street Scrambler

Air-cooled OHV vertical twin

654cc

75mm X 74mm

9.0:1

Amal Monobloc, 1-1/8″

Breakers & coils, Lucas

38 bhp @ 5800 rpm

Triplex chain

Multi-plate, wet

4-speed constant-mesh, right-foot shift

11.1:1

7.18:1

5.13:1

4.35:1

Chain

Welded & brazed lug, full double cradle

54″

33″

7″

Telescopic fork, hydraulic damping

Swing arm, 2 Girling dampers

8″SLS drum

7″ SLS drum

3.25″ X 18″ Dunlop

3.50″ X 18″ Dunlop

2.4 gal (US models); 4.8 gal (UK & export)

406 lbs