The 1965 Triumph TR6 is a beautiful, graceful machine. This, however is a 1964 TR6SS, very similar to the '65, as no photo was available of a '65. HELP!! Got a '65 TR6? Send us pictures of your bike! 1965 TRIUMPH TR6 BY THE NUMBERS
There were four basic models of Triumph TR6 for 1965, the TR6, TR6SS, TR6SR & TR6SC, all called "Trophy". Engine & Frame Numbers ran from DU14226 to DU23732, built from August 27, 1964 to June 21, 1965.
MAIN BEARING MODS
For this year only, Triumph Motorcycles experimented with a new method of locating the crankshaft laterally. End float was now positively located by the drive-side main bearing, rather than on the timing side. This was done to counter occasional drive-side main bearing failure & premature primary chain wear. Engine drive sprocket & timing pinion were modified to suit. In the end, the whole arrangement was changed back again the following year, but this time with a new type drive-side bearing, which solved the problem for good.
TIMING IS EVERYTHING
The new unit construction Triumph twins were proving to be a dickens to time the Lucas 4CA contact breakers accurately. So, a slot was machined into the central flywheel that aligned with a dowel that was inserted through a new threaded hole behind the cylinder block, which locked the engine at the TDC (top dead center) position so that the timing could be set (38-degrees BTDC at full advance). There were also some minor changes to the kickstart mechanism & the gearbox sprocket.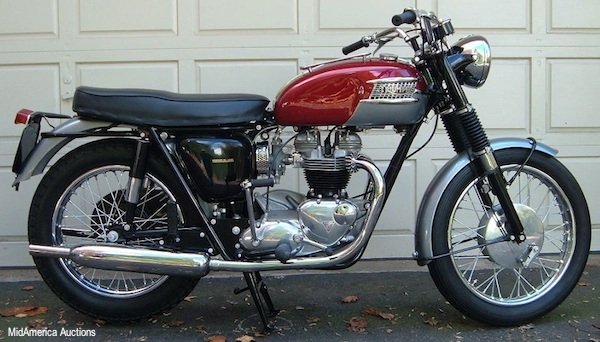 MINOR FRAME MODS
For the 1965 Triumph TR6, the swingarm pivot bolt was "flipped over" putting the threaded end on the left side now, to improve accessibility. The horns were moved from under the seat to under the nose of the tank. The rear brake pedal was redesigned so that its pivot shaft passed through a bush in the frame & allowing for a straight pull of the brake rod. Front fork travel was increased by one inch by fitting shorter bottom sliders, longer 9-1/4″ springs & 22″ stanchion tubes.
---
1965 Triumph TR6 SPECIFICATIONS
Model Designations:

TR6S/S

TR6C

TR6SC

TR6R

TR6SR

Engine Type

Displacement

Bore & Stroke

Compression

Carburetor

Ignition

Engine output

Primary drive

Primary sprockets

Clutch

Gearbox

Ratios, overall:

1st, bottom

2nd

3rd

4th, top

Final drive

Final sprockets

Frame type

Suspension, front

Suspension, rear

Brake, front

Brake, rear

Tire, front

Tire, rear

Fuel Capacity

Wheelbase

Seat height

Ground clearance

Dry Weight

Street scrambler

Off-road/street (dual purpose/enduro)

Off-road, competition

Roadster

High-performance roadster

Air-cooled OHV vertical twin

649cc / 40.0 ci

71mm X 82mm / 2.79″ X 3.23″

8.5:1

1- Amal Monobloc, 1-1/8″

Battery & coil, Lucas

42 bhp @ 6500 rpm

3/8″ triplex chain X 84 links

Engine 29T X Clutch 58T

Multi-plate, wet

4-speed constant-mesh, right-foot shift

11.8:1

8.17:1

6.76:1

5.84:1

5/8″ X .400″ X 3/8″ chain X 106 links

Gearbox 19T X Rear 47T

Brazed lug, full-cradle, single downtube

Telescopic fork, hydraulic damping

Swing arm, 2 Girling dampers

8″ SLS drum, full-width

7″ SLS drum, one-side

3.25″ X 19″ Dunlop

4.00″ X 18″ Dunlop

2.5 Imp gal (US)/4 Imp gal (UK & export)

54.5″ / 140.3 cm

32.5″ / 77.5 cm

5.0″ / 12.7 cm

363 lbs / 165 kg