SECOND YEAR CARRYOVER
The 1964 Triumph Bonneville T120 650 was pretty much a carry-over from 1963 and at the same time a testament to the continuing process of refinement and development. Model designations were as before, with one important addition: the TT Special. Again, the T120R was the Road version, the T120C was the off-road/street scrambler (what would later be referred to as an Enduro), and the TT Special was a specially-tuned Bonneville stripped of all lights and street equipment, intended purely to race. They became known for their distinctive "TT pipes", larger-diameter exhaust pipes running under the engine down the centerline of the bike, unbaffled.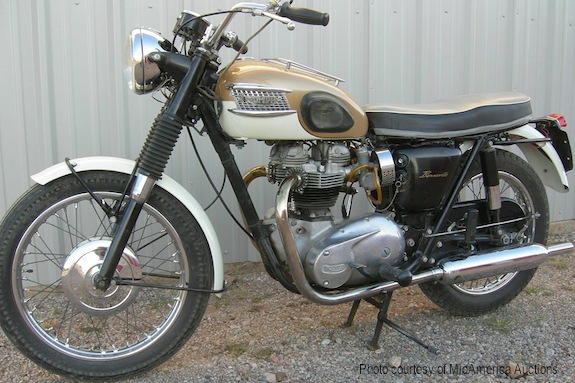 ABOVE: 1964 Triumph Bonneville T120R, Roadster with down pipes.
RUNNING GEAR
The only changes to the frame were the bolting of the footpegs to the rear engine mounting plates, and the strengthening of the center stand brackets. The front forks however, were all new for 1964, with external springs covered in new rubber gators. Upper fork covers with headlight brackets were finished in gloss black paint as were the lower sliders, except their upper section which was chromed. Some UK and Export machines switched to Avon Speedmaster tires, while US machines continued to run Dunlops. Both speedo (now 125 MPH) and tack were changed from Smiths Chronometric to Smiths Magnetic gauges.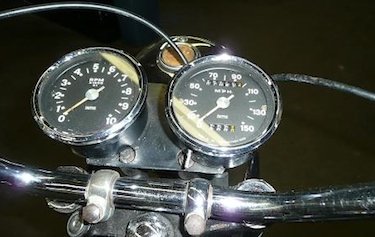 ABOVE: 1964 Triumph Bonneville T120R gauges. Both were switched in 1964 from Chronometrics to Smiths magnetic instruments.
PAINT & TRIM
In the 'looks department', the seat remained the same, the new 1964 paint scheme was Gold on top and Alaskan White on the bottom, however they were arranged in an entirely new way. Instead of simply dividing the colors horizontally and separating them at the back with a pinstripe, the new arrangement had the top color covering much more of the tank, following the line of the kneepads, leaving only a small area of the lower color (Alaskan White in this case) below the tank emblem. The front fender was now steel, painted white with a gold stripe down the center. The exception were the competition bikes, the TT Special which got polished alloy (aluminum) front fenders.
BELOW: 1964 Triumph Bonneville T120R unit construction engine.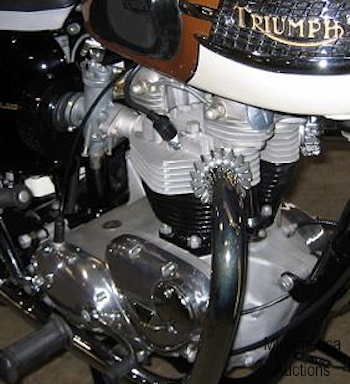 BELOW: 1964 Triumph Bonneville T120R. 2-tone seat had smooth top.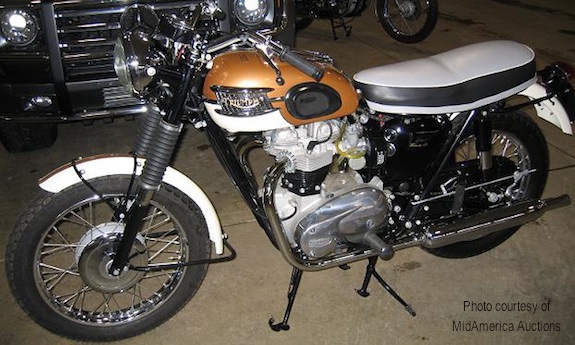 1964 Triumph Bonneville SPECIFICATIONS
Bonneville T120R

Bonneville T120C

Engine type

Displacement

Bore & Stroke

Compression

Carburetors

Ignition

Engine output

Primary drive

Primary drive sprockets

Clutch

Gearbox

Ratios, overall:

1st, bottom

2nd

3rd

4th, top

Final drive

Final drive sprockets

Frame type

Suspension, front

Suspension, rear

Brake, front

Brake, rear

Tire, front

Tire, rear

Fuel Capacity

Wheelbase

Seat height

Ground clearance

Weight, unladen

Roadster, low pipes

Street Scrambler, high pipes

Air-cooled OHV vertical twin

649cc / 40.0 ci

71mm X 82mm / 2.79″ X 3.23″

8.5:1 (T120) / 11.2:1 (TT Special)

2- Amal Monobloc 1-1/16″ / 1-3/16″ (TT)

Battery & coil (T120) / Energy Transfer (TT)

46 bhp @ 6500 (T120) / 52 bhp (TT)

3/8″ triplex chain X 84 links

29T X 58T

Multi-plate, wet

4-speed constant-mesh, right-foot shift

11.8:1

8.17

6.76

5.84

5/8″ X .400″ X 3/8″ chain X 106 links

19T X 47T

Brazed lug, full-cradle, single downtube

Telescopic fork, hydraulic damping

Swing arm, 2 Girling dampers

8″ SLS drum, full width

7″ SLS drum

3.25″ X 19″ Dunlop

4.00″ X 18″ Dunlop

2.5 Imp gal (US) / 4 Imp gal (UK & export)

54.5″ / 140.3cm

32.5″ / 77.5cm

5.0″ / 12.7cm

363 lbs / 165 kg