1962 BSA Gold Star
1962 BSA GOLD STAR CLUBMAN
While the BSA Gold Star was famous for its off-road and desert-racing prowess, when properly fitted out, they also made excellent road racing machines, on par the a Norton Manx. The Clubman edition got a 36mm bellmouth Amal carburetor, hotter cam and timing, higher compression, a freer-flowing exhaust, better brakes and road tires, along with a lightweight alloy fenders, a 'bum-stop' seat and low handlebars. The 1962 BSA Gold Star Clubman was good for 110 mph right out of the box!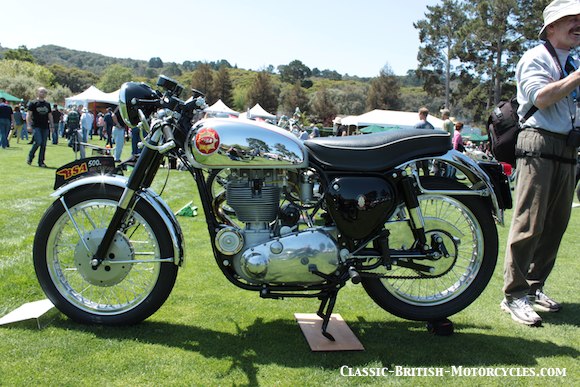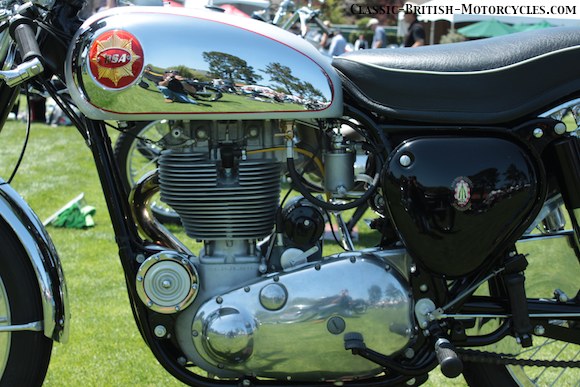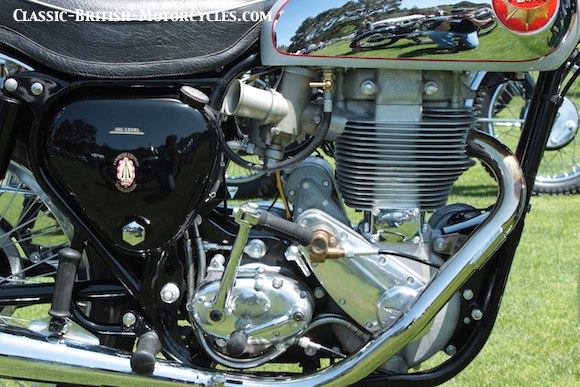 ---
BSA Gold Star
CATALINA SCRAMBLER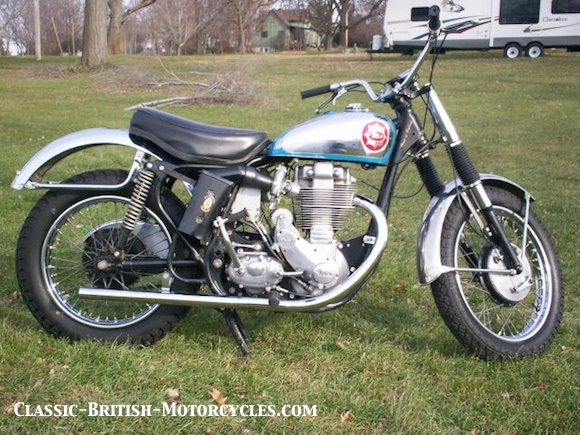 1962 BSA GOLD STAR CATALINA SCRAMBLER
In 1956, BSA won the Catalina Grand Prix (an island normally forbidden to motor traffic) with a Gold Star Scrambler, specially prepared and ridden by Feets Minert. The win was so prestigious that BSA decided to name a bike after it, the 1959 BSA Gold Star "Catalina Scrambler" which stayed in production until Gold Star production ended in 1963.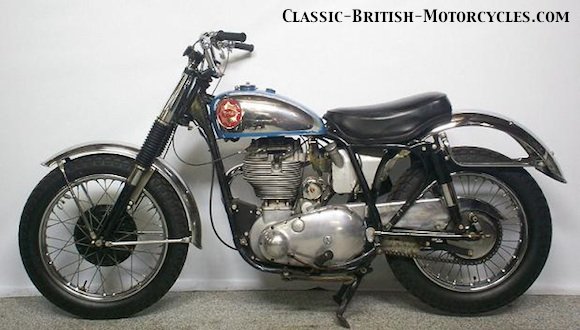 1962 BSA GOLD STAR CLUBMAN GETTING LONG IN THE TOOTH
The Gold Star originally evolved out of the 1937 BSA Empire Star, but it took until after World War II to actually create the Gold Star, which launched in 1948. So it's basic design was ancient by the time it went out of production in 1963. It had been a long and successful run, with many improvements major and minor along the way, keeping it competitive. The Gold Star had success not only off-road but also in road racing, when dressed out in Clubman trim (seen here, in street-legal form).
---
1962 BSA Gold Star SPECIFICATIONS
Engine type

Displacement

Bore & Stroke

Compression

Carburetor

Horsepower

Primary Drive

Clutch

Gearbox type

Ratios, overall

1st Gear, Low

2nd Gear

3rd Gear

4th Gear, Top

Final Drive

Frame

Wheelbase

Ground clearance

Seat height

Dry weight

Suspension, F

Suspension, R

Brakes, F

Brakes, R

Wheels, F

Tires, F

Wheels, R

Tires, R

Fuel capacity

Oil Tank cap.

BB32 350 Gold Star 

Air-cooled OHV single

348cc

71mm X 88mm

8.75:1

Amal GP

1/2″ X .305″ chain

Multi-plate, dry

4-speed, foot-shift

10.15:1

7.0:1

5.8:1

5.28:1

5/8″ X 1/4″ chain

All-welded steel duplex

54.75″

5″

30.5″ unladen

380 lbs, dry

Telescopic, hydraulic

Swing arm, 2 shocks

8″ drum, SLS

7″ drum, SLS

WM1-19 (19″)

Dunlop 3.25″ X 19″

WM1-19 (19″)

Dunlop 3.25″ X 19″

4 gal

3 pints

BB34 500 Gold Star 

Air-cooled OHV single

499cc

85mm X 88mm

8.0:1

Amal GP

38hp @ 7,000rpm

1/2″ X .305″ chain

Multi-plate, dry

4-speed, foot-shift

8.71:1

5.99:1

4.96:1

4.52:1

5/8″ X 1/4″ chain

All-welded steel duplex

54″

5″

30.5″ unladen

383 lbs, dry

Telescopic, hydraulic

Swing Arm, 2 Shocks

8″ drum, SLS

7″ drum, SLS

WM1-21 (21″)

Dunlop 3.00″ X 21″

WM1-19 (19″)

Dunlop 3.25″ X 19″

4 gal

3 pints