1961 TRIUMPH TWENTY ONE HAS BATHTUB STYLING.
The British home market had been hungry for cheap transportation after WWII, and commuter motorcycles helped fill that role. But England being…well, England, was wet and rainy and to prevent rust an owner needed to wipe his bike down each night after getting home from work. This was a chore that most came to hate. The British motorcycle industry responded with what are now called "enclosed bikes" as a way to make them easier to clean. Unfortunately, the gunk still found it's way into the new enclosures and rusted them from the inside out. Triumph had its swing at this fad, and it started with the 1959 Triumph 3TA Twenty One (called that because 350cc = 21 cubic inches) and its big-sister-bike, the 1959 5T Speed Twin (500). Both had bulbous sheetmetal enclosures over the entire rear section of the bike, along with a huge full-valance front mudguard (fender) and old fashioned headlight nacelle. The look quickly spawned the nickname "Bathtub Triumph" and the name stuck. 55-odd years later, that's still what we call them today. By the time this 1961 Triumph Twenty One rolled off the assembly line, the enclosed bike trend was coming to an end. The look for the 1960s would be more of a stripped-down dirt bike for the street.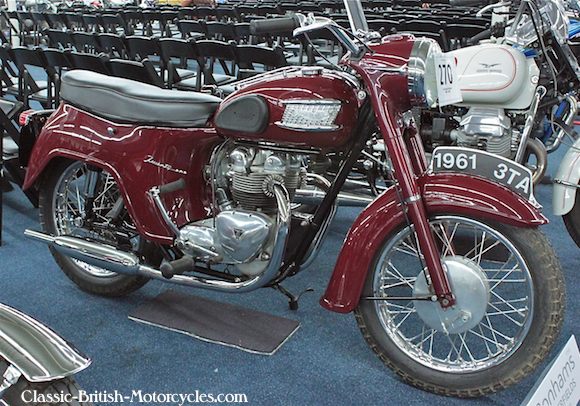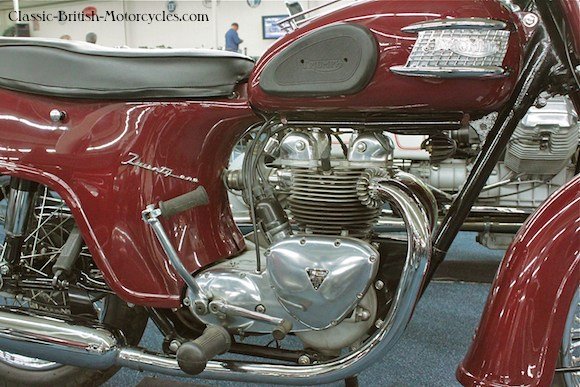 1961 TRIUMPH TWENTY ONE HAS UNIT CONSTRUCTION
Unit construction was all the rage in England back in the 1950s. Essentially, non-unit construction is when the engine, primary case and gearbox are all separate components that are bolted together in the frame. It was the old way of doing things, but it was time to move on. Unit construction meant taking all these separate component and "unitizing" them, that is placing them all in one common casing. Hence the term "unit construction". The first bike to benefit from this was the 350cc Twenty One, which converted over in 1957. Next up was the 500 twin (5T , TR5 and T100) in 1959. Their big 650 twin, once sharing components with the smaller non-unit 500 twins, was now a stand-alone engine design. It took until the 1963 model year to redesign the 650 twin into unit-construction. Some say that the 'unit-construction-revolution' happened because electrical-supplier Lucas (Prince of Darkness) announced that it would cease producing magnetos in 1963. This caused a complete re-engineering of virtually every British bike on the market at the time, and the decision was made at both Triumph and their parent company BSA to take this opportunity to go ahead and unitize their engines and gearboxes. It was a great move for Triumph, but BSA had mixed results at best, at least in terms of sales. The engine in this 1961 Triumph Twenty One is a good example of how well Triumph did its unit construction conversion. A very tidy package indeed.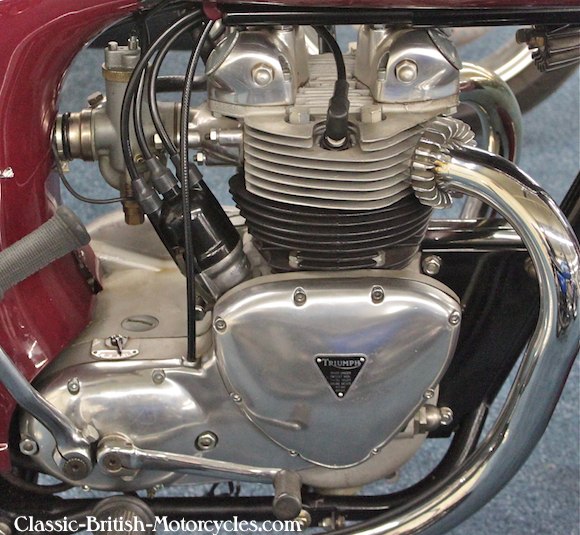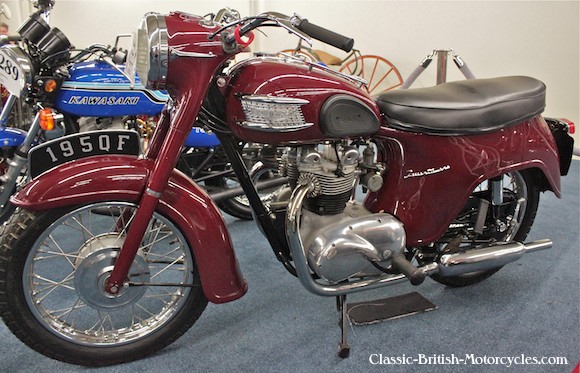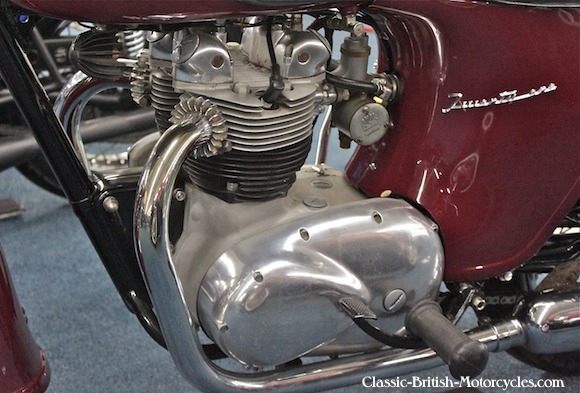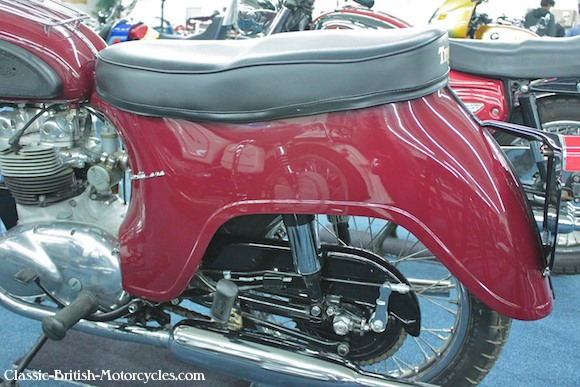 1961 Triumph Twenty One SPECIFICATIONS
Model name
Model designation
Engine configuration
Displacement
Bore & Stroke
Compression Ratio
Fuel system
Primary drive
Clutch
Gearbox
Shifter
Final drive
Horsepower @ RPM
Frame
Rear Suspension
Front Suspension
Brakes, front
Brakes, rear
Tire, front
Tire, rear
Wheelbase
Overall length
Seat height
Curb weight
Fuel capacity
1961 Triumph Twenty One
3TA
OHV air-cooled vertical twin
348cc / 21 ci
58.3mm x 65.5mm
7.5:1
1- Amal Monobloc
Chain
Multi-plate, wet
4-speed constant mesh
Right-foot
Chain
18.5hp @ 6500 rpm
Single down tube
Swing arm w/2 Shocks
Telescopic forks
7-inch SLS drum
7-inch SLS drum
3.25 X 17
3.25 X 17
53.5in / 1360mm
87in / 2115mm
28.5in / 724mm
340 lb / 154.4 kg
4.4 US gal / 16 L