1961 TRIUMPH TR6 BY THE NUMBERS
Gone was the previous "A" & "B" designations introduced in 1960. The new nomenclature was TR6R for 'Roadster' with low pipes & TR6C for 'Competition', the enduro version with high pipes. All went by the model name "Triumph Trophy". 1961 Triumph TR6 engine & frame numbers run from D8432 to D15756, built from Sept. 20, 1960 to Aug. 23, 1961. For 1961 the Triumph TR6 was not listed for sale in the UK.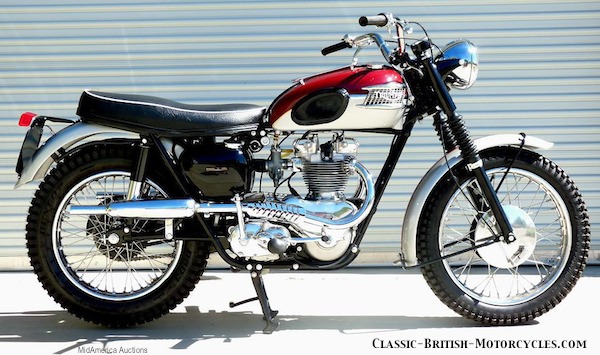 ENGINE MODS
In the interest of quieter operation, starting with Engine #D8858 a new alloy 'Delta' cylinder head was fitted with cast-in pillars between some of the cooling fins, to combat high frequency vibration causing a 'ringing' sound. Starting with Engine #D14438 the one-piece forged steel crankshaft now featured straight-sided webs & the central flywheel was increased in width from 2-1/4″ to 2-11/32″. The balance factor now changed from 50% to 71%. Finally, the engine sprocket reduced to 21 teeth, lowering the overall gearing of the bike. In the gearbox, the sintered bronze layshaft bushings (bushes) were replaced with Torrington M11121 needle roller bearings.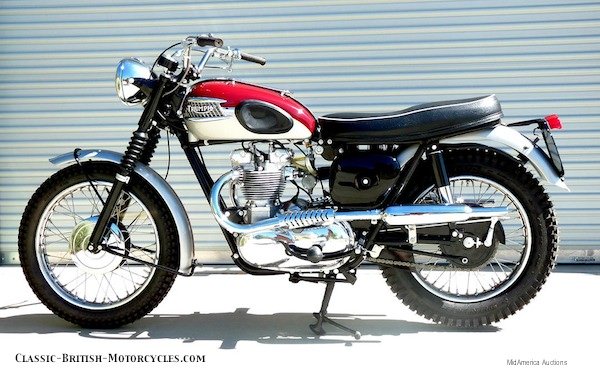 DUPLEX FRAME PROBLEMS ADDRESSED
Within months of its launch in 1960, the new Duplex Frames were cracking around the steering head. The factory quickly addressed it & 1960-model bikes were retrofitted by dealers with an additional bracing tube under the backbone, all under warranty. Now, the 1961 Triumph TR6 & all other Triumph motorcycles sharing the duplex frame, got the additional bracing tube installed at the factory. Interestingly, most of the frame cracking problems were in the US & were later attributed to the brutal punishment the bikes were forced to endure in off-road racing.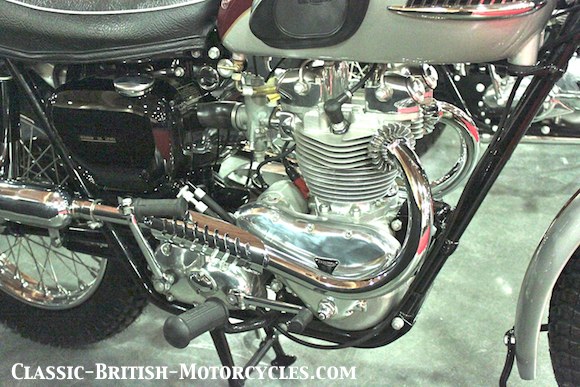 ---
1961 Triumph TR6 SPECIFICATIONS
TR6R Trophy

TR6C Trophy

Engine type

Displacement

Bore & Stroke

Compression

Carburetor

Ignition

Engine output

Primary drive

Primary sprockets

Clutch

Gearbox

Ratios, overall:

1st, bottom

2nd

3rd

4th, top

Final drive

Final drive sprockets

Frame Type

Suspension, front

Suspension, rear

Brake, front

Brake, rear

Tire, front

Tire, rear

Wheelbase

Seat Height

Ground Clearance

Fuel capacity

Dry weight

Roadster (low pipes)

Street Scrambler (high pipes)

Air-cooled OHV vertical twin, non-unit

649cc / 40.0 ci

71mm X 82mm / 2.79″ X 3.23″

8.5:1 (US & export); 7.0:1 (UK)

1-Amal Monobloc

Lucas magneto

42 bhp @ 6500 rpm

1/2″ X .335″ X 5/16″ chain, 70 links

21T X 43T

Multi-plate, wet

4-speed constant mesh, right foot shift

11.92:1

8.25:1

5.81:1

4.88:1

5/8″ X .400″ X 3/8″ chain, 101 links

18T X 43T

Brazed lug, rigid

Telescopic fork, hydraulic damping

Swing arm, 2 Girling dampers

8″ SLS drum

7″ SLS drum

3.25″ X 19″ Dunlop

4.00″ X 18″ Dunlop

55.25″ / 140 cm

30.5″ / 77 cm

5″ / 12.7 cm

3 Imp gal (US); 4 Imp gal (UK & export)

380 lbs / 173 kg