1959 Triumph TR6
1959 TRIUMPH TR6 NOMENCLATURE
1959 was the last year that the TR6 did not carry a letter designation after it. Starting with model-year 1960, the TR6 model line split in two, with the TR6/A being the low-piped street version and the TR6/B the high-piped dirt bike. But for 1959, it was still known as the TR6 Trophy, alongside it's stablemate, the 500cc TR5 Trophy, essentially identical in every way but displacement, and now in its last season. 1959 Triumph TR6 engine numbers start with 020883 and end with 029688, and were built from November 8, 1958 to September 10, 1959. Price new was 271 British Pounds.
1959 TRIUMPH TR6 UPSTAGED BY NEW BONNEVILLE
Of course the exciting new twin-carb Triumph Bonneville was the big news for 1959, but the Bonnie also bumped the TR6 from it's position on the top of the Triumph Motorcycle food chain. The 1959 Triumph TR6 was therefore more thought of as an off-road or 'enduro' model, whereas the T120 Bonneville was a pure sport roadster.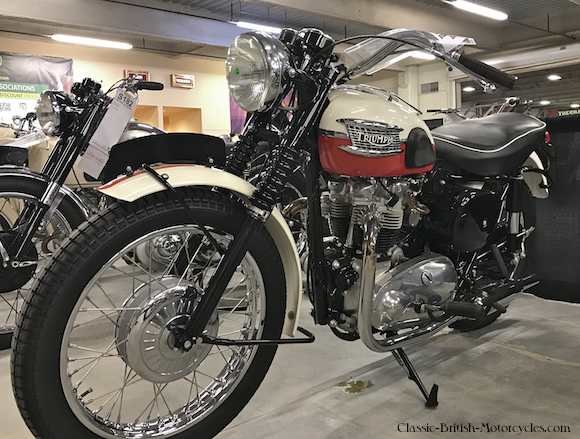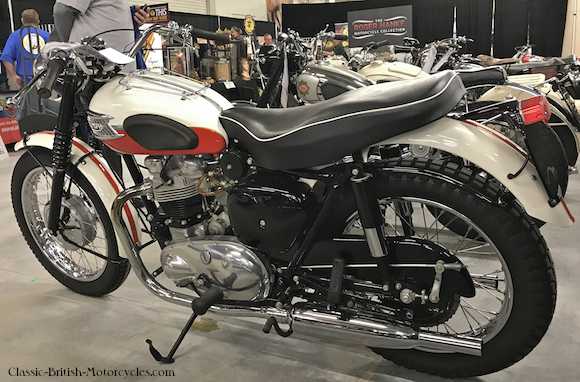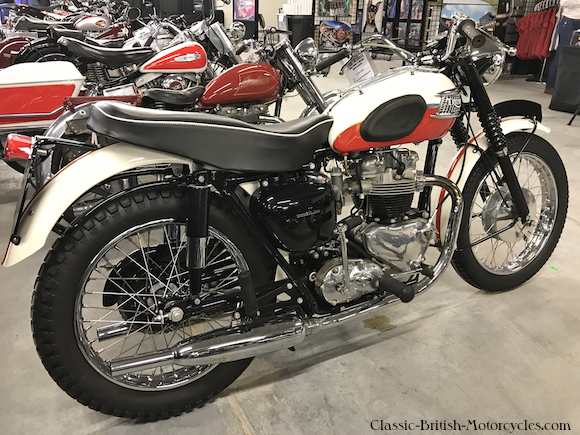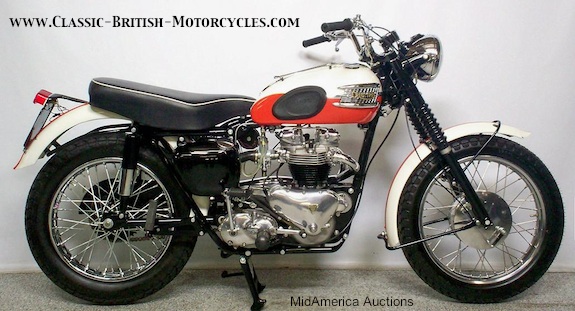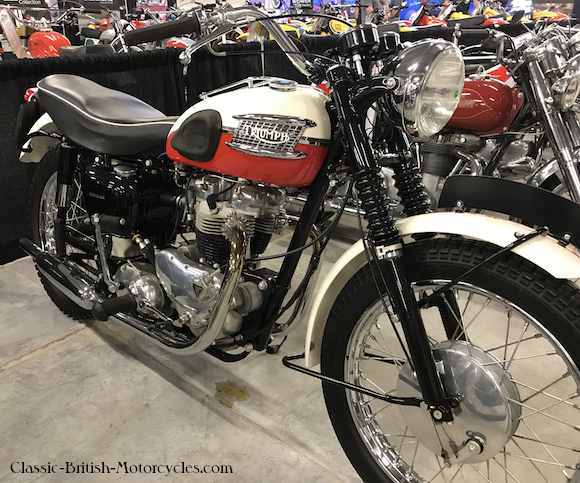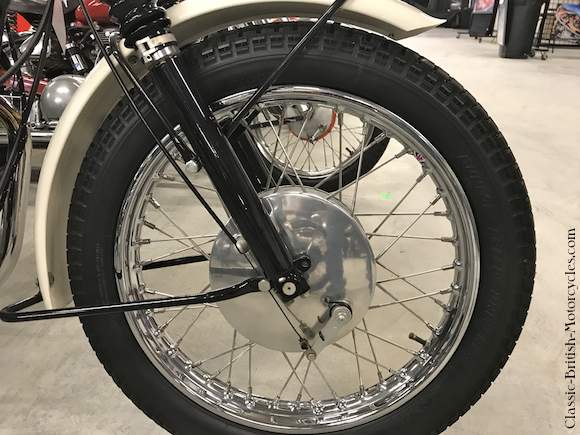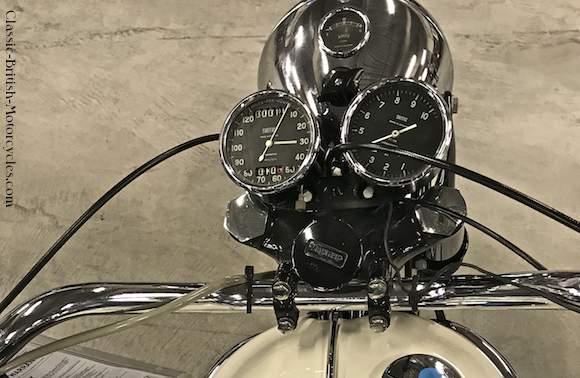 1959 TRIUMPH TR6 UPGRADES
The new one-piece forged steel crankshaft (replacing the old 3-piece pressed-together crank which had proven prone to breakage) which had been the basis for the new T120 Bonneville, now worked its way into the rest of the B-range machines. (This new nomenclature went as follows: A-range was the Tiger Cub, B-range was all 650's and the last of the pre-unit 500s, and the C-range was the 350s.) This new crank had 1-5/8″ journals with a central cast iron flywheel pressed & bolted to the center of the crank. Conrods were of H-section alloy. They were balanced to a 50-percent balance factor. The E3325 inlet (intake) cams were replaced with the higher-performance E3134 racing cam.
OTHER CHANGES
The gearbox got an oil level plug and the shifting camplate was induction hardened to improve durability, resulting from the abuse the Yanks were dishing out on the dirt tracks & in the deserts of America. The oil tank got a new froth tower to prevent oil spillage in rough off-road use. A new cam lever for the front brake improved leverage and a more robust voltage regulator was fitted (Lucas #37725H).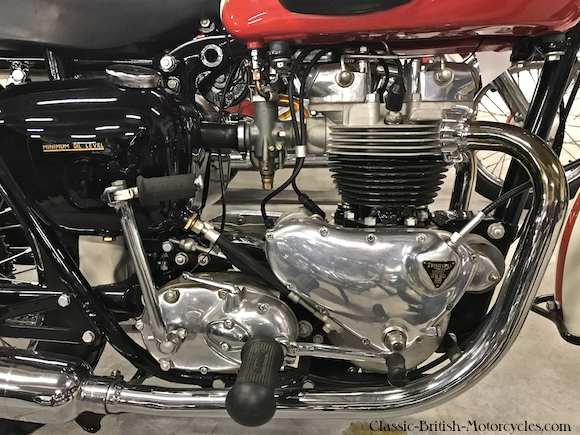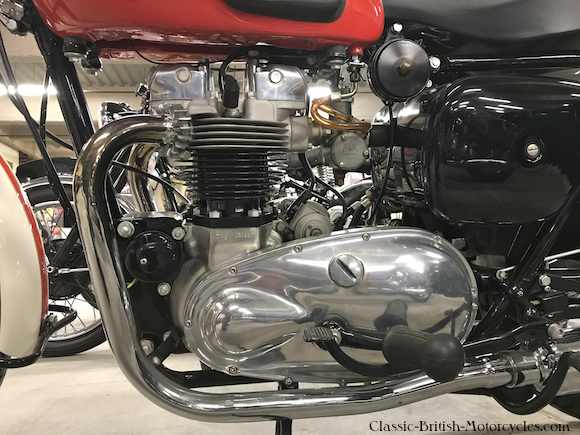 ---
1959 Triumph TR6 SPECIFICATONS
Engine type

Displacement

Bore & Stroke

Compression

Carburetor

Ignition

Engine output

Primary drive

Primary sprockets

Clutch

Gearbox

Ratios, overall:

1st, bottom

2nd

3rd

4th, top

Final drive

Final drive sprockets

Frame Type

Suspension, front

Suspension, rear

Brake, front

Brake, rear

Tire, front

Tire, rear

Wheelbase

Seat Height

Ground Clearance

Fuel capacity

Dry weight

Air-cooled OHV vertical twin, non-unit

649cc / 40.0 ci

71mm X 82mm / 2.79″ X 3.23″

8.5:1 (US & export); 7.0:1 (UK)

1-Amal Monobloc

Lucas magneto

42 bhp @ 6500 rpm

1/2″ X .335″ X 5/16″ chain, 70 links

21T X 43T

Multi-plate, wet

4-speed constant mesh, right foot shift

11.2:1

7.8:1

5.5:1

4.6:1

5/8″ X .400″ X 3/8″ chain, 101 links

18T X 43T

Brazed lug, rigid

Telescopic fork, hydraulic damping

Swing arm, 2 Girling dampers

8″ SLS drum

7″ SLS drum

3.25″ X 19″ Dunlop

4.00″ X 18″ Dunlop

55.25″ / 140 cm

30.5″ / 77 cm

5″ / 12.7 cm

3 Imp gal (US); 4 Imp gal (UK & export)

380 lbs / 173 kg