1959 Norton Dominator
1959 NORTON DOMINATOR BACKGROUND
Norton designed the legendary "Featherbed Frame" for the single-cylinder Manx racer in 1950. In 1953 they dropped the Model 7's 500 twin-cylinder engine into the Featherbed frame, and created a new bike, the Norton Dominator, in fact a whole new line of bikes. As a 500, the Dominator was called the Dominator 88 or "Domi 88". They punched it out to 600cc in 1956, creating the Dominator 99, and then again to 650cc in 1960, calling it the Dominator 650SS. The Featherbed frame, so-named because of it's smooth ride, was state-of-the-art in its day, was light, rigid, and handled very well. So well, in fact, that many racers dropped other manufacturers' engine into the featherbed creating all sorts of 'hybrids', such as the Triton (Triumph engine in a Norton frame), the Norvin (Norton frame with a Vincent V-twin engine), even a Norley (with Harley Sportster engine in the Norton frame). The point is that if you wanted a stellar-handling bike in the 1950s, you got a Featherbed. The last of the Dominator line, the Dominator 650SS went out of production in 1969, overlapping the introduction of its replacement, the game-changing Norton Commando that same year.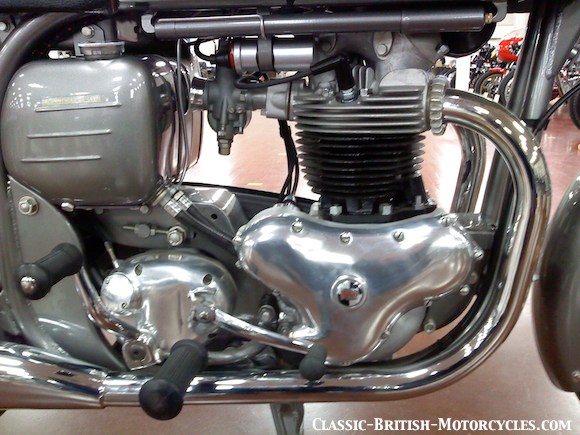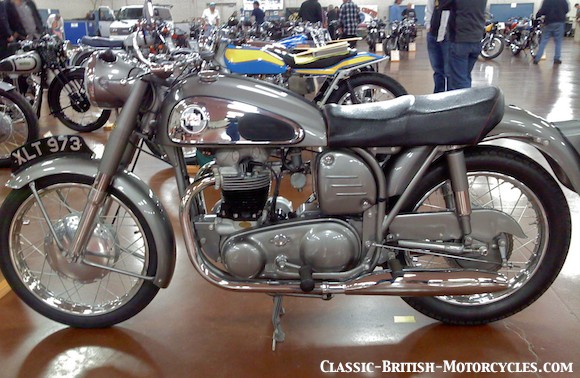 ---
1959 Norton Dominator SPECIFICATIONS
Engine type

Displacement

Bore & Stroke

Compression

Spark Plug

Ignition

Charging

Battery

Ignition timing

Points gap

Cam Chain

Magneto Chain

Primary Drive

Primary Sprockets

Clutch

Final Drive

Final Sprockets

Gearbox type

Overall Ratios:

1st, Bottom

2nd

3rd

4th, Top

Suspension, front

Suspension, rear

Brake, front

Brake, rear

Tire, front

Tire, rear

Petrol Capacity

Wheelbase

Ground clearance

Seat height

Dry weight

Curb weight

Air-cooled OHV vertical twin

497cc

66mm X 72.6mm

7.8:1

Champion N5

Lucas Magneto

Lucas dynamo

6 volts

31 degrees BTDC at full advance

0.25″

3/8″ X 0.225″

3/8″ X 0.155″

1/2″ X 5/16″ chain X 76 links

20 teeth X 42 teeth

Multi-plate, wet

5/5″ X 1/4″ chain X 98 links

19 teeth X 43 teeth

4-speed constant-mesh, right foot shift

—

14.20:1

8.41:1

5.75:1

4.75:1

Telescopic fork, hydraulic damping

Swing arm w/2 hydraulic dampers

8″ SLS drum

7″ SLS drum

3.00″ X 19″

3.50″ X 19″

3.5 Imp gal

55.5″

5.5″

31.0″

390 lbs

406 lbs