ABOVE: This 1958 Triumph TR6 Trophy features the optional twin high pipes, very popular in the US Market, which could replace the 2-into-1 side exhaust.
1958 TRIUMPH TR6 BY THE NUMBERS
1958 Engine/Frame Numbers: 011861 to 019244
Production Dates: October 10, 1957 to June 25, 1958
ENGINE CHANGES
Early Delta Heads were prone to cracking around the valve seats. It was deemed prudent to reduce the sizes of the intake (inlet) and exhaust valves to increase the amount of material around the seats. Intakes went from 1-19/32″ to 1-1/2″, and exhausts dropped from 1-7/16″ to 1-11/32″. The combustion chamber was reconfigured to suit. While this may have cured the cracking problem, the smaller valves hurt performance. Because of this, the early Delta heads with the bigger valves remained popular with racers. Despite this, however, performance continued to increase until crankshafts began snapping. Until then, the pre-unit 650 twins all used 3-piece pressed-together (built-up) crankshafts. A new, one-piece forged steel crank was introduced in 1958, along with a stronger clutch.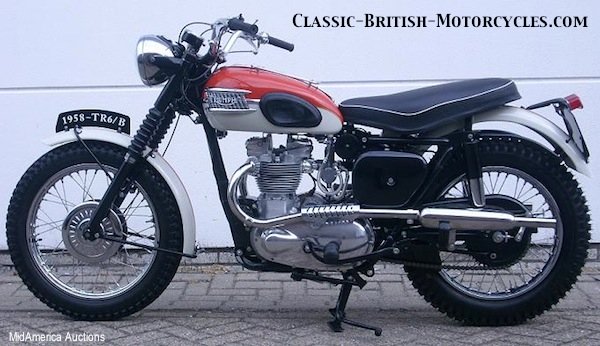 BONNEVILLE IS COMING
As an interesting sidenote, it was the availability of the new one-piece crank, the Delta Head in twin-carb configuration, and the crazy demand in America for more and more speed that lead to, indeed made inevitable, the arrival of the 650 Bonneville in 1959.
FRAME & RUNNING GEAR CHANGES
The new 8-inch front brake now became a full-width hub with a chromed and louvered end cover. The backing plate now locked into a lug in the fork tube. The front spokes increased in size to match the larger rear spokes. The front forks now had new sliders with more substantial brazed lugs supporting a new central front fender (mudguard) mount, dispensing with front stays, though the rear stays remained. The oil cap was moved to a more upright position so as not to foul the leg when kickstarting. A new anti-theft head steering lock was introduced.
1958 TRIUMPH TR6 GETS A CRAZY NEW GEARBOX
Triumph Motorcycles thought it wise to introduce to the world its new "Slickshift" mechanism, that allowed clutchless shifts. It never worked very well and was a flop. The driveside chaincase was modified to accept a new oil seal aimed at stopping oil transfer between the crankcase & the primary. Also a new rubber sleeve was installed on the kickstart shaft to try to stem oil leakage.
---
1958 Triumph TR6 SPECIFICATIONS
Engine type

Displacement

Bore & Stroke

Compression

Carburetor

Ignition

Engine output

Primary drive

Primary sprockets

Clutch

Gearbox

Ratios, overall:

1st, bottom

2nd

3rd

4th, top

Final drive

Final drive sprockets

Frame Type

Suspension, front

Suspension, rear

Brake, front

Brake, rear

Tire, front

Tire, rear

Wheelbase

Seat Height

Ground Clearance

Fuel capacity

Dry weight

Air-cooled OHV vertical twin, non-unit

649cc / 40.0 ci

71mm X 82mm / 2.79″ X 3.23″

8.5:1 (US & export); 7.0:1 (UK)

1-Amal Monobloc

Lucas magneto

42 bhp @ 6500 rpm

1/2″ X .335″ X 5/16″ chain, 70 links

21T X 43T

Multi-plate, wet

4-speed constant mesh, right foot shift

11.2:1

7.8:1

5.5:1

4.6:1

5/8″ X .400″ X 3/8″ chain, 101 links

18T X 43T

Brazed lug, rigid

Telescopic fork, hydraulic damping

Swing arm, 2 Girling dampers

8″ SLS drum

7″ SLS drum

3.25″ X 19″ Dunlop

4.00″ X 18″ Dunlop

55.25″ / 140 cm

30.5″ / 77 cm

5″ / 12.7 cm

3 Imp gal (US); 4 Imp gal (UK & export)

380 lbs / 173 kg