NEW LOOK
The 1957 Triumph TR6 debuted with a new tank badge that was prominent across the entire 1957 Triumph lineup. Called "The Mouth Organ" it was as striking chromed grille set between two horizontal chrome 'eyebrows'. It really paid homage to the new flamboyant era of the late 1950's & catered particularly, to the burgeoning American market. This and a chrome horizontal trim strip along the side of the tank allowed two-tone paint jobs, and Triumph was one of the few manufacturers in their day to really get it right. For the most part, the 2-tone Triumph Motorcycles from this era looked great!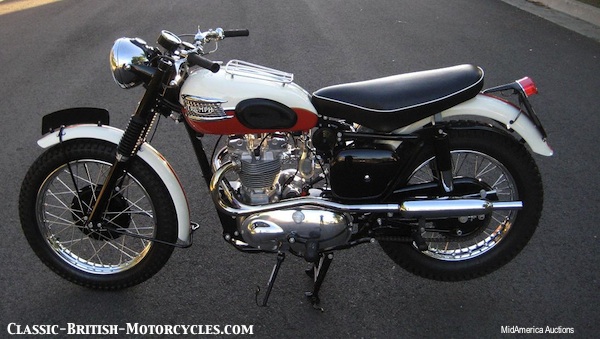 ENGINE UPGRADES
Both the T110 (Triumph Tiger) and the 1957 Triumph TR6 engines benefited from numerous improvements. Oil drainage from the rocker boxes down through the pushrod tubes was improved. The compression ratio on UK market models dropped from 8.5:1 to 8:1. Rev counters (tachometers) became available optionally, driven off of a modified timing cover.
CHASSIS IMPROVEMENTS
The 1957 Triumph TR6 got a steeper steering head angle, compared to all other Triumphs, in response to American requests for better off-road handling. It also got the 6T-type 'hole-in-the-frame' in the seat post behind the single carburetor, which the air cleaner hose passes through, to allow the use of a larger air cleaner.
WHEEL & SUSPENSION MODS
The biggest improvement was certainly the move from a 7-inch front brake to an 8-inch SLS (single leading shoe) unit. The brake anchor plates on the forks were now induction welded, as were the fender (mudguard) stays. Wheel spokes became straight & butted, and the rears larger in diameter. From Engine# 08563, rear shocks (units) were changed to 100lb units with 3 inches of travel, in an effort to curb rear end weave (actually later found to be due to weak support of the swing arm pivot points).
A GOOD OMEN OF THINGS TO COME
1957 was an interesting year for Triumph Motorcycles, in more ways than new tank emblems. The 350cc 3TA twin line had just gone Unit Construction, the first Triumph to do so. The 500 twins would soon follow. 1957 also seemed to be about the time when tastes were changing away from the T100 (500cc) Tigers and moving toward the 650s. But, in 1957 it was the T100 that got the first twin-carb head, that was made out of a modified 650 Delta Head, as the 500 & 650 top ends were basically interchangeable during the pre-unit era. This new twin carb T100 factory racer had larger intake valves, E3134 cams and "R-grind" followers, racing valve springs, bronze valve guides, 9:1 compression, and splayed intake ports, allowing the use of Amal Monobloc carbs. It all worked well together, taking the T100 to 105mph. News spread quickly & demand for a twin-carb 650 became overwhelming. It would be 2 more years before Triumph would answer with the Bonneville.
---
1957 Triumph TR6 SPECIFICATIONS
Engine type

Displacement

Bore & Stroke

Compression

Carburetor

Ignition

Engine output

Primary drive

Primary sprockets

Clutch

Gearbox

Ratios, overall:

1st, bottom

2nd

3rd

4th, top

Final drive

Final drive sprockets

Frame Type

Suspension, front

Suspension, rear

Brake, front

Brake, rear

Tire, front

Tire, rear

Wheelbase

Seat Height

Ground Clearance

Fuel capacity

Dry weight

Air-cooled OHV vertical twin, non-unit

649cc / 40.0 ci

71mm X 82mm / 2.79″ X 3.23″

8.5:1 (US & export); 7.0:1 (UK)

1-Amal Monobloc

Lucas magneto

42 bhp @ 6500 rpm

1/2″ X .335″ X 5/16″ chain, 70 links

21T X 43T

Multi-plate, wet

4-speed constant mesh, right foot shift

11.2:1

7.8:1

5.5:1

4.6:1

5/8″ X .400″ X 3/8″ chain, 101 links

18T X 43T

Brazed lug, rigid

Telescopic fork, hydraulic damping

Swing arm, 2 Girling dampers

8″ SLS drum

7″ SLS drum

3.25″ X 19″ Dunlop

4.00″ X 18″ Dunlop

55.25″ / 140 cm

30.5″ / 77 cm

5″ / 12.7 cm

3 Imp gal (US); 4 Imp gal (UK & export)

380 lbs / 173 kg