1956 Triumph Thunderbird
ABOVE: This 1956 Triumph Thunderbird wearing black livery was nicknamed "Blackbird" by the public and it stuck.
STUCK WITH THE IRON HEAD
The 1956 Triumph Thunderbird retained its old cast iron head and all its overheating problems, while the new alloy "Delta head" debuted on the Triumph Tiger T110 and the new for 1956 Triumph TR6. This not only solved the cooling problems but also eliminated the external oil drain pipes, now allowing the oil to drain back to the crankcase via the pushrod tubes. A thermal insulating block was installed between the head and the carburetor. Compression ratio was raised to 8.5:1 for the Tiger T110.
ENGINE UPGRADES
The 6T Thunderbird did get some performance upgrades, however. Shell-type big-end bearings replaced the previous white metal type. This called for larger and thus heavier conrods which required an rejiggering of the crankshaft balance factors.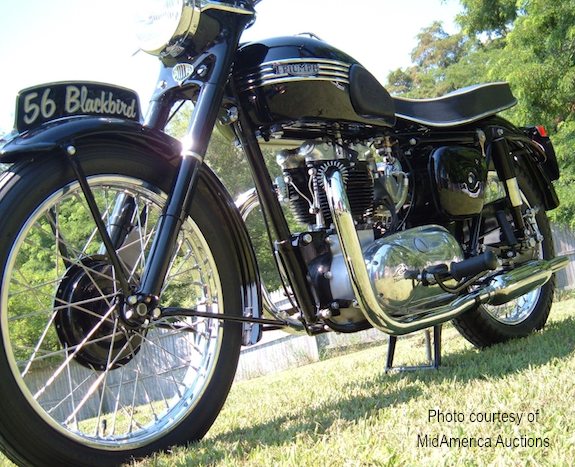 1956 TRIUMPH THUNDERBIRD GEARBOX
Inside the gearbox, old phosphor bronze layshaft bushings were replaced with sintered bronze. The composition of he rubber clutch shock absorbers was changed. Inside the clutch, the driven plates were now solid instead of being drilled & the drive plates were now had bonded Neolangite friction surfaces.
RUNNING GEAR
Inside the front forks a new hydraulic bump stop prevented bottoming out during hard braking. The rear shocks were fitted with 100lb springs with revised bleed and bump stops. In the headstock, the top ball race was changed to match the lower race.
A new sidecar lug was fitted to the seat post & the fuel tank was now rubber mounted & featured the now-famous 4-bar parcel grid. A new center stand provided greater ground clearance. The wiring harness was now sheathed in PVC.
BELOW: The Triumph 6T Blackbird was inspired by the bike Marlon Brando rode in the 1953 movie "The Wild One".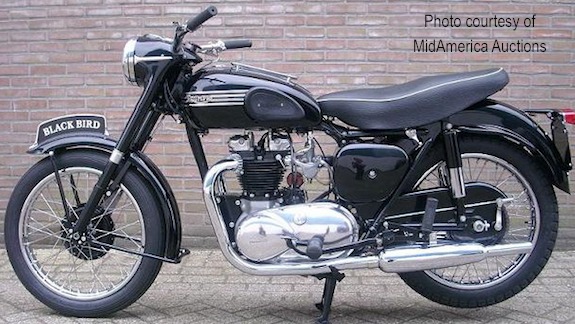 ---
1956 Triumph Thunderbird SPECIFICATIONS
Engine type

Displacement

Bore & Stroke

Compression

Carburetor

Ignition

Engine output

Primary drive

Primary sprockets

Clutch

Gearbox

Ratios, overall:

1st, bottom

2nd

3rd

4th, top

Final drive

Final drive sprockets

Frame Type

Suspension, front

Suspension, rear

Brake, front

Brake, rear

Tire, front

Tire, rear

Wheelbase

Seat Height

Ground Clearance

Fuel capacity

Dry weight

Air-cooled OHV vertical twin, non-unit

649cc / 40.0 ci

71mm X 82mm / 2.79″ X 3.23″

8.5:1 (US & export); 7.0:1 (UK)

1-Amal Monobloc

Lucas magneto

34 bhp @ 6500 rpm

1/2″ X .335″ X 5/16″ chain, 70 links

24T X 43T

Multi-plate, wet

4-speed constant mesh, right foot shift

11.9:1

8.25:1

5.81:1

4.88

5/8″ X .400″ X 3/8″ chain, 101 links

18T X 46T

Brazed lug, rigid

Telescopic fork, hydraulic damping

Swing arm, 2 Girling dampers

8″ SLS drum

7″ SLS drum

3.25″ X 19″

3.50″ X 19″

55.75″ / 141 cm

31″ / 77.5 cm

5″ / 12.7 cm

3 Imp gal (US); 4 Imp gal (UK & export)

395 lbs / 179 kg