1956 Triumph Speed Twin
1956 TRIUMPH SPEED TWIN RELEGATED TO THE BACK SEAT
The 1938 Triumph Speed Twin was the first vertical twin to hit the market, just prior to WWII, and it changed everything. Almost the entire British motorcycle industry rushed to copy their success as soon as the war ended. At that moment in time, the 5T Speed Twin was at the top of not only Triumph's model lineup, but among motorcycles of the day, in general. But Triumph continued to lead the way, with hotter and more powerful versions, starting in 1946 with the T100 Tiger, which as essentially a 5T Speed Twin with higher compression and hotter cams. Suddenly, the Speed Twin was no longer top dog, the Tiger was getting all the attention. In 1950, Triumph bored and stroked the 500 creating the first Triumph 650 twin, the 6T Thunderbird, moving the 500 Speed Twin farther down the ladder. In 1953, Triumph applied "the Tiger treatment" (ie: higher compression and hotter cams) to the 650 and created the 650 Tiger 110. This was followed in 1956 by the 650 TR6, now sporting the aluminum "Delta head", which was followed up in 1959 by the twin-carb 650 Bonneville. All the while, the lowly 5T Speed Twin was relegated to Triumph's entry-level heavy twin. They had a 350 twin version also, but those were considered middleweights. That meant that the Speed Twin, which at one time was one of the world's premium motorcycles, had fallen all the way to bread-and-butter commuter. It went unit-construction in 1959, gaining the now-famous "Bathtub" styling, and ran through 1966.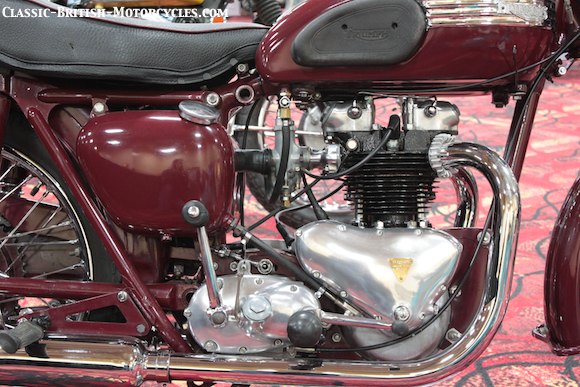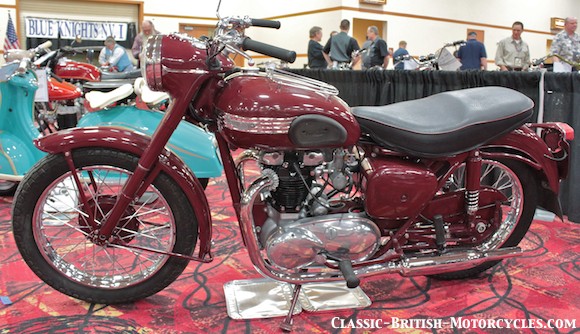 1956 TRIUMPH SPEED TWIN-CONTINUAL IMPROVEMENTS
Triumph implemented a series of improvements on all their twins for 1956. The 1956 Triumph Speed Twin being at the bottom of the food chain, wasn't a recipient of Triumph's new alloy Delta head, that was reserved for the hot rod Tiger and the hotter still, new-for-1956 650 TR6. But the lowly Speed Twin still benefited by numerous improvements. Internally, the old white metal big end rod bearings were replaced with shell-type Vandervell babbit metal steel-backed thin wall bearings. New connecting rods with larger big-end eyes were needed, which were larger and therefore threw off the crankshaft balance, requiring modifications to the counterbalances. In the interest of added strength, Triumph started using the 6T 650's cylinder block (with smaller bores), which also required the 650s crankcases, to fit the larger spigot. So, from 1956 on, any 500 twin can be enlarged to a 650, as all parts were now interchangeable between the 500 and 650 twins.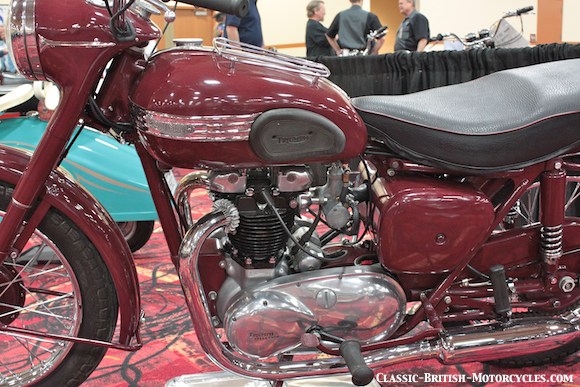 ---
1956 Triumph Speed Twin SPECIFICATIONS
Model Designation

Engine numbers

Production dates

Engine type

Displacement

Bore & Stroke

Compression ratio

Carburetor

Engine output

Top Speed

Electrical system

Primary drive

Clutch

Gearbox

Final drive

Frame construction

Suspension, front

Suspension, rear

Brake, front

Brake, rear

Wheel, front

Wheel, rear

Wheelbase

Seat height

Ground clearance

Weight

Triumph 5T Speed Twin

71642 to 82443, then 0602 to 0932

Sept 15, 1955 to Aug 22, 1956

Air-cooled OHV vertical twin

498cc

63mm X 80mm

7.0:1

one- Amal Monobloc, 1-5/16″

28 bhp @ 6,000 rpm

85-90 mph

6-volt, Lucas magdyno

Chain, 1/2″ X 0.305″ X 70 links

Multi-plate, wet

4-speed constant mesh, right-foot shift

Chain, 5/8″ X 3/8″ X 100 links

Steel tube, brazed lug

Telescopic

Swing arm, 2 dampers

7-inch SLS drum

7-inch SLS drum

3.25″ X 19.0″

3.50″ X 19.0″

56.0″

31.0″

5.0″

395 lbs, dry