1956 Ariel Square Four
1956 ARIEL SQUARE FOUR – NEW & IMPROVED
The Square Four went through a major revision in 1953, with a new cylinder head and manifolds, prompting a new sub-model designation, Mark II, which ran from 1953 through Ariel's final year, 1959. Prior to 1953, both cylinders on each side shared just one exhaust pipe, hence the nickname "2-pipes". But new intake and exhaust manifolds and the new head gave each cylinder it's own exhaust pipe, hence the term "4-pipe" bikes. This 1956 Ariel Square Four of course benefitted from these improvements, which yielded a bump in power to 40 horsepower, allowing a top speed of 100 mph.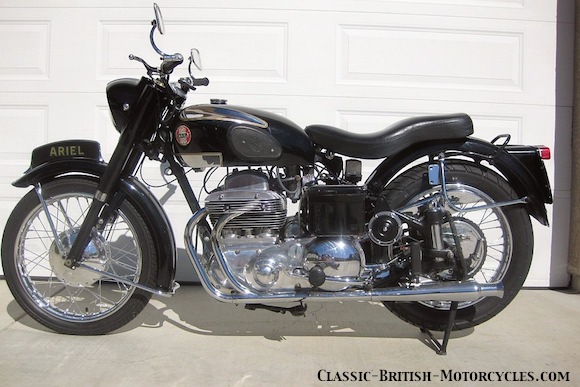 1956 ARIEL SQUARE FOUR – NOT A HOT ROD
Of course, the Ariel Square Four was never intended to be a road rocket. With two counter-rotating crankshafts, it was meant to be very smooth. These bikes are cruisers, designed to pull a side car or cruise at speed all day long. There weren't many bike in the 1950s that you could say that about. Ariel had more or less committed itself to this "cruiser"-image, having plumbed in a common intake manifold that fed all four cylinders from a single carburetor, by now an automotive type SU carb.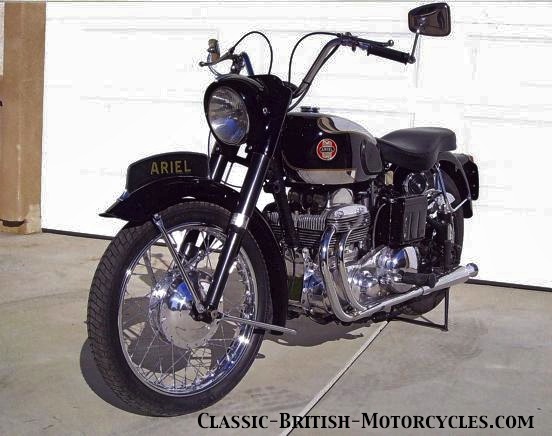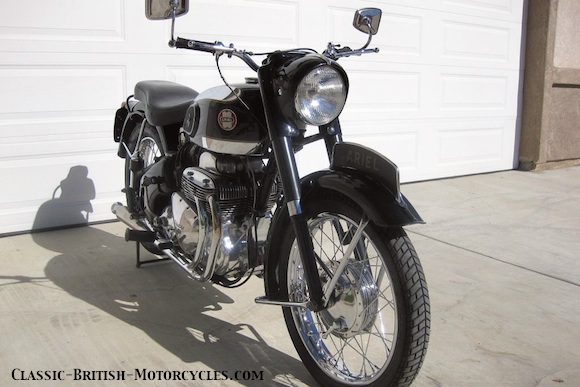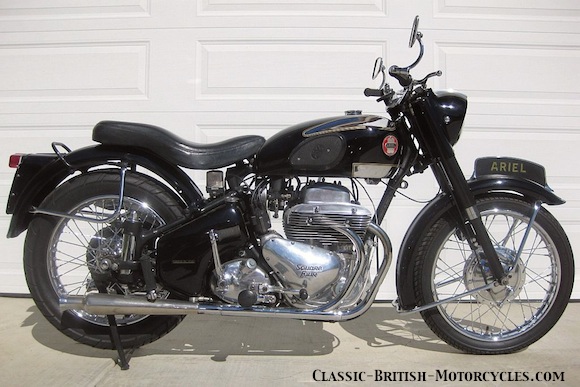 1956 ARIEL SQUARE FOUR PRODUCTION
Like so many legendary British motorcycle manufacturers of the classic era, Ariel was a fairly low-volume operation. Like most of their contemporaries, they were practically hand-crafting these bikes one at a time in very old factories, using ancient machinery and techniques. It was the British way back then. Once they fixed onto a given technique or design, they stuck with it forever, just making incremental improvements as they went. As the result, only 3,828 Mark II's were built total between 1953 and 1959. That's only about 547 bikes per year, on average. No wonder they went out of business in 1959. Pity though. Ariel also built a series of very successful single-cylinder bikes, the Ariel Red Hunter-series in 350cc and 500cc.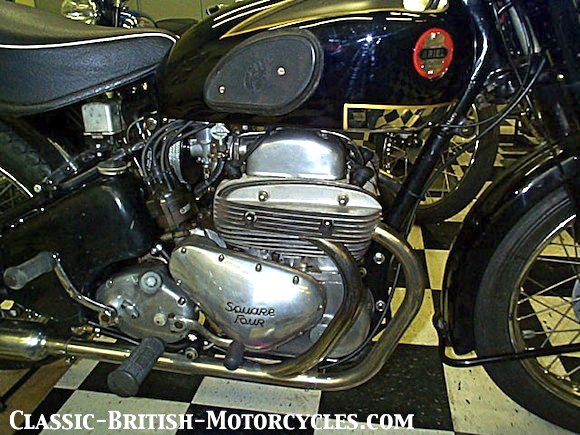 ---
1956 Ariel Square Four SPECIFICATIONS
Engine type

Displacement

Bore & Stroke

Compression

Carburetor

Engine output

Ignition

Charging

Battery

Primary drive

Clutch

Gearbox

Ratios, overall:

1st, bottom

2nd

3rd

4th, top

Final drive

Frame type

Suspension, front

Suspension, rear

Brake, front

Brake, rear

Wheel, font

Wheel, rear

Tire, front

Tire, rear

Fuel capacity

Wheelbase

Seat height

Ground clearance

Dry weight

Air-cooled OHV twin-crankshaft 4-cylinder

997cc

65mm X 75mm

7.2:1

1- SU side-draft w/variable choke

42 bhp @ 5800 rpm

Lucas coils & distributor

Lucas 70W dynamo

6 volt, 20 amp-hours

1/2″ X .305″ chain

Multi-plate, dry

4-speed constant-mesh, right foot shift

—

11.55:1

7.4:1

5.7:1

4.36:1

5/8″ X 3/8″ chain

Steel tube, full-cradle

Ariel telescopic fork, hydraulic damping

2- plunger-type w/short trailing arm

7″ full-width SLS drum

8″ SLS drum

WM2-19  (19″)

WM3-18  (18″)

3.25″ X 19″ Dunlop, ribbed

4.00″ X 18″ Dunlop, universal

5 gal

56.0″

31.0″, unladen

5.5″, unladen

435 lbs