1955 MATCHLESS G45 BACKGROUND
Matchless introduced the G45 500 twin in 1951 as a race bike. It debuted at the Manx Grand Prix that year piloted by Robin Sherry, who took 4th place. The G45 was based on the street version of bike, the Matchless G9. The stock G9 was stripped, and the cast iron cylinders were swapped out for alloy barrels, along with a new cylinder head with better flow, and more finning for added cooling. The finning was also added to the exhaust (front) rocker box, which is unique to the G45. Starting in 1953, the cam was upgraded, roller cam followers were added, along with two Amal GP carburetors. Sister company AJS fielded the G45 badge-engineered twin (almost) called the 7R (and affectionately known as a "Boy Racer"). The two battled for front position in many races, much to the consternation of the competition. In 1952 the Matchless G45 won the Senior Manx Grand Prix. This sparked controversy among the other bike makers because the rules forbade factory prototypes from racing in such events. What did Matchless do? They made their factory racers available to the public, a rare move back then. From 1953 on, both the Matchless G56 and the AJS 7R were sold through dealers to members of the public. Matchless only built around 80 G45s during it's short production run from 1951 through 1958.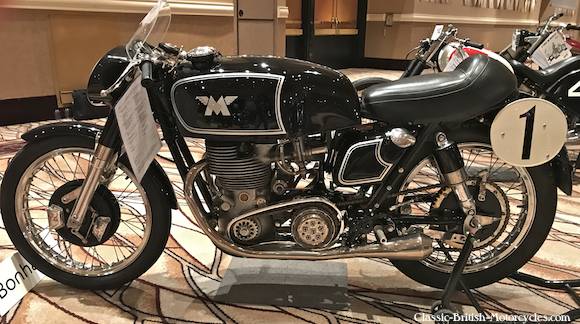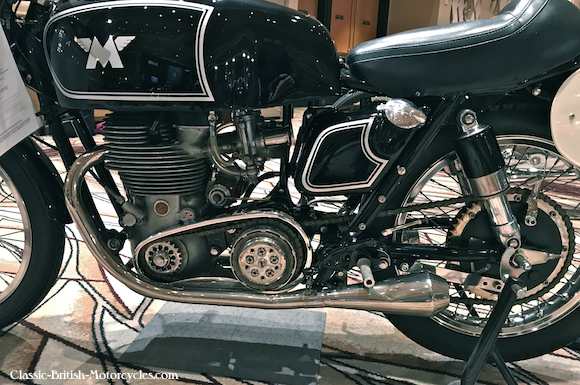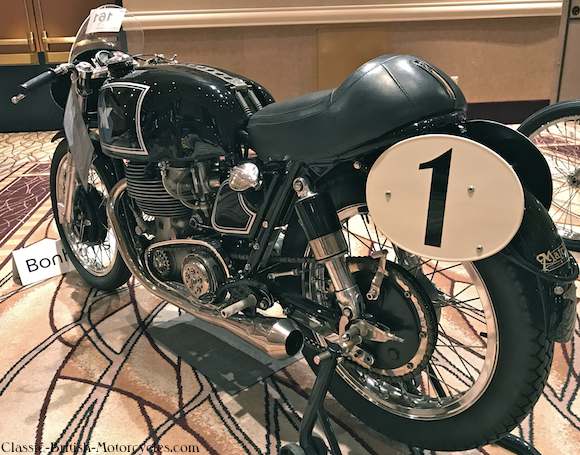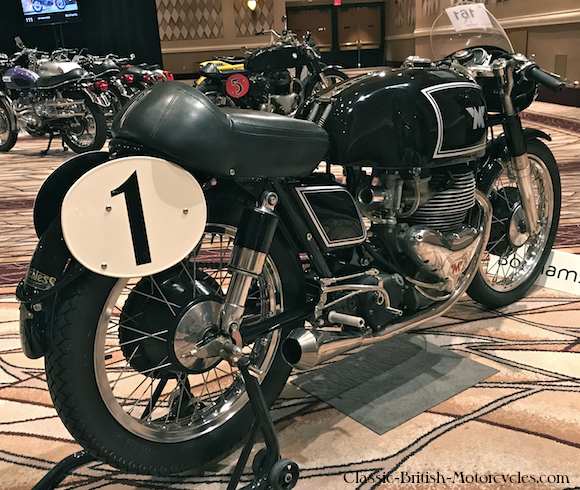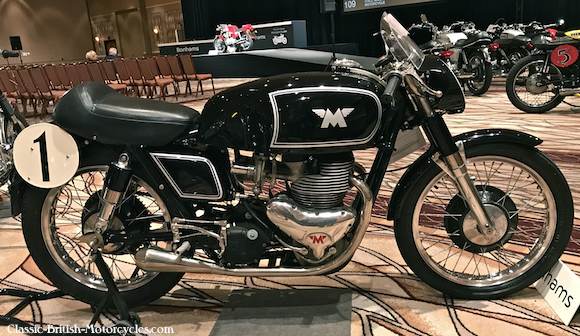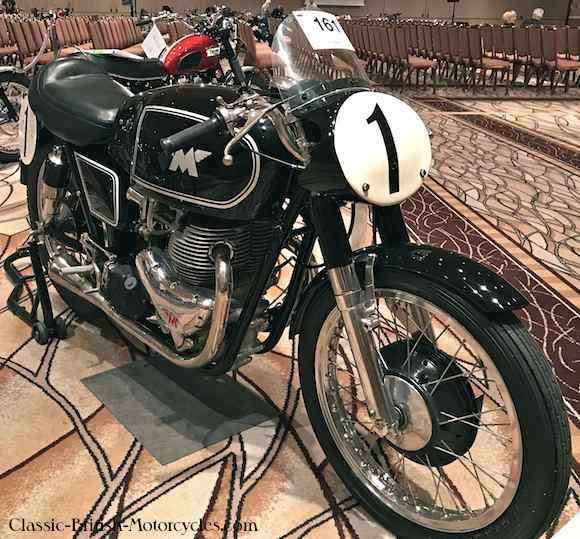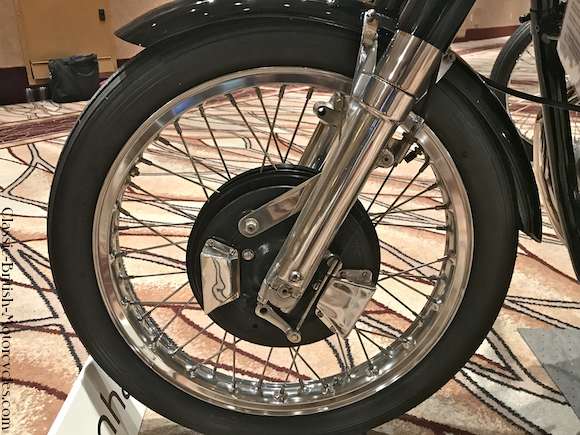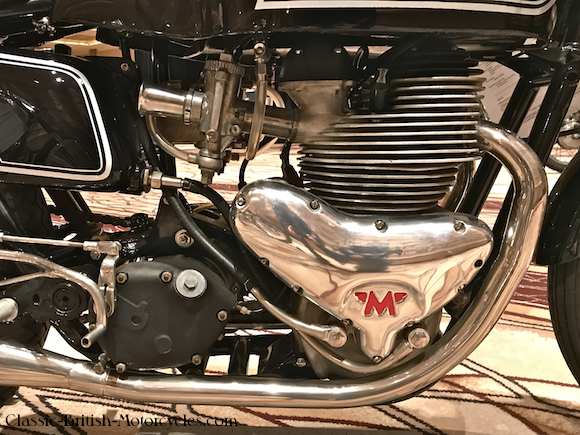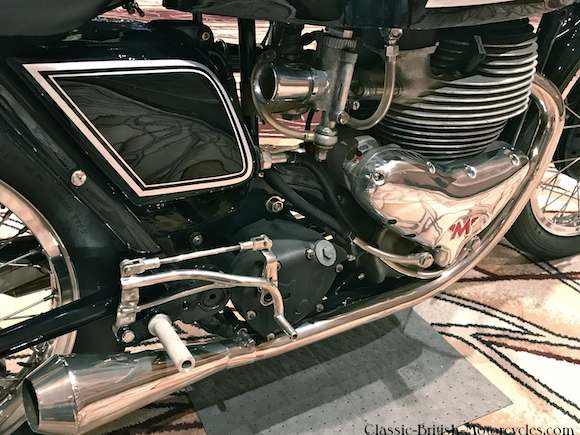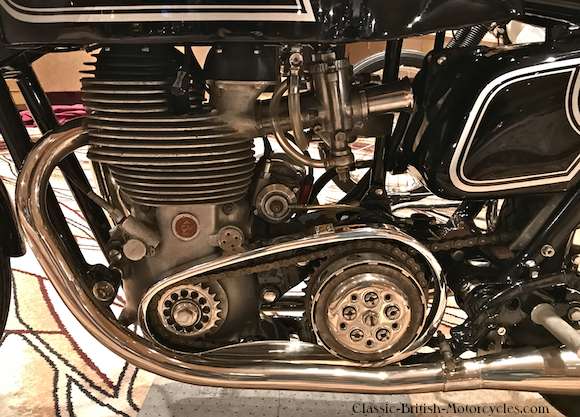 ---
1955 Matchless G45 SPECIFICATIONS
Model designation

Years in production

Production numbers

Engine type

Displacement

Bore & Stroke

Fuel system

Ignition system

Electrical system

Power output

Suspension, front

Suspension, rear

Brake, front

Brake, rear

Tire, front

Tire, rear

Dry weight

1955 Matchless G45

1951-1958

Less than 100 total

Air-cooled OHV single-cylinder 4-stroke

498 cc / 30.4 ci

66mm X 72.8mm

2- Amal 9300 carburetors

Lucas competition magneto

6 volts

50 hp @ 7000 rpm

AMC telescopic fork

Swing arm w/2 Dowdy Oleomatic shocks

SLS drum

SLS drum

19″

19″

210 kmh / 130 mph
A WORK IN PROGRESS
In our efforts to complete our online index, and make this the world's greatest website about classic British motorcycles, we're building pages as fast as we can. The first thing we add are the pictures. Then come the specifications and then the history. So, if you see a page that just has only pictures on it, or just pictures and specs, please check back in a few weeks to see if we have it done. Thanks for your patience. And thanks for visiting Classic-British-Motorcycles.com. Please tell your friends about us.
---