1953 Vincent Rapide
Series C
1953 VINCENT RAPIDE BACKGROUND
Vincent built its reputation on it's robust 499cc Comet single. Prior to the war, they figured out that if they doubled it, they could create a 998cc V-twin and the series A Vincent Rapide was born. Few were built prior to World War 2, which curtailed all civilian production to focus on producing war materials. But, they used this time to completely redesign their new V-twin and by war's end, they were ready to release the Series B Rapide. It now had a 50-degree V-angle instead of the Series A's 47.5-degree V. The top end oil plumbing was now contained within the engine itself, rather than externally as before. And now the engine, gearbox and primary case were enclosed in one common casting, an early example of unit construction. This allowed the engine to be used as a stressed unit, eliminating the need for front down tubes and an engine cradle. The new Rapide used Vincent's tried-and-true 'cantilever' rear suspension, taken from the Comet and Meteor. Traditional Girder-style front forks were used with a single coil-over damper. A trademark of Vincent V-twins is their dual front brakes, one on each side. Rather than redesign a new larger unit, they just used the one they already had…twice! By 1953, the Rapide had been eclipsed by Vincent's new premier bike, the Black Shadow. The Black Shadow had a slight power bump over the Rapide and so was faster, earning it the title "The World's Fastest Production Motorcycle". And it was. The easiest way to tell a Rapide from a Black Shadow is that Rapide engines are polished alloy (silver), and Black Shadow engines are painted gloss black.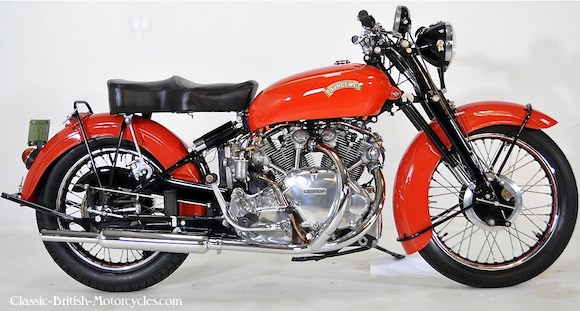 1953 VINCENT RAPIDE SERIES C
The biggest difference between the Series B and C were that the Series B still used a Brampton girder front fork, while the Series C used the new Girdraulic forks from Girling. This 1953 Rapide has the Girdaulics, so it's a Series C.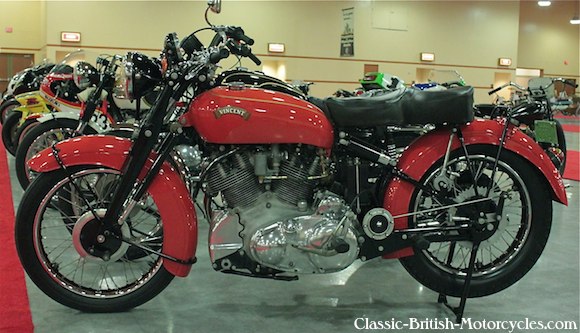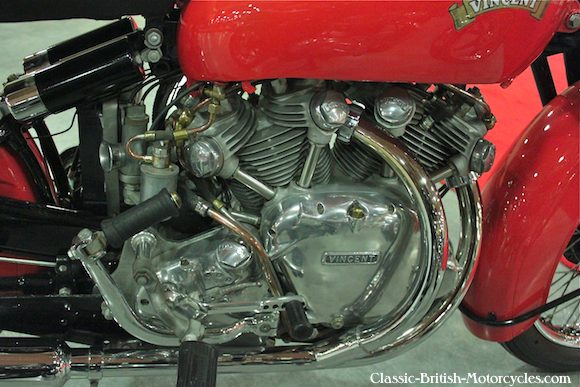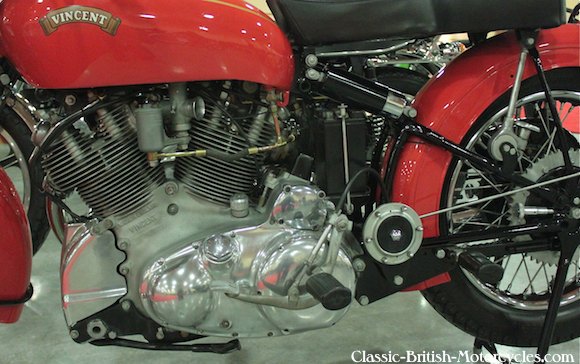 ---
1953 Vincent Rapide SPECIFICATIONS
Model designation
Engine type
Displacement
Bore & Stroke
Compression ratio
Fuel system
Engine output
Wheelbase
Suspension, front
Suspension, rear
Tire, front
Tire, rear
Brake, front
Brake,rear
Weight
Top speed
1953 Vincent Series C Rapide
Air-cooled 50-degree OHV V-twin
998cc
84mm X 90mm / 3.30″ X 3.50″
6.45:1
2- Amal 1-1/16″ carburetors
45hp @ 5300rpm
56.5″ / 1410mm
Girling "Girdraulic" forks
Triangulated swing arm w/2 dampers
3.00″ X 20″
3.00″ X 19″
2- SLS drum brakes
1- SLS drum brake
455 lbs / 206.4 kg
110 mph / 177 km/h