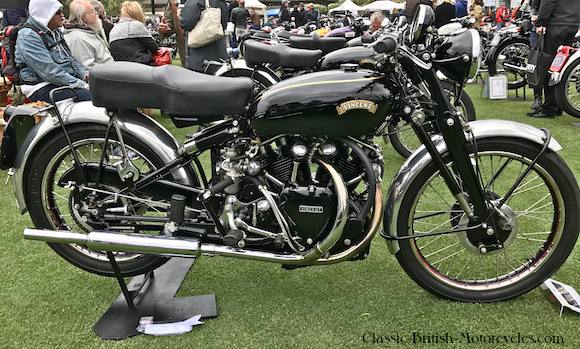 1952 VINCENT BLACK SHADOW BACKGROUND
Brilliantly designed by doubling up the 499cc Vincent Comet single-cylinder engine into a 50-degree V-twin, the Vincent Black Shadow was introduced in 1949. It followed on the heals of the Vincent Rapide, which was more of a touring bike. The buying public wanted more power, more "sport" and so the big V-twin was tuned up with bigger ports, carbs and higher compression, yielding 55 horsepower, and the Black Shadow was born. It was unusual in that it was nearly all black, where most bikes of the era had lots of chrome, polish and bright colors. Not Vincents. Like the name said, they were all black.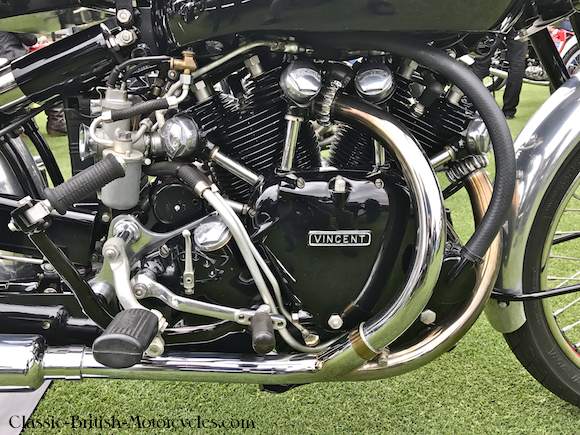 1952 VINCENT BLACK SHADOW ENGINE
Vincents were unique in many ways. There intake and exhaust valves were also very unusual. Extra long, they had two valve guides apiece, one down close to the port, and the other up top, above where the forked rocker arms actuated them. It was meant to improve engine life by countering the massive sideways forces that the valvetrain exerted on the valve stems. It made for a taller cylinder head, but seemed to work quite well. The hand-assembled engines were of unit construction and made extensive use of aluminum castings. And again, they were all black, except for a limited run of just 16 "White Lightnings", which came without the black finish, similar to the Rapides. Fewer than 1700 Vincent Black Shadows were built throughout their entire lifespan. But what an impact they made. In fact, in 1948, a specially-tuned Black Shadow was the first production motorcycle to break the 150 mph-barrier on the Bonneville Salt Flats.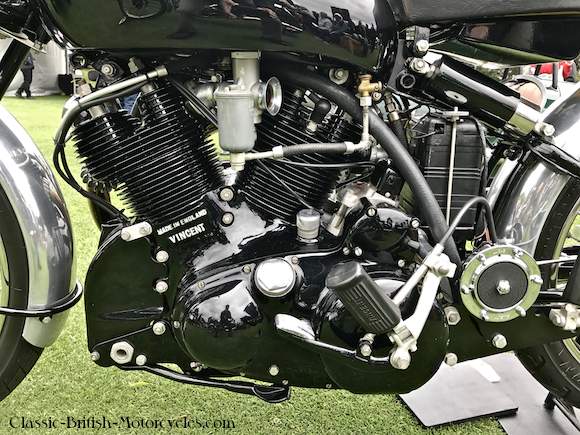 1952 VINCENT BLACK SHADOW CHASSIS & RUNNING GEAR
Color was not the only unusual feature of the 1952 Vincent Black Shadow. The frame used no conventional front downtubes or an engine cradle. Instead it used the massive engine as a stressed member to save weight. It also made that gorgeous engine stand out all the more. Also novel was Vincent's cantilever rear suspension. It worked much like a conventional swing arm except it had an upper section that angled toward the seat post where it connected with two spring-loaded dampers that provided the suspension travel. It looked like a rigid frame, but offers some comfort. In some ways, it was similar to Harley-Davidson's "Softail" setup. The front suspension was handled by a girder fork with "Girdraulic" damping. There was a SLS front drum brake on each side of the front wheel. For 1952, the Vincent Black Shadow was ahead of its time, offering advanced design that few other bikes had.