1952 BSA A7
Pre-Unit 500 Twin
1952 BSA A7 BACKGROUND
Like everyone else in the British motorcycle industry, BSA was caught flat-footed when Triumph introduced its game-changing 500 Speed Twin in 1938. And like virtually everyone else, BSA was relying heavily on single-cylinder designs for its bread and butter. But the new twins had arrived and suddenly everyone had to have one, as nearly every British marque struggled to bring its own vertical twin to market. World War II put all of that on hold, and it wasn't until 1946 that civilian motorcycle production got going again, but when it did, it was a whole new ballgame. Of the other major British marques, BSA was one of the first to market with their own 500 vertical twin, the 1946 BSA A7.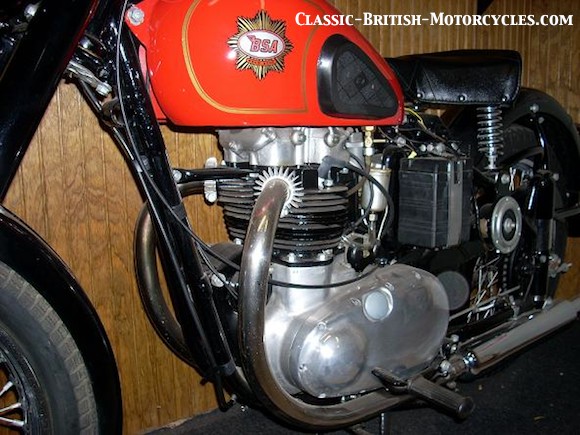 1952 BSA A7 DESIGN
While early A7s used the old tried-and-true rigid frame, it was changed to a new frame featuring plunger rear suspension in 1949, with telescopic front forks. The engine was a vertical twin with cast iron cylinder block and removable head, with cast aluminum rocker box. The single camshaft set in the vertically-split crankcases behind the cylinder, and operating long pushrods that passed through a central tunnel in the cylinder block. They had lots of head bolts and studs, many extremely hard to reach, and they were prone to oil leaks. At its launch, the A7 displaced 495cc, but early teething problems led to a redesign in 1950, the new revised engine now displacing 497cc. They made 28 horsepower and were capable of hitting speeds of 85 mph, impressive for the day. While the engine/gearbox package was technically a non-unit setup, the duplex primary chain was adjusted by means of a slipper tensioner, rather than the (at the time) conventional manner of moving the gearbox in its mounts to tighten the primary chain, which also loosened the final drive chain, which then also had to be adjusted. The new system made for a neater, more compact package and was referred to as 'semi-unit construction'.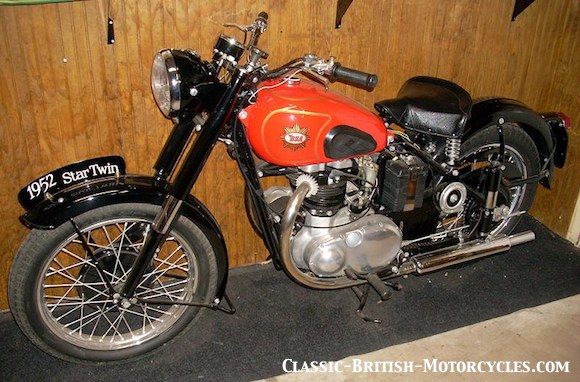 ---
1952 BSA A7 SPECIFICATIONS
Engine type

Displacement

Bore & Stroke

Compression

Carburetor

Primary drive

Clutch

Final drive

Gearbox

Ratios, overall:

1st, Bottom

2nd

3rd

4th, Top

Wheelbase

Seat height

Ground clearance

Tires, front

Tires, rear

Fuel capacity

Curb weight

PERFORMANCE

1/4 mile

Top speed

Air-cooled OHV vertical twin

497cc

66mm X 72.6mm

7.2:1

1- Amal

3/8″ duplex chain

Multi-plate, wet

5/8″ X 3/8″ chain

BSA constant-mesh 4-speed, foot shift

—

12.9:1

8.8:1

6.05:1

5.0:1

54.25″

30″, unladen

4.5″, unladen

3.25″ x 19″

3.50″ x 19″

3.5 gal

423 lbs

16.8 sec @ 84 mph

92 mph