1951 Triumph Thunderbird
1951 Triumph Thunderbird Background
The 1951 Triumph Thunderbird carried the model designation "6T". All 6T's were 650's & came equipped essentially the same, with the same rigid frame & sprung rear hub, and the same setup throughout. Unlike the later Triumph TR6 which came in a variety of flavors (ie: high pipes, low pipes, competition, etc.).
RIDING THE WAVE
The 1951 Triumph Thunderbird carried over largely unchanged from its 1950 model year introduction. There were the usual incremental improvements to engine & gearbox, mostly designed to improve reliability, ease vibration or simplify assembly. But Triumph Motorcycles & their ace designer Edward Turner, knew they had a hit on their hands & left things well enough alone with the T-Bird. After all, don't fix it if it ain't broke.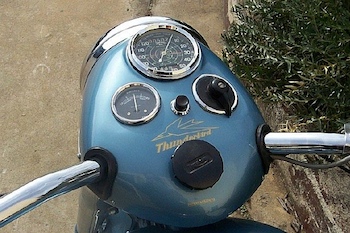 1951 TRIUMPH THUNDERBIRD – OVERVIEW
On the 1951 Triumph Thunderbird, the Amal carburetor was increased in size from 1 inch to 1-1/16 inch. The 7-inch SLS front brake was also improved. The same brazed-lug rigid frame soldiered on with the notorious sprung rear hub trying to pass as rear suspension. It was an atrocious compromise implemented (indeed invented) by none other than Edward Turner himself as a way to delay the expensive retooling needed to adopt a more contemporary swing arm rear suspension. It was crude & ineffective. It didn't absorb bumps very well & looseness would develop in the hub leading to uncontrolled wheel movements & erratic handling as the result.
1951 TRIUMPH THUNDERBIRD – COLOR SCHEMES
On a more positive note, the color scheme improved for the 1951 model year. Called Polychromatic Blue, it's a handsome metallic blue (pictured here). The Triumph T-Bird had its own logo, the so-called "Paper Dart" (unofficial nickname), pictured on the headlight nacelle above. This would later be cast into the primary cover.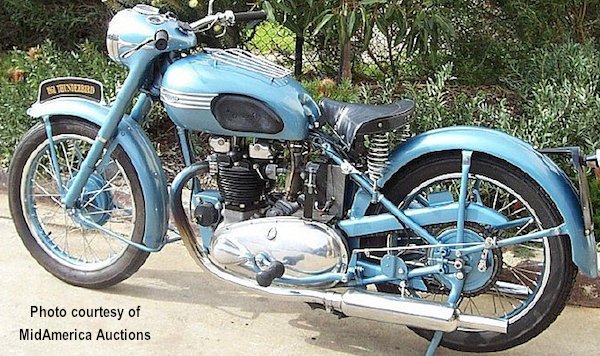 The 1951 Triumph Thunderbird was a handsome machine in its day. The headlight nacelle incorporated the headlight, gauges (clocks), and handlebar mounts all in one neat package. This was a British innovation, intended to help keep the bikes clean in typically inclement British weather & also make them easy to clean, once ridden. The full fenders on this T-Bird are also in keeping with that school of thought. It wasn't until the American Triumph dealers made a fuss that Triumph Motorcycles began to get lean & mean, starting with the 1956 Triumph TR6.
---
1951 Triumph Thunderbird
SPECIFICATIONS
Engine type

Displacement

Bore & Stroke

Compression

Carburetor

Ignition

Engine output

Primary drive

Primary sprockets

Clutch

Gearbox

Ratios, overall:

1st, bottom

2nd

3rd

4th, top

Final drive

Final drive sprockets

Frame Type

Suspension, front

Suspension, rear

Brake, front

Brake, rear

Tire, front

Tire, rear

Wheelbase

Seat Height

Ground Clearance

Fuel capacity

Dry weight

Air-cooled OHV vertical twin, non-unit

649cc / 40.0 ci

71mm X 82mm / 2.79″ X 3.23″

8.5:1 (US & export); 7.0:1 (UK)

1- Amal Monobloc, 1-1/16″

Lucas magneto

34 bhp @ 6500 rpm

1/2″ X .335″ X 5/16″ chain, 70 links

24T X 43T

Multi-plate, wet

4-speed constant mesh, right foot shift

11.9:1

8.25:1

5.81:1

4.88

5/8″ X .400″ X 3/8″ chain, 101 links

18T X 46T

Brazed lug, rigid

Telescopic fork, hydraulic damping

Sprung rear hub, rigid frame

7″ SLS drum

7″ SLS drum

3.25″ X 19″

3.50″ X 19″

55.25″ / 140.3 cm

31″ / 77.5 cm

5″ / 12.7 cm

3 Imp gal (US); 4 Imp gal (UK & export)

370 lbs / 168 kg