1948 Velocette KSS
1948 VELOCETTE KSS BACKGROUND
The Velocette KSS debuted in 1925 as an OHC (overhead cam) 350cc air-cooled single. Being OHC placed it at the cutting edge of engine technology at a time when most machines still used side-valve designs or pushrods. The name KSS breaks down to the K for overhead cam (the German spelling is kam), and SS for Super Sport. It made 19 horsepower at 5,800 rpm. The KSS was completely redesigned for the 1935 model year, making everything after a Mark II through the 1948 model year. Part of the bevy of improvement that went into the Mark II was a new aluminum alloy cylinder head with fully enclosed valve gear. The 1946 Velocette KSS was the first year of renewed civilian production, after the end of World War II, and it was largely a carry-over from the pre-war models. Improvements were made as production continued. The 1948 Velocette KSS now could be ordered (as an option) with Dowty Oleomatic telescopic front forks instead of the girder front forks on the 1946-and-later models. This must has the Oleomatic telescopic forks, which were state-of-the-art in 1948. This 1948 Velocette KSS ran through the Bonhams Auction in Las Vegas in January 2018. Bonhams don't report their sales to the public so we don't know if it sold or what it sold for.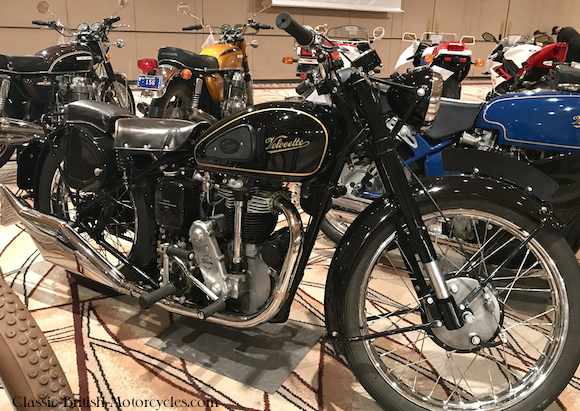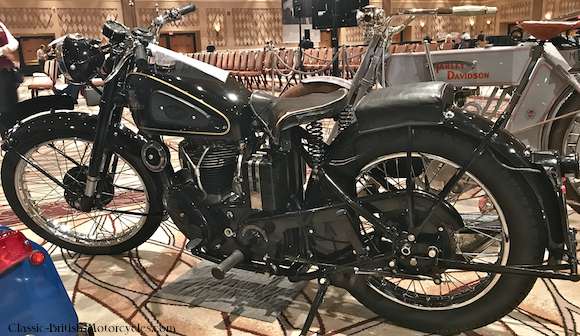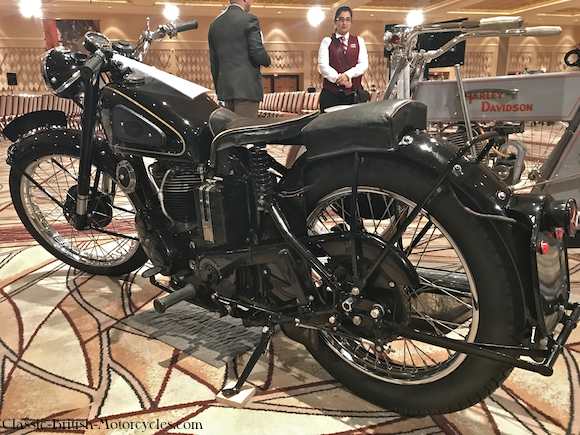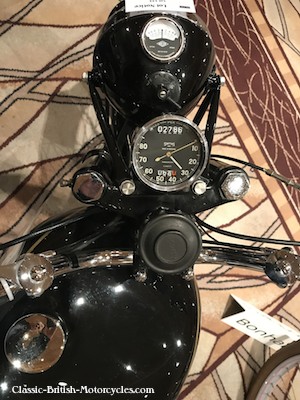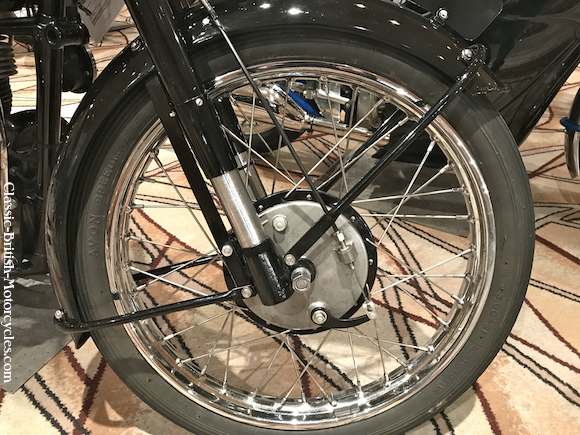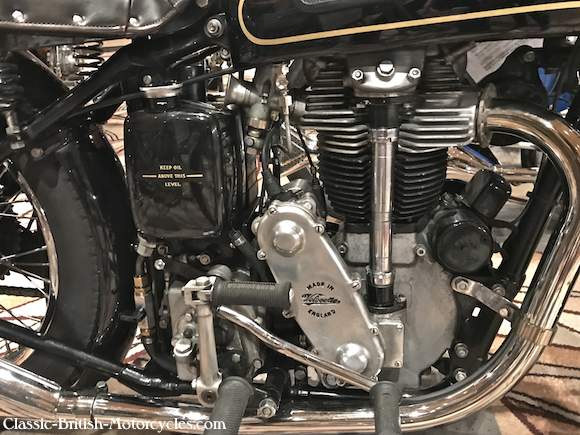 THE K-SERIES & THE KSS ENGINE
The K-series is made up of the 348cc KSS & KTT. The "K" in KSS, and in the name stands for "Kam", the German spelling of Cam, signifying that it had an overhead cam, very unusual at the time. Driving that cam was a complex system of beveled gears top and bottom, turning a shaft in the middle. It was a brilliant solution, but one cursed with high friction, and was painstakingly difficult to assemble and set up correctly. Highly-skilled craftsmen hand-assembled every engine in the factory. This proved to be expensive and it limited production capacity. In the end, this very impressive engine, that was technologically ahead of its time, was simply too expensive to be profitable. Velocette launched the M-series in 1934 with a simpler and easier-to-mass-produce OHV engine design. Velocette produced both series side-by-side for years until 1949, when the K-series was dropped, and Velocette only built M-series singles after that.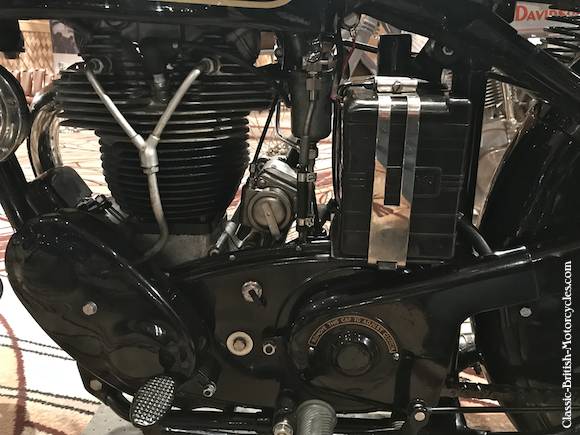 ---
1948 Velocette KSS SPECIFICATIONS
Engine type

Displacement

Bore & Stroke

Compression ratio

Carburetor

Ignition

Engine output

Primary drive

Clutch

Gearbox

Frame type

Suspension, front

Suspension, rear

Brake, front

Brake, rear

Wheelbase

Seat height

Ground clearance

Fuel capacity

Top Speed

Air-cooled OHC single

348cc / 21.3ci

74mm X 81mm

7.0:1

Amal

Bodine magneto

25 bhp

Chain

Multi-plate, wet

3-speed

Backbone w/engine as stressed member

Girder

Rigid

7″ SLS drum

7″ SLS drum

53.75″ / 136.5cm

28.0″ / 71cm

4.25″ / 10.0cm

2.25 US gal / 8.5L

90mph