1948 Triumph T100 Tiger
1948 TRIUMPH T100 TIGER BACKGROUND
Immediately after the end of World War II, Triumph quickly reverted back to civilian production and hit the ground running. Prior to the war, their two top models were the 500cc 5T Speed Twin and its hotter cousin, the T100 Tiger, also a 500 twin, but much faster. The 1948 Triumph T100 Tiger benefitted from higher compression, hotter cams, R-grind tappets, and a bigger carb than the pedestrian Speed Twin. And it worked. The Triumph Tiger was one of the fastest motorcycles that normal people could actually buy. They were faster than most cars in their day also.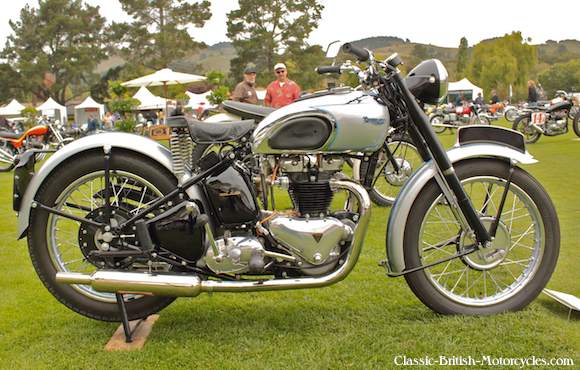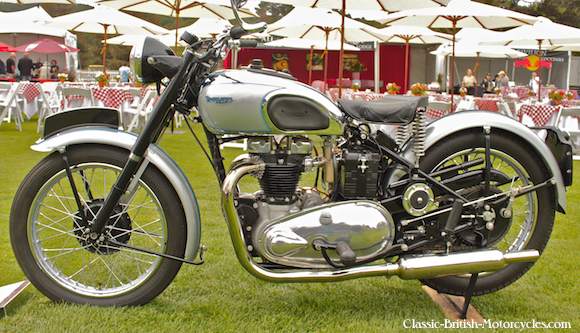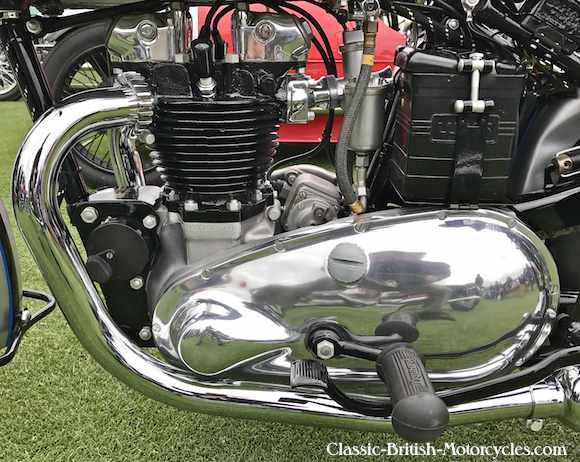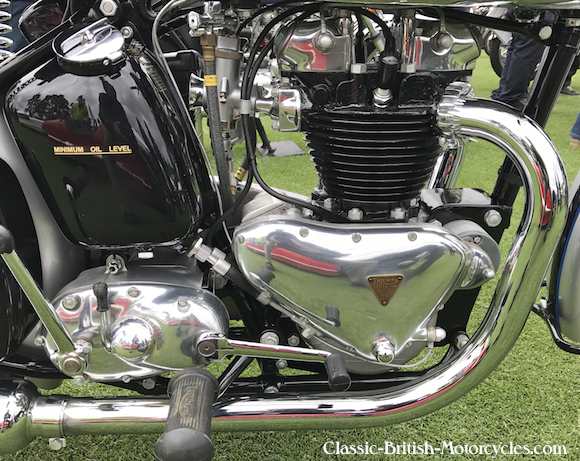 1948 TRIUMPH T100 TIGER SPRUNG HUB
Triumph wasn't ready to abandon its rigid frame just yet, but some rear suspension travel was still very much needed. So they came up with an interim solution: The Spring Hub. Essentially, it an inner hub riding inside an outer hub, separated by some springs that supposedly allowed about 2-inches of vertical travel. They were large and heavy, weighing some 17 pounds more than the non-sprung hub, which was still standard on all Triumphs. The Sprung Hub remained an option for now, and despite the added ride comfort, many buyers chose the non-sprung hub, for a variety of reasons. First off, they were cheaper. Second, they were lighter. Third, when well-worn the sprung hub developed some sloppiness in its movement, causing erratic handling. And lastly, this was the day when people liked simple products that they could understand. Many opted for the simpler non-sprung hub for fear of expensive repairs later in life. They turned to be right. Proper swing arm rear suspension would arrive by 1954 for the Tiger.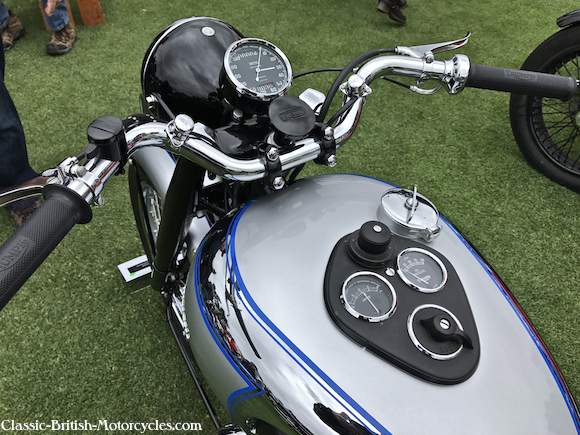 ---
1948 Triumph T100 Tiger SPECIFICATIONS
Engine type

Displacement

Bore & Stroke

Compression

Carburetor

Ignition

Engine output

Primary drive

Clutch

Gearbox

Ratios, overall:

1st, bottom

2nd

3rd

4th, top

Final drive

Frame type

Wheelbase

Seat height

Ground Clearance

Suspension, front

Suspension, rear

Brake, front

Brake, rear

Tire, front

Tire, rear

Fuel capacity

Curb weight

Air-cooled OHV vertical twin, non-unit

498cc / 30.5 ci

63mm X 80mm / 2.48″ X 3.15″

7.6:1

1- Amal Monobloc, Type 276

Lucas magneto

32 bhp @ 6500 rpm

1/2″ X .305″ chain

Multi-plate, wet

4-speed, non-unit, right foot shift

12.20:1

8.45:1

5.95:1

5.00:1

5/8″ X 3/8″ chain

Brazed-lug, full cradle, rigid

55.75″ / 141.6 cm

30.5″ / 77.5 cm

5.0″ / 12.7 cm

Telescopic fork, hydraulic damping

Sprung rear hub, rigid frame

7″ SLS drum

7″ SLS drum

3.25″ X 19″ Dunlop

3.50″ X 19″ Dunlop

4 gal / 18 liters

375 lbs / 170 kg