1948 Ariel Square Four
1948 ARIEL SQUARE FOUR BACKGROUND
The Ariel Square Four engine was originally designed in 1928 by Edward Turner, the man who later came up with the vertical twin for Triumph. In original form, it started out as a 500cc and was quickly expanded to 601cc. The Square Four was essentially two 2-cylinder engines, each with traverse (across-the-frame) crankshafts that were geared together. They shared a common cylinder block and removable head. These early bikes, designated Model "4F", used overhead cams, and ran from 1931 to 1936. Overheating problems with the rear cylinders prompted a total redesign with the model "4G", which was now OHV and displaced 995cc. The 4G ran from 1936 to 1949.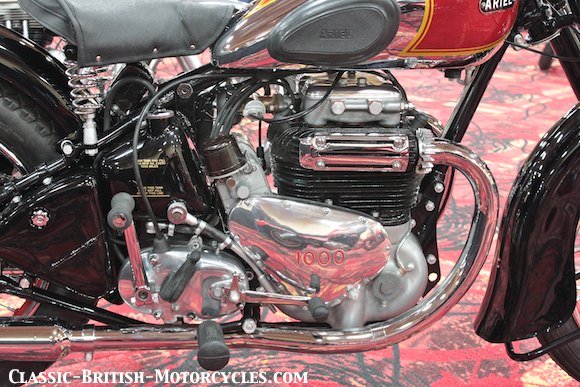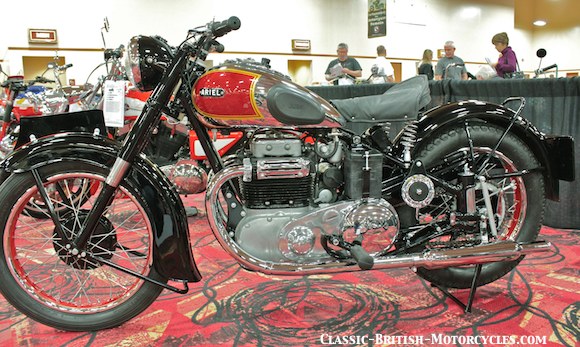 SQUARE FOUR DESIGN
The 1000cc four-cylinder was a slow revving, torquey engine that was meant for cruising over long distances and low rpm or tugging a sidecar. They weren't high-revving, high performance machines. But in their day, they had a reputation for reliability. The one-piece iron cylinder block had all four cylinders arranged in a square pattern (hence the name) with a one-piece removable cylinder head. It was all fed by a single SU MC2 carburetor, and each bank of cylinders (left and right) shared a common exhaust manifold exiting with one pipe per side. This arrangement doesn't make for great airflow, but again, this wasn't a racer, this was a cruiser. The 1948 Ariel Square Four continued to use Ariel's patented Anstey-link plunger rear suspension, but the girder forks were replaced with telescopic forks with hydraulic damping.
---
1948 Ariel Square Four SPECIFICATIONS
Engine type

Displacement

Bore & Stroke

Compression

Carburetor

Engine output

Ignition

Charging

Primary drive

Clutch

Gearbox

Final drive

Frame type

Suspension, front

Suspension, rear

Brake, front

Brake, rear

Wheel, font

Wheel, rear

Tire, front

Tire, rear

Fuel capacity

Wheelbase

Seat height

Ground clearance

Dry weight

Top speed

Fuel economy

Air-cooled OHV twin-crankshaft 4-cylinder

997cc

65mm X 75mm

6.0:1

1- SU side-draft

34.5 bhp @ 5400 rpm

Lucas coils & distributor

Lucas dynamo

1/2″ X .305″ chain

Multi-plate, wet

Burman 4-speed, right foot shift

5/8″ X 3/8″ chain

Steel tube, full-cradle

Ariel telescopic fork, hydraulic damping

2- plunger-type w/short trailing arm

7″ full-width SLS drum

7″ SLS drum

WM2-19  (19″)

WM3-18  (18″)

3.25″ X 19″ Dunlop, ribbed

4.00″ X 18″ Dunlop, universal

4 gal

56.0″

31.0″, unladen

5.5″, unladen

430 lbs

98 mph

42 mpg