1939 BSA Silver Star
1939 BSA SILVER STAR BACKGROUND
The brilliant engineer Val Page designed BSA's new 500 single in 1937, while at the same time bringing some rationale to BSA's complex product lineup. It was now made up of 250 and 350 singles in what was called the "B-class", and the top-of-the-line 500 heavyweight class was divided into 3 groups itself. The M22 was the 'cooking version' (ie: the entry-level commuter); the M23 Silver Star was the sports machine and it had a specially-tuned engine with a higher output than the M22; and the M24 Gold Star which was really a street-legal race bike. Val Page included several innovative and modern features in these new machines. The forged steel backbone of the previous models was replaced by a brazed steel tubular frame with a single backbone. The sump in the crankcase was discontinued, and the mag-dyno was moved to the rear of the cylinder and driven by a chain from the right side. But the big news was the full enclosure of the top end valve gear.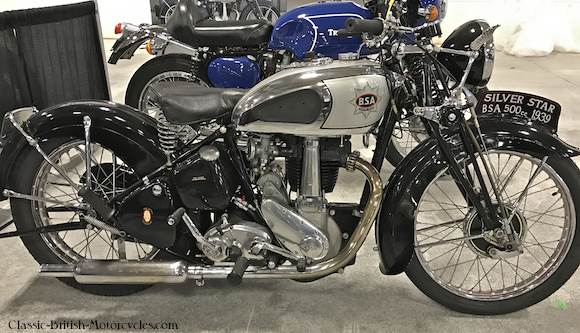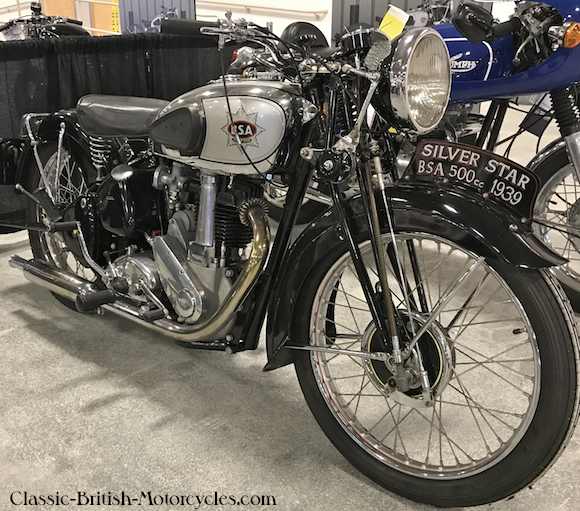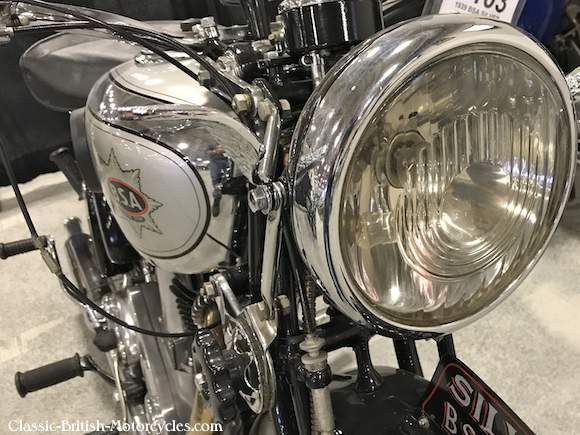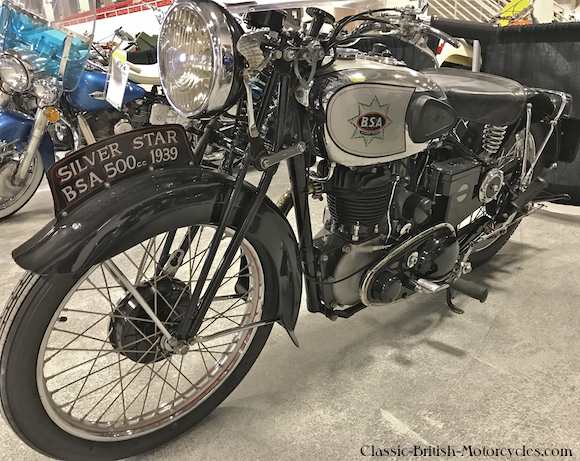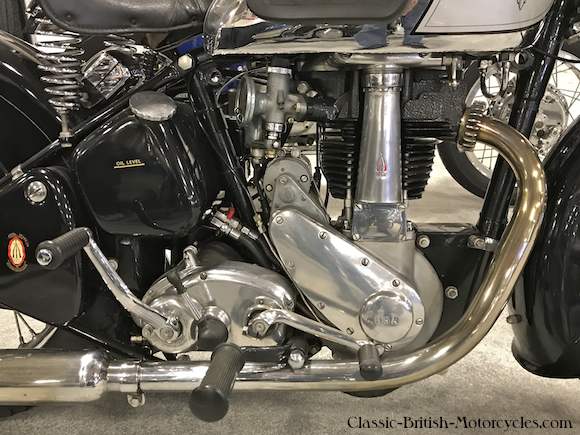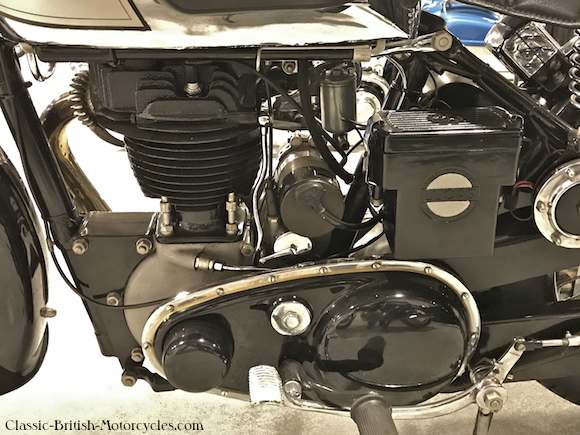 ---
1939 BSA Silver Star SPECIFICATIONS
Engine type:

Displacement:

Bore & Stroke:

Fuel system:

Ignition system:

Lubrication system:

Charging system:

Primary drive:

Clutch:

Gearbox:

Gearbox ratios:

Final drive:

Suspension, front:

Suspension, rear:

Brake, front:

Brake, rear:

Tire, front:

Tire, rear:

Fuel capacity:

Wheelbase:

Seat height:

Ground clearance:

Air-cooled OHV single

496cc

82mm X 94mm

1X Amal carburetor

Lucas mag-dyno

Dry sump

Lucas mag-dyno & 6-volt battery

1/2″ X .305 Chain

Multi-plate, wet w/cush drive

4-speed, right-foot shift

4.8:1; 5.2:1; 8.15:1; 11.8:1

Chain

Girder fork

Rigid

7″ SLS drum

7″ SLS drum

3.00″ X 20″ Dunlop Universal

3.50″ X 19″ Dunlop Universal

3.5 gallons

54.0″

28.5″

4.5″