We're just a few days from Christmas. Finding the perfect gift for the children in your family or close circle can be challenging. However, if they're passionate about ATVs, we have just the solution. You may not be able to get your hands on an actual quad, so we looked at alternatives and figured a young rider would be thrilled to represent the community they adore with a T-shirt.
However, there's a massive number of T-shirt options out there; from popular designs to official merchandise—you're never going to be short of options. So, to make things easier for you, we did all the hard work and narrowed it down to the top 12 ATV shirts for kids.
Note: We have posted links to the products we call out here. Some of these products are available on Amazon, where we have an affiliate relationship. If you purchase a kit via these links, we may receive a small commission (at no additional cost to you). This is how we fund our site.
1. A Little Dirt Never Hurt T-Shirt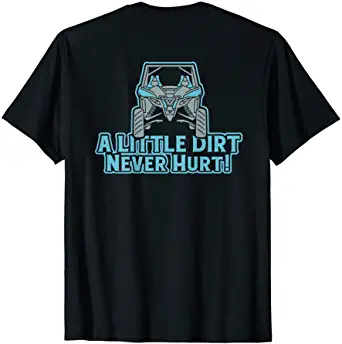 Want a T-shirt that tells the world you love the dirt and your ATV? This is the one. The front of this shirt is straightforward, with the image of a side-by-side above the text "A Little Dirt Never Hurt."
Side-by-sides (SXS), also referred to as UTVs, are designed to seat more than just one adult and are usually meant for specialized work rather than recreation. They offer lots of storage space and are most commonly used for moving around equipment, gear, or supplies in places where more conventional modes of transport aren't viable.
Considering their utilitarian intentions, UTVs are predominantly used in the farming sector. However, they're also used by those looking to head out on an adventure with family; if you're heading out with your kid, this is a great T-shirt to get them.
2. Birthday Boy T-Shirt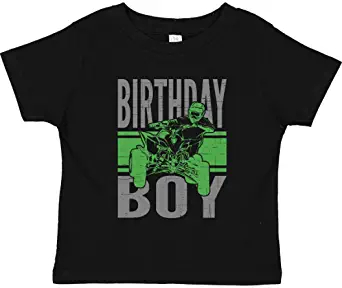 This T-shirt is probably the second-best thing you can get a young enthusiast on his birthday—the best gift is an ATV itself. Youth ATVs are pretty popular, and nearly every major quad manufacturer out there has a Youth ATV lineup that comprises multiple model lines and versions.
Kawasaki's 2022 portfolio includes the sport-oriented KFX90, while Yamaha's new lineup consists of the rec/utility Grizzly 90 and the YFZ50 and Raptor 90 sports models. That said, one of the more extensive Youth ATV portfolios from a major manufacturer belongs to Polaris. The 2022 Polaris ATV lineup has 4 models for youngsters; these include the Outlaw 70 EFI, Outlaw 110 EFI, Sportsman 110, and the Phoenix 200.
Getting your nephew or a young boy in the family an ATV for his birthday is a huge deal, but we hope he'll appreciate this cool T-shirt just as much.
3. This Girl Loves ATVs T-Shirt
We love the statement on this T-shirt: "This girl is a four wheelin', mud lovin', dirt eatin', trail ridin', mountain tamin' kinda girl." More and more women have been participating in off-road racing, and design is ideal for someone young who's interested in all things off-road.
It's partly our responsibility to get the next generation of riders interested in the world of ATVs, and this is a great design to get a girl who's shown interest in the sport. They might just grow up to be the next Emily Saieva.
For those of you who are unaware, Emily is a 2-time WORCS (World Off-Road Championship Series) National Champion—the first female to win these titles. The 20-year-old is also an 8-time off-road and MX champion.
4. ATV and American Flag T-Shirt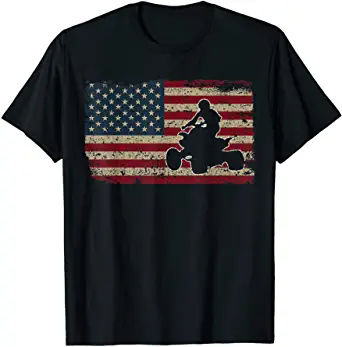 America has always been home to the All-Terrain Vehicle. The first commercial ATV was manufactured for the American market by Honda.
It all started in the late 1960s when the American Honda Motor Company, Inc. asked one of its engineers, Osamu Takeuchi, to design a product that would keep sales numbers up when motorcycle sales dropped in the winter. The result was the first ATC (All Terrain Cycle), as Honda called it, or ATV, as we know it today.
Today, over 5 decades later, North America is the largest ATV market in the world, and it looks like it's going to stay that way for a while. This T-shirt design combines two things dear to us into one sweet design.
5. Forget Toys, I Just Wanna Ride T-Shirt
Many of us developed a passion for ATVs and the automotive field because of the toys we probably played with as kids. But, as the cliche goes, "We never grow up; our toys just get bigger and more expensive," and we eventually outgrow the toys we played with.
This T-shirt is perfect for a young boy or girl who's just started riding ATVs. Once you've had a taste for the real thing, it's hard to go back to playing with miniature versions of it. The design is also available in 10 different colors, so finding one loved by the little kid you're giving this to won't be too hard.
6. This Boy Loves Four-Wheelers T-Shirt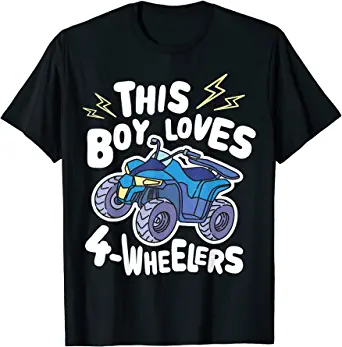 Honestly, this is a T-shirt that I'd wear as an adult. It's a simple statement, but one that gets the message across perfectly.
Today, ATVs are used for several different applications; whether it's lugging around loads and equipment on a farm, exploring trails, or just having fun in the dirt, all of us ride for different reasons. We share in common that we love our machines for what they allow us to do and experience.
This T-shirt is available in 10 colors, and you can get one that goes with your machine.
7. Riding Partners for Life T-Shirt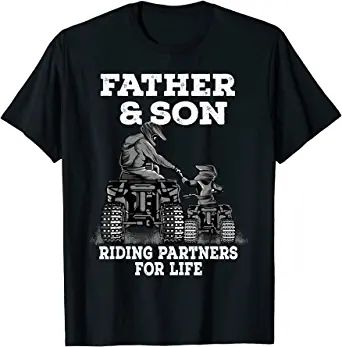 The easiest way to get into an activity is to have someone you look up to and respect introduce you to it. Thousands of kids worldwide get their first taste of an ATV riding with their fathers. When they're old enough to ride, adventuring with their dads is an excellent way to learn and foster their passion.
If you ride an ATV with your kid, I'm sure they'll be thrilled to wear this T-shirt.
8. It's In My DNA T-Shirt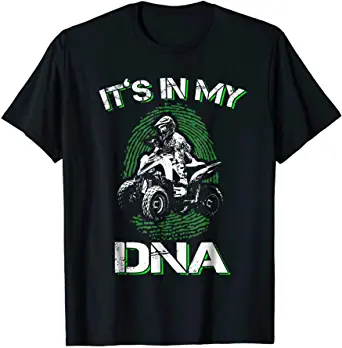 By definition, being in one's DNA denotes a quality or characteristic that is an integral part of their nature or identity. Those of us who are passionate about off-roading and ATVs can agree that they're a part of who we are. Sometimes, the friends we make and the conversations we have revolve around these machines, and there's no better way to announce that to the world than this T-shirt.
9. Fox Racing Youth Jersey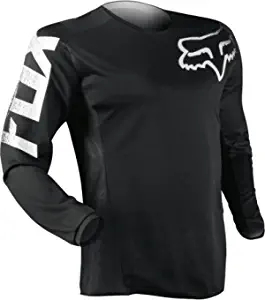 Since beginning business in 1974, Fox Racing has become one of the most recognized and highest selling brands in the off-road and extreme sports world. They design and manufacture high-quality off-roading gear and apparel for powersports like motocross and ATV racing.
Some of ATV racing's giants, including Ricky Carmichael, James Stewart, Damon Bradshaw, Rick Johnson, Mark Barnett, Doug Henry, Jeremy McGrath, and Steve Lamson, wore Fox Racing gear. This is a testament to the high-quality products that the company manufactures.
Fox Racing has an extensive line of gear that includes helmets, riding jackets, off-roading gloves, guards, and a whole lot more, but it also sells some non-protective equipment like this jersey. It's a simple design adorned with the Fox Racing logo and is ideal for wearing over riding gear.
10. Braap! Vintage Colors Quad T-Shirt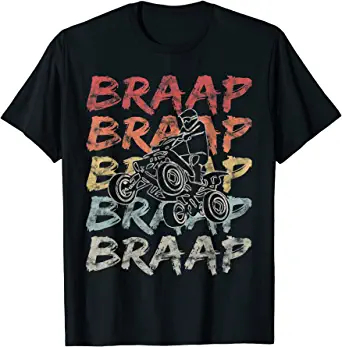 This excellent T-shirt design features the word "Braap!" (5 times, accurately depicting how an engine sounds when you're accelerating hard) in retro colors, along with an ATV that's catching some air in the foreground.
It's an exciting mix of old meets new and will make the kid that wears this the center of everyone's attention.
11. O'Neal Unisex Youth Element Jersey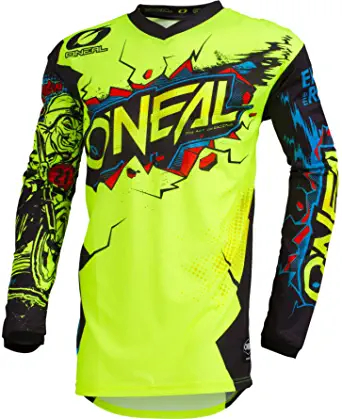 O'Neal is a brand that specializes in off-road merchandise and gear. This Unisex Youth Element jersey is made of a functional, sweat-wicking material in a bright shade of florusncet yellow. It also features some bold graphics on the sleeves and across the chest.
If you're out riding with someone younger and need an easy way to spot them, look no further than this jersey. Whether you're out riding through a dense trail or if they break away from the rest of the pack, you'll be able to spot them—thanks to how easily these colors stand out.
12. Is My Quad Okay? T-Shirt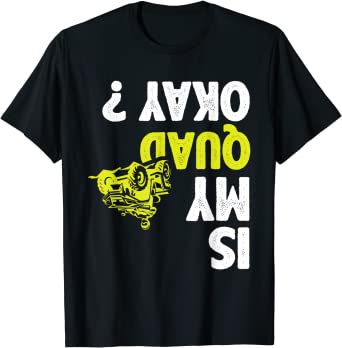 This is one of our favorite T-shirts on this list. A hilarious design makes this a must-have for a youth rider—someone who's, inevitably, going to have a few crashes (hopefully, not upside down) as they work on their riding.