We're just a few days from Christmas. Finding the perfect gift for the children in your family or close circle can be challenging. However, if they're passionate about ATVs, we have just the solution. You may not be able to get your hands on an actual quad, so we looked at alternatives and figured a young rider would be thrilled to represent the community they adore with a T-shirt.
However, there's a massive number of T-shirt options out there; from popular designs to official merchandise—you're never going to be short of options. So, to make things easier for you, we did all the hard work and narrowed it down to the top 12 ATV shirts for kids.
Note: We have posted links to the products we call out here. Some of these products are available on Amazon, where we have an affiliate relationship. If you purchase a kit via these links, we may receive a small commission (at no additional cost to you). This is how we fund our site.
Birthday Boy T-Shirt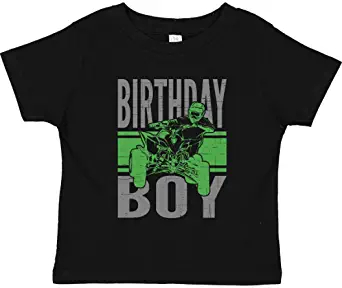 Price: $14.99-$24.99
Where to Buy: Amazon
This T-shirt is probably the second-best thing you can get a young enthusiast on his birthday—the best gift is an ATV itself. Youth ATVs are pretty popular, and nearly every major quad manufacturer out there has a Youth ATV lineup that comprises multiple model lines and versions.
Kawasaki's 2022 portfolio includes the sport-oriented KFX90, while Yamaha's new lineup consists of the rec/utility Grizzly 90 and the YFZ50 and Raptor 90 sports models. That said, one of the more extensive Youth ATV portfolios from a major manufacturer belongs to Polaris. The 2022 Polaris ATV lineup has 4 models for youngsters; these include the Outlaw 70 EFI, Outlaw 110 EFI, Sportsman 110, and the Phoenix 200.
Getting your nephew or a young boy in the family an ATV for his birthday is a huge deal, but we hope he'll appreciate this cool T-shirt just as much.
Roads? Where We're Going We Don't Need Roads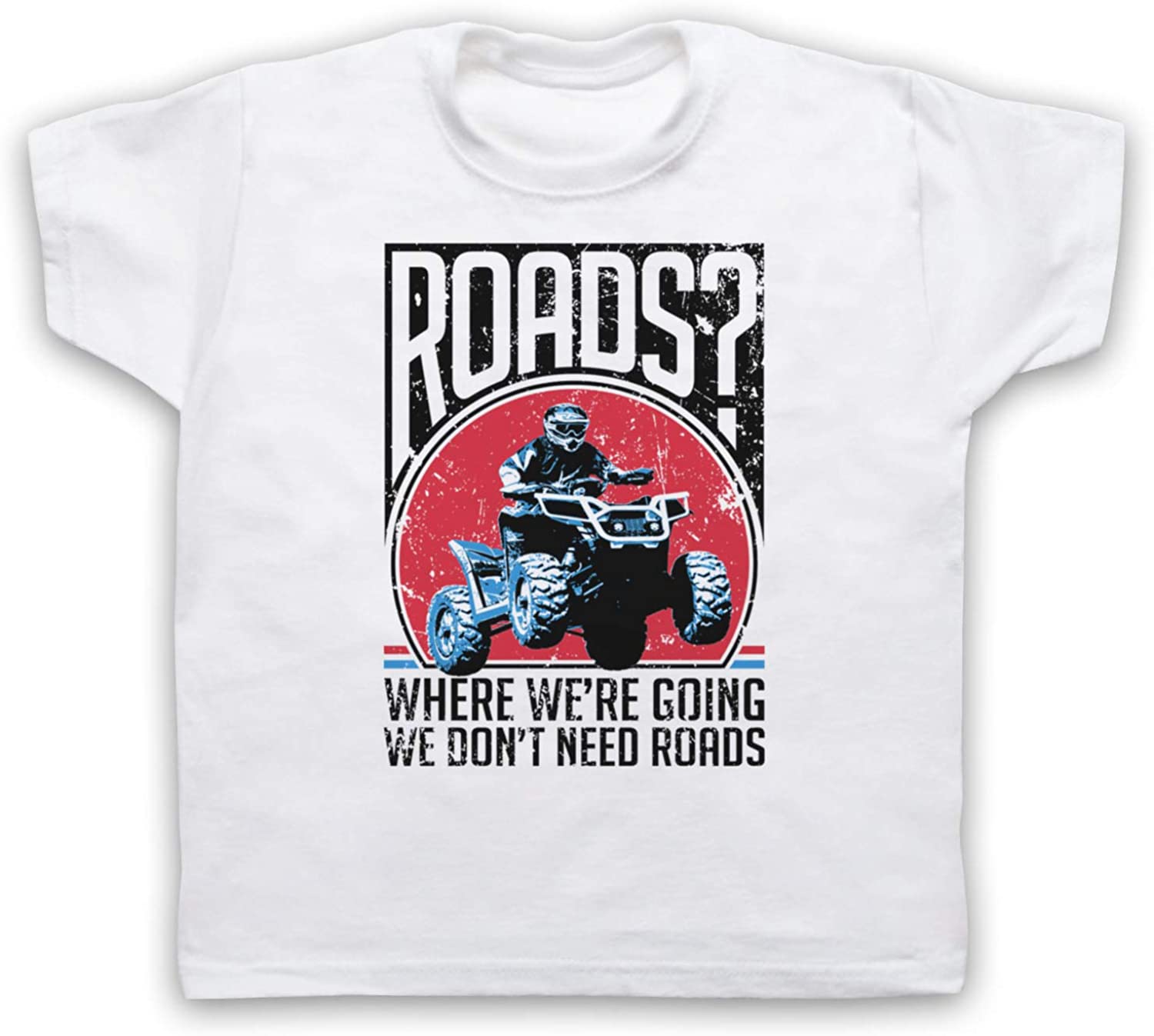 Price:

$24.99+

Where To Buy:

Amazon
For many of the "older kids" (parents) that are reading this list right now, this quote is quite famous from a certain time traveling science fiction trilogy that came out in the 1980s. However, instead of being applied to a flying car, the phrase works extremely well in terms of going four-wheeling through fields and down trails.
We list the price of this shirt as $24.99+ as it is made on-demand by My Icon in the UK, but their worldwide shipping rates are extremely affordable. The shirt also comes in three unisex sizes based on age ranges: 7-8 years, 30" chest; 9-11 years, 32"; 11-14 years, 34" chest.
It is also available in pretty much any color of the rainbow, although if it is going to be worn while actually quadding in the mud, we suggest the black or brown version. Grass and mud stains don't show up as much on those two colors…
I Know I Ride Like A Girl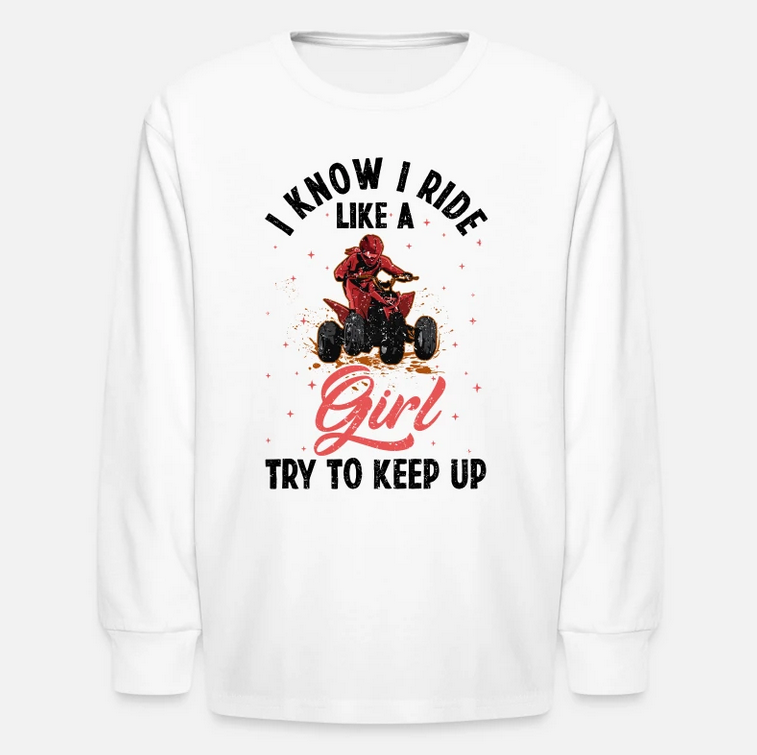 It is a statistical fact that in the past 20 years, powersports have seen a sharp, marked, and welcome increase in women riding both as a hobby and/or competitively. It is our responsibility, as powersports enthusiasts, to encourage the next generation of riders to understand that it doesn't matter if you're a boy or a girl, if you have a gigantic grin plastered to your face under all that mud and dust, then you are welcome to tear it up on four wheels!
Who knows, maybe by encouraging your daughter, niece, or younger sister in their pursuit of our favorite hobby, they may be the next world champion, or win back to back to back motocross or rally-scrambling events like Emily Saieva.
I Am Offroad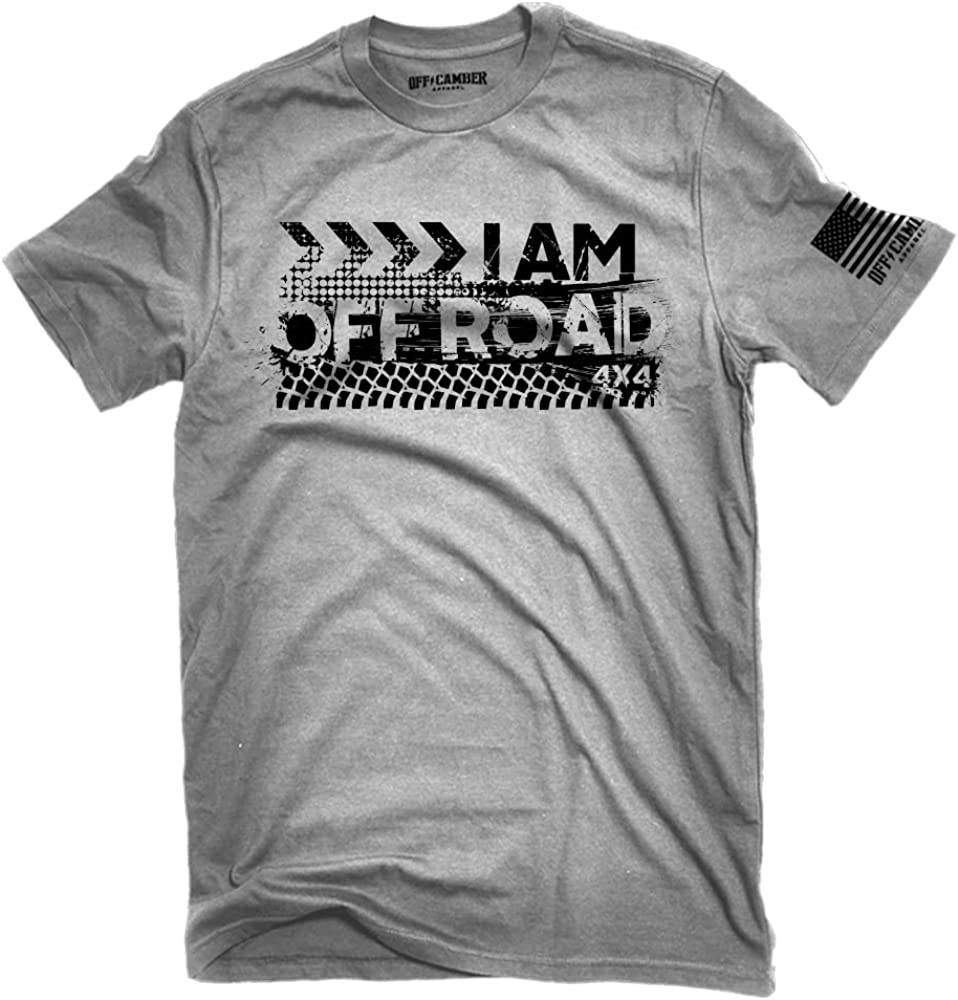 Price:

$14.95 to $19.95

Where To Buy:

Amazon
If ever there was a statement to define the ATV lifestyle, it is emblazoned proudly across the front of this shirt. We, the ATV enthusiasts, are on the road only to get to where we go offroad on four wheels and a brappy little engine! It doesn't need to be a hugely fancy design, it gets the point across as directly and unashamedly as possible.
For the patriotic among you, there is also a US flag on the left sleeve to show where you love offroading! We Americans don't really do subtle so well, so embrace it and go out, get on four wheels, and get muddy!
Weekend Forecast 4-Wheeling With A Chance Of Mud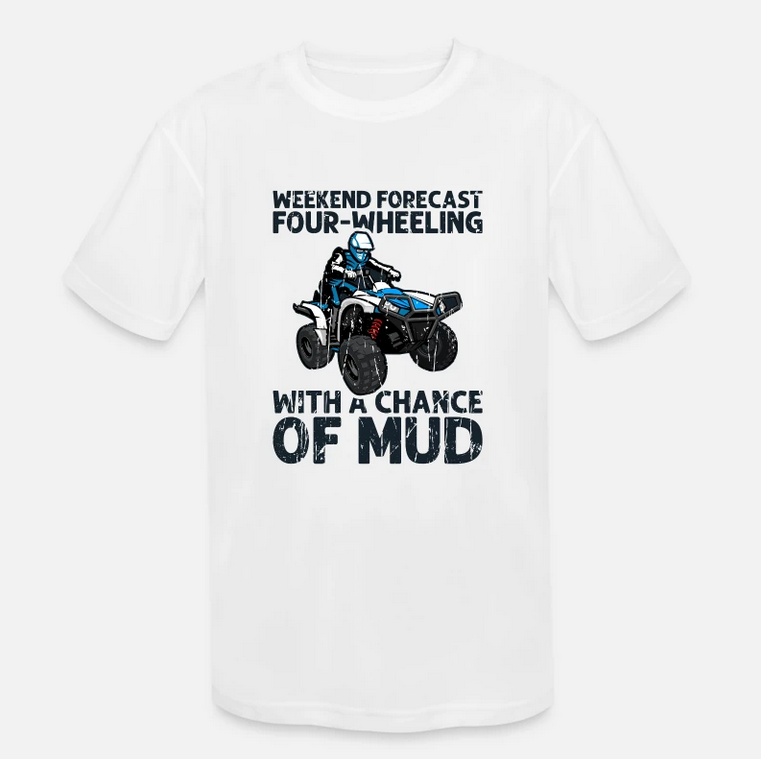 Everyone's favorite forecast! It doesn't matter if it's sunny, overcast, or raining, as long as there are four wheels on unpaved ground, we're happy. If we get a huge grin with that forecast, however, think about what it means to a kid! Guaranteed to get the hype going on the drive out to the off-roading park, with two or three or four ATVs on a trailer behind you.
That's why we love this shirt, it touches upon both the enthusiasm of an actual kid, and our own inner 12 year old going "Yeah! Mud! Woo!" As the saying goes, "if mud ain't flyin', you ain't tryin'!"
Braaap!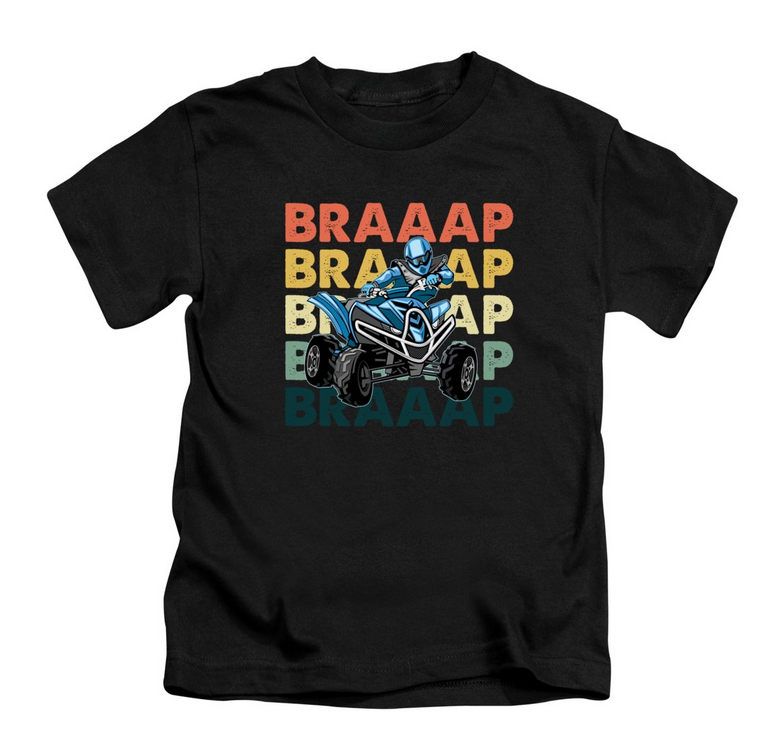 The song of our people. In the interests of explaining it for those new to the hobby, ATVs are not exactly known for being quiet. So if you hear a BRAAAP! echoing out through the fields and forests, often accompanied by a happy hoot or yell, then you should know that an ATV with its rider is approaching. That, or a two-wheeled trail bike, but they get just as muddy as we do so they're fine in our books!
BRAAAAAAAP! 🙂
This Is What Life Is All About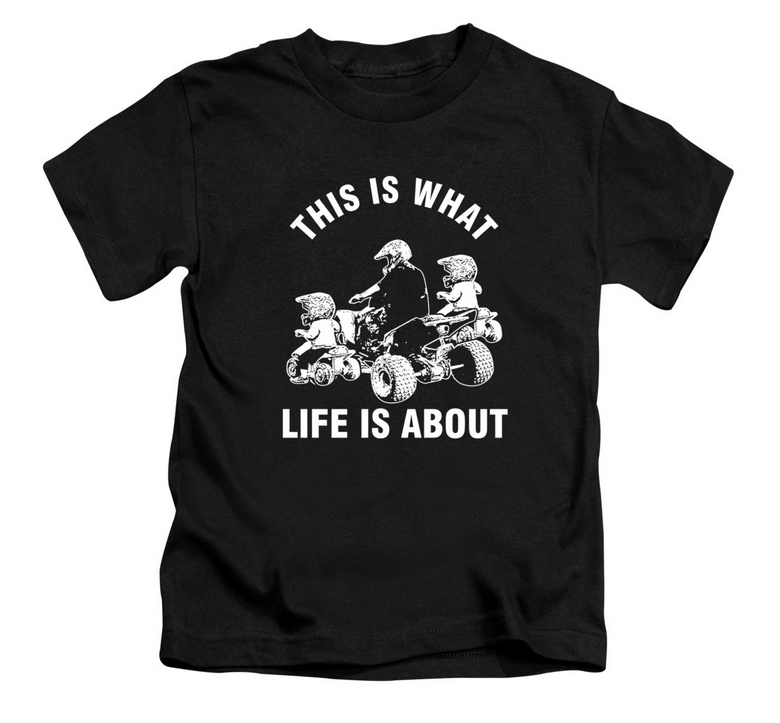 A shirt that is available in both youth and adult sizes, it does highlight the most important thing about ATVs and off-roading, in that if you can share it with family and friends, it is truly what it is all about. Riding with dad or mom is one of the best ways to introduce kids to the hobby once they're old enough to ride. We're pretty sure that most moms and dads would feel a big swell of pride watching their little ones progress and learn all the fun things one can do on an ATV.
We're sure kids would be just as excited to wear this shirt as mom or dad would their adult sized version of it! 
Watch This!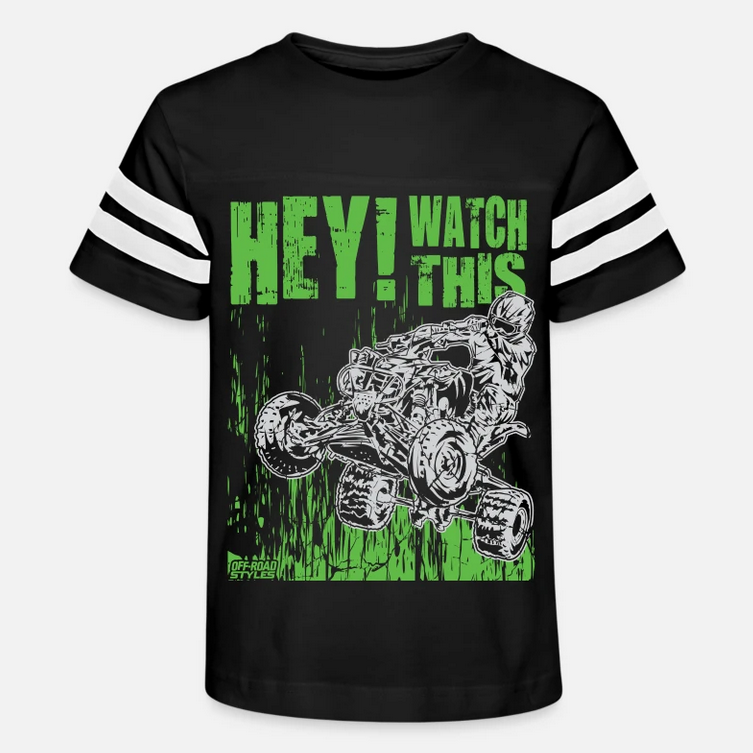 Every ATV rider is guilty of shouting this out to friends, family, or onlookers at some point. It either ends with a round of applause or a lot of sympathetic sounds of "ooooh!" as you tumble off your ATV. 99% of the time, you spring up and raise your arms in the air as if you had landed it with a laugh.
So why not celebrate things with a shirt that screams exactly the same sentiment? While we don't condone your kid catching sick air on their ATV, sometimes things just happen that way after a big shout of "Hey Mom/Dad! Watch this!" Just don't blame us! 🙂
A Little Dirt Never Hurt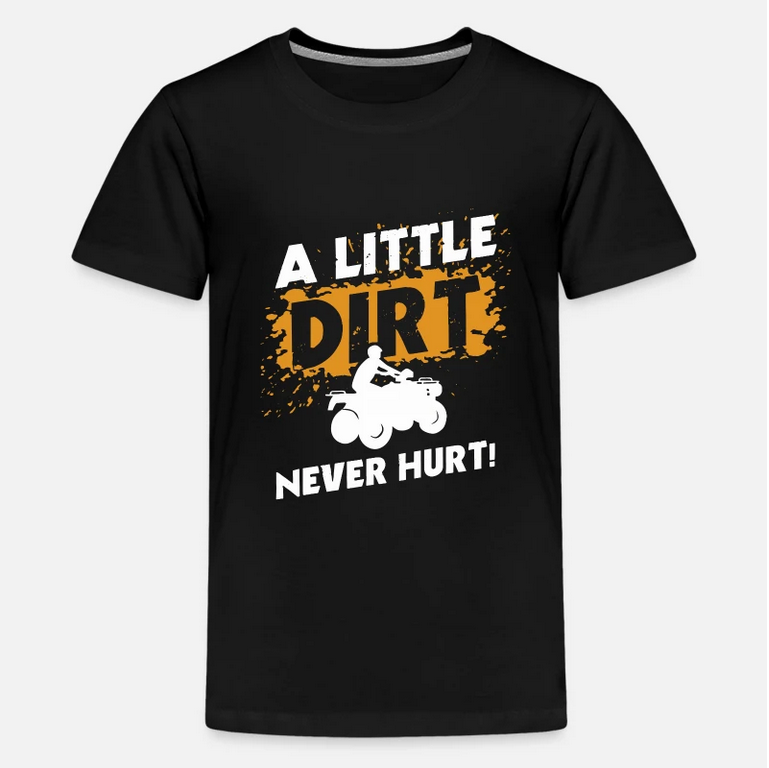 Life is not much fun if you aren't willing to get out there and get a little scraped up, dirty, and have a mean case of helmet hair after a day of tearing it up on a quad. While dirt can hurt if you are launched into it at decent speed, that's why you have armor on over or under the shirt!
In general, though, getting out there and on the ATV will have your pants muddied up, your goggles covered in dust and debris, a branch sticking out of your helmet visor, and your grin plastered onto your face so hard it hurts. It's a statement that lives at the core of every off-roader, because sticking on pavement only is just not fun enough for us!
Is My ATV Okay?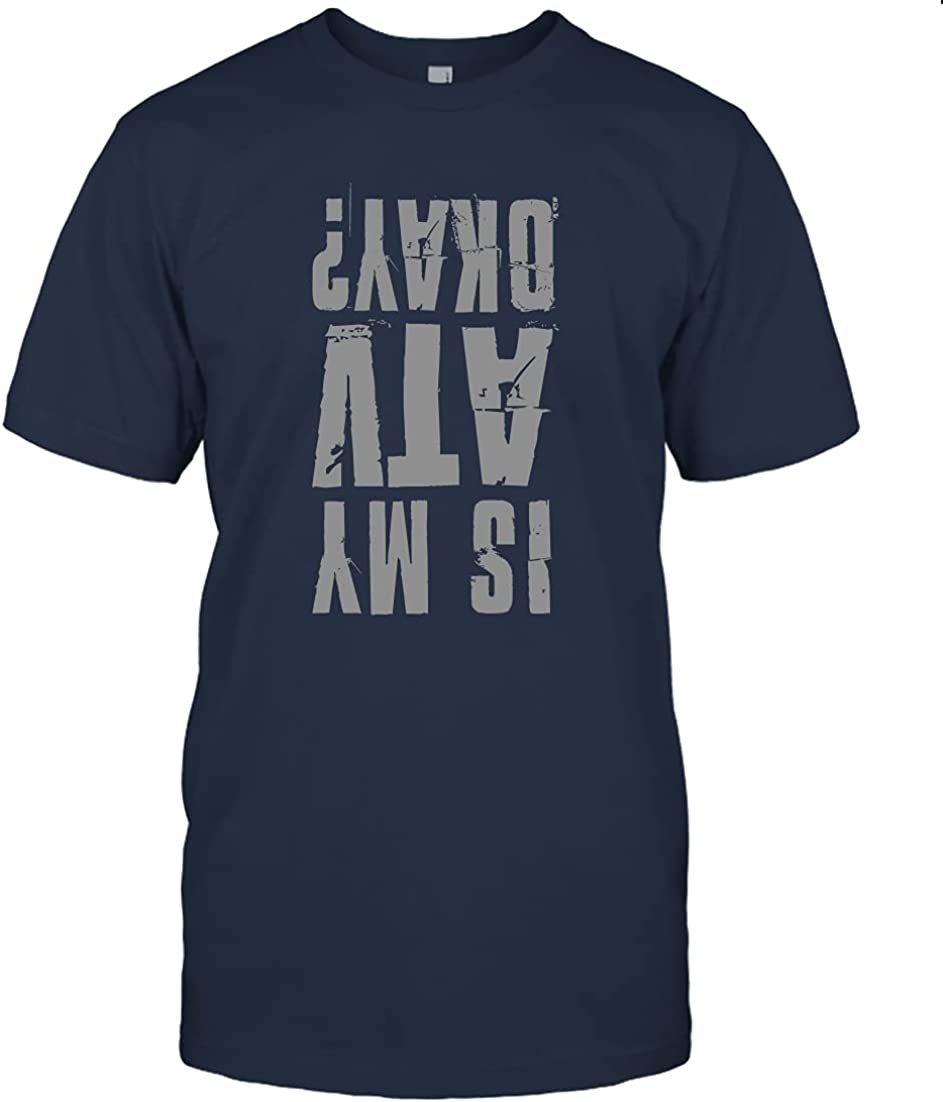 Price:

$20.99 to $24.99

Where To Buy:

Amazon
Let's face it, in powersports, especially off-roading, you are going to come off at some point. That's why this is one of our favorite shirts, especially for the young rider that has a minor crash and their armor (your kid is wearing protective gear, right?) takes the brunt of it. It also encapsulates the tongue-in-cheek humor of the hobby, as the ATV is the second thing anyone checks in a crash, after the rider themselves, and be honest, even after you've come off, you ask the same question!