1156 LED Bulb Replacement Image Gallery
1156 incandescent bulbs work just fine, thank you.
But for the inveterate farkler, everything and anything can and should be improved, changed or customized.
That's where the 18 LED "Tower" style LED bulb replacements come in.
It's a ridiculously expensive modification that is also completely unnecessary and, as we learned, not a simple plug-in.
But, in a bit of what might be called "protruded logic", that makes them all the more desirable. And heck — they look cool!
Would I do it again? You bet! And who knows — maybe they even save a theoretical Watt or three (but only when a turn signal is engaged!).
The 1156 incandescent bulb. Probably the simplest and once the most common turn signal/brake light bulb ever made.
It's simple because it has a single filament that turns on or off, unlike the 1157 with two; one that burns constantly with another that adds to the brightness when the turn signals are engaged.
The 1156 is recognizable by its two evenly-spaced nipples, placed 180 degrees apart on the base. One of those nipples on the 1157 is offset higher so the bulbs can't be mixed in their respective holders.
The basic 1156 incandescent is usually a 21 Watt bulb; the specifications are discussed in the webBikeWorld 1157 and 1156 incandescent motorcycle light bulb comparison.
The 1156 is usually employed in motorcycle turn signals, while some older (and some newer) bikes have the 21W 1156 as an on/off brake light also.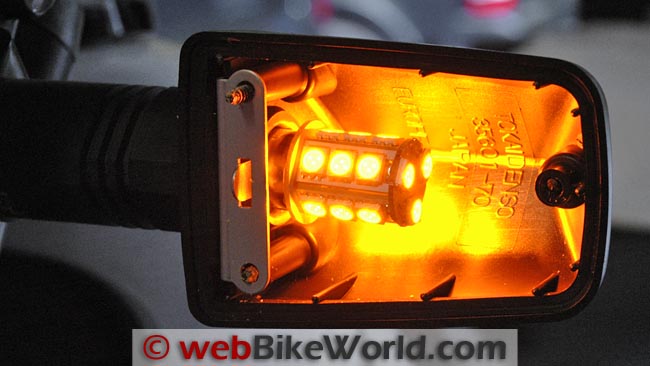 Why Replace the Bulbs?
I've seen dual 1156 bulbs in a tail light assembly; one burns all the time as a rear running light and the other bulb powers up when the brakes are applied. Single 1156 bulbs are also common; many of the older BMW "Airheads" have one in the rear as a brake light only.
Later bikes sometimes used an 1157 variant, which uses one filament for an "always on" running light/tail lamp and the other filament lights when braking.
Those old Airheads, like many other motorcycles, both old and new, also use a 21W 1156 in the turn signal at each of the four corners.
There's also an 1157 conversion kit that, with some extra wiring and a new bulb holder, turns those 1156 turn signals into marker/visibility/safety lights using one of the 1157 filaments, then uses the second filament as the turn signal.
But this violates the webBikeWorld "one job, one bulb" guideline; that is, it's better when a light goes from off to on rather than from lighted to lighted brighter. It helps make the rider's intentions more clear and understandable to other traffic.
For example, a brake light and/or a turn signal should go from off to on, not from on at one luminosoty to on with a brighter luminosity, which is more difficult to distinguish.
Bottom line? The good ol' 1156 has been around forever and it serves well. And, by the way, it's advantageous in other ways because it's cheap as chips, it's available anywhere in the world and lasts pretty much forever.
So why replace it? Good question…without a good answer. But I did, in the interest of science…and for webBikeWorld readers who want to know.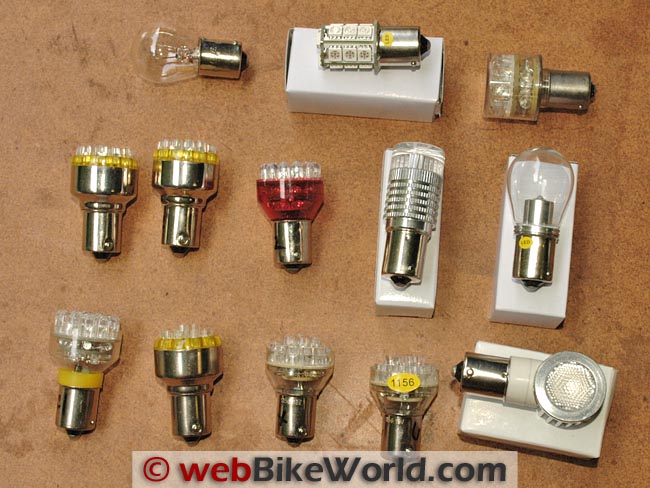 The 1156 LED Bulb Replacement
Modern motorcycles are slowly evolving, with LEDs probably becoming the norm for all motorcycle lighting (possibly even including the headlights as the technology improves).
In the meantime, we've seen "wedge" bulbs, "festoon" bulbs, "twist lock" bulbs and everything in between being used. And yet, that 1156 Old Timer is still in the mix.
For example, the Suzuki DR650 "Budget Adventure Tourer" (blog), this year's webBikeWorld project bike, was chosen partly because of its Old Skool goodness and simplicity. Single cylinder, air cooled, carburetor (remember those?)…and guess what? 1156 turn signal bulbs. How quaint.
So why replace those tried-and-true campaigners with an LED bulb that costs 18 times (no joke!) as much as an 1156? Well, that's sort of like asking a mountain climber why they climbed the mountain: because it's there.
To a true farkler, there is nothing that can't be improved upon. The only place where there might be some disagreement is in philosophy.
There's the cheapskate farkler, whose goal is to make those modifications while parting with the least amount of shekels possible, preferably using home-grown or recycled ingredients.
And there's the "high end" farkler. This is the person for which only the best, highest-tech and most unobtainable (i.e., complex and expensive) modifications that money can buy are desireable.
I'm joking, of course, but that pretty much sizes it up. There's no right or wrong here; no better or worse. It's all part of the fun and excitement of customizing your ride.
So, the challenge was on: how to replace those decidedly old-fashioned 1156 bulbs with high-tech LEDs on the DR650? And just think of the alternator output we'd be (not) saving!
At first, I thought this would be a simple swap. Buy an 1156 LED replacement, plug it in and it's done. Nope. Didn't turn out that way…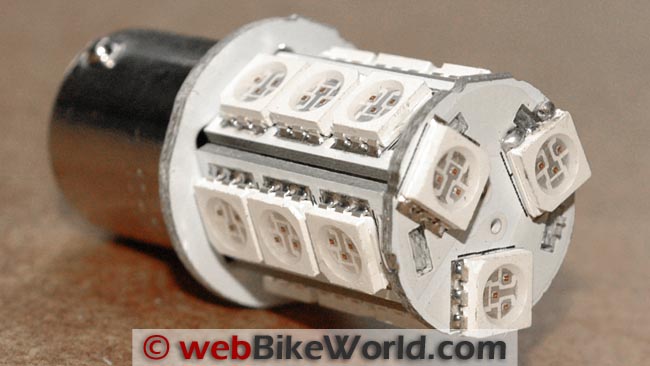 Choosing an 1156 LED Replacement Bulb
First of all, I discovered that many of the 1156 LED bulb replacements I had on hand from previous 
webBikeWorld motorcycle lighting reviews
 didn't work in the DR650's turn signal bulb holders. In fact, only one — the red LED shown in the photo above — actually worked on the DR650.
The reason, as I discovered after my wallet was drained thinner than the single dime left in my pocket, is because most of those LED bulb units are polarized, so the bottom contact must get the power (positive) and the side of the holder serves as the ground or earth.
At least, that's what I was told. And only a few special 1156 LED bulb replacements are non-polarized, so that was lesson number one for me.
Then there's also the problem of shape; that is, making sure the LED bulb replacement will fit inside your turn signal housing. Check both the fit of the bulb with the reflector and when the lens is attached.
The DR650 has plenty of room inside its fairly standard Suzuki off-the-shelf housings, so not really a problem there. Every one of the LED bulb replacements shown in the photo will fit the OE Suzuki signal assembly.
I had one 18 LED "Tower" 1156 bulb replacements on hand; it fit and it was non-polarized. It was a quick plug-in and it looked great when I tried it on one turn signal, so I decided to order more from SuperbrightLEDs, my go-to store for light bulbs.
As it turns out, they now have and they recommend going with an LED bulb replacement that is the same color as the lens you're replacing (unlike in the past, when white was the way to go). Yellow LEDs are now available, so I decided to order four at a completely ridiculous, totally over-the-top $17.95 each (plus shipping!). It is the 1156-x18-T: 18HP-LED BA15S Tower Bulb in Amber.
They also sell a 45 LED Tower bulb replacement, but it seemed overkill for a turn signal and it is shorter and has a larger diameter, so I wasn't sure if it would fit. Also, the extra length of the 18 LED version fits the rectangular shape of the housing and reflector on the DR650.
1157 Tower LED bulb replacements are also available for your brake light (more on this in my recent article on 1157 LED brake lights for motorcycles).
The amber yellow and the 18 LEDs arrayed around the "Tower" really is fantastic. The yellow light really bounces around inside the housing and sends a solid, bright yellow-orange color with the rapid on/off blink you can only get from LEDs.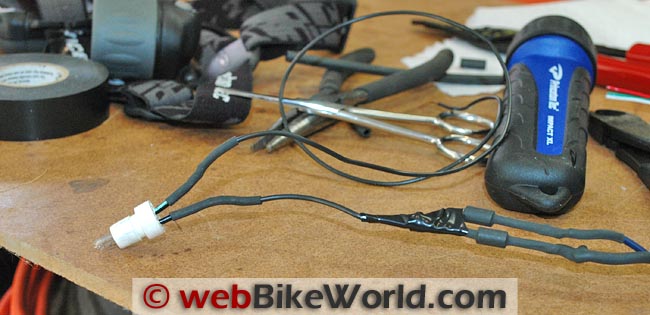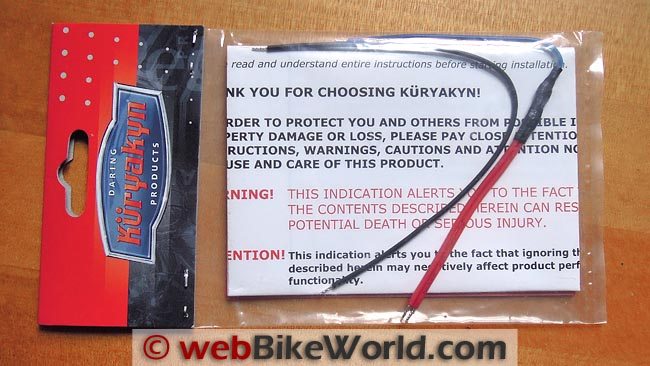 Problems!
Next, I removed the lens from the right front turn signal and popped another 18 LED Tower bulb inside. Turn the key, switch on the turn signals and…both front lights were blinking simultaneously.
Hmmm…isn't that weird!
I tried various iterations of bulbs; I tried replacing all four bulbs; I even tried tracing and splicing the turn signal wires so each light was running independently of the others, but I still couldn't figure it out.
So I sent an email to my LED pusher, Super Bright LEDs, and got a quick reply: I need to install a diode in the system.
I'm a complete tyro when it comes to electricity, but I remember reading about this problem before.
The LED Diode Fix
Apparently, on some bikes, there's a tiny bit of power that bleeds through the dashboard turn signal indicator light and back through to the turn signals on both sides of the bike.
It's not enough power to light up the 1156 incandescent bulbs, but it's just enough power to energize the LED bulbs, which don't need much juice to perk themselves out of slumber.
So a diode or two must be spliced into the line to act as a one-way valve, which prevents the juice from leaking through to the other side.
Or at least that's the way my simple mind understands the problem!
The best description I've seen on this issue and its solution is an article entitled "VTX 1800C Diode Fix" on the "Bareass Choppers" (you read that right!) website.
Read the article slowly and carefully about four times and be sure to study the diagrams and hopefully you'll get the idea.
It's simple, really: all you have to do is add a couple of 3 Amp diodes in the wire leading up to the turn signal indicator light on the dash panel.
On the DR650, you're adding two diodes to the incoming power feed wire that lights the dashboard turn signal indicator light.
One diode is soldered to the power feed wire that goes to the left side turn signals and the other diode is soldered to a line that goes to the right side indicators. So you're making a "Y" connector, as shown in the photo above.
So where does one buy 3 Amp diodes? That's the easy part! You can buy the Kuryakyn Diode Kit(List Price/Street Price $7.95/$6.95), shown in the upper photo above, which is a nice, very slim design, all packaged up and heat-shrinked and ready to go.
Or, if you can't wait, spend $1.69 for the Radio Shack #276-1143 (pack of three 3A diodes) and do it yourself, like me. The results look cruder than crust (as you can see in the photo above), but hey — it works, and my diode wiring mess is hidden under the dashboard anyway, so who cares?
All you have to do is wire the two diodes into the dashboard turn signal indicator light. The striped end on the diode points towards the light. The other ends of each diode are then spliced into the hot lead for the turn signals, one lead for each side of the bike.
One of the nice things about the DR650 is how easy it is to rip apart and get to any of the innards. I pulled the tiny "pea" turn signal indicator light out of its friction-fit socket, cut the wire and spliced in my diode wiring harness contraption.
You can see the turn signal indicator bulb in the photo above, along with the "Y" diode harness (the other black wire is the ground).
I connected everything back together (using a webBikeWorld Posi-Lock kit, of course!), started the bike, switched on the turn signals and — success! The right side blinks separately from the left, and the 1156 LED bulb replacements look great, they really do.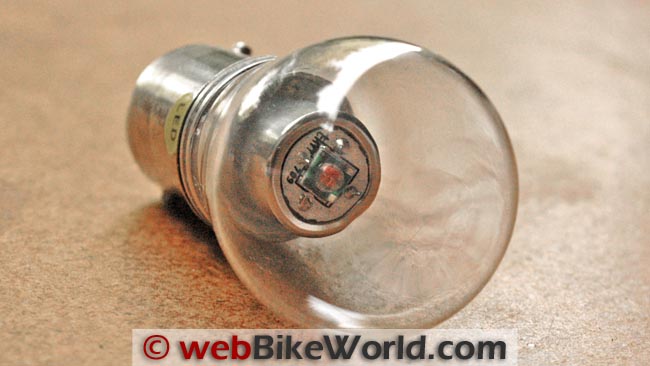 w

BW

 Video: 1156 LED Replacement Bulb
Conclusion
Cheap-Charlie farklers would no sooner replace an inexpensive tried-and-true 1156 bulb with an eighteen-buck LED than they would fill the tank with Premium.
But if you're a light fanatic like me and you want the latest, greatest, best-est and most modern (for 2012, anyway) 1156 LED bulb replacement, then the amber 18 LED Tower is for you.
Forget that it costs a whopping (and, most would say, ridiculously dumb) $77.30 (including shipping) to replace what usually costs 4 bucks for the two pair of 1156 incandescents. I didn't say I was logical — just a fanatic!
I can tell you this: I now have the brightest, yellowest, nicest-blinking, coolest-looking blinkers of any bike in the neighborhood! When I throw the switch, those babies light up like Times Square on New Year's Eve!
And that's the whole idea, right? If my 1156 LED replacements warn off even one headphone-wearing, GPS watching driver who's also texting, talking and munching on a Snickers bar instead of driving, then they paid for themselves in spades.
More information about motorcycle lighting and LED lights can be found on the webBikeWorld Motorcycle Lighting reviews and the LED Motorcycle Lights page.
See Also: 1157 LED Bulb Replacement
w

BW

 Review: 1156 LED Bulb Replacement
List Price (2012): $17.85 each (Part number 1156-x18-T: 18HP-LED BA15S Tower Bulb, Amber).
Made In: Unknown
Colors: Cool White, Warm White, Amber or Red.
Sizes: Various
Review Date: August 2012
Note:
 For informational use only. All material and photographs are Copyright © webWorld International, LLC since 2000. All rights reserved. See the webBikeWorld® 
Site Info page
. Product specifications, features and details may change or differ from our descriptions. Always check before purchasing. Read the
Terms and Conditions
!
Owner Comments and Feedback
---
From "M.B." (February 2013): "V-Star 650s are rather notorious for having very little in the way of electrical "head room." When the temp is below 53 F, the carb heaters kick in, pushing total draw up to 230+ Watts. The stator, at idle, only puts out 165 Watts.
The first thing I did was buy 1157 LED Towers to free up 14 or so watts the running lights ate up. The LED Towers worked great, and throw off just as much light as the old bulbs. Except the flasher relay was not happy. Superbrite sells an electronic flasher in three flavors that will operate normally even with a mere 0.05A being drawn. LF1-S-PIN is the model I bought.
I modded the plugs to blade instead of bullet connectors to fit the Yamaha's harness. On the Star, one simply unplugs the stock flasher and connects the LF1 to the harness as follows: gray to brown, black to brown/white. The turn signals flash normally, I've got a little less power being drawn, and I don't have to worry about a resistor melting anything.
Next up: mounting two waterproof LED strips to the windshield of my Star to increase my visibility. Since the reviewer in question is already a little cracked, how about installing a Whelen Engineering LIN3 Series Super-LED
 in as a brake light on the DR? They run $54 and can be used to signal small moons in an emergency.
Quite a few people have already used them by the number of YouTube videos popping up. Most notably on Gold Wings, but I've even seen customized Harleys with ground effects lighting use LIN3 units as brake lights.
They're intended for use in law enforcement vehicles, so they're bound to be durable enough for the DR. Thanks for running one of the more informed (and honest) reviewing sites I've come across!"
---
From "J.R." (August 2012): "Another way to stop the power that bleeds through the dashboard turn signal indicator light is to use a led bulb with a built in current limiting resistor and diode for the turn signal indicator light. I fixed a similar problem with my BMW F650 GS with a LED bulb from Super Bright LEDs for my dash light."
---
From "D.W." (August 2012): "Interesting review! I have one of the cantankerous CAN BUS BMW's (K1200r) and have problems swapping bulbs. And idea if these will trip the bus logic? I love LED's, just can't bring myself to pay the $60 a pair for the set that I know will work (forget the name, stocked at the BMW shop)."
Rick's Reply: Anyone know what the magic is to using LED bulb replacements on the BMW CAN BUS system?
From "D.R." (August 2012): "In response to D.W. comment above: CAN BUS Compatible LED's can be had at suberbrightleds.com. They appear to only be available in "wedge base" at this time, however as these are new products on the market (I was told this when I inquired about them) I am sure more base styles are forthcoming.
These "wedgies" work great in my turn signals on my BMW K1300S. The 13 LED amber ones work/fit as turn signals, while the 5 LED natural white ones work great as a license plate light. These LED turn signals retain the standard OEM blink rate too. I do not work for superbrightleds or anything, just a satisfied consumer."