Liquid Performance Motorcycle Chain Lube
wBW Quick Look by Glenn W.
More: 2010 Chain Lube Comparison | 2008 Chain Lube Comparison | wBW Reviews Home | Owner Comments (Below)
Introduction
The last two comprehensive motorcycle chain lube reviews were published on webBikeWorld in the 2010 Chain Lube Comparison and the 2008 Chain Lube Comparison.
A total of 20 different chain lube sprays, waxes and grease formulations were reviewed individually in those two articles.
There are plenty more chain lubes available for review and more coming all the time, so we added a new 2011 category to the 2010 Chain Lube Comparison summary tables.
Those tables compare the various criteria for motorcycle chain lubes and the article also contains an explanation of the criteria.
A new entry for 2011 is the Liquid Performance Chain Lube, which was suggested by several webBikeWorld visitors as a good candidate for a follow-up.
This isn't the first Liquid Performance product reviewed on webBikeWorld; the Liquid Performance cleaning and polishing kit (review) was described in an article back in 2007.
Liquid Performance is based in Rocky Mount, Virginia (U.S.A.) and their product line of motorcycle cleaners, polishes and other formulas has expanded quite a bit over the last few years, so the Liquid Performance Chain Lube is a natural fit.
I interpret the mumbo-jumbo marketspeak in the Liquid Performance "About Us" section as telling me that the company doesn't actually manufacture the lubes and chemicals they sell. They appear to be a marketer and co-branding organization as far as I can tell.
It gets more difficult to figure this out all the time -- several very well-known motorcycle-related brands are simply made-up marketing names that sell products made by anonymous factories in Asia and elsewhere.
Now there's nothing wrong with this method of operation in theory, I suppose, and I'm not saying Liquid Performance is in that category. But it would be nice if all the cards were laid on the table, so to speak, for everyone to understand what's up.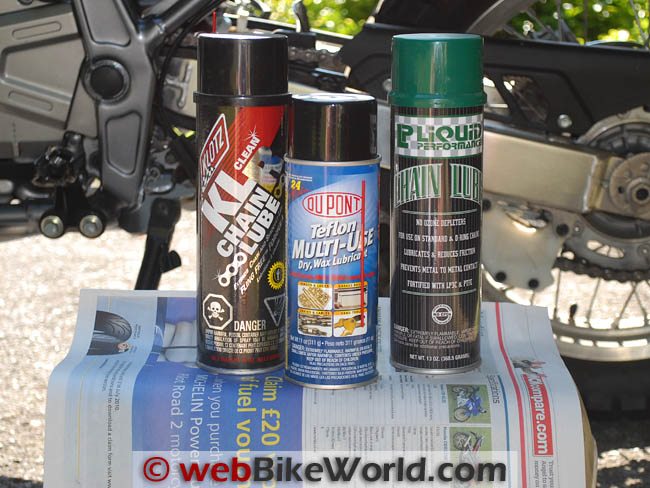 Liquid Performance Chain Lube
Anyway, there's good news about the Liquid Performance Chain Lube, so hang with me.
The product comes in a 13 oz. can (not 14 oz. as claimed by some retailers) and the price is reasonable at a list of $9.95. It can be found discounted slightly to around $8.95, making it even more of a bargain. At the list price, Liquid Performance Chain Lube costs $0.71 per ounce, which puts it in the top three (or bottom three) in terms of best cost per unit in the 2010 Chain Lube Comparison.
DuPont Teflon Chain Lube (review) is still the all-time favorite and the benchmark around here, simply because it works, with a dry no-stick coating, it's available just about everywhere and it's cheap. The Original Bike Spirits Chain Lube (review) was the 2010 shootout winner and the Klotz KLR (review) was the 2008 winner.
The Liquid Performance Chain Lube marketing blurb says that the product "creates a dry film that seals the chain with a combination of LP3C, molybdenum and PTFE..." If Teflon is good, then Teflon plus moly is even better, no?
As we all know, PTFE is Teflon (Polytetrafluoroethylene Wikipedia entry) and molybdenum is that cotton-mouth sounding slippery stuff required for BMW spline lubes (article). LP3C is the unknown here; apparently it's some type of additive known only to Liquid Performance, because my searches have come up empty otherwise (Update: See K.G.'s comments below).
Nevertheless, the stuff works, and I really like it. I haven't personally used the Original Bike Spirits lube but I do have a can of Klotz KLR and I also used the benchmark DuPont Teflon Chain Lube to run some comparisons with the Liquid Performance Chain Lube product.
The bottom line is that I'm very impressed with the Liquid Performance Chain Lube. It has a strong sprayer -- although my can did not come with the red tube needed to focus the spray, and it doesn't appear to me that any of the cans in the shop where I bought it have the tube attached? I ended up using the spray tube from the Klotz KLR can, which is attached to a clip on the can top.
You can tell right away (and from the photos) that the Liquid Performance lube contains moly -- it has that dark telltale color. Molybdenum disulfide -- which is usually how it's distributed for motorcycle lubrication use -- is one of those formulas that seems to coat everything and anything, including your fingers, hair and clothes, as soon as you open the bottle.
No problems here though; just keep the sprayer pointed in the right direction and you'll be fine. The formula comes out wet, which allows it to instantly cover and seep into the chain plates. It dries within about 30 seconds to form a nice coating on the chain links that isn't sticky but has a certain feel to it that leads one to believe that the chain is now lubed and protected.
The coating is dry enough that it does not seem to pick up any extra dirt or grit when riding. I'm kind of surprised that something wasn't mentioned in the original Klotz KLR review about the stickiness of that lube. I'm not sure if the can I have is a different formulation or if the formula was changed since 2008, but my Klotz KLR seems a bit sticky, which really isn't a problem but I do think it attracts a bit more dirt and grime than the drier Liquid Performance lube.
The Liquid Performance Chain Lube is claimed safe for use with O-rings. They also claim that it contains no CFCs or ozone depleters and that it "leaves a flexible film that repels dirt and water as well as providing protection from rust".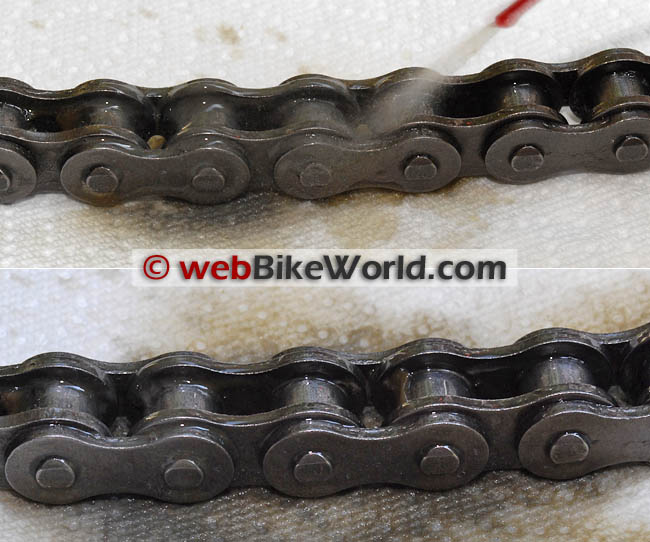 Liquid Performance Chain Lube sprays on as a liquid and has a dark molybdenum additive.
Conclusion
I really like the Liquid Performance Chain Lube. It's relatively inexpensive, it comes in a big 13 oz. (368.5 grams) can, it's easy to apply with little waste or overspray.
It comes out as a liquid and coats the chain links and gets down in between the side plates, but then it quickly dries into a sort of dry waxy coating that can be felt but doesn't attract dirt. I can highly recommend it and, in fact, I'd say it's the current chain lube to beat.
Motorcycle Chain Lube Comparison Reviews: 2010 Chain Lube Comparison | 2008 Chain Lube Comparison
Chain Lube Reviews: Liquid Performance Chain Lube | Castrol Chain Wax | Elf Moto Chain Lube | Elf Moto Chain Paste | Gel Lube | Klotz KLR | Klotz Extratac | Maxima Chain Guard | Motorcycle Stuff Chain Lube | Repsol Moto Chain Lube | TS-801 Dry Film Moly | TS-804 Chain and Cable Lube With Moly | Motorex Grease | Maxima Grease | Torque Tight Torque Grease
Motorcycle Chain Lubes: DuPont Motorcycle Chain Lubes 2012 | DuPont Chain Saver Motorcycle Chain Lube | Alisyn Synthetic Chain Lube | Permatex Chain Lube | DuPont Teflon Chain Lube | Motul vs. Motorex vs. Kerosene Chain Cleaners | MFR Motorcycle Chain Lube | PJ1 Blue Label | Motorex Chain Lube 622 Strong | Mr. Moto Chain Lube | Bel-Ray Chain Lube | Mr. Moto Cleargoo Chain Lube
Motorcycle Chain Oilers: Scottoiler vSystem California Spec Chain Oiler | Scottoiler eSystem Motorcycle Chain Lubrication System | Scottoiler Review and Installation on a BMW F800GS | Cameleon Chain Oiler
Motorcycle Chain Cleaners: DuPont Motorcycle Degreaser | Tirox Chain Cleaner System | Chain Drain Chain Cleaning System | Grunge Brush | Chain Cleaner Redux: Motul vs. Motorex | Motorex Chain Cleaner 611 | Kettenmax Chain Cleaner | Moose Chain Cleaner - Scrubber
Motorcycle Chain Maintenance: How to Clean and Lubricate a Motorcycle Chain | Ducati GT1000 Chain Adjustment | Replacing a Motorcycle Chain Sprockets | Motorcycle Chain Adjustment - Triumph Tiger
Motorcycle Oil: Flo Reusable Stainless Steel Oil Filter Review | Motorcycle Oil Reviews
Publication Date: August 2011
Note:
For informational use only. All material and photographs are Copyright © webWorld International, LLC since 2000. All rights reserved. See the webBikeWorld®
Site Info page
. Product specifications, features and details may change or differ from our descriptions. Always check before purchasing. Read the
Terms and Conditions
!
Please send comments to
Comments are ordered from most recent to oldest.
Not all comments will be published (
details
). Comments may be edited for clarity prior to publication.
---
More comments also on our 2008 Chain Lube Comparison home page.
From "J.D." (September 2012): "I bought some of the DuPont Chain Saver in the squeeze bottle and after two lube sessions, I must give it a thumbs down. Excessive waste from the too large orifice.
After cleaning the Benelli chain, I used the Liquid Performance spray and was immediately impressed. It went on with no overspray and not a bit has soiled the Brembo wheels. And it appears to stay much cleaner than even the original DuPont spray. I recommend the Liquid Performance lube. Five Stars."
---
From "L.D." (August 2011): "I have requested you review Liquid Performance a couple times over the last couple years. It's great to see that you reviewed it and like it!
If i understand your conclusion you prefer it to even the DuPont (which I keep on hand too), wow! I love the fact that the Liquid Performance lube not attracting dirt lengthens the time intervals between chain cleanings. I still lube it often, I just don't have to break out the toothbrush and kerosene as often."
---
From "K.G." (August 2011): (Regarding the "LP3C" ingredient) "I believe LP3 is tradespeak for liquid polysulfide polymer product. "C" is probably for cleaner."