BurnsMoto USB Chargers
BurnsMoto Dual-Port USB Chargers for Motorcycle Use
by H.B.C. for webBikeWorld.com
More:
▪ wBW Reviews Home
▪ Owner Comments (Below)
See Also:
▪ 3BR Power Ports, Connectors and Cables Reviewed
▪ BurnsMoto Waterproof USB Port Review
Summary
The BurnsMoto dual-port USB chargers in this review are well made, easy to install and economically priced -- what more could one want?
Of the three products reviewed here, only the hard plastic mounting bracket that is included with the rectangular dual-port charger failed.
Not a big thing in the overall scheme, but still frustrating and something that could and should be rectified.
The 2.1A charging output of the dual-port chargers is appreciated, particularly for newer and larger phones, phablets and tablets.
But the limitation is that when using both ports, each port has a 1A maximum output, just something to be remembered.
All three dual-USB ports have nice soft or hard plastic weather-resistant caps.
However, once the covers are removed to access the USB port, the weatherproof aspect is seriously diminished...or could be, depending on where the outlets are installed and oriented on the motorcycle.
This shouldn't be a problem though, as long as you don't charge your device while it's raining.
Some manufacturers offer truly weatherproof USB cables or covers for USB ports that are indeed waterproof when a cable is connected to the port, something that would really enhance the BurnsMoto products, even at some additional cost.
The BurnsMoto dual-port approach is a good one, however, and despite the observations and limitations, the BurnsMoto USB chargers reviewed here are excellent value.
They should also provide long-term service in keeping the essential devices fully charged for motorcycle use.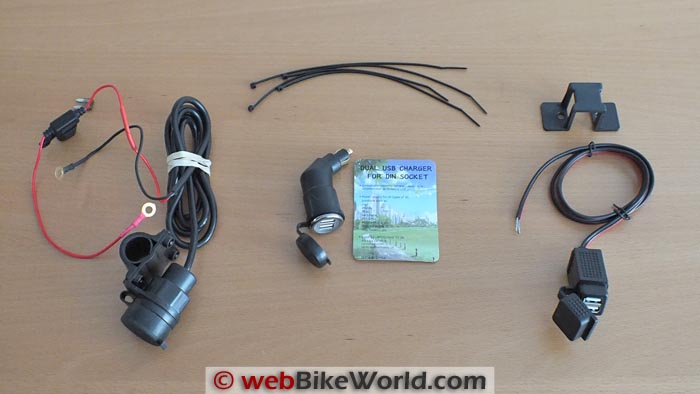 Burns Moto dual-port USB charger handlebar/flush mount (L); DIN plug-in mount (C) and Flush Mount square charger (R).
Introduction
In the space of about three years -- give or take -- weíve gone from having limited choice regarding USB charging outlets suitable for installation and use on a motorcycle to a product array of many choices. However, I will also acknowledge that many competing products of different brands seem to be cut from the same mold or made by the same manufacturer and globally sourced.
Due in no small part to the fact that virtually every one of our electronic devices and toys that we have and rely on today uses some form of USB interface for charging or connecting, motorcyclists now demand the ability to charge those treasured devices while moving down the road.
Even better is that many of those devices (e.g., radios, communication systems, GPS, etc.) can be used concurrently while they're also being charged.
The original webBikeWorld BurnsMoto Waterproof USB Port review of single-port USB outlets was done way back in June of 2012. Since then, a number of related reviews and product reviews have identified the many types and applications of USB and related charging ports for motorcycle use. In fact, a personal favourite of mine is the 3BR Power Ports, Connectors and Cables reviewed in July of 2011.
Virtually all of the 3BR USB chargers in one form or another have been installed on my home fleet of motorcycles. Most of these USB chargers feature at least two ports: one usually handlebar-mounted and one mounted in a panel. To say they get used a lot is an understatement.
But, I didnít have anything in the way of a dual-USB port configuration...at least not until the Editor sent up a small package containing the three BurnsMoto USB products that are the subject of this review.
This provided a timely opportunity to revisit the BurnsMoto products and in the process, to get them installed on the motorcycles just as the riding season was kicking into higher gear, with memories of a long hard winter and wet spring fading slowly away.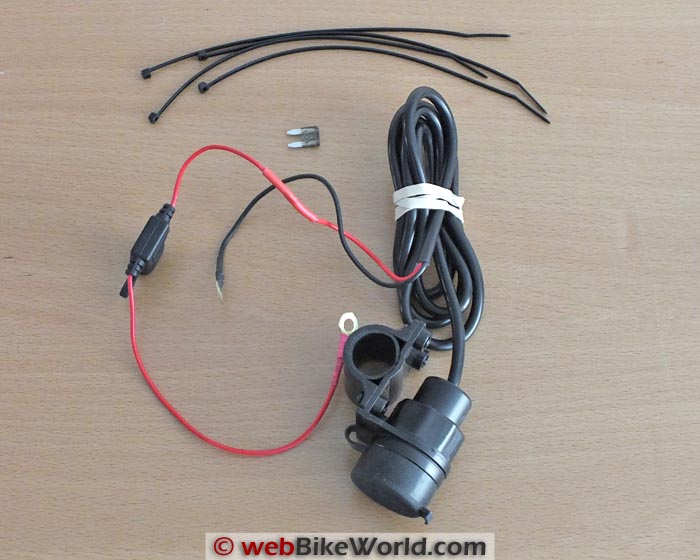 BurnsMoto round dual-USB port handlebar mount kit can also be flush-mounted with the handlebar bracket removed.
BurnsMoto Dual-Port USB Chargers: Overview
Like most standard USB charging outlets that are available today, the BurnsMoto dual-port USB chargers utilize a USB "A" port, but now in a dual-port housing that wisely addresses the possible requirement to charge multiple devices.
And while the dual-port housings are typically larger than other types, two ports is always better than one, right? Well, sometimes; more on this later.
The three BurnsMoto USB chargers in this review include:
The BurnsMoto dual-port USB round housing charger for bar clamp or panel mounting, with a 56 inch lead with an in-line mini-fuse holder and round battery connection terminals (list price: $30.00).
The BurnsMoto dual-port USB rectangular housing charger with a 60 inch lead terminating in bare wires, automatic fuse feature and, a hard plastic U-bracket mount (list price: $26.00).
The small BurnsMoto DIN 4165 (BMW type) plug charger with dual USB sockets (list price: $19.95).
The BurnsMoto USB outlets provide the (newer) 2.1A charge rate standard that allows maximum rate charging of virtually any phone, phablet or tablet on the market today. This compares with the original 1A charge rate standard, which only charged a device at a certain percentage of the maximum rate.
However there is a limitation that must be appreciated; even though the maximum charge rate is 2.1A, this only applies when one port is used, so when both ports are used, the maximum for each port is 1A.
Water Resistance
Despite their robust design, the BurnsMoto USB ports are classed as "water resistant" only, not waterproof or submersible and no IP rating is identified. Depending on how and where the outlets are mounted and when used, this could be a limitation. So it's probably not a good idea to charge your device while it's raining; otherwise, this shouldn't be a problem.
In general, the three BurnsMoto USB outlets are representative of the variety of USB outlets available to motorcyclists and other power-sport enthusiasts, with virtually something for anyone and any application.
General Specifications
The general specifications of the BurnsMoto USB dual-port chargers include the following:
Output: USB power requirements of DC 5V ± 0.25 at 2.1A max output.
Dual (2) USB power outlets, Type A (2.1A maximum or 1A per port with concurrent use).
Water resistant; not water immersible.
Blue indicator light (when voltage present).
Handlebar, flush mount, bracket mounting or portable harness options.
Battery terminal, bare wire or DIN4165 plug connection options.
While all three of the dual-port USB chargers provide the same basic features, they do vary regarding form and fitment. Accordingly, each of these is discussed under its own section below for more detail and to facilitate comparison.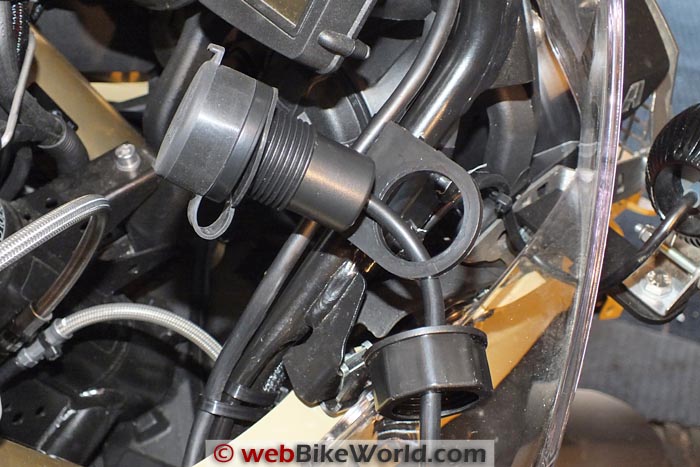 The round dual-port USB with mounting bracket and threaded nut.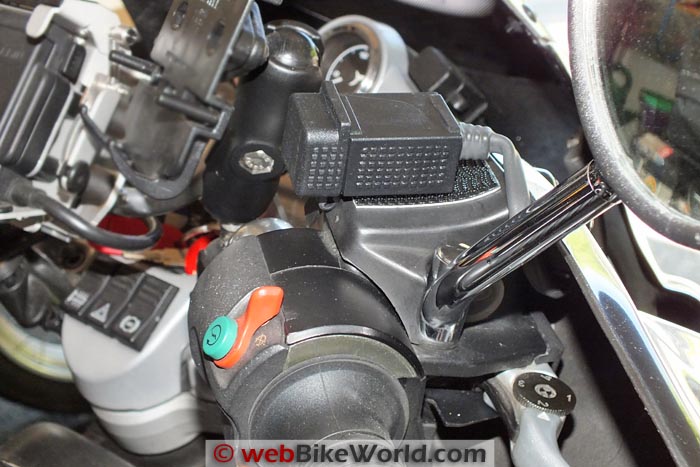 BurnsMoto square dual-port USB charger mounted using 3M Dual Lock (see text).
The BurnsMoto Dual Port USB Charger for Handlebar or Flush Panel Mount
For many applications, the BurnsMoto "Motorcycle, ATV, Golf Cart -- USB Weatherproof Bar Clamp or Panel Mount 2.1 Amp Dual Port USB Charger with Battery Terminals" will be the preferred model, as it provides a relatively easy handlebar, frame or accessory-point mounting solution.
The round, heavy-duty, all-weather housing of this round dual-port USB charger is 2.5 inches tall with an approximate 3/8 inch threaded diameter and the plastic nut is 1-1/8 inches in diameter. The 90-degree light metal housing bracket is the back of the clamp bracket and it measures 1.5 inches by 2-1/8 inches with a cut-out to accommodate the housing.
Initial installation of the handlebar/panel mount product was undertaken on a 2014 BMW F 800 GS Adventure that already had two single-port 2.1A 3BR brand USB outlets mounted on the left and right sides of the handlebars.
One of these is pretty much dedicated to powering the first generation Nexus N7 tablet (see the webBikeWorld article Using a Tablet as a GPS Navigation Device) when mounted in its RAM cradle.
And this is where the physical size of the dual-port housing becomes an issue depending on the desired mounting point; it wasnít going to sit well on the crowded handlebars, even if the other USB outlets were relocated. But the solution is clamping it to the left- or right-side front frame tubing, just behind the lower edge of the windscreen.
Considering other things, I went with a right side placement. Starting the small short screws into the recessed nuts on the back of the clamp takes multiple fingers, or small pieces of Gorilla tape are used to hold the nuts in place. But once the nuts are started it is easy to then position the bracket in the desired position and then feed the lead and round USB housing in from the top through the cut-out with the plastic nut threaded on from the bottom to secure the housing to the bracket.
This multi-part assembly is what allows the threaded USB housing and nut to be used in a flush or panel mount configuration as an installation option -- all good.
The harness runs down along the frame tubing back to the battery box area to co-exist with the wiring of all the other accessories managed by the Dispatch 1 Motorcycle Power Distribution System (review).
Small zip ties secure the lead to the frame tubing with adhesive cable holders on the inside of the side fairing pieces, providing secure routing of the harness the rest of the way. As the distance from the windshield area to the battery box area is short, almost half the long harness was cut off to minimize wire bulk.
Red 18-24 gauge Posi-Lock connectors (available here) make the Dispatch 1 power lead connections. Needless to say, all the wiring in this area is arranged to still allow relatively easy access to the air box cover.
As located on the right side just behind the side flare of the windscreen the component is easily accessed (while the bike is stopped, of course) and a sturdy pull on the heavy-duty weather cap of the BurnsMoto charger reveals the two ports. Once the weather cap is removed however -- as happens when the USB connectors are in use -- weather protection, especially moisture related, is greatly diminished.
This is where the 3BR outlets, when combined with the 3BR weatherproof (TAPP) caps or covers for the connecting cable, have a clear advantage in providing a near waterproof seal even under extreme weather conditions.
But on installations where the housing is protected and oriented to minimize frontal exposure, the BurnsMoto USB outlets can likely be used under most riding conditions. And having two outlets, appreciating the output limitations identified earlier, is an appreciated feature.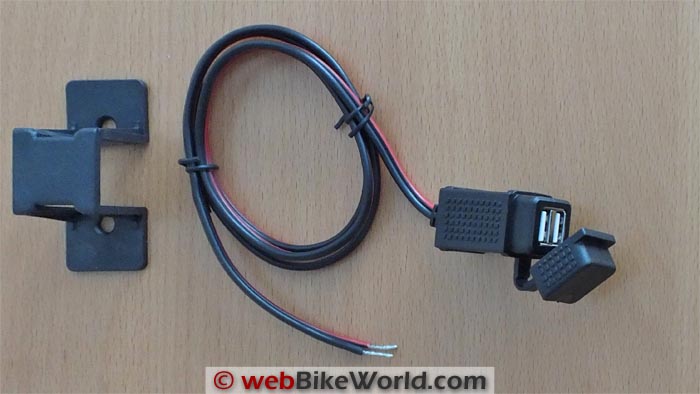 BurnsMoto weatherproof dual-port USB charger with mounting bracket includes a built-in automatic fuse feature.
The BurnsMoto Dual Port Charger Socket with Bracket
With the same basic technical specifications of the clamp or flush mount device, the main differences in the rectangular-shaped dual-port BurnsMoto USB charger is a slightly longer harness with bare leads, an automatic fuse feature, a weather proof "Zippo Cap Design" cover and the plastic U-bracket.
The housing measures 1.0 x 1.18 x 1.92 inches with the sealed lead exiting the back of the housing.
Many mounting options are possible using the basic housing secured directly to a mounting point or using the hard plastic U-bracket housing. Unfortunately, the housing didnít survive my initial inspection and handling. In gently pressuring the side walls of the bracket away from the USB housing to separate the two components, the hard plastic bracket broke in half. It is very brittle with little give.
Oddly enough, Iíve had this happen once before with an almost identical bracket on another product...hmm? And after two attempts to re-bond the pieces, the broken bracket was put aside.
So another option was brought into play with my 75th Anniversary BMW R 1100 R becoming the new host. Two placements, both using 3M Dual-Lock adhesive (available here) pieces, provided good solutions.
One has the BurnsMoto dual-USB housing secured to the top plastic cover of the front brake reservoir and the other has it secured to the right top edge of the instrument pod and out of sight except to the rider.
For the front brake, mounting the harness is tucked inside the hand guard and runs down along with the right side cables and wire harnesses to a point behind the small fairing and a previously positioned 5A switched outlet from a Gen 1 PDM60 solid state power management module residing under the seat.
Running the lead the short distance from the instrument pod placement to the 12V DC source behind the fairing was even easier. And in either position the hard cover cap can be removed with a firm pull to provide easy access to the two ports. A bit of common sense cable management keeps everything tucked out of the way of controls or the rider.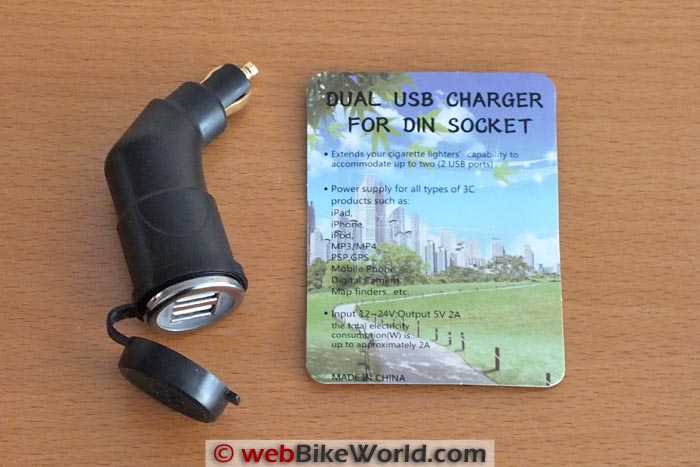 BurnsMoto plug-in Dual-Port USB Charger DIN Mount for BMW outlet.
The BurnsMoto DIN 6145 (BMW) to Dual USB Charger Socket
This compact BurnsMoto dual USB charger is very functional and very useful. It's also easily carried in a pocket or compartment on the motorcycle ready for immediate use.
Dual USB ports are covered by a hard plastic weather cap and the charger is simply plugged into an available BMW outlet socket and the devices to be charged connected to one or both of the USB sockets.
For portability, this is the way to go, and the small BurnsMoto dual-port adapter now joins an older short lead single port adapter that is always packed, no matter the mode of travel; neither piece takes up much space -- keep them close at hand.
web

BikeWorld

Overall Opinionator: BurnsMoto USB Chargers

Picks...

...and Pans

Heavy duty design and build.
Dual-port configuration.
Long leads facilitate installation.
Terminal and bare wire options.
DIN 4165 variants available with 12 or 36 inch leads.
2.1A charging output.
Heavy-duty weatherproof caps.
Economically priced.

Each port limited to 1A maximum with concurrent use.
Decreased weather protection once the caps are removed.
Just water resistant, not waterproof.
No accessories to provide better protection in wet weather.
Conclusion
Thankfully, industry has responded to the explosion in the use of USB interfaces for charging and for data connectivity. And, as with so many other market segments near and dear to motorcyclists, there is a fair number of products to choose from regarding USB chargers.
These three BurnsMoto USB dual-port chargers represent a good cross-section of what industry has to offer and they all do the intended job very well. And outside of the broken hard plastic bracket reported above, nothing else has failed.
Both the round and rectangular BurnsMoto USB chargers are easy to work with for the most part and between the two of them offer lots of installation options.
What does cause concern is the lack of any real weather protection once the cover caps are removed and a charging cable is connected. This is and will always be an issue for motorcyclists -- albeit only if you need to charge a device while it's raining -- and while the BurnsMoto products may be viewed as a low cost option, with some further refinement and provision for all-weather use, they would be far more valuable.
See Also: Weatherproof Ports, Outlets, Connectors, Cables Reviewed | BurnsMoto Waterproof USB Port Review
w

BW

Product Review: BurnsMoto Dual-Port USB Chargers

Manufacturer: BurnsMoto
List Prices (2014): Bar Clamp or Panel Mount Dual-USB Charger, $36.95 here with free shipping. Rectangular Housing Dual-USB Charger with Bracket, $29.95. BMW DIN Plug Dual USB Charger, $19.95. All prices in USD.
Colors: Black
Made In: Unknown
Review Date: July 2014
Warranty: Unknown
Note: Item provided by a retailer, distributor or manufacturer with these Terms and Conditions.
Note:
For informational use only. All material and photographs are Copyright © webWorld International, LLC since 2000. All rights reserved. See the webBikeWorld®
Site Info page
. Product specifications, features and details may change or differ from our descriptions. Always check before purchasing. Read the
Terms and Conditions
!
Please send comments to
Comments are ordered from most recent to oldest.
Not all comments will be published (
details
). Comments may be edited for clarity prior to publication.
---
From "G.T." (August 2014): "I'm a long time reader, fan and customer of wBW. You put together a comprehensive review, but you didn't test the performance of the charger.
I have an older model of a Burns Moto charger, which claims 1A output, however I couldn't get more than 400mA out of it. This is not enough to keep up with the power demands of a smartphone in the Navigation mode. But even if that charger could supply the full 1A, it would still have problem delivering it to the phone.
High speed charging of smartphones requires not only the capable charger, but certain measures to inform the phone that the charger is capable of supplying high current. For Android phones the data pins on the charger's connector have to be shorted. Apple devices need to see a DC voltage on these pins. If the charger doesn't tell the phone that it is capable of high current, the phone will only pull the USB standard compliant 500mA.
Another important specification is the idle no-load current consumption. My older charger draws just a few mA, so I was able to wire it directly to the battery without the fear of a parasitic draw. It allows me to charge my phone, intercom, or a camera overnight- a necessity for campgrounds with no on site power.
The last item to test should be the short protection. Will the internal limiter engage? The inline fuse blow? The charger start smoking? In my opinion, evaluating the electrical performance will make your review more valuable."
H.B.C.'s Reply: The "performance" of the new chargers tested was evaluated simply -- it fully charges the iPhone 4S and the Nexus N7, both of which will or want to draw 2.0A or higher if its available (which the 3BR USB products provide). So there were no real issues there regarding real life output and ability to support the devices used, even when discharged or the processor running close to peak levels.
Parasitic draw wasnít observed in the shorter term, although some long term observations might reveal something, but again it varies as to whether there is a direct battery connection (as in the information provided by the individual) or if the output component is managed by a power distribution device, which is how everything I use is managed, even the Stebel horn. Parasitic draw with the PDM60 or Dispatch 1 (review) is extremely low.
Test results: while "test" results will always differ and get questioned (see below), I did see just under 1900mA full draw when one of the dual ports was used and when both of the ports were used, each of them were running about ~750mA. But this is based on my tests and not using the best test equipment, so it is one reason why I hesitate to use my findings, unless caveated as "my results...".
As noted above, the investigative or benchmark tests are usually done...but in general we have stopped detailing them all in the reviews as we have to balance technical overload vs. providing basic information.
And of course, my findings will or likely be unique to my installation and equipment overall; others are likely to get other results, a fact that some readers will accept and others wonít. I go through this a lot on the forums in "he said, they said", all over the same issue that just isnít the "same" for everyone.
So a small degree of mea culpa, and hopefully we can add more of the measurements and technical evaluations in future reviews.