British Motorcycle Gear Zodiac Jacket Review
BMG Zodiac Jacket
by Rick K. for webBikeWorld.com
More:
Summary
Lightweight jacket with chameleon styling works with anything from cruisers to Adventure Tourers.
Includes six zippered vents, nice array of armor and a comfy but stylish fit.
Introduction
I'll admit I was a bit skeptical when British Motorcycle Gear suggested the Zodiac jacket as a warm weather alternative to mesh.
After all, mesh jackets have become the apparel of choice for hot weather, right?
But there's something about the styling of mesh jackets that's a turn-off for a sizeable contingent of motorcycle riders, we've discovered.
Apparently, the "boy racer" look is the problem.
It wouldn't take much to persuade me to agree with that one; although mesh clothing has pretty much revolutionized summer riding gear, much of what's available looks a bit over the top.
That's where the Zodiac jacket comes in.
It strikes a pretty good balance between sport and cruiser styling, if you ask me. And that's not easy to do. In fact, it even has a touch of Adventure Touring thrown in too.
The stripes down the sleeves hint at sport, while the zippers and black fabric say cruising.
It looks great over a pair of jeans and black work boots, but it also has a connection zipper inside, so it can be attached to a favorite pair of riding pants.
In fact, the Zodiac looks good enough to wear off the bike too. Try walking into Nordstrom's wearing your Phoenix jacket and you'll get as many stares as Paris Hilton.
Well, maybe not that many... But you could easily wear the Zodiac with or without the armor and all of a sudden you'd look cool. Well, some would anyway...
Like guys 20 years younger than me. With a full head of hair. And not overweight.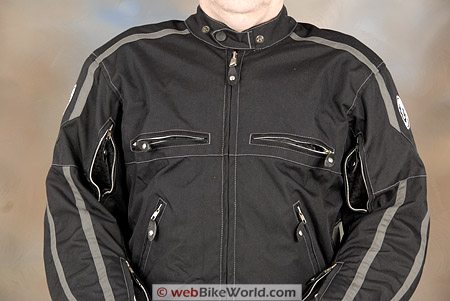 BMG Zodiac Jacket
Right. Anyway, one of the Zodiac's nicest features is its light weight.
The size XL shown here (they run about a size small, so the XL is about equivalent to a true men's size large) weighs a scant 1270 grams (2.8 lbs.).
That's way less (Weigh less? Sorry...) than most motorcycle helmets and about equal to, say, some of the lightest helmets we've reviewed.
The jacket is roomy enough to be comfy, but it isn't too baggy like many mesh jackets.
It sort of feels like a slightly heavier version of a windbreaker. The Zodiac's sleeves and body are slightly tapered, which gives it a trim profile while keeping the armor in place.
The "Airdura" fabric used in the jacket has been used in other brands of motorcycle jackets. It's claimed to be breathable while offering decent abrasion protection.
It feels slightly stiff; i'ts not as hard as an Aerostich Darien (review), yet not as soft as, for example, the waxed cotton in a Barbour International jacket (review). I'm not sure I'd say it's breathable, but it is lightweight yet it does seem durable.
The British Motorcycle Gear Zodiac also has CE-approved armor in the elbows and shoulders and a "Tempa" foam protector in the back; all are removable.
Although the fabric isn't mesh, the jacket offers medium to good ventilation, with 130mm long (5") metal YKK zipper vents on the upper arms and across the front of the chest.
The vents are backed by a mesh liner, which also lines the inside of the jacket and provides a barrier between the rider's skin and the outer fabric layer.
Two more 150mm (6") vertical vents are arranged on either side of the back of the jacket, behind the arms and below the shoulder blades. The 6 vent total provides good flow-through ventilation.
Two slash hand pockets also close with metal zippers and all of the zippers have large zipper pulls, making a quick job of opening and closing. Another fairly large pocket is located just inside the left breast placket.
The sleeve cuffs are secured with 130mm (5") zippers and there's also a Velcro fastener at the bottom of the cuff for good measure.
The hem at the waist has adjusters on either side. The main entry zipper in the front of the jacket has a 50mm wide (2") length of the Airdura fabric as a backing.
The neck includes a lapel with a metal snap and two matching snaps to allow some adjustment and the lapel can be folded back over itself and snapped behind, on the left side of the collar, if desired.
This leaves the neck opened slightly, to allow more air to flow in.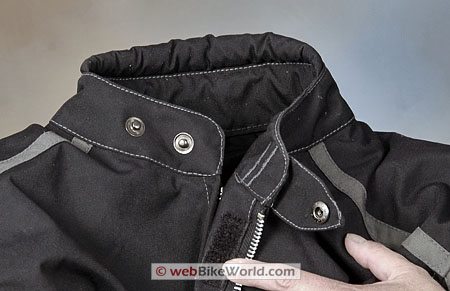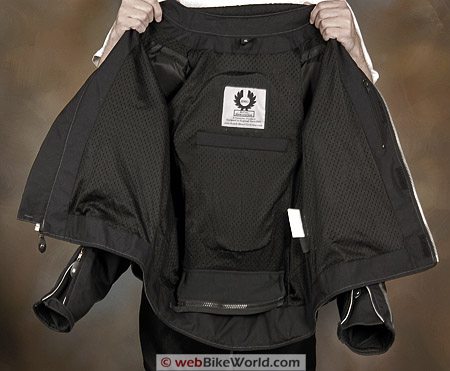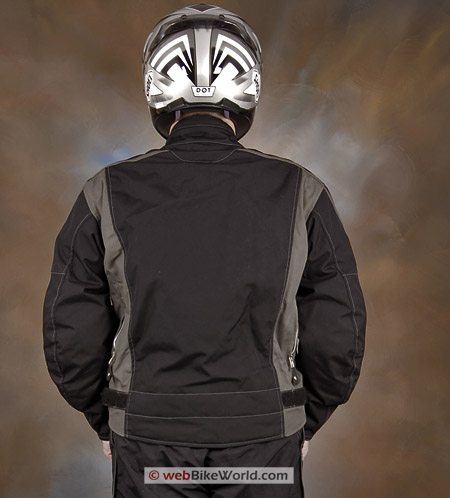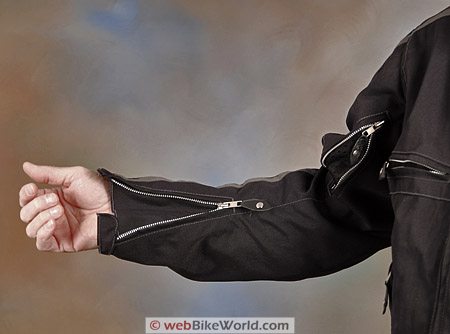 BMG Zodiac Jacket Updates
The Zodiac jacket has been updated since this review was posted in June of 2007.
The Zodiac includes a section of stretch fabric in back at waist level with a zipper that can be attached to a pair of pants. Although British Motorcycle Gear apparently doesn't offer a matching pair of pants, the zipper included in the jacket has a mate that can be sewn into the pants of your choice. A local tailor sewed one of these matching zippers into a pair of pants for me once and it works great.
In fact, I have one jacket with 4 different zippers sewn into the back, which brings up another pet peeve -- how about standardizing on a certain size and length zipper so that any jacket could zip into any pants?
Just remember that it's a good idea to try on the pants and jacket while you're at the tailor's shop so they can measure everything correctly for proper location.
The Zodiac is available in either the black/gray combination shown here, or black with yellow stripes. The jacket is reasonably priced at $139.00.
Conclusion
If you're looking for a relatively lightweight alternative to a mesh jacket, the Zodiac may be it.
Smooth styling, robust metal zippers, lots of vents and decent armor are combined with a comfortable, slightly tailored fit to make a nice-looking, affordable jacket.
Although ultimately it may not flow as much air as a 100% mesh jacket and it probably doesn't offer the protection of leather, the Zodiac is much cooler than wearing sticky leathers or a 3/4-length textile jacket in hot weather and it looks better, too.
w

BW

Review: British Motorcycle Gear Zodiac Jacket
Available From: British Motorcycle Gear
List Price (2007): $139.00
Colors: Black or Black with yellow.
Made In: Unknown
Sizes: XS-3XL
Review Date: June 2007. Revised: July 2007
Note:
For informational use only. All material and photographs are Copyright © webWorld International, LLC since 2000. All rights reserved. See the webBikeWorld®
Site Info page
. Product specifications, features and details may change or differ from our descriptions. Always check before purchasing. Read the
Terms and Conditions
!
Please send comments to
---
From "J.D." (1/09): "Last year I told you that I bought the Zodiac jacket at the IMS in DC. I was the guy confused about the BMG logo vs the Belstaff logo.
Anyhow I was at the show again this year and the guys there at the BMG store remembered me. T hey are a great bunch of people that work there and very knowledgeable about their product...as was I from reading so many webBikeWorld reviews ;)
I was telling them how happy I was with the jacket and it was then I realized I never gave you my comments on the jacket.
The jacket is very stylish and looks great on my black Triumph Speed Triple. I am amazed how cool this jacket really is!
I rode all summer from 70 to 105 degrees and as long as I was moving I was kept cool and felt safe having some sort of protection.
This is a really a good jacket for summer, but don't let everyone know because I like being the only guy in a great looking/ cool jacket around all those goofy looking mesh ones. Keep up the great work on the site!"
---
From "G.C.": Editor's Note: G.C. had some problems with the YKK zippers on a Zodiac jacket, which became difficult to open and close. He discovered an interesting solution:
"I had my jacket while I was talking to my former sewing class teacher and had her look at it. She noticed the zipper edges were really sharp and suggested a stint with some fine sandpaper.
So I took about 45 minutes to do a good job of that with 600 grit, and I'm happy to say all the zippers work fine now! They're a lot less noisy too.
That's really good because the jacket fits me as if it was custom tailored, and I really didn't want to have to send it back, even though I knew BMG would stand behind it."
---
From "G.": "As an owner of the Zodiac jacket for a couple of years now, I have come to really appreciate it's versatility and value.
In short, I agree with just about everything in your review. It is a really excellent product.
In fact, as a long time (45 years) motorcyclist, I have accumulated over 15 jackets, many of them within the past two or three years. However, few are as versatile as this jacket.
I am not sure if you mentioned that it is also waterproof, but this further contributes to the usefulness of the jacket.
I have a Gerbing electric vest and have found that, with proper layering (including a wind shirt) and the vest, the jacket could be used for nearly all conditions, except sustained very cold weather.
The only thing that I feel needs fixing are the flimsy cuff Velcro tabs - they need to be larger to be really effective for gloves with gauntlets.
I would also suggest the use of ventilated material below the cuff zipper, so that air could flow through when the zipper is open.
A double zipper would also be a nice feature, but is not critical. I have these features on a Gericke jacket and I really like the adjustability of this design.
The real strength of this jacket is that you really don't even think about it once it is on. It doesn't chafe at your collar, doesn't flap around in the wind, and fits very well.
By the way, another summer favorite of mine is the Olympia Mustang jacket. Mine is a light beige color with lots of vents.
I just rode in 100 degree weather recently with an a water-soaked Aerostich Evap-o-dana underneath and I was very comfortable.
The only issue with the Mustang jacket is that it is not waterproof. However, I solve that problem by utilizing a Joe Rocket wind and waterproof liner underneath.
I recommend this amazingly cheap and effective liner to anyone who wants to extend the usability of their mesh or ventilated jackets.
Thank you for the really thorough evaluations on motorcycle related products. I really like your web site."