Firstgear Hypertex Mesh Women's Motorcycle Pants
wBW Reviews Home
In This Review: Woman's Mesh Motorcycle Jacket | FirstGear Woman's Mesh Pants (This Page)

It doesn't make any sense, at least to me, to have a nice hot weather motorcycle riding jacket like the FirstGear Hypertex Meshtex mesh jacket, without having a matching set of hot weather motorcycle riding pants.
I don't like to wear jeans when riding, first because I don't think that jeans offer even a minimum amount of protection, and also because jeans just aren't really designed for riding a motorcycle. They bunch up and flap around in the wind, making them uncomfortable for motorcycle riding.
The FirstGear women's mesh motorcycle pants are cut like jeans, but they are flexible in all of the right spots, which makes them very comfortable.
The mesh pants zip into the FirstGear mesh jacket with a 25cm (10") zipper, which gives better protection by preventing the jacket from separating from the pants if the rider falls. Take it from me -- I've been a Registered Nurse for years, and I've seen firsthand the results of motorcycle, bicycle and skateboard accidents.
"Road rash" is a very serious and extremely painful malady, and it will leave very nasty scars. I've helped doctors pick stones and trash out of victims' wounds, and I've seen cases of road rash from something as simple as falling off a motorcycle at a stop light! So my advice is to always wear protective riding gear and to use all of the safety features that it offers, like zipping together the pants and jacket when available.
Anyway, back to the pants! I also like the fact that when the jacket and pants are zipped together, I don't have to worry about the jacket riding up my back when I'm leaned over the handlebars of my BMW R65 "S".
The FirstGear women's mesh pants are available in women's sizes from 6 to 16. I ordered a size 12, and based on this example, I'd say that they run true to size, with a couple of exceptions. It would be nice if the waist was adjustable. The pants have some elastic on either side, but there are no waist tabs or any way to tighten the waist if desired.
Women have different proportions than men, and if you have a small waist with a larger than normal backside, the non-adjustability of the waist will leave the top of the pants feeling like they're a bit loose. This isn't really a problem, especially if the jacket is attached, but without the jacket, the pants can look like they don't quite fit.
The other problem is with the length of the legs. It seems as if the pants are about 25-50mm (1-2") short, at least for my 5'8" (172.75cm) height. Perhaps I'm taller than normal, but the other motorcycle riding pants that I own all have an extra few inches of material at the end of the leg.
The extra length is necessary in motorcycle pants because the pants will ride up when the legs are bent. I wear motorcycle riding boots and I insert the cuff inside the boot, so a shorter leg length isn't really noticeable, but the pants could stand to be a bit longer, at least for my height and size.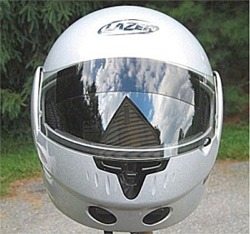 Other than that, they fit very nicely in the hips and thighs, and they are very comfortable. The pants don't have the same open mesh fabric as the jacket, and there are sections of the pants that don't let as much air through, but they are cool enough in all conditions except maybe when riding behind a full fairing or when riding as a passenger.
The knees have a flexible bunched material that gives them added flexibility and probably a little bit of extra protection. There is some very thin padding in each knee, but I guess it's better than nothing. There's virtually no padding in the hips other than three little raised accent pieces.
Nevertheless, I think these pants would still protect against road rash better than a pair of jeans. They use 500 denier nylon, which is about the average thickness or weight for textile motorcycle apparel. And just like in the men's version, adding any armor would probably ruin the ability for the pants to breathe.
The waist closes with a combination of a metal hook and a metal snap. This is a nice arrangement that offers the best of both worlds by providing a secure fastening capability. The elastic panels in the waist help to keep the pants comfortable -- I wish all manufacturers would add some elastic in the waist.
There are two horizontal pockets up high on the front of the waist that close with zippers. Each pocket is about 100mm (4") wide by 16cm (6-1/4") deep. There's also a small pocket over the right thigh, it has a 90mm opening and it's 12cm deep. I guess this one could be used for toll booth change, but you'd have to take your gloves off to get into it.
Someone gave me a tip once to carry my toll booth change in a small change purse. If you hand the entire purse to the tool booth attendant, most of them will gladly take the correct toll amount and hand you back the purse.
This solves the problem of fumbling around for the correct change and taking the chance of dropping it or your glove, Dropping a glove probably means you'll have to dismount, which is not advised while in a tool booth!
The pants also have some flexible fabric in back of the knee, which also helps to make them more comfortable. And the leg zippers are located on the back side of the leg, which is a great idea, because this prevents the zipper from getting squeezed by the boot and chafing my ankle like other brands of pants that I own.
Conclusion
The alternative to riding in very hot weather is wearing unsafe clothing, like a T-shirt or lightweight jacket and jeans, or not riding at all. These garments provide a minimum amount of protection for those very hot days, but they're so comfortable, I wish I could wear them all year long.
It would be nice if they offered a bit more protection by having thicker panels or CE-approved armor, but that would probably compromise their ability to keep the rider cool in hot weather. The combination of the FirstGear mesh pants and jacket make for a very comfortable riding outfit. The price is very reasonable, and I offer my congratulations to FirstGear in providing a better choice for women motorcyclists.
Next: FirstGear Women's Hypertex Meshtex Jacket Review
A word about New Enough: Paul and Holly Thompson are among the most honest vendors you're going to find on the Internet. You may be able to cut a slightly better deal somewhere, but you won't get the personalized service that you'll need if have a problem or want an exchange. This is especially important when you're purchasing products through a website, sight unseen. New Enough carries FirstGear, Vanson, Joe Rocket and other brands of apparel, both new and used. webBikeWorld has no affiliation with New Enough other than as a satisfied customer. New Enough provided the products reviewed in this article.

Note: For informational use only. All material and photographs are Copyright © webWorld International, LLC - 2000-2011. All rights reserved. See the webBikeWorld® Site Info page. NOTE: Product specifications, features and details may change or differ from our descriptions. Always check before purchasing. Read the Terms and Conditions!
Product Review: FirstGear Women's Mesh Motorcycle Pants
Available From: New Enough
Suggested Retail Price: Jacket $139.95; Pants $139.95
Colors: Black Sizes: 6 - 16
Made in: Jacket - Viet Nam. Pants - Indonesia
Product Comments: It doesn't get much cooler than this. Excellent air flow in jacket, pants aren't quite as cool if riding behind a fairing. Both the jacket and pants are very comfortable. Jacket runs true to size; pants seem a touch short. Jacket zips to pants. Pants have zippers on rear of leg for more comfort when tucked into boots. Armor is thin and is not CE-approved. No zipper pulls on pockets. FirstGear has added a windproof liner that adds to versatility.
More: Women's FirstGear Hypertex Meshtex Mesh Motorcycle Jacket | Women's Motorcycle Clothing Page | Motorcycle Clothing Page | Men's FirstGear Hypertex Meshtex Review