ROOF Le Mans Helmet
ROOF Le Mans Helmet Review
by Rick K. for webBikeWorld.com
More:
▪ wBW Reviews Home
▪ Owner Comments (Below)
▪ wBW Motorcycle Helmet Reviews
wBW Roof Helmet Reviews:
▪ Roof Desmo Review
▪ Roof Boxer Review
▪ Roof Boxer V Review
▪ Roof Boxer V8 Review
▪ Roof Rover Review
▪ Roof R010 LeMans Review
Summary
Stylized yet simple and functional design.
Unique face shield with infinite height adjustment and permanent de-fogging.
Comfortable liner and fit. Very quiet when upper vent is closed. ECE 22-05 and ACU Gold approved.
Introduction
Good news for Roof helmet fans!
Made in France and previously available only to their devoted fans in Europe, Roof helmets are known for a unique combination of technology and avant-garde styling, blended together as only the French can manage.
Thunderchild, Inc., (U.K.) provided this RO10 Le Mans full-face model for review, along with the unique Roof Boxer, which is covered in a separate wBW review.
Roof isn't afraid of doing things differently, and I wouldn't have it any other way. Vive la difference! You could argue that some of the Roof features are quirky, but the same can be said for Peugeots or Renaults.
Yet there's no denying a passion and uniqueness within each of these French products that is often missing in our ever-more-homogenized world. For those of you who don't agree, there are plenty of common everyday variety helmets out there to choose from!
The Roof Le Mans helmet shown here is available in three different formats. Without racing stripes, it's known as the Roof Diversion; call it the Roof Daytona when it has a wide racing stripe in place of the dual Le Mans stripes illustrated in these photos.
Fit and Finish
The finish of the Le Mans is first-rate; our helmet has a nice silver metallic paint and there are no decals -- all of the graphics are painted on and perfectly crisp, so they give the helmet a sleek look and also make it easy to keep clean.
What's interesting about the Le Mans (or the Diversion or the Daytona) is that it's sort of a "neo-retro" helmet design. If you're tired of the scoops, vents and the "boy racer" techno-look that's all the rage in helmet design lately, this is the lid for you. It's back to the basics, and it's surprising to find that you don't necessarily need all the latest gizmos to make a helmet work.
Internal Shape
The Le Mans has a "round" shape (remember them?), with some interesting styling details that keep it from being boring. Roof claims that during the design of the Le Mans they tried various vents, scoops and appendages in their wind tunnel, but they didn't find any difference in functionality, so it was decided that simpler is better.
This doesn't mean that there isn't a lot of "tech" in the helmet; Roof design philosophy is to incorporate the latest in medical research regarding impact protection into all of their helmets.
They use a unique four-part interior structure for the Le Mans, and the shell is made from a special aerospace composite material that was developed by Claude Morin, the originator of the Roof helmet line, who first started working with composites back in the 1970's.
The Le Mans weighs in at a mere 1492g, which makes it one of the lightest weight helmets we've ever reviewed. The Roof Diversion was also the first helmet to meet the tough ECE 22-05 standards, which are probably the strictest helmet safety standards in the world.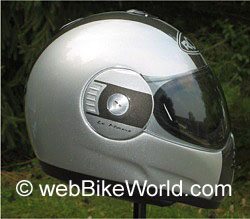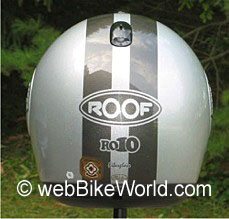 The cool-looking "fighter pilot" face shield shape has become rather a signature Roof feature, and it works well on the Le Mans. Rather than using molded in stops to hold the face shield up, Roof uses a friction system that allows infinite and minute adjustments for face shield positioning.
Face Shield
I almost always have a problem finding a setting that suits me on most helmets with the click-adjust face shield adjustment system, so I really appreciate the ability to find exactly the right opening on the Le Mans' face shield. Roof also claims the face shield is treated with some type of permanent de-fogging coating.
It's been rather warm here lately, so I haven't really been able to test this claim, but this morning's late September air was cool enough to fog my eyeglasses and it didn't seem to affect the Le Mans' face shield at all.
Another simple-yet-functional design idea is the small indent that's built into the helmet's shell right under the face shield, which allows room for a finger to get under the face shield and push it up. This eliminates any plastic tabs on the face shield itself, which again serve to give the helmet a smooth look.
The face shield on our example has a very light gray tint -- just enough to block some glare, but not so much that it decreases vision at night. This level of tinting is also approved for use in the U.K. as a motorcycle helmet face shield.
Ventilation
The Le Mans has three horizontal fresh air vents in its wide chin bar. Unlike some other helmets, outside air in the Le Mans is vented directly through a slot in the chin bar for an unobstructed passage.
For some reason, many other full-face helmets don't channel air directly through the chin bar, but instead use some form of complex channeling system to direct the air up on to the rider's face, and these channels tend to slow and/or diminish the apparent cooling effect.
The middle vent on the Le Mans moves air directly onto the rider's face, while the other openings provide some air for demisting the back of the face shield.
No air filter is provided, so you do occasionally get a bug or two coming through, but unencumbered fresh air is always a good thing, and the vents can be easily closed with a flick of the finger if necessary.
The wide chin bar is there for a reason. You'd never really know it, because it has been neatly incorporated into the overall style and shape of the Le Mans like many of its other features.
But the wide chin bar is specially designed to spread impact forces out over a larger surface area, thus offering the potential of better protection and helping the Le Mans to achieve its ECE 22-05 approval.
The Le Mans top vents are not quite as successful. There are two holes of about 8mm diameter in the top of the helmet that open directly through the liner and on to the rider's head. Two somewhat fragile plastic air scoops are designed to direct the air down the front hole and exhaust it out the back.
The front vent (on the right in this photo) is designed to catch air and force it down the front vent hole. The rear vent has a backwards-facing opening that exhausts the air out the back into the low pressure air stream.
I've found many top venting schemes to be problematic. It's sometimes hard to tell whether they're really doing anything worthwhile. This is also the case with the Le Mans' vents -- I'm satisfied with the volume of air I get through the chin bar vent and by cracking open the face shield, so I really don't notice much of a difference when using the Le Mans' top vents.
The front vent also catches the air in a way that transmits a whistling noise through the otherwise very quiet helmet, so I usually keep that one shut but leave the top rear exhaust vent open.
Noise Levels
I can't tell if it's the simplicity of the design, or some very subtle technology that Roof has used, but the Le Mans seems to be a very quiet helmet.
I always wear earplugs when riding (see the wBW Earplugs and Hearing Protection page for more information), so all bets are off if you don't wear correctly inserted earplugs. Also, remember that certain fairings or windscreens can greatly increase the apparent noise volumes in most helmets, due to the buffeting and redirection of the air.
But the Le Mans has some carefully designed neck padding and a piece of fabric that helps to block the air from coming up under the chin, and this seems to help decrease noise levels.
I've found that the design of the padding around a helmet's neck area is one of the most crucial elements for decreasing noise, yet it seems to be almost universally neglected by helmet designers.
Here's a test: if you get a lot of low frequency, "booming" noise in your helmet, especially when riding behind a fairing or windscreen that may be dumping "dirty" air on your upper body, place one finger up under the helmet near your neck, and I'll be you can find a spot that when covered will decrease the noise by almost one-half.
If this is the case, then that helmet could use a better designed neck roll. The Le Mans seems less susceptible to this type of noise than other helmets I've tried, and its shape and liner contribute to the quietness.
Although the Le Mans' non-removable liner seems typical for a modern helmet, it feels more comfortable than others. The Le Mans is apparently designed to fit round head shapes like me (hurray!), rather than the so-called "long oval" head shape. This is great news for us round-heads, as many manufacturers seem to be abandoning the round and moving towards hybrid round/oval shapes that sometimes end up not fitting either.
Other Features
The Le Mans' face shield is fairly easy to change. There are two screws on each side that can be opened with a U.S. quarter. They're rather tight when the helmet comes from the factory, so you may need to hold the quarter in a pair of pliers to get enough leverage to open them. After the screws are out, the two rotating ear assemblies can be removed and the face shield is easily replaced.
I don't think it's necessary to replace the screws with the same levels of torque that is used at the factory, which makes it much easier to get to the face shield next time around. You may want to occasionally check the screws just to make sure they haven't come loose.
The Le Mans uses one of those new-fangled chinstrap clips to secure the helmet, rather than D-rings. Use of this clip sort of violates the "simple is better" philosophy, but at least there's a nice strap keeper to prevent the ends from dangling in the breeze.
Conclusion
When I first saw the Le Mans I wasn't sure what to think. Where were all the features that we're so used to seeing on modern helmets?
It looked too -- simple I guess is the word -- when compared to some of the other helmets that have come through webBikeWorld recently. So I was surprised to find how well simplicity seems to work.
I'm always impressed by quiet helmets, and the comfort and functionality of the Le Mans is a plus. It's not without a quirk here and there: the top vents could be improved and the chin strap is paradoxically more complex than it needs to be, but if you're looking for a helmet that does the job with high style and useful features, and you'd like to stand apart from the crowd, the Roof Le Mans is for you!
w

BW

Review: ROOF Le Mans Helmet
Manufacturer: ROOF Helmets
List Price (2007): £245.00
Colors: Black, Red, Orange, Blue or Silver. With or without stripes.
Made In: France
Sizes: XS to XL
Review Date: 2007
Note:
For informational use only. All material and photographs are Copyright © webWorld International, LLC since 2000. All rights reserved. See the webBikeWorld®
Site Info page
. Product specifications, features and details may change or differ from our descriptions. Always check before purchasing. Read the
Terms and Conditions
!
Please send comments to
Comments are ordered from most recent to oldest.
Not all comments will be published (
details
). Comments may be edited for clarity prior to publication.
---
Comments on this helmet are available on the wBW ROOF Owners' Comments Page