REV'IT! Defender GTX Jacket Review
REV'IT! Defender GTX Jacket Review
by Rick K. for webBikeWorld.com
---
More:
▪ wBW Reviews Home
▪ Owner Comments (Below)
▪ wBW Motorcycle Clothing Reviews
Also:
▪ Part 2: Rev'it Defender GTX Pants Review
▪ All wBW Rev'it Clothing Reviews
Summary
The new Rev'it Defender GTX jacket is the fifth generation of the original and very popular Cayenne and Cayenne Pro jackets.
The Cayenne Pro is still in the Rev'it lineup and the Defender GTX is a new and even more advanced design.
The Rev'it Everest GTX (review) is now sitting at the top of the heap, however.
The Rev'it Defender GTX outfit was named the webBikeWorld 2010 Motorcycle Product of the Year!
Feedback and input from adventure touring riders around the world was incorporated into the Defender GTX to create the ultimate four-season jacket.
This is a serious tool designed for motorcyclists who are tough on equipment and demand the best.
Introduction
If you're a serious motorcycle rider -- be it an adventure tourer, hard-core long-distance touring rider or just someone interested in the best quality available, you're in the right place.
Indeed, if you're interested in saving money, you're also in the right place.
How can that be, you ask?
I know I've mentioned this before somewhere along the line: there's a strong argument to be made for paying more and getting more, for gear that you know is going to last, all the while keeping you warm, dry and safe through all four seasons.
Lesser gear is usually a matter of compromise. You're probably not going to get the ultimate riding outfit -- jacket and pants -- for less than $500. You may find a decent bargain, and there are plenty of good deals available on some very nice clothing from reputable brands, no doubt.
But for knowledgeable and serious riders who really depend on their gear and require ultimate performance, it's all about the details.
Sometimes the details are subtle. You don't even notice them until someone points them out -- for example, the special bar tack stitching reinforcements on all of the wear points of the Defender GTX jacket and pants.
And there's a chance that the details may never come into play; in fact, you hope they don't. For example, let's consider the Superfabric abrasion-resistant material on the arms and legs of the Defender GTX outfit. You'll never know it's there unless you fall, and then you'll be glad it's included.
The moral of the story here is that you can spend a lot less on a jacket without these features and you may be perfectly happy -- until the day arrives, sooner rather than later, that you wish you had forked over a few more shekels to do it right.
This is why serious motorcycle riders spend what it takes to get the best equipment. The day when the "professional" level details make the difference arrives much sooner for them. It's a matter of statistics -- when you ride more or longer or farther or faster, the flaws are going to show up sooner rather than later.
There are so many of these subtle details in the new Defender GTX jacket and pants that it becomes a challenge just to describe them all.
I'll try to do that here and this is included in these Part 1 and Part 2 YouTube videos I took at Rev'it USA headquarters during my August 2010 visit which more fully describe the Defender GTX jacket as presented by Jordan Levitt, the Sales Director for Rev'it USA.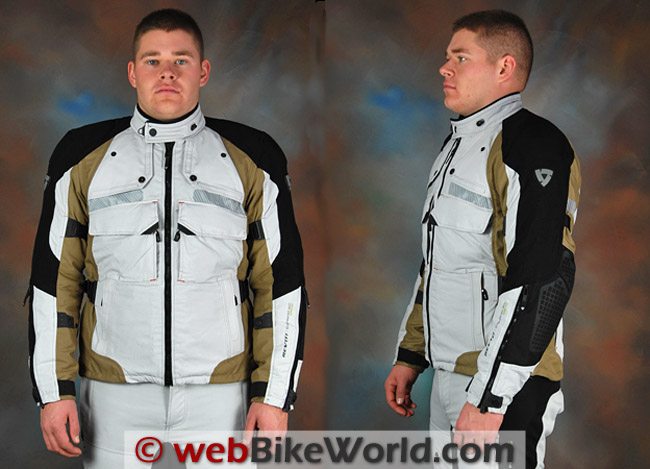 Background
Think about it -- you could buy a jacket and pair of pants for cold weather riding and then an outfit for summer and you've probably equaled the cost of a Defender GTX jacket and pants. But I can pretty much guarantee you won't be as comfortable or as safe -- and you'll be probably end up buying another outfit in 2-3 years when the cheapo starts to self-destruct. So where's the savings?
I first described this prototype version of the new Rev'it Defender GTX in my summer 2010 Rev'it Gore-Tex report covering the Rev'it lineup for fall/winter of 2010 and 2011. The Defender GTX isn't the top-of-the-line jacket for 2011; that honor belongs to the coming-soon Rev'it Everest GTX jacket, the all-out, no expenses spared suit of armor using Gore-Tex Pro Shell Armacor with the special TFL Cool material that even bounces the sun.
The Defender GTX now sits between the former top-line Rev'it jacket, the Cayenne Pro (review) and the new Everest GTX. Rev'it said that the Defender GTX series is actually the 5th generation of adventure touring gear that started with the original Cayenne (review) we reviewed in 2005. So that's one evolutionary step per year, just like clockwork.
The five-year-old Cayenne is still a more advanced jacket than just about anything else available in 2010 and basically indestructible, so to think they've improved on the original concept five more times is mind-blowing. But improve it they have, and nothing tells me that more than the recent rides we deliberately chose in some of the worst nor'easter Fall rainstorms I've ever witnessed -- and certainly the worst I've ever ridden in.
It was a surreal experience, riding the Multistrada at 60 MPH, with rain, wind and torrent pummeling the countryside, all the while perfectly dry, perfectly comfortable and with a wry smile on my face. This is 2011 technology at work my friends; unimaginable even five years ago when the original Cayenne was released.
I wonder what more the Everest GTX can possibly bring to the table? Of course, I'm anxious to find out! In the meantime, let's take a look at the aptly-named Defender GTX.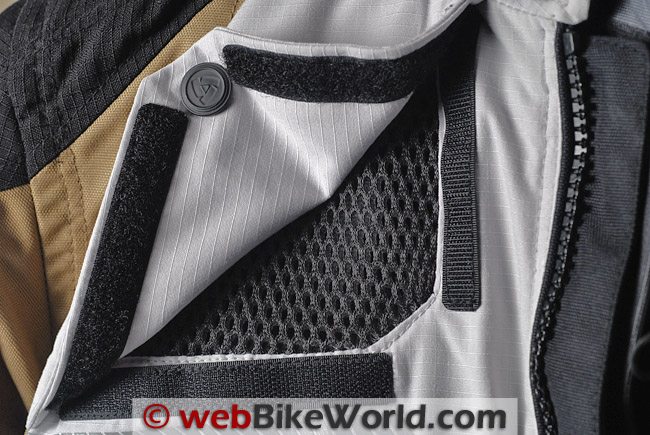 Rev'it Defender GTX Jacket Shell Key Features
Multiple Denier Shell Fabric
Teflon Coating
Ripstop Cordura
Superfabric Abrasion Protection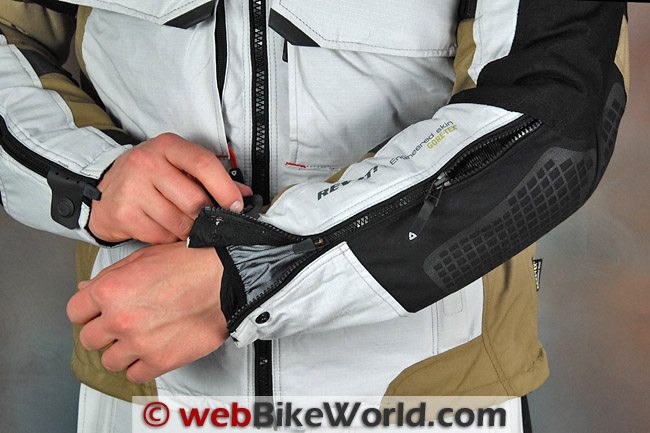 Tailoring and Fit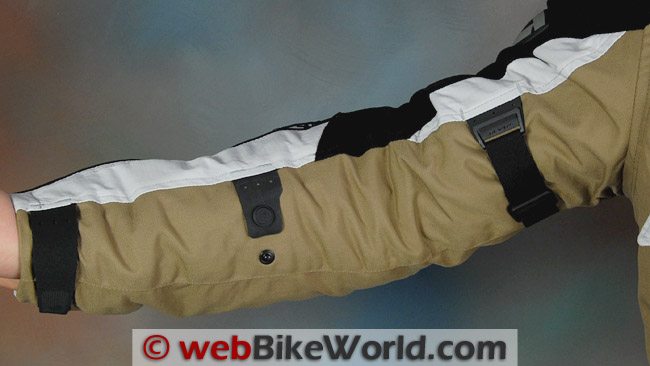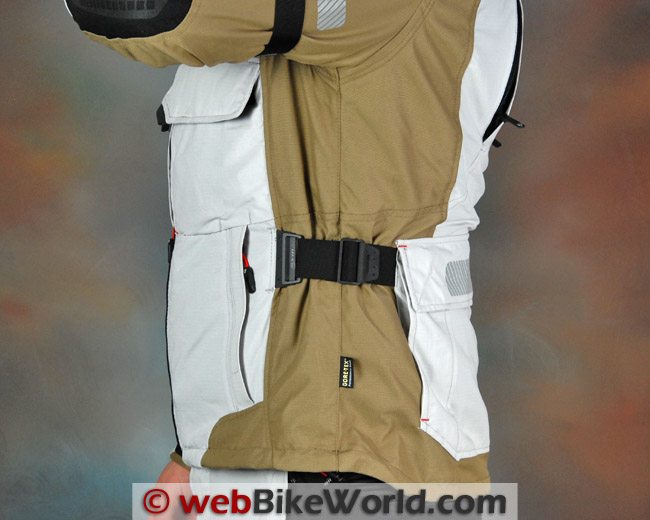 Shell Adjustment System
Conclusion: Defender GTX Jacket Shell
Rev'it Defender GTX Jacket Shell Details
There are so many details on the Defender GTX that it's difficult to know where to start. But since so many webBikeWorld readers are interested in a jacket's ability to keep them dry, let's start there.
"Guaranteed to Keep You Dry"
We had a couple of good opportunities to give the Defender GTX outfit a good wet-weather workout, along with a bonus, if you will, of cold Fall temperatures thrown in for good measure.
It's not always possible to schedule rain rides when evaluating motorcycle gear, especially in the on-and-off drought we've had here on the East Coast over the last couple of years. But two Nor'easters came pounding through recently, with lots of wind and fairly torrential rain and we deliberately set out with the Rev'it Defender GTX and Firstgear Rainier outfits to see what they could do in the ultimate torture test.
Both were waterproof -- a surprise actually for the Rainier -- but the Rev'it gear definitely feels warmer and more comfortable, especially the pants. The Teflon coating on the outer shell fabric of the Defender GTX jacket and pants apparently does the job. As I mentioned in the Firstgear review, we hung the clothes to dry over the tub and were very surprised when the fabric felt nearly dry after only about 2 hours -- and this after a 140 mile ride through heavy rain.
Some people seem obsessed with having the fabric in the jacket shell not absorb water. About the only material that will do that is a plastic, so buy a cheap rain suit to wear over your jacket and you'll be all set. And hot and sticky.
The real criteria here is how much water gets through to the rider. In this case, it was zero. Underneath the Defender GTX shell and behind the double-overlapping flaps behind the zipper, everything remained dry as dust.
This means that the Gore-Tex Performance Shell really works. The Performance Shell is one of the best waterproof liners that Gore-Tex makes; the Rev'it Everest GTX uses the top-of-the-line Gore-Tex Pro Shell Armacor 3-layer for the outer shell, which is one of the main differences between it and the Defender.
The Gore-Tex Performance Shell liner used in the Defender GTX is the 3-layer version; there's also a 2-layer type. The seams are also laser or heat bonded -- sealed, in other words. The breathable Gore-Tex technology also means there's no interior moisture buildup, so even when the temperature increased, I did not feel sweaty underneath.
Gore-Tex is very fussy about the use of their name on clothing, and Rev'it had to pass all sorts of tests and inspections for everything right down to the manufacturing procedures to get the Gore-Tex license. The Defender GTX jacket comes with the "Guaranteed to Keep You Dry" guarantee directly from Gore-Tex, that's how confident they are in the product.
The guarantee states "If you are not completely satisfied with the waterproofness, windproofness or breathability of our Gore-Tex outerwear, we will repair it, replace it or refund your purchase price". So add that in to the purchase price -- there aren't many other motorcycle jackets you can buy that give you a guarantee like that.
More on the Rev'it Gore-Tex partnership in our Rev'it Gore-Tex Motorcycle Clothing Preview and news of the Rev'it Gore-Tex Test Team, which is used to test prototype Rev'it Gore-Tex products with riders around the world.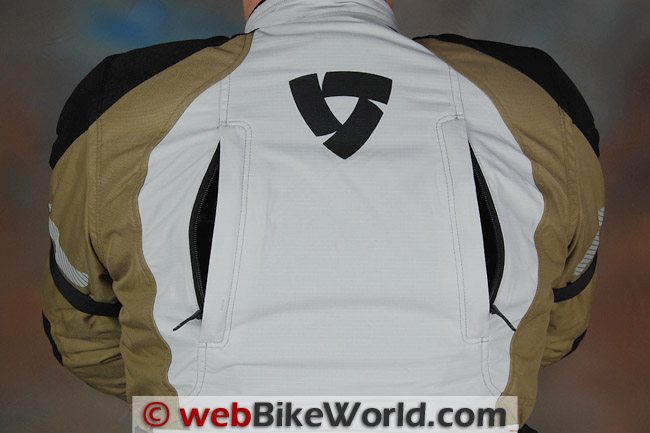 Staying Warm and Cool
Exkin Insulating Liner

Ventilation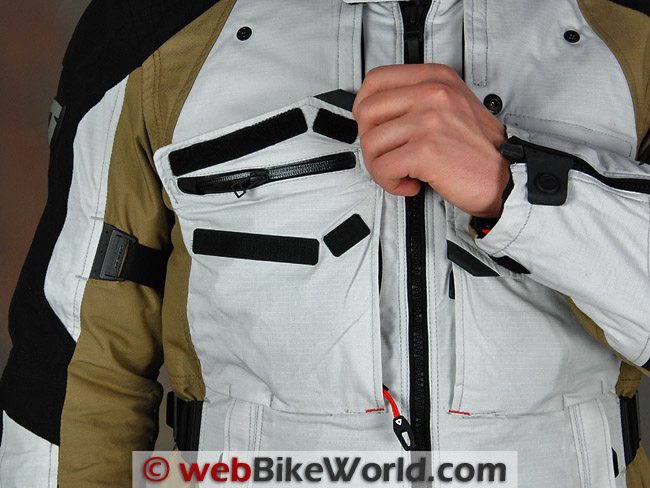 Defender GTX Storage
Pockets - External
Pockets - Internal
Protection, Padding and Armor
SAS-Tec Brand Armor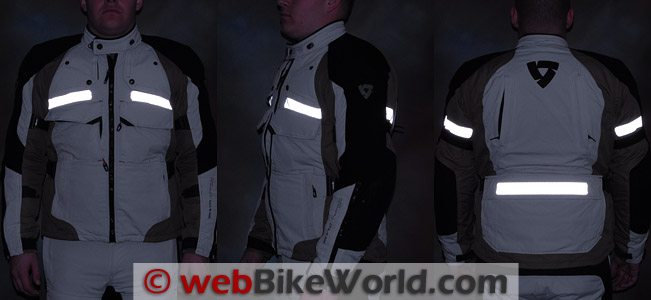 Miscellaneous Features
Reflectivity
Sleeve Cuffs
Conclusion
The Rev'it Defender GTX jacket is a worthy upgrade from the very popular Cayenne series, which is still in production. The Defender fills a new niche above the Cayenne Pro, which was formerly at the top of the Rev'it jacket product line, and the new Everest GTX, which is the new ultimate no-compromise Rev'it jacket.
Although we didn't have the Defender GTX to wear in warmer weather, experience tells us (along with owner feedback) that it will make an excellent four-season jacket. It's proven waterproof and guaranteed by Gore-Tex and the Exkin liner is nearly magical in providing warmth with lightness.
There really isn't much to nitpick on this jacket, other than the back protector, which would be a nice standard addition. Yes, the price may seem high...but is it really?
You can buy a Defender GTX and get a truly waterproof jacket that can be used in four seasons and has the highest levels of quality and protection. Or you can buy two outfits of lesser quality for the same price or more and possibly end up with compromises in both.
There's definitely a market for high-end, rugged, "professional" style motorcycle clothing and the Defender GTX certainly fits that mold. I can highly recommend it.
Next: Rev'it Defender GTX Pants Review | wBW Rev'it Clothing Reviews
Note: Item provided by a retailer, distributor or manufacturer with these Terms and Conditions.
Please send comments to
From "J.C." (02/11): "Now that I have about 700 miles on my Rev'it Defender GTX jacket I thought you might appreciate hearing about my experience with it.
In summation I'll say that in my forty plus years of motorcycling I have never had a piece of riding gear of such high quality.
Luckily, I haven't as yet ridden in the rain while wearing it, so I have no comments on its wet weather performance. However, the Spring weather here in Western North Carolina has produced temperatures ranging from 40 to 70 degrees over the week I've had the Defender. At 40 degrees the jacket with liners in place was very comfortable, though I anticipate replacing the insulated liner with a heated liner when the temperatures dip into the 30s.
Two days ago we had a bright sunny 70-degree day. I removed both liners and opened the vents and was very comfortable even behind a full fairing on my touring bike.
None of my comments above, though, address the myriad of features, attention to detail, innovation, quality and classy good looks of this product. I will be wearing it for many miles knowing I am well protected from the environment and the road.
Thanks so much for the great review you did on this jacket. Without that I would never have known how good a motorcycle garment could be or why it would be well worth spending $750 on it."