Rev'it Air Jacket
REV'IT! "Air" Mesh Jacket Review
by Rick for webBikeWorld.com
Summary: The Rev'it Air jacket is new for 2008. It's designed for hot weather riding and it offers sophisticated styling with high levels of air flow with Rev'it quality and a competitive price.
More: Part II: Rev'it Mistral Mesh Pants Review | wBW Reviews Home | Owner Comments (Below)
---
Background
The Rev'it Air jacket is new for 2008 and it's the lightest weight hot weather jacket in the Rev'it lineup. It's one of the few Rev'it jackets that does not include either a zip-in Hydratex liner or an insulating liner, because it's designed for one purpose only -- hot weather riding.
The jacket has protection and abrasion resistance in all the right places though, with Knox CE-approved armor in the elbows and smaller sized Knox CE-approved armor covering the shoulders. A thinner but removable Ethylene Vinyl Acetate (EVA) perforated back pad is also included.
The Air jacket has wide swaths of mesh material in the front, back and arms, while the abrasion points on the outer sections of the arms and shoulders are covered with solid polyamide fabric (similar to nylon).
The jacket still provides the quality of construction and materials and the styling that Rev'it is known for, but it has a list price of only $179.99, a good deal in our opinion.
The sophisticated styling is complimented by the not-too-loose fit, and the Air jacket is available in several color combinations. The jacket looks great, especially when it's paired with the Rev'it Mistral mesh pants (review).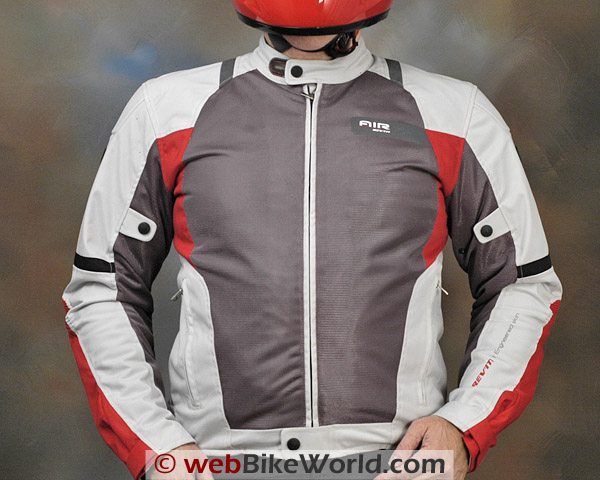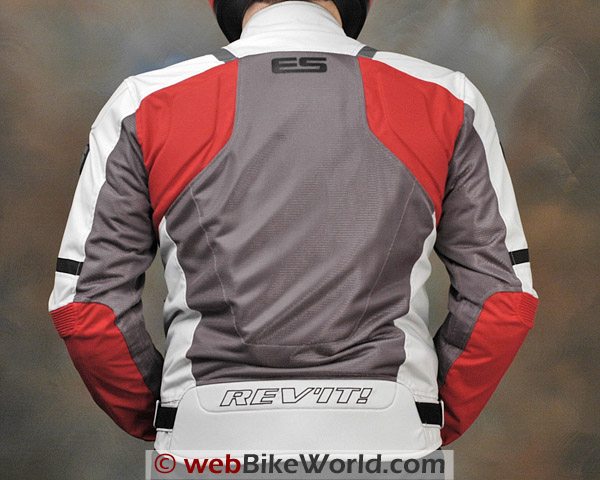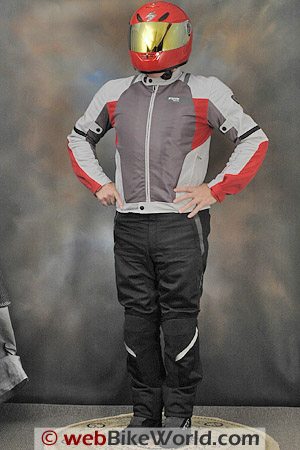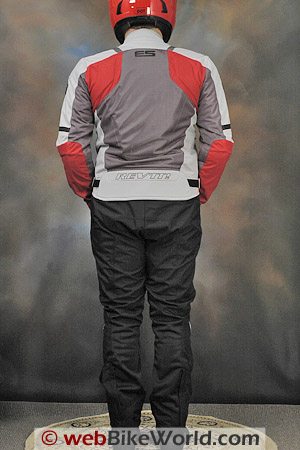 Styling
The color patterns include the light gray and red colors shown here; a light gray and black that includes a single small red stripe on each arm; gray and black and all black, so one of the hardest things about choosing this jacket is figuring out which color to get -- they all look good.
When mesh jackets were first popularized with the original Joe Rocket Phoenix jacket (review), they were all mesh with very little sold material for abrasion resistance. Most of the mesh jackets found today include some areas of solid fabric on the arms and shoulders, so there's a tradeoff between air flow and protection.
Air Flow
The Rev'it Air jacket flows a lot of air through the mesh. When the temperatures climb over 90 degrees F. or so, nothing is really comfortable, and the air coming through the mesh is hot to begin with, so the effect isn't as dramatic as it is when the temperatures drop below 90.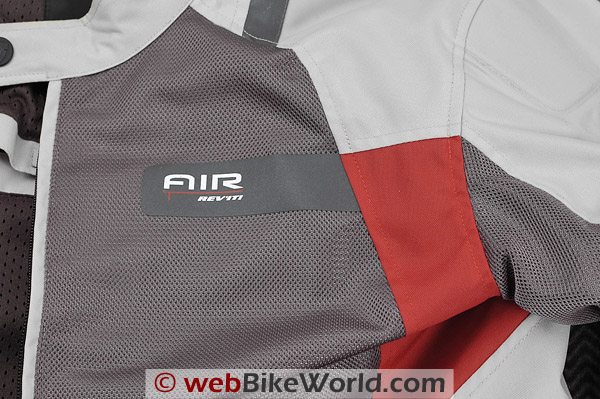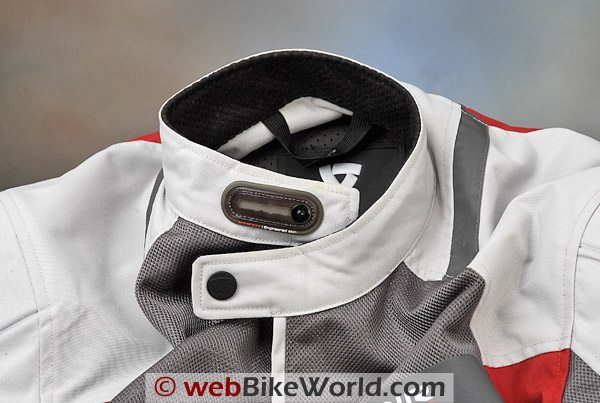 I went for a ride the other day when the temperature dropped to a relatively low 82 degrees, and I actually felt too cool, even riding behind the small fairing of the Multistrada! It's all relative, of course -- 82 degrees does indeed feel cool after the 95+ degree weather that has been the norm over the last few weeks.
But the point is that the slightly cooler temperatures allow the mesh to really do its job and the difference is noticeable.
Zippers and Adjusters
The Air jacket has a straightforward zipper up the front with a decent sized tab. It has an adjustable collar snap that slides back and forth to give about 25 mm or so of play, and a matching snap down at the bottom of the zipper in front at the waist.
A single adjustment strap is located at the top of each sleeve, but they're more for show than anything else, because the jacket has the typical Rev'it slightly snug fit, which is a plus, as it keeps the fabric closer to the body where the abrasion wear panels can do their job during a crash.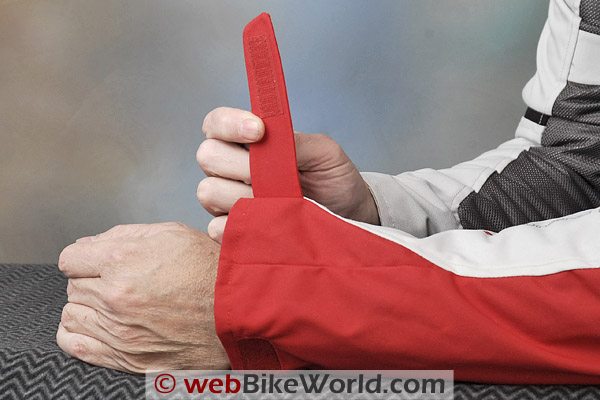 Arms and Cuffs
The arm cuff features a sewn-in gusset that allows the cuff to be opened wide, but the hook-and-loop fastener opposite the attachment strap is slightly too short, so the cuff can't be closed as tightly as I'd like.
Perhaps a nitpick, and most owners may not be bothered by it, but I miss not being able to close down the cuff as tightly as I can on other jackets.
Pockets and Zippers
The jacket includes two outside slash pockets that secure with zippers. A horizontal pocket is located inside the left breast, but I don't use it because it's backed by mesh fabric and storing anything in it will block the air flow.
The Rev'it Air jacket is very comfortable and very light weight, so it's almost like riding with no jacket at all. It includes a short attachment zipper in the rear, allowing it to be connected to the Rev'it Mistral mesh pants (review) and other Rev'it jackets.
Conclusion
The Rev'it Air jacket is an excellent choice for riding in very hot weather. It's part of my minimal riding outfit, which also includes the Mistral pants, the Rev'it Air Blend boots (review), the Roadgear Carbon Maxx gloves (review) and the Schuberth J1 helmet (review).
More: Part II: Rev'it Mistral Mesh Pants Review | wBW Reviews Home | Owner Comments (Below)
The wBW Opinionator - The Rev'it! Air Jacket

Picks
Nits
▪ Very light weight
▪ Cuff attachment could use more hook-and-loop
▪ Good air flow
▪ Slightly less ventilation in the sleeves
▪ Very comfortable
▪ Could use more collar adjustment
▪ Styling and light color
wBW Product Review: REV'IT! Air Mesh Jacket

BUY IT! Get your REV'IT! motorcycle clothing at RevZilla and help support webBikeWorld!

Available From: REV'IT!
Suggested Retail Price: $179.99
Colors: Light gray/red; light gray/black; gray/black or black. Sizes: XS to XXXXL.
Made in: China
Review Date: July 2008 Notes: Jacket was provided by Rev'it for this review (more).

Note: For informational use only. All material and photographs are Copyright © webWorld International, LLC - 2000-2011. All rights reserved. See the webBikeWorld® Site Info page. NOTE: Product specifications, features and details may change or differ from our descriptions. Always check before purchasing. Read the Terms and Conditions!
Please send comments to
Comments are ordered from most recent to oldest.
Not all comments will be published (
details
). Comments may be edited for clarity prior to publication.
---
From "A.P." (8/08): "Thanks for the review. I have used the jacket almost every day for a month. I am usually a medium size and had to purchase an XL for proper fitting. The wrist adjustment straps and the velcro do not align very well and the main zipper is way too small and difficult to get started, even without gloves. Gloves would be impossible."
Editor's Reply: Thanks for the feedback. I'm surprised about the sizing, my L fits exactly as expected, although Rev'it clothing is sized to fit correctly (i.e., snug), unlike most motorcycle gear that's 1-2 sizes too big. I hear you about the cuffs; I think the strap is slightly long and doesn't have a long enough hook-and-loop section. We mentioned that in the article, although I've gotten used to them.
The zipper pull is small, but I never thought about that, it didn't really bother me and I guess I don't pull up my jacket zippers when wearing gloves. I've found that I can usually tie a piece of nylon string or something in the little loop at the tip of the zipper pulls on most jackets to give a little something extra to grab."